When you don't speak the language, Sydney can be a lonely place indeed.
By 10am, Anzac Parade gets busy. Staff at the small Chinese restaurant need to get there before 10, to finish the food preparation. On this morning, Liu Qiong* comes to the restaurant as per usual: firstly, she washes dishes and cleans the floor of the back kitchen.
This is her daily routine. For the past seven months, the 48-year-old has worked in the restaurant. With her morning chores done, Liu stands by the cashier's desk, enjoying a few quiet minutes before the first customer arrives.
An English-speaking couple walk into the restaurant. There are two staff at the front desk, Liu and another younger woman. Liu quickly moves behind the cashier's desk, the counter blocking the lower part of her body. By contrast, the young employee, who possibly knows why Liu has stepped back, moves forward to offer a warm reception to the couple in English. Actually, it's not the first time other staff have had to welcome the "foreign" customers, says Liu.
"I know I cannot handle this situation. So, I try to avoid speaking with foreigners, talking with them will make me get into an awkward situation," she says. When customers ask for help in English, Liu just turns around and looks for help from other colleagues. Liu, who has been in Australia two years, is tired of this situation. "I always want to learn English, but I don't know how to start it. The biggest problem for me is nobody wants to teach me."
"I am accompanying my son, studying at school, but he has classes every day, I cannot stand the loneliness at home so I find a job in this Chinese restaurant. The work may be hard and dirty, but at least there is somebody to talk to me." She asks that her real name not be used so as not to embarrass her student son.
As she hides behind the cashier's desk, watching her colleagues with these "foreign customers", her eyes are filled with tiredness and curiosity.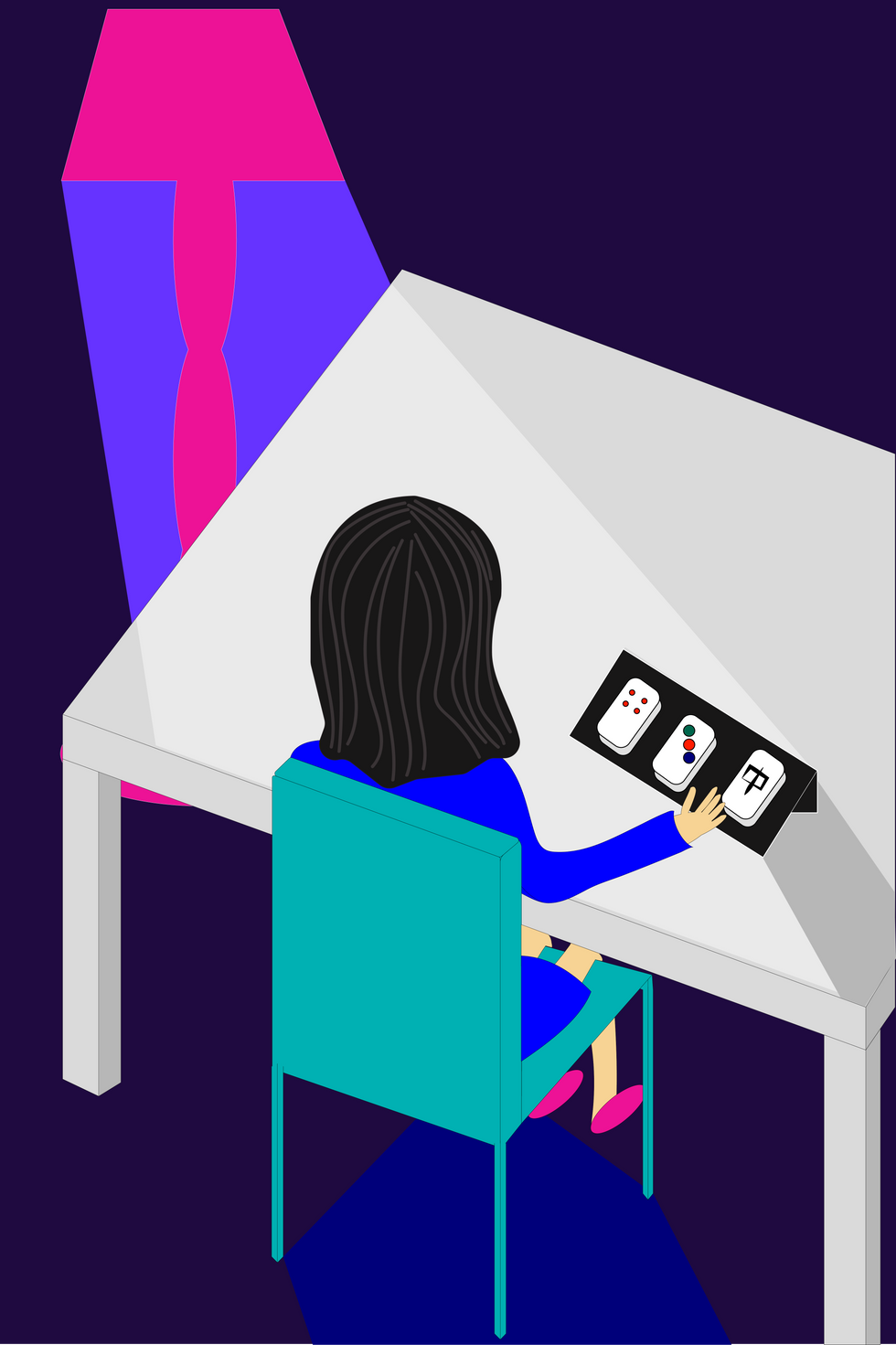 Illustration: ISABELLA SASVARY
Her shift lasts for nine hours, then she can finally enjoy her own time. She goes to the apartment of her friends, where they meet after work to play mahjong. It's only 10 minutes' walk to the apartment, and when she gets there, her three friends (two middle-age men and one young woman) are waiting. They have prepared snacks: fried peanuts, dry melon seeds and a bag of nuts. In the middle of the living room is a mahjong table, the only other furniture being a sofa, dining table and chairs. There are no decorations on the walls.
With four people in the room, this place feels narrow. There is only one weak white light on the ceiling, but it is enough for this tiny space. Liu's friends warmly welcome her, they are familiar with each other, so can unburden themselves when they are together.

Playing mahjong is a regular activity for them: "I met these friends at my work place and although we come from different provinces of China, we have the same habit, playing mahjong," says Liu. With a glass of hot tea beside them, the mahjong tiles are poured out of the box onto the table. They put their hands on the tiles and mix them constantly, clashing them together with a ringing crash.
Then they place all the tiles in four lines with the backs up, each holding a row. Liu leans on the back of her chair, her eyes becoming brighter, and her gestures more casual as the game progresses. As they gradually immerse themselves in the game, their voices get higher. When they get a good mahjong tile, they cannot help but make an excited yell.
The temperature in the room is rising slowly, their passion and the constant noise of mahjong tiles make this narrow room a space separated from Sydney.
After two rounds, Liu reflects: "It's not easy to find a place in Sydney to play mahjong. There were three mahjong clubs in the city half a year ago, but they were closed recently. The lucky thing is that a set of mahjong tiles is not too expensive for us, only $50. So, we bought a set of mahjong and made an appointment to meet each Friday."
Nobody in their small group can speak English. Sometimes they share with each other their novel or awkward experiences in Australia, or they complain about their bosses, their work and family.
The living room becomes a chatting room, and the small group are the best listeners to their stories. The talking never stops, except at the most decisive moments of the game.
Their time together ends close to midnight. As to who was the biggest winner of the night, nobody really cares. They are tired but satisfied, still immersed in the after-heat of happiness.
It is sprinkling outside, the patter of raindrops had been covered by their chatter, but now it becomes more and more clear. The host says farewell to his three friends, life goes back to repetition, there is more work to do tomorrow. After this meeting, nothing has changed in their lives, but at least there may be some trace of them left.
*Liu Qiong is not her real name.