They found each other in the UNSW undergraduate music program, now quintet Anoesis is taking on the world.
It's been a short, giddy climb for Anoesis, the five-member student jazz ensemble formed just two years ago and this week playing in one of the world's great jazz competitions.

The breakout quintet has been shortlisted for the semi-finals of the 2019 Bucharest International Jazz Competition, ranked the third best in the world.
The five UNSW undergraduates describe themselves as "composer-improvisors", combining nuance in their musical expression with a carefree writing style and ethos.
"What we play isn't a protest," says Anoesis guitarist Eitan Muir, "but we experiment with different [types] of interpersonal relations."
"We're not writing with a specific genre in mind or a really distinct set of qualities about what's good or bad, or what's right and wrong, what fits and doesn't fit with what we're doing," Muir says. "So there's a lot of freedom in the compositions, the way that we play."
Video: ANNABELLE RIGER BREGOVIC
The way they play clearly resonated with the Bucharest selection panel. The ensemble will compete against 15 groups from 12 other countries as a part of EUROPAfest.

Speaking to Newsworthy before flying out to Romania, Muir says he feels positive about networking with other artists and checking out the local jazz scene in Bucharest. However, he is aware there may be some cultural jazz differences on this first international venture.
"[Europeans have] a more sort of holistic sense of what music, or what jazz, encompasses. And they seem to take quite a lot of pride in having a really pure, sort of clean tone which I don't know that we have natively."
Citing the late Australian jazz legend Bernie McGann, he humorously points to the landscape of the Australian sound.
"You know, there's a lot of rocks and dust within the sounds of our horn players, and the approach of our guitarists as well. I don't know that we necessarily go all the way with it, [but] it's definitely there. It's part of the accent," he says.
"So, it'll be interesting to hear how we stack up against the other groups."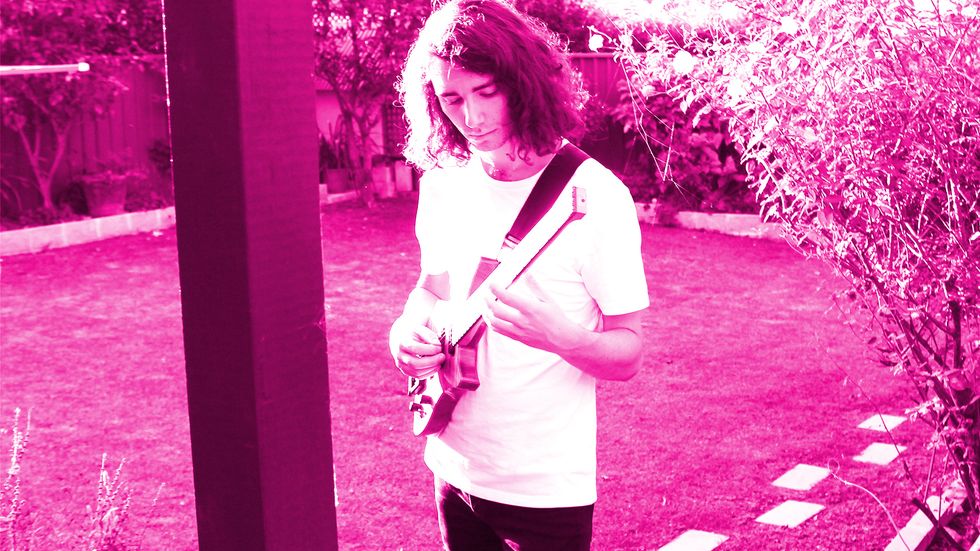 Eitan Muir says Anoesis plays its jazz with an Australian accent.Photo: ANNABELLE RIGER BREGOVIC
The five members of the ensemble comprise Muir on guitar, Greg Stopic on alto saxophone, Alistair Johnson on tenor saxophone, Tomas McKeever Ford on upright and electric bass and Patrick Rogers on drums. For the competition, the band pulled in local drummer Cy Donkin as an overseas cover for Rogers who faces a clashing UK tour with pop act Ruby Fields.
In its two years together, Anoesis has performed at Sydney venues including Foundry 616, Brass Monkey and Lazybones Lounge but never overseas. Of the Bucharest invitation, bassist Ford says "for any musician, it's a great opportunity. It's one of the top jazz competitions in the world. "
'We're trying to reach people with our sound, not with their sound.'
He credits university mentor and internationally renowned saxophonist Sandy Evans with the idea. "[She] recommended the competition to us late last year. We thought, this could be fun, and with that recommendation, we went on to record some material. Some of [the recording] we sent to the actual competition," said Ford of their entry.
The competition required musicians to submit recorded material, both visual and audio, for evaluation by the judges. Successful entrants were granted a place in the competition semi-finals and their performances are displayed on the EUROPAfest website.
During this week's competition, Anoesis will perform both originals and works by other Australian jazz musicians.
Muir attributes the band's unique sound to the members' respective roots, having variously begun in rock and heavy metal, hip-hop, reggae, blues, electronica, and breakbeat.
"We're not born into jazz here in Australia, so we all kind of entered it at different stages of life," Muir explains. "And I think you can hear that … in the way we play and the way we write."
The word anoesis is a noun meaning a state of mind consisting of pure sensation or emotion without cognitive content. Muir characterises the group's sound as a feeling. "For me, it's sort of a feeling of trust, a feeling of mutual creatorship that comes with just playing in the way that we do."
Muir says there are also benefits to playing in a genre a world away from the commercial music scene. "On the one hand, yeah it is against the flow. On the other hand, there's way less competition out there," he says.
"You know, we're not competing against 10,000 indie bands, [and] we're not trying to get hits on Triple J or whatever just to get noticed, because there's hardly any industry at all around the sorts of sounds that we're making."
Anoesis' debut album, The Hermit, is scheduled for release on iTunes and Spotify in July.
Although they want to cultivate an audience, Muir is steadfast in his stance: "We're trying to reach people with our sound, not with their sound."
Asked how it feels trying to find success in jazz, the guitarist admits their brand of music will likely not sell out stadium shows or become a full-time gig, but for him it's a calming thought.
"It means I don't need to worry about trying to get there and feeling like I haven't made it. It's something that's just a wonderful outlet for all of us."
"No one plays jazz for the money, that's a simple fact. You play jazz because you want to and because you love it. I feel incredibly lucky to be playing with the people I'm playing with right now."