Six weeks after the film's Australian theatrical release, Barbie merchandise is already showing up in thrift stores.
Life in plastic, it's fantastic! Right? Since Barbie's inception in 1959, more than 1 billion dolls have been sold worldwide and with the release of the movie, her influence now reaches beyond the world of toys. She is here to make her mark in the Real World, where her fierce chokehold on today's cultural zeitgeist has inspired a new trend aptly titled Barbie-core.

This trend has flooded store fronts and social media feeds in a rush of pink. Warner Bros has reportedly spent US$150 million on their marketing campaign for Greta Gerwig's film reinterpretation of the iconic 20th century toy's story. The campaign includes collaborations across a range of products – from the obvious partnerships with beauty and makeup brands to ones you would not think could be Barbie-fied including a dog-clothing business and an insurance provider. Safe to say, our fantasies of living in a Barbie dreamland can finally come to life.
'It's product placement on steroids. The marketing world will learn from this and we'll see a lot more of it.'
A significant part of the Barbie-core trend is the plethora of fashion brands that have capitalised on the hype to sell Barbie-related collections. Fashion brands Zara, Boohoo, Cotton On, Primark, Vans and Gap have all released some petrifyingly pink clothing lines. "Barbie fashion" and related search terms are at a 15-year high in Australia, which speaks to the unprecedented success of the marketing campaign in convincing consumers to buy into the trend.
Boohoo's Barbie collection sold out in record time and the many "Barbie-core hauls" on TikTok have more than 1.1 billion people tuning in to see the clothes unboxed. Even fashion influencer Elizabeth Cao, who has more than 180,000 TikTok followers is not immune. "As an influencer myself, I even get influenced by other, bigger celebrities and influencers wearing certain trends. And I'm like, 'Oh my God, I have to hop on to that'."
Tamzin Rollason, a sustainable fashion expert and researcher at RMIT's Centre for Urban Research, said "usually fashion is really good at making use of other opportunities to make people want to buy more. I think in this case, the film has made use of fashion to draw people into the film."
The Barbie-core trend is easily identified by its bright colours, ease of access and sudden uptake - all characteristics of a micro-trend. "Nothing stays around for very long. So, something that is as strong and distinct as that pink … Our enthusiasm for it will wear out quite quickly," Rollason said.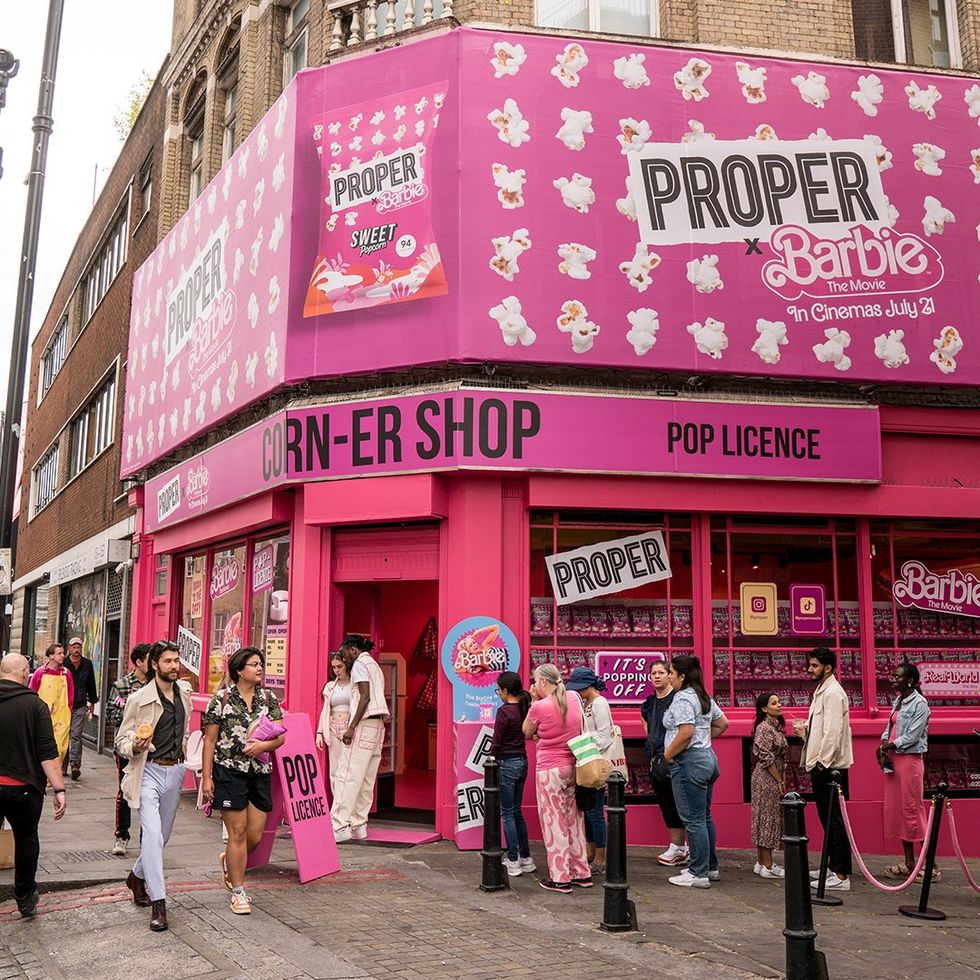 A Barbie collaboration with a British popcorn maker.SHUTTERSTOCK
Cassandra Stratigos, a final-year fashion student whose work centres on sustainable practices, agreed the trend will be short-lived. "After you've had that Barbie premiere party with your friends, the likelihood that you're going to wear pink … with a pair of pants that you've never worn pink with before, it's just not really going to happen."
The intimate relationship between micro-trends and the fast fashion model is not new. Nor is fast fashion's contribution to the climate crisis, with the United Nations estimating the industry is responsible for 8-10 per cent of global emissions. The merchandising collaborations and the culture of consumption that the Barbie film is playing into contradict Barbie's parent company Mattel's professed commitment to sustainability.
A 2014 UN report identified toys as the most plastic intensive consumer goods and the combination of incompatible materials from which toys are made make them difficult to recycle. As the toy-buying public become more environmentally conscious, Mattel has committed to achieving "100 per cent recycled, recyclable, or bio-based plastic materials in all products and packaging" by 2030. (It also has a toy recycling program however it is not available in Australia.)
Alan Pears, an RMIT University Senior Industry Fellow researching energy efficiency, estimates there are 4.5 kilograms of carbon emissions produced per kilogram of toys. By comparison, an estimated 23 kilograms of carbon is emitted per kilogram of fabric. Making a marriage beween fast fashion and toys can't be good for the planet.
Mattel's website states it will use its platform and Barbie to "promote sustainable everyday behaviours", however, who's to say that Barbie-core is the end of Mattel's cash in on micro-trends? With Mattel's burgeoning cinematic universe should we be expecting a Hot Wheels or Barney collaboration with insurance companies? In the cultural landscape post-Barbie, Mattel's stated sustainability practices cannot co-exist with these manufactured micro-trends. Their very nature makes them replaceable and doesn't fulfil a long-term purpose.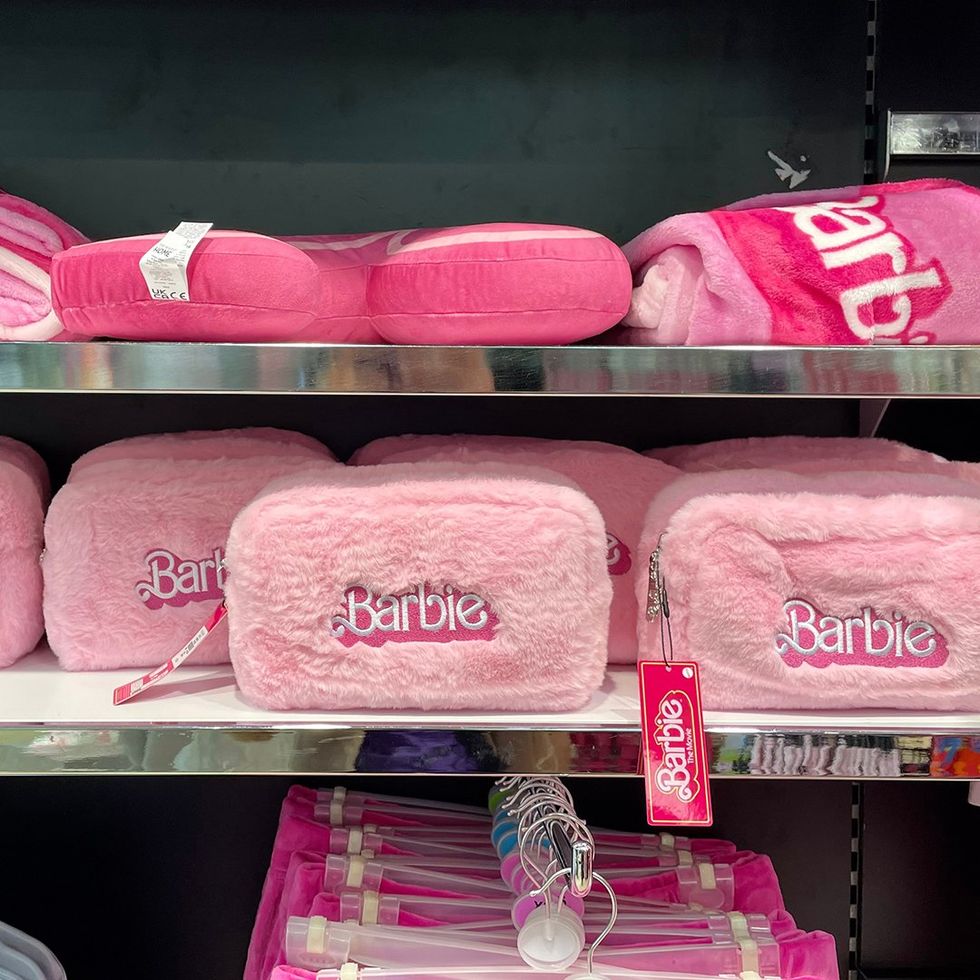 Barbie makeup bags and towels.SHUTTERSTOCK
"[A micro-trend] allows fashion to produce very poor quality clothes because…people are okay knowing that they're wearing something that is very on-trend…[and] that [it] will quickly be superseded," Rollason said.
Even influencer Cao, who plays a role in encouraging people to buy more, is aware of the limited shelf life of micro-trends. "My mum brought it up with me being like, we have a new package at the door every second day and…she could even see me struggling to fit everything in my wardrobe. So, it kind of made me realise I had so much unwanted clothing from micro-trends that I literally bought a week prior, but the trend had already just like… become… too mainstream or even died down."
Only six weeks after the film's Australian theatrical release, Barbie merchandise is already beginning to show up in thrift stores.
For Pears, there is room for Mattel to use Barbie as a learning opportunity to shift away from collaborations with unsustainable brands and practices and to use the opportunity to leverage environmental outcomes when they receive negative feedback. "A toy company is doing a lot of market research," he said, "so if lots of people are writing about the bad impacts of fast fashion, then they will know that and that it is impacting on their reputation."
Rollason is less optimistic. "It's product placement on steroids. The marketing world will learn from this and we'll see a lot more of it."