The perfect fix for late-night lockdown munchies while binge-watching the Olympics.
Forget Maccas or KFC, when you're after a juicy, finger-licking, made-with-love burger, no building is necessary, all you need is a kitchen-fitted truck. And of course, plenty of tasty burgers.
Dotting the 12 km stretch from Haberfield to Lidcombe on Parramatta Road, there are five conveniently located burger trucks for all the late-night foodies in the area.
Yet, if you are thinking seen one, seen 'em all, think again! These five burger wagons are so distinct you can eat at a different one each night without getting bored. From Asian flare to Middle Eastern flavours, these five burger stops will have you queueing for another, and another, and another.
And the best part? They're open 'til late.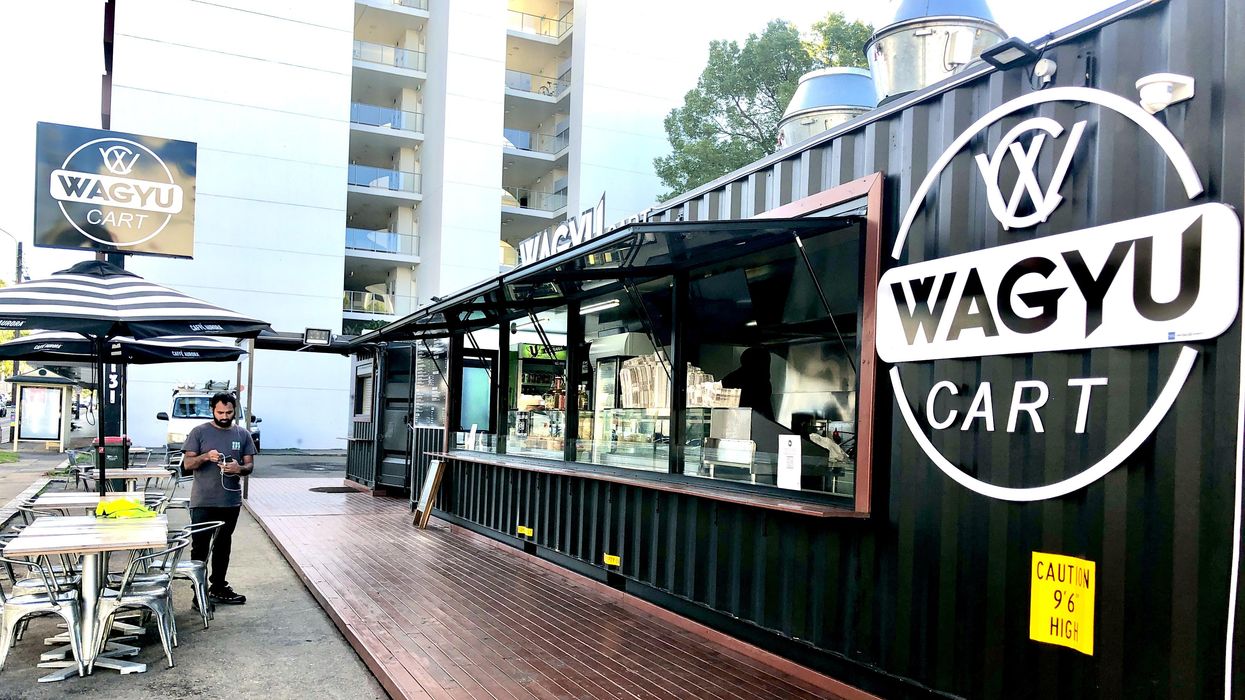 1. Wagyu Cart

131 Parramatta Rd, Homebush
Open 7 days 10am-2am |$| @wagyucart
Positioned between brand new residential buildings on one of Sydney's busiest road, Wagyu Cart is almost impossible to drive past without questioning whether it is indeed burger time.
Open until 2am every night, this decked out shipping container services anyone looking for Middle Eastern flavours in the form of a burger. The extensive menu boasts 13 different burgers, including variations of their signature Wagyu Beef Burger ($14) and even a Camel Burger ($17.90). If for some reason, the burger doesn't fill you up, their impressive range of sides, grills and wings surely will. Although, be prepared to wait more than 10 minutes while the chefs freshly make your meal, you can't rush art.
Their position on Parramatta Road means you have to endure the roar of semi-trailers powering towards the city while you order, however, the owners have innovatively set up an eating area behind the shipping container where, outside of lockdown, you can eat. This comfy spot is significantly quieter, protected from the wind and also decked with a sink to clean your inevitably greasy hands. For now, it's a good place to wait for your order. Well played, Wagyu Cart, well played.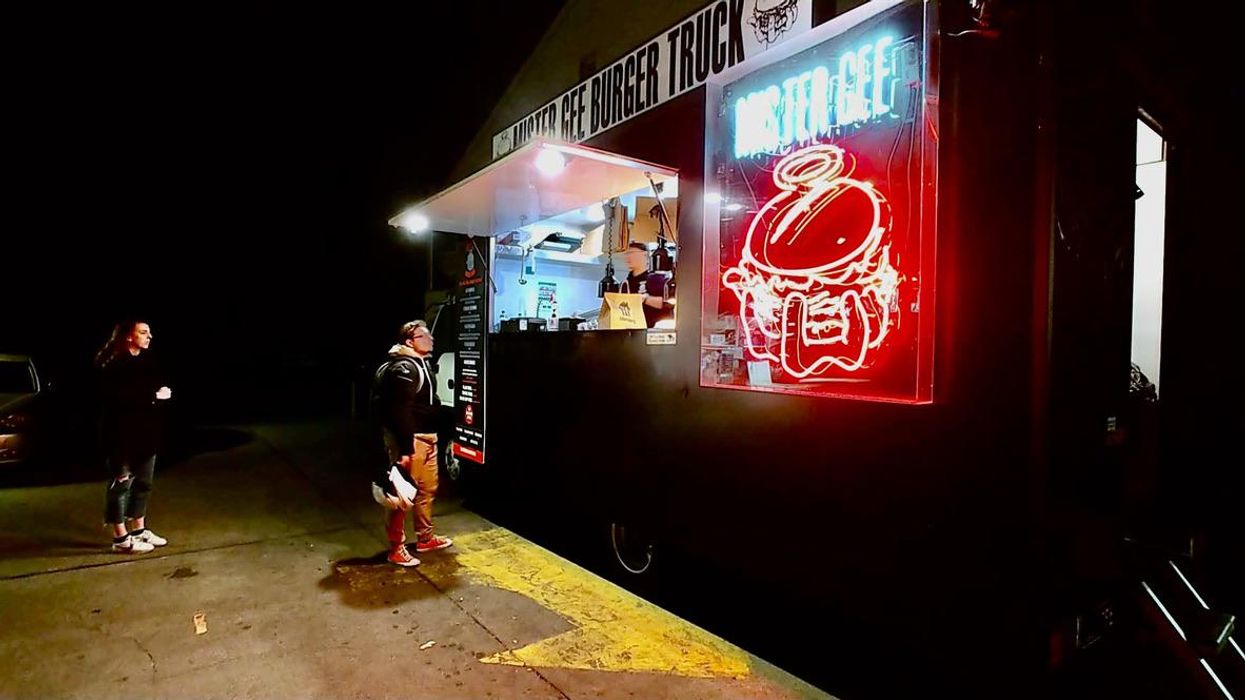 2. & 3. Mister Gee, North Strathfield and Haberfield

16 George Street, North Strathfield
Open Thurs-Sat 6pm-10pm, Sun 6pm-9pm | $ | @mistergeeburgertruck
315 Parramatta Rd, Haberfield
Open Thurs-Sat 6pm-10pm, Sun 6pm-9pm | $ | @mistergeeburgertruck
The Inner West has been blessed with not one of Sydney's juiciest burger joints, but two, within 4 kms of each other. Mister Gee set up in both Haberfield and North Strathfield to fix the hungry with their famous OG Truffle Burger ($13).
The immediate impression from the busyness of this place is these guys know how to make a burger. Further, their limited menu is a sure sign of their confidence they have mastered the few items on offer. One bite of a Stoners Revenge burger ($13.50) and you'll know it's true.
If Mister Gee is known for one thing, it's their burger sauces. Each of their five burgers has a specially engineered sauce to complement the ingredients. When eating the Cheese Boogie Burger ($12), you realise that the difference between a good and bad burger is very likely the sauce.
The saddest thing about both these burger hubs is that they are only open four nights a week (Thursday- Sunday), and only until 10pm! Perhaps it's time to petition them on behalf of Inner Westies with late-night cravings!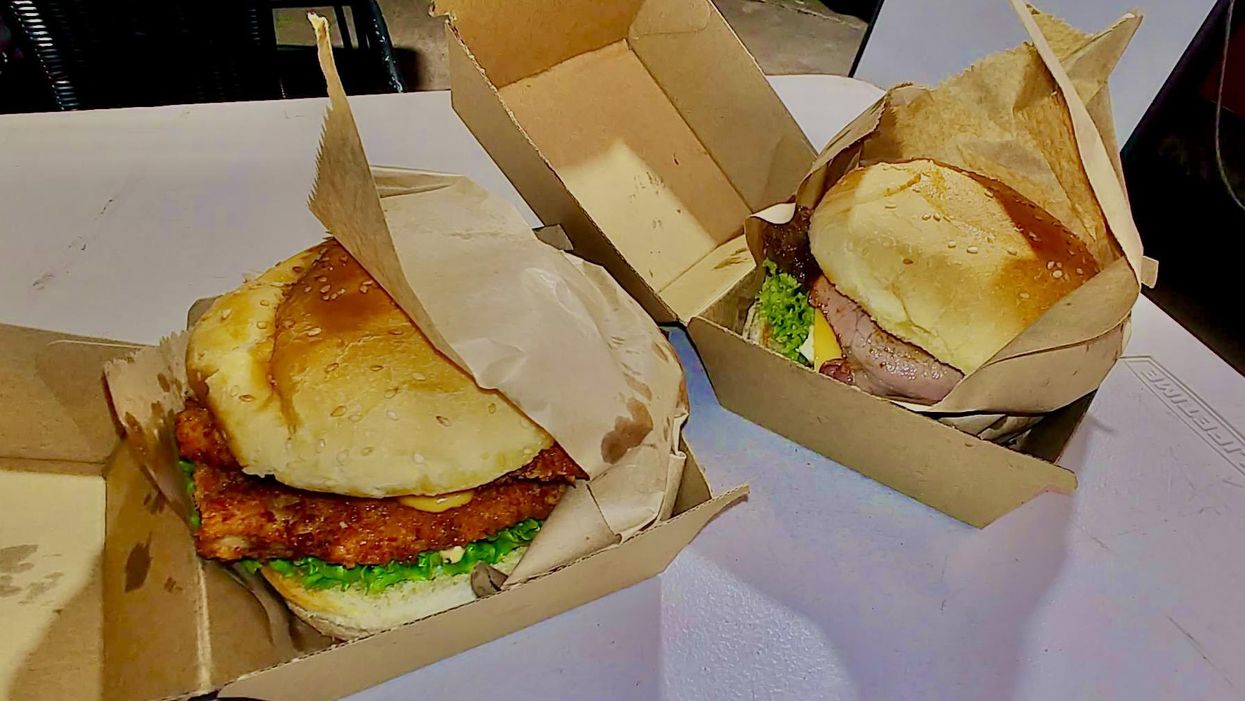 4. Sakura on Wheelz

315 Parramatta Rd, Haberfield
Open 7 days 5pm-3am | $ | @sakuraonwheelz
Somewhat overshadowed by Mister Gee's popularity, the humble Sakura on Wheelz burger truck sits just 20 metres from the Mister Gee van in Haberfield.
Though somewhat quieter, Sakura's has an Asian flare, so they're certainly worth taking notice of. Their Japanese-burger fusion game is as strong as their juicy Chicken Katsu Burger ($12) which boasts two pieces of crispy chicken katsu. They also offer a Prawn Burger ($16) and a Crab Burger ($16) served with tempura-battered claws. Made fresh to order, their prices are marginally cheaper than their nearby rivals, making them a strong underdog.
Their menu also goes beyond burgers to noodle and rice dishes, attempting to combine a more ambitious range of meals under one ceiling. It's a commendable effort, however, if you're looking for a cohesive menu, the smoothies, gyozas and chips do get a little confusing.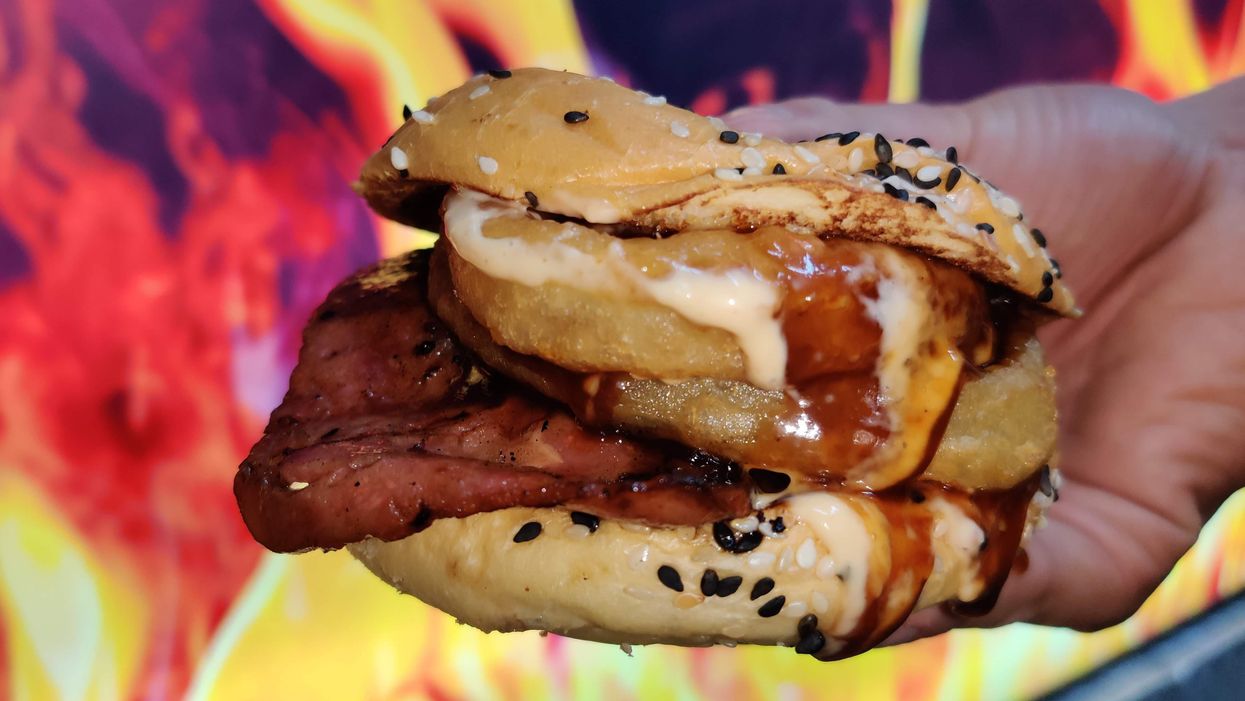 5. Chubby Buns
78 Parramatta Road, Lidcome
Sunday-Thurs 5pm-2am, Fri-Sat 5pm-3am | $ | @chubbybunburgers
In Lidcombe, on the eastern edge of Sydney's west, lies Chubby Buns, a well-known and well-loved burger truck that can draw out even the Inner West foodie. This late-night food destination has been buzzing every night until the early hours since it first opened in 2018.
And the buns do not fail to live up to their cheeky name. Chubby indeed, the iconic sesame seed milk buns make an appearance in all nine of the generously filled burgers and are the perfect density and size to handle the filling. This will likely include a juicy patty (be it grilled chicken or wagyu beef) accompanied by the special Chubby sauce featured on most of their burgers.
If you're particularly hungry, it's hard to go past the aptly-named Double Decker ($14) burger. Forgeting your cholesterol count is the best approach to tackling this double stacked wagyu beef burger with two patties and two cheeses. WARNING: The structural integrity is questionable, so certainly BYO wipes!
Chubby Buns has one thing that the others don't – thick shakes. If you're looking to cut down on calories, steer well clear of Chubby Buns. However, if you've made it this far, you may as well go all the way and try their notorious thick shake ($8), available in Cookies and Cream, Kit Kat, Chocolate Wafer and Tim Tam.
The big challenge at Chubby Buns is keeping down both your Double Decker and thick shake.
Where to find the burger trucks on Parramatta Road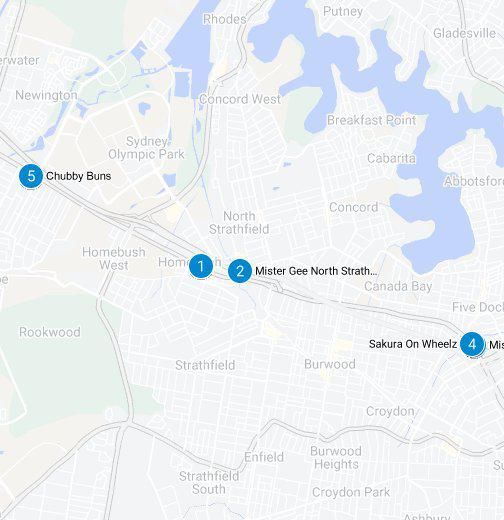 5 must-visit burger trucks – Google My Mapswww.google.com.au