China's middle class is threatening to suspend mortgage payments over unfinished buildings.
As the train slowly leaves the city, Li is reminded by the passing scenery of all his experiences working and living in this place for more than 600 days.

"I feel like a bird that needs to keep flying in the sky because I have no way to return to my nest, which is not yet finished," Li* said.
Li's "nest" is an apartment he bought off-the-plan a year ago in a building near the university in Zhengzhou, the capital of China's Henan Province. "I bought the apartment there at the time because I saw the local talent introduction program, which allowed people with a Master's or PhD degree to enjoy a homeownership incentive of 100,000 RMB when buying an apartment there," Li explained. The building remains unfinished.
He was not the only well-qualified buyer. Tencent News calls the unfinished apartment complex Zhengzhou's "highest education" building, reporting that of the 1057 people who bought an apartment in the unfinished building, 72 had a PhD degree and 320 had a Master's degree. When they paid for their apartments upfront, no one predicted construction on the site would be suspended in November 2021.
"The salespersons we consulted said that the developer's regulatory funds seemed to go to an unknown destination, which means that there is no more money to carry on the construction of the building," Li said.
'My girlfriend broke up with me ... exactly because she does not want to be trapped by an unfinished building.'
In China, "unfinished building" has taken on an alarming connotation, referring to a housing project that is suspended for more than one year. It may be that the developer cannot afford to continue investing in the construction or is caught in a debt dispute after purchase contracts are signed and paid for, and the project has started.
In China, these consumers, for the most part, have bought an apartment. The money they have paid for the property may come from their family's life savings or loans pulled together from banks and friends or relatives. They cannot move into their new flats as agreed with the developer but will still face huge loans and have great difficulty defending their rights.
In January this year, Tencent News estimated 140,000 to 220,000 families were impacted by unfinished buildings in China. Assuming a family of three people, that is up to 660,000 people caught in the strife of the unfinished building crisis. Buyers have tried to negotiate with the developer and the local government but many have failed to get a clear date to take possession of the property.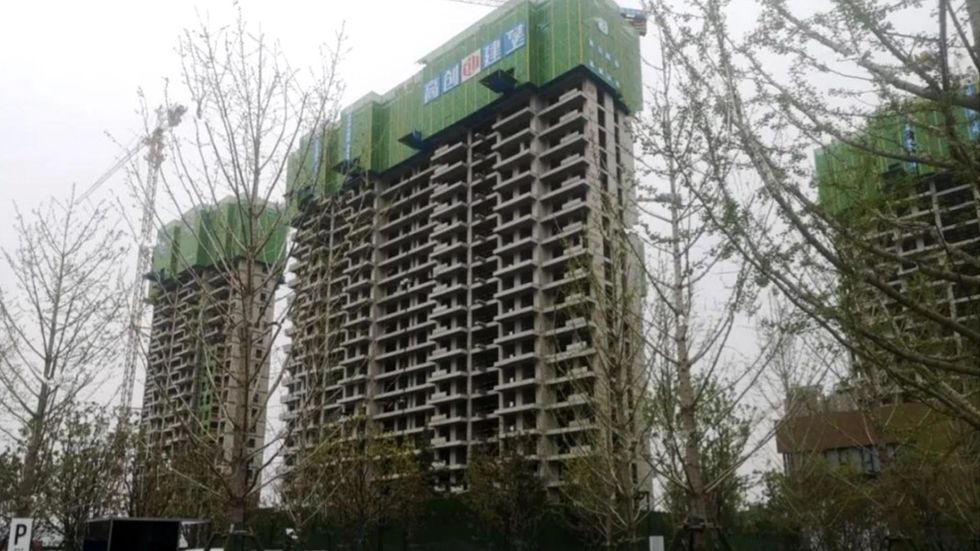 Empty promise: Wang's unfinished apartment building in Zhengzhou.SUPPLIED
It was this struggle that broke Li's heart and drove him out of Zhengzhou.
"My parents spent all their savings, about 2 million RMB, for my purchase of this apartment, about 100 sqm, and seeing my home in this unfinished building makes me disappointed every day, but there is nothing I can do about it," Li said.
He has decided to seek a job in Beijing, to earn money while he waits, and when the building is finally finished, he will immediately return to his completed apartment.
Property analyst Zhang Dawei, told China Observer in January this year "the various quality and delivery problems in the real estate market are basically all related to the pre-sale system. The pre-sale ratio of apartments in major cities in China is generally above 80 per cent, and in some cities, it is even above 90 per cent."
The payment up-front approach allows smaller businesses with little capital strength to become property developers, said Zhang, chief analyst with Centaline Property. As long as the developers pay land fees to the local government and have a little capital to start the project or by way of a project loan, they can start collecting money from the pre-sale.
The local government gets its money for sale of the land, so, it is of little concern to it whether the project is ultimately completed or not, Zhang said. The developer could go bankrupt or run off with the money during the construction of the condominium. No matter how the project fails, the loss will ultimately fall on the purchasing public.
While Li was able to leave Zhengzhou in search of a new job in Beijing; apartment buyer Wang*, who lives in a different part of the country, was not so fortunate.
He is seemingly stuck in the unfinished apartment he has purchased. "I can make an average income of 7,000 to 9,000 RMB per month from delivering food," Wang said. However, from that, he makes a fixed monthly mortgage payment of 6,500 RMB to the bank. "This leaves me with only 500 RMB to 2,500 RMB per month for my living expenses," Wang said.
"My girlfriend broke up with me after knowing that what I had purchased has become an unfinished one, exactly because she does not want to be trapped by an unfinished building," Wang said with a bitter smile.
Wang purchased this 80-sq m apartment about five years ago in Xi'an, the capital of Shaanxi province. However, the project stopped construction due to a break in the developer's financial chain. Many purchasers have vigorously asked for an explanation from the local government and the developer but have always been told to "wait a little longer".
"At that time, for the apartment, which was planned to be used for my marriage, my parents paid a down payment of RMB300, 000," Wang said. "The rest was then paid with a bank loan of RMB1.2 million, which will be repaid over 30 years."
Wang has made five years of loan payments for his home in the unfinished building. However, there is no sign of the developer moving ahead with completion of the building.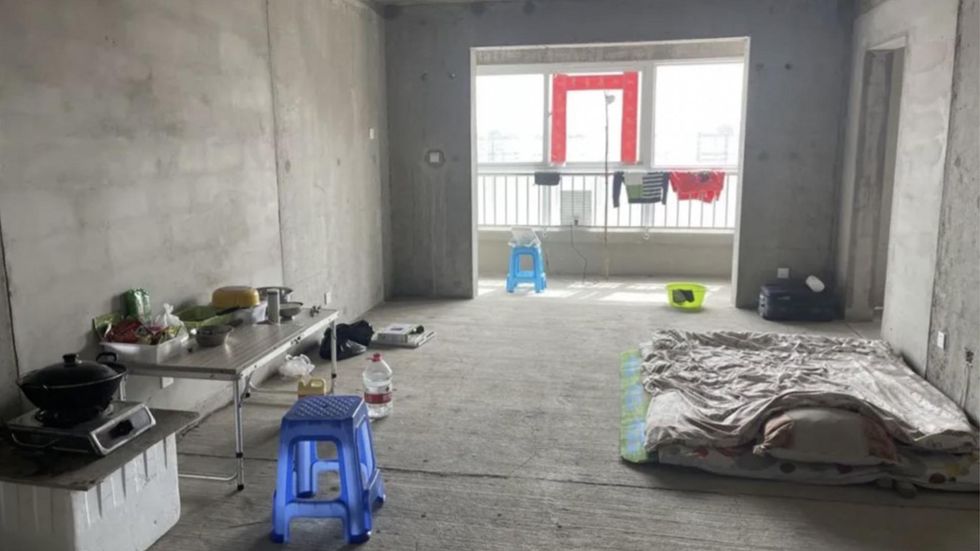 Li visits his unfinished apartment block every day. Other owners have moved in.SUPPLIED
Every night, Wang rides his bike to see the unfinished building after finishing work. "After all, I have paid for it myself, and no matter what may happen, this is my home," Wang said. There is no elevator, water or electricity in this unfinished building of more than 20 floors. Despite this, many purchasers are willing to climb the stairs to visit their homes every day. Other families have actually moved into this building and started their "new" lives during these five years.
Real estate ownership has been a key pillar in the growing wealth of China's middle class. A research paper by Kenneth Rogoff and Yuanchen Yang, published in China & World Economy in 2021 estimated the sector accounts for 29 per cent of China's gross domestic product. That is greater percentage of GDP than that seen at the height of the Spanish and Irish property bubbles of the early 2000s before they came crashing down, leaving swathes of unfinished buildings. Rogoff and Yang believe "a 20 per cent fall in real estate activity could lead to a five to 10 per cent fall in GDP".
Many anticipate the Chinese government will be prudent in dealing with unfinished buildings because it is closely related to the public interest, the greater economy and proper functioning of the nation. However, rumors the Chinese government may bail out developers or support the banks to allow completion of buildings have so far come to nothing.
Frustrated apartment owners have adopted a radical new approach. Unable to get an acceptable response from the developers or local government, owners of apartments in unfinished buildings, have demanded the right to "stop repaying their loans to the banks". In July, at least 100 owners of apartments in unfinished buildings in 18 provinces across China, forcefully argued for the suspension of their loan repayments. In this way, they hope to hold relevant regulators and banks accountable and drive them to work together to solve this complex issue.
However, Jiaqi Wei, a property lawyer with China HAIYI, said "there is no significant chance of winning such a lawsuit, whether individually or collectively, to stop repaying the bank's loan".
Speaking to Newsworthy via WeChat, Wei explained that, firstly, in China, "the lending relationship based on the mortgage between the purchaser and the bank is also a civil relationship". That means the developer is the guarantor, while the collateral asset is the home purchased by the purchaser. Although the development project may be halted for various reasons, what is unchanged is the lending relationship between the homeowner and the bank.
Secondly, "the purchaser faces several risks after the suspension of loan repayment, including receiving collection calls from the bank, personal assets being frozen at auction and being blacklisted on individual credit," Wei said.
Since July, the number of homeowners refusing to pay mortgages has risen but for Wang it is not an option. "I would never stop paying my mortgage, although the heavy pressure of repaying the loan is weighing me down so that I cannot breathe," Wang said.
He believes that the government can help him get out of the trap. Until then, he continues to visit the building each day.
"Tenth floor with 190 steps overall, I go upstairs every day after work to see my home in this building," he said. He now plans to move into the unfinished building and live there to save on expenses and save more money to pay off his mortgage.
"My greatest hope is to have a home of my own, where I can live with my wife and children," Wang said, "And then, ordinarily, spend every day [there] after that."
* Li and Wang's names have been changed to protect their identities.