In this Newsworthy series, students reflect on living in the shadow of the coronavirus.
My little brother's birthday was on March 18 and he turned 13. In Judaism, when a boy turns 13, he has a bar mitzvah, which is a coming-of-age ceremony.
For two years Levi has been taking lessons to read from the Torah, made up of the first five books of the Jewish Bible. Not only has he dedicated hours of his time to these lessons, time he could have spent doing homework or with friends, my parents have invested thousands of dollars so he is prepared for his special day.
Today, the last Saturday in March, was meant to be his special day – the day all his friends, family and members of the Jewish community would watch as he was called up to the bimah to read this week's parsha (Torah portion).
He has watched all his friends on their special days, but he will not get his turn.
Sadly, instead of receiving presents and praise on his 13th birthday, we received a message from the Rabbi that the synagogue was closing indefinitely because of COVID-19 and the bar mitzvah would not go ahead. Not only was the synagogue to close, but because of restrictions on the number of people allowed in one room, coupled with fear within the community, his party was also cancelled.
The look on his face, on his 13th birthday, as he heard, despite all his hard work, his ceremony would not go ahead, was heartbreaking. He has watched all his friends on their special days, but he will not get his turn, his moment will pass him by. Each Torah portion can only be read once a year on the exact day for which it is planned. The 17 Hebrew verses my brother has memorised for Parsha Vayikra, will not come again until next year when another boy will be called up to the bimah to recite them. By March next year, my brother will be 14, too old.
Around the world, thousands of Jewish boys, have gathered together in a Facebook group to support each other through their disappointment. Each one posting and commenting supportive words and trying to find ways to find happiness in such a dark time.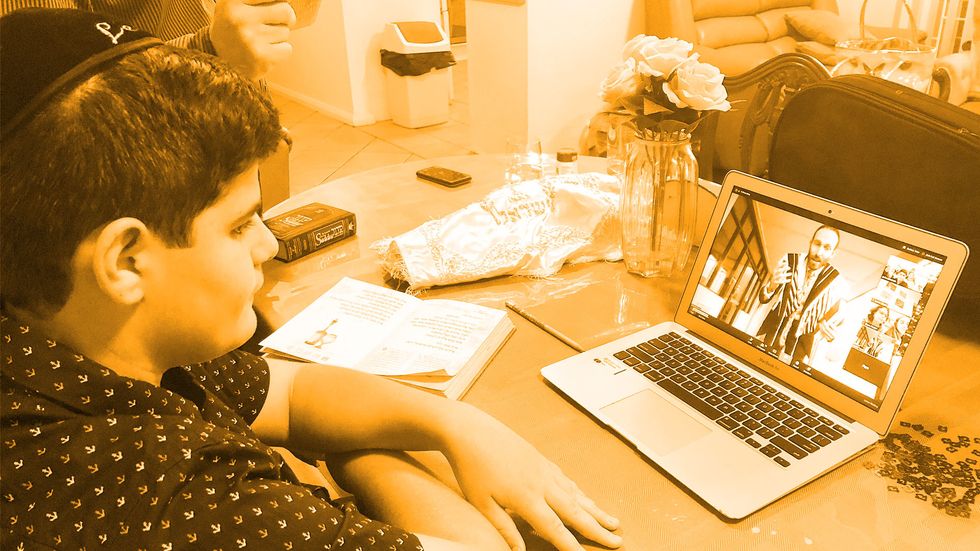 Levi recited Hebrew prayers and received a blessing from the Rabbi via Face Time before Shabbat yesterday.SUPPLIED
Inspired by the stories in this Facebook group, our family had the idea that my brother should recite some Hebrew prayers as well as receive a blessing from the Rabbi through FaceTime before Shabbat on Friday night. Seeing the light shine in Levi's eyes again as he heard this plan was a precious moment, and I know despite the circumstances, he will treasure this experience forever.