Click through to Best of 2020 to discover the Newsworthy articles with greatest impact: whether by highest page views, social media engagement or reportage on important social issues.
In this Newsworthy series, students reflect on living in the shadow of the coronavirus.
First, some background: I am an Indonesian national who has spent almost my entire life in Singapore, arriving as a three-year-old. I did all my study there – from pre-school to my polytechnic diploma – on a student visa. In 2018, I came to UNSW to do further study.

When news of the virus in Wuhan, China first emerged in January, I did not think much about it. I wasn't too worried about a novel coronavirus outbreak, it seemed far away. It is only now countries are in lockdown and tight border restrictions are in place that I have started to become anxious.
At this point, I wish I could just go home to the comforts of my family. As "my" government urges all its citizens studying overseas to quickly return home, I've seen my friends scrambling for last flights before the airlines stop flying. This call to return home comes as the Singaporean government announces its own tighter border restrictions.
I haven't been called home. In fact, what this means for me, a non-citizen, is that it would be difficult for me to enter Singapore. The first restriction I noticed was that all ASEAN citizens were required to submit an online health declaration before their intended travel, which would take 14-21 days to process. Even with that approval, I would only be allowed a maximum 30-day stay. After 30 days I would have to exit, but to where? I had no guarantee I could re-enter Australia if the situation escalated, as it quickly has.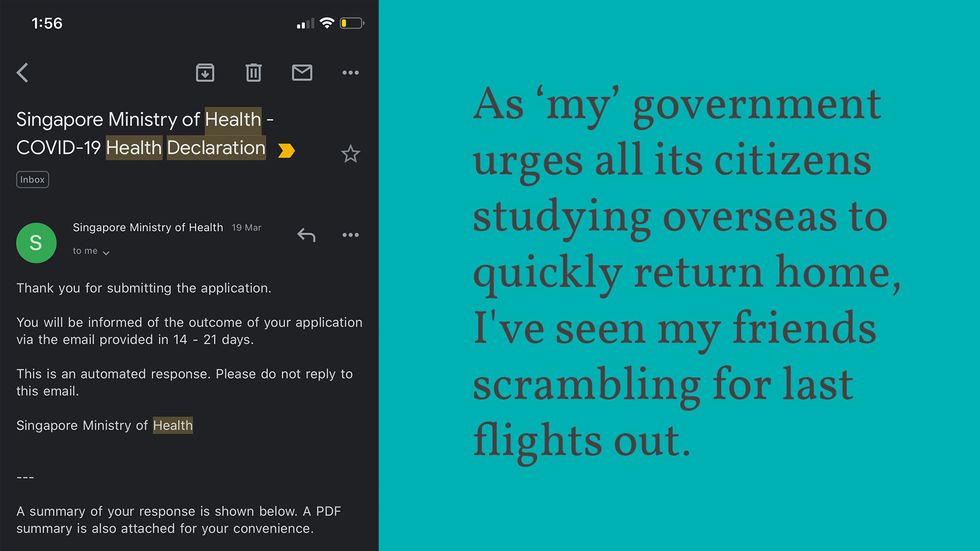 Going back to my hometown Batam, only 41 kms across the water from Singapore, is an option but not a good one. I have no friends or family in Indonesia, where the contagion is spreading, the government has been slow to act and the healthcare system is weak. If I went back there, I might find myself in a situation where I was stranded in a country with no access to help.

During a pandemic like this, I worry for my dad who is in his 70s, I just want to be with friends and family, the people I've lived with all my life. But the place I have called home for the past 16 years offers no protection for me. Last week, I sent emails to the government and the embassy to see if they could grant me an extension to a 30-day stay but I received no certainty. That was bad enough. On Sunday, Singapore's Ministry of Health announced a ban on all short-term visitors.
At the start, I didn't think much about the pandemic, now I think of little else.