Two Brisbane sisters and a tradie/stripper from the Gold Coast headed south to Byron Bay for a bachelorette party. All three later tested COVID-positive. Authorities in the town urged anyone with even the mildest symptoms to come forward and get tested.

But we are talking about Byron where not everyone believes COVID is real and some did not heed this advice. The news of the infectious cases partying in the town came as the seaside resort braced for an influx of Easter long weekend visitors and the return of tens of thousands of music lovers to the annual Bluesfest – creating what authorities saw as the potential for a super-spreader event.
The Byron Shire has long been known as an area that embraces alternative (and sometimes conspiratorial) thinking and in pre-COVID times, that may have been entertaining and a talking point for some.
We all know someone who loves a conspiracy, and at times they are fun to unpick; whether it be the Royal family's involvement in Princess Diana's death, the first moon landing, or even if the earth is flat. In the Northern Rivers area, add the link between 5G technology and the coronavirus to that list.
My father has received messages from old friends in Mullumbimby trying to convince him that this pandemic has been planned.
In April 2020, more than 100 locals protested the installation of 5G technology in Mullumbimby, in the Byron hinterland, claiming it was being done under the cover of the lockdown. I grew up in Mullum and I have always appreciated the open-mindedness and acceptance of differing ideas that flourish there. However, the pandemic has tested that, with personal animosity flaring towards COVID-19 disbelievers on social media. I now live in Sydney and it's been difficult seeing posts from peers trying to convince others to fight against the government, arguing that coronavirus is a scheme created to oppress civilians (through lockdowns and face masks), and spreading fear that mandatory vaccinations are on the way, or simply repeating misinformation.
Byron-based musician Ash Grunwald, who was to perform at Bluesfest, told ABC Breakfast radio: "I don't think COVID is a threat to my safety, doesn't it just affect people with compromised immune systems?" He went on to say the coronavirus was no greater threat than a really infectious flu.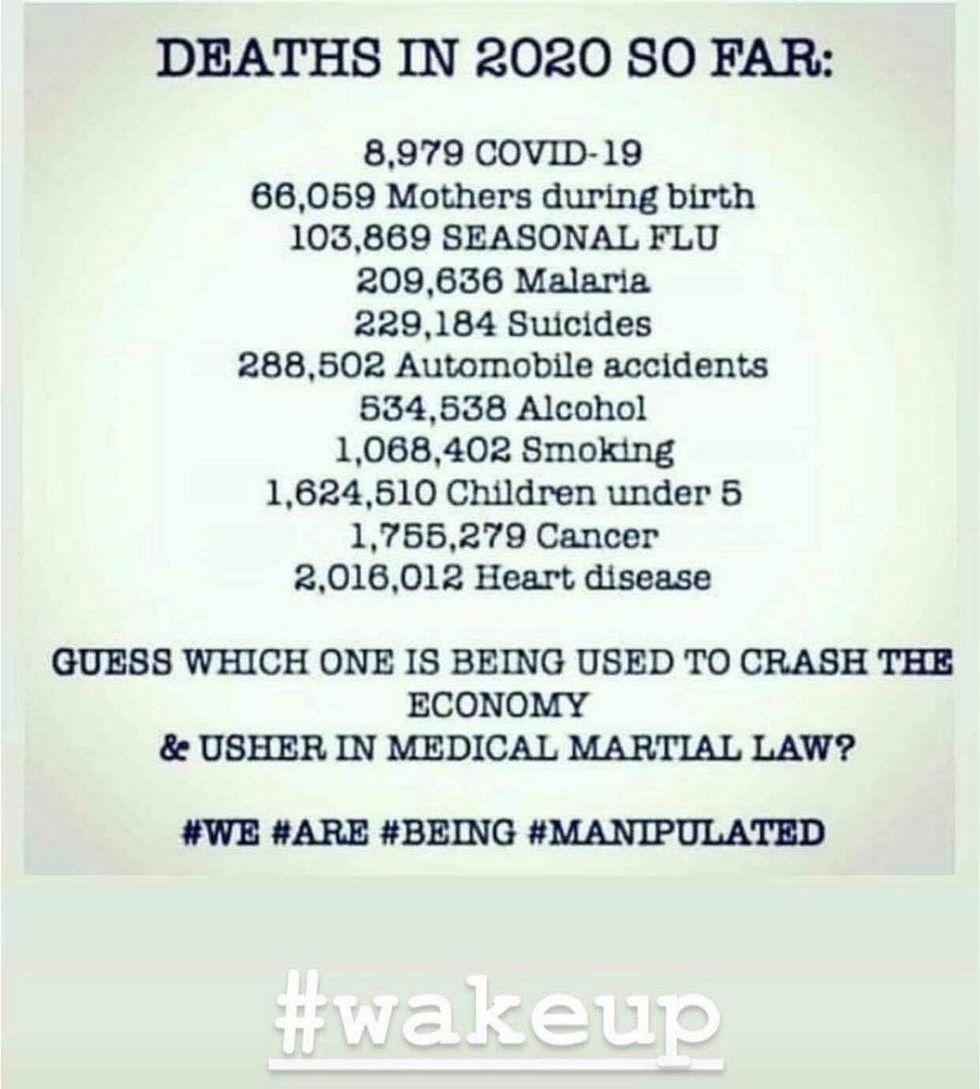 COVID is real. My father has lived in Barcelona, Spain, since the start of the pandemic, where they have had three waves of infection and the national death toll is more than 75,000. I have family in the United Kingdom (127,000 COVID deaths), my young cousin contracted the virus and is still really unwell. My father has received messages from old friends in Mullumbimby trying to convince him that this pandemic has been planned, which he meets with frustration after not being able to leave his home for months.

This lack of empathy and refusal to abide by laws has frustrated me, caused conflict, even ended friendships. It has also left me wondering, how can I better communicate with COVID non-believers, who deny its very existence. I sought out UNSW's Professor Mary-Louise McLaws, a world-renowned outbreak epidemiologist, who has spent the past year explaining the SARS-CoV-2 virus to Australians.
McLaws recalled a recent visit to Brunswick Heads, east of Mullumbimby, where she encountered sceptics. Her advice, "to always remind them that with any conspiracy theory, science is the first casualty".
"They always look for the most complex of explanations, instead of Occam's razor, which is the most obvious, and they always think that they can understand the science over and above other experts, and that there must be a world global conspiracy out there to ruin the economy and everybody's happiness in life," said McLaws. (She is a member of the World Health Organization Health Emergencies Program Experts Advisory Panel for Infection Prevention and Control Preparedness, Readiness and Response to COVID-19 and a member of the NSW Clinical Excellence Commission COVID Infection Prevention and Control taskforce.)
There are two ways of challenging the conspiracists, McLaws said, to give them no oxygen, like the anti-vaxxers, or to draw on real-life patient experience of the illness to highlight the reality.
"I was interviewed and videotaped about whooping cough a couple of years ago, aimed at anti-vaxxers because I have had whooping cough myself as an adult. And I explained that you cough for six months, and it takes you a long time to get over it. It's just horrible, let alone a baby. So, I tried to help by being a patient and explaining what it was like."
She'd like to see the media focus on long-term impacts. The perception is that people get over COVID in six weeks. But many suffer symptoms much longer, and after 12 weeks, are called long COVID patients or a long hauler. The recent ADAPT study confirmed this trend, showing one in three Australian COVID-19 patients at St Vincent's Hospital Sydney still had serious symptoms eight months after being infected.
"So, you could interview them to explain: 'This was real. I felt this way. I couldn't do this, I couldn't get out of bed.' And talk to people [who were infectious], 'I gave it to people and I was asymptomatic and I feel really guilty about that,' or whatever it happens to be, to actually get those conspiratorial stories put to bed. That's the way I do it."
In Australia, we have handled and contained the virus better than most countries, through mandatory lockdowns, mask wearing, social distancing and contact tracing. Last Wednesday, the Premier announced a new case of community transmission resulting from the bachelorette party at Byron Bay's Beach Hotel in the morning. A mask-wearing mandate was issued but early compliance on the streets of Byron was minimal. By late afternoon the NSW Health Minister had cancelled Bluesfest for the second straight year. (The super-spreader event was a non-starter. Five days after the cancellation, the community transmission remains at one.)
Cue the social media indignation and conspiracy theories. Locals are creating scenes, refusing to wear a mask into Woolworths, and on Facebook, groups are giving out advice on how to legally get out of wearing one.
Conspiracy theorists in general question the world they live in and see those who challenge them as have been brainwashed by the state. But with the latest community transmission in the Northern Rivers, I can only hope COVID-19 non-believers were confronted, albeit briefly, with the most compelling argument of all, the undeniable truth of becoming infected themselves with the coronavirus.