The Bureau of Meteorology has confirmed Australia has entered its first active La Niña event since 2012. So, is that a good or a bad thing?

What is La Niña?
La Niña is a weather event that occurs as a result of a change in the surface temperature of the Pacific Ocean. It is one of the three phases of the El Niño Southern Oscillation (ENSO) and is characterised by the cooling of water temperature in the central and tropical Eastern Pacific Ocean, which leads to an increase in water temperature in the Western Pacific, bounding Australia's east coast.
This warmer water temperature increases the likelihood of rising air flows over Australian coastal waters, which in turn creates lower air temperatures, increases cloud development and subsequently leads to higher levels of rainfall.
Occurring every three to seven years, La Niña is a recurring phenomenon that is the result of weak circulation of atmospheric pressure above the equator.This event typically forms in the autumnmonths and continues into autumn of the following year, however, La Niña has been known to last for more than two years.
What is the Southern Oscillation?
El Nino Southern Oscillation (ENSO) is a weather event that involves extreme shifts in air pressure and water temperature in the Pacific Ocean. It involves three phases; La Niña, Neutral and El Niño. While La Nina involves stronger equatorial trade winds and increased water temperature in the western pacific, El Niño occurs when the equatorial winds weaken and water temperatures drop. The Southern Oscillation is the movement between these two extremes from El Niño, through the Neutral phase of calmer weather to La Niña.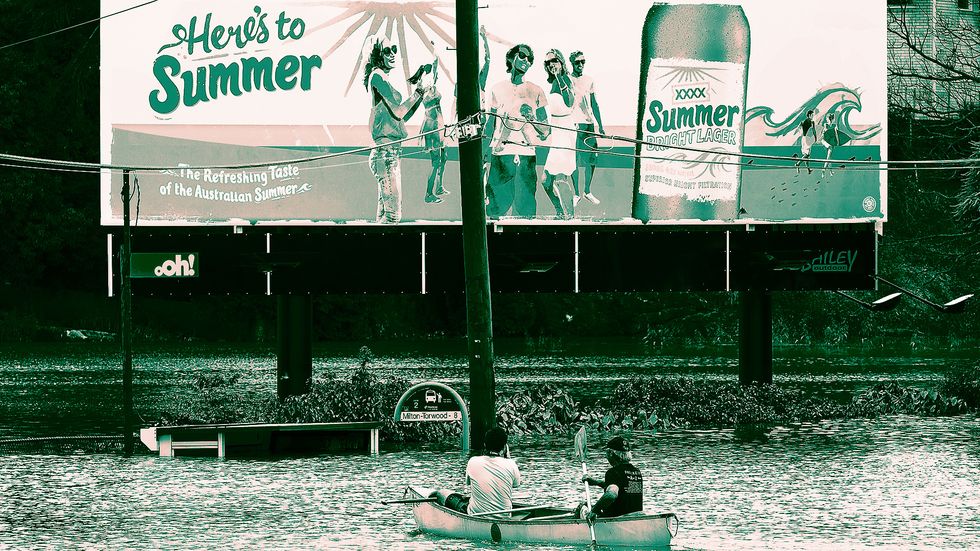 Flooded Brisbane, 2011.SHUTTERSTOCK
What does it mean for Australian weather?

During this current La Niña phase, Australia can expect extreme climate shifts in the coming spring and summer months. The warming water in the Western Pacific will lead to heavy rainfall in the eastern, central and northern regions of Australia, according to the Bureau of Meteorology. La Niña is likely to bring an early onset of the wet season in the country's tropical north. These wet conditions can lead to cooler daytime temperatures. Summer heat waves may be less intense but will last longer and be more humid in south-east regions of the country. The shift in temperature extremes means Australia will tend to have lower average daytime temperatures and higher average overnight temperatures. The number of tropical cyclones in north-eastern Australia is expected to increase due to stronger winds, high seas and heavy rainfall with potential risks of widespread flood and cyclone damage.
Is this good news for the summer bushfire season?
The extreme heatwaves, droughts and dry winds Australia has experienced in recent years are less likely to occur this year. With summer heatwaves longer but less intense, Australia is expected to see higher rainfall in spring and summer which will further lower the bushfire risk. While it will not eliminate all bushfires, La Niña should help reduce the chances of a recurrence of 2019-20's brutal Black Summer of fires.
How does it impact global warming?
While La Niña can result in lower air temperature and higher rainfall for Australia and neighbouring Pacific countries, nations in the central and eastern Pacific will experience warmer winter months as a result of the event. So, global warming, which occurs as carbon dioxide (CO2) and other air pollutants trap sunlight in the Earth's atmosphere, increasing the temperature of the planet, is still in effect despite Australia's changed weather patterns. While ENSO is not an indicator of global warming, the effects of climate change could increase the areas that experience La Niña impact by 10 to 20 per cent, according to the Australian Research Council. As the overall temperature of the ocean continues to rise with the planet's, the shift in water temperature caused by La Niña becomes more extreme, and the effects of the weather event intensify.
Is it worth heading to the beach?
Because the effects of La Niña on the Australian weather system include increased rainfall, greater cloud cover, and overall, cooler days along the coast, conditions may not be great for a summer beach getaway. Every La Niña pattern is different, however, the more frequent easterly trade winds could lift east coast swells, potentially making it more dangerous for swimmers while delivering bigger waves for board riders.
BUREAU OF METEOROLOGY