What happened when TikTok stoked a chorus of mockery around a popular parenting style.
Like most children, Anna Davis's daughter hates brushing her teeth. Bedtimes were a battle and the constant nagging yielded no victories. But instead of dealing out the usual suspect punishments (no TV tomorrow!), Davis now meets her daughter's resistance with acceptance.
"Hey my love, I get it," she says. "It's not easy to have to brush your teeth every morning and every night, none of us like doing it, it's boring and it feels like a chore." Her daughter's behaviour is not without consequence. She is given what Davis calls a "natural consequence".
Davis is a conscious parenting coach based in Byron Bay, who strives to guide parents towards mindful interactions to foster positive relationships between their children and themselves. These warm yet structured parenting styles, including conscious and gentle parenting, sit within the "authoritative" style, in contrast to the more traditional "authoritarian" style of parenting, in which children are disciplined with little empathy or emotional nurturing.
"If I just keep threatening her and getting her to moderate her behaviour out of fear, I will get her to do what I want but the behaviour will eventually resurface because she hasn't intrinsically understood why she should moderate her behaviour. When she is no longer scared of the unnatural consequence, she is going to go 'well, I don't care if I don't have TV, screw you'," says Davis.
She gently lets her daughter know that if she doesn't brush her teeth that night, she won't be able to have sugar the next day – a consequence related to the "crime" and one that directly holds the boundary with compassion. When her daughter says she doesn't care, Davis reminds herself that one night of not brushing her teeth is going to be okay and proceeds to pack her a lunch of cucumber, capsicum and tomato wrapped in lettuce.
"She then has to go to school the next day with a sugar-free lunch and a series of natural consequences start to happen for her," says Davis. "She doesn't get the lunch she wants, she doesn't get the apple, she doesn't get the little muesli bar, she doesn't get bread."
Now, though she still rolls her eyes, Davis's daughter brushes her teeth every time.
Tency Brennan with her family on their property west of Cairns, employs an 'outback' parenting style.SUPPLIED
A 2019 survey by School TV revealed approximately 80 per cent of parents consider their parenting style to be within the "authoritative" bracket, with 9.1 per cent "uninvolved", 7.3 per cent "authoritarian", and 3.8 per cent "permissive".
While these styles work for many, rural mother of three Tency Brennan says they do not suit all lifestyles. Raising three boys, Vance 11, Wyatt, 10, and Clancy, 8, on a farm at Mareeba, west of Cairns, Brennan and her husband David need to make sure their children stay safe in situations that can be life or death. Sometimes, this involves physical discipline.
Brennan describes her parenting style as "outback" parenting, still within authoritative parenting but leaning towards authoritarian. "People go into shock when you say 'I've smacked my kid' and think you're doing it the lazy way because there's a billion other ways to do it – yep, that's correct, that's probably true in your circumstances," says Brennan. "But if I go to the toilet and my kid escapes the house and goes straight underneath a horse and I haven't made it very clear that that is the danger zone then that kid could be dead by the time I come out."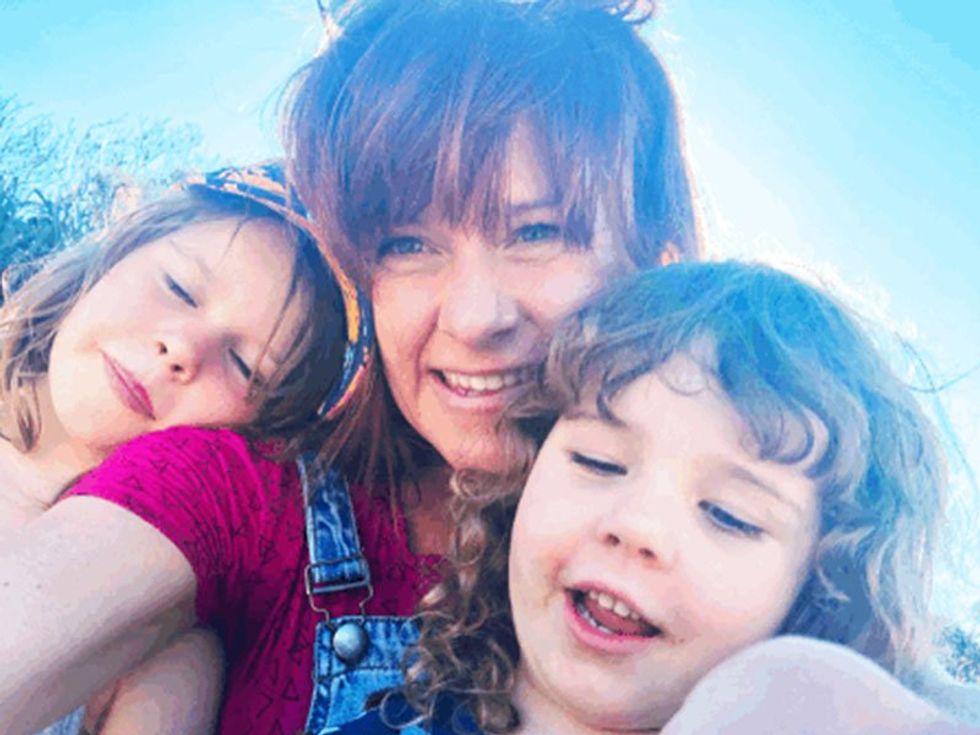 Conscious parenting coach Anna Davis, with her daughters, practises a warm yet structured parenting style.SUPPLIED
The boys participate in supervised shooting, feeding their animals, caring for their own horses and working on machinery to remove saplings that sprout in clear paddocks. She is proud her children are growing up to be honest, confident, and respectful of themselves and those around them. "They're such handy little people because they've got common sense, [and] they respect the machines and what they're capable of."
Rural child-raising challenges aside, Jessica McCallum, a couples and family therapist, uses the four styles of parenting –authoritative, uninvolved, authoritarian and permissive – as the quadrants by which to educate her clients. The social worker focuses on authoritative parenting as an approved model that offers understanding and flexibility in balance with structure and routine, encouraging emotional connection.
"It's really researched to be one of the better styles," says McCallum. "It's approved within NSW Health."
As more parents adopt this authoritative style, there has been a groundswell of videos, particularly on TikTok, mocking the approach. The hashtag "gentle parenting" has 4.3 billion views on the social media platform, including the initial critical videos. In response, many supporters of authoritative parenting create content to debunk the claims that the style lacks discipline.
@actressbecc

girl if you don't take away his iPad Air…… #fyp #gentleparenting #parenting #comedy #fypシ #foryou #viral #OLAFLEX #DoritosDareToBeBurned
McCallum says that social media parodies have the potential to create a damaging discourse similar to those created within school communities, one that can be difficult for parents to manage. "I think those misunderstandings can lead parents to feeling guilty if they're not doing it the way they think they should be doing it or it can lead parents down a path that's just ineffective and, therefore, they lose confidence in all sorts of guided parenting strategies."
Conscious parenting coach Davis says the biggest myth around authoritative parenting styles is that there are no boundaries and kids are free to do what they like.
"There's definitely no punishment in the way that we talk about conscious parenting," says Davis. "But a big part of my coaching is about how to hold boundaries; how to set them, how to deliver them, how to communicate them and then how to hold them."
@jesmartini

#stitch with @whitneywasson2000 gentle parenting for beautifully rabid raccoons ❤️
When TikTokker @whitneywasson2000 made a video explaining "gentle parenting is for gentle children" so it would not work for her kids because they are like raccoons with rabies, "gentle parent" @jessmartini pushed back, with videos showing how she does it.
Davis says it's helpful to remember that "the thing about conscious parenting is that, really, it has nothing to do with the kids at all. It's all about the parent."
McCallum is concerned that in misrepresenting parenting terms such as "gentle", "conscious" and "authoritative" as belonging in the permissive style (which provides warmth without discipline) it may prevent parents from seeking education on what are research-based styles.
"The benefit of authoritative parenting is it sort of appeals across the spectrum because you do need to take charge and you do need to have structure and routine. I use it flexibly to not try and make judgements on how a parent schedules their child but help them to reflect," says McCallum. "I've never used the word 'gentle' parenting for an authoritative style. In many ways it makes sense to me and it's a nice word but it's got those societal connotations, like being gentle is being soft."
Like gentle, conscious carries societal connotations. Davis acknowledges "the word conscious sounds very wanky. It sounds like I'm already hippie and we're all just gonna go with the flow. But conscious just means aware."