COMMENT
It's been six months since Spiderman: No Way Home opened, do I still need a spoiler alert? When I watched this film on opening night in cinemas late last year, I had an experience unlike any other movie I have ever watched.
Seeing all three live action Spidermen, Tom Holland, Andrew Garfield and Tobey Maguire, on screen together for the first time was something I will always remember, and it may never happen again.
Then, in early January I watched the new Scream movie, and a similar thing happened. Courtney Cox, Neve Campbell and David Arquette all reprised their roles from the original 1996 film. Both franchises successfully brought back actors to play their iconic roles from earlier interpretations of the films. Each used different plot devices to pull this off, but both brought two (or even three in Spiderman: No Way Home's case) different generations of characters to the screen together.
It's not only happening with franchises, long-awaited sequels have picked up on the trend too. In May, Val Kilmer reprised his role as Iceman alongside Tom Cruise in the Top Gun reboot Maverick. This week, when Jurassic World Dominion opens globally, Sam Neil, Jeff Goldblum and Laura Dern will be back on the big screen in the roles they made famous in Jurassic Park, the 1993 blockbuster that kicked off six films in two separate trilogies.
Why is this suddenly a trend? Have studios simply run out of ideas? It takes years of pre-production planning to get a movie to market, yet in the past six months we've seen four high-profile examples of bringing back original franchise actors. It's easy to say Hollywood studios are in it for the money. Thirty-five years after the original, Top Gun: Maverick banked US$160 million on its opening weekend in the US, giving Cruise his best-ever opening weekend box office.But I think it's more than that.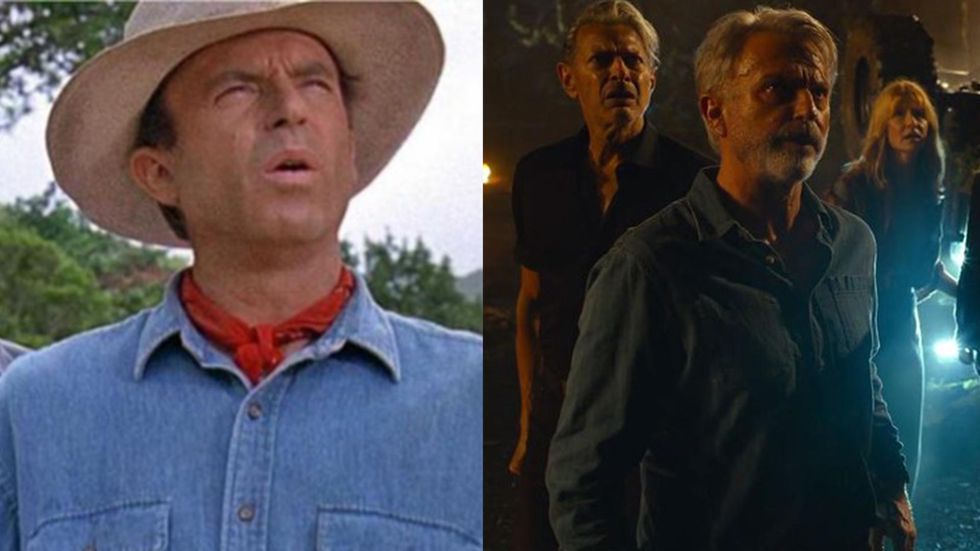 Sam Neill first entered the Jurassic universe in 1993, in 2022, he's back for the final chapter.UNIVERSAL PICTURES
Take Universal Pictures' Jurassic World franchise for example: Jurassic World (2015), Jurassic World: Fallen Kingdom (2018) and Jurassic World Dominion (2022). The franchise follows the events of the Jurassic Park trilogy but it is no repeat. With a fresh take on the original story and new high-profile leads in Chris Pratt and Bryce Dallas Howard, the new series is doing very well on its own. Jurassic World was the highest grossing film of 2015 and its follow up, Fallen Kingdom, ranked fourth for 2018. There was no need to bring back the original cast of Jurassic Park for this final film in the Jurassic story, but they are doing it anyway.
Every movie is made to make money. I'm just saying you can't pin the reason for this trend on monetary gain alone. As for this being a lack in creativity, I don't see how it can be. A lack of creativity would be just another reboot. Rehashing characters and story that we have already seen on the big screen, with a new cast. It happened twice with Spiderman, it happened with TheFantastic Four and it has even happened a few times with Godzilla.
Now, think about Spiderman: No Way Home. Spiderman has been rebooted multiple times. Seeing Peter Parker get bitten by the radioactive spider and then figure out his new powers is kind of "been there, done that". But No Way Home brought these reboots together, now that's something new. And fans definitely enjoyed it. The film took social media by storm and has an outstanding 98 per cent audience score on Rotten Tomatoes. Even the critics gave it 93 per cent. This isn't lack of creativity. What's creative is combining multiple generations of cinema into one viewing experience.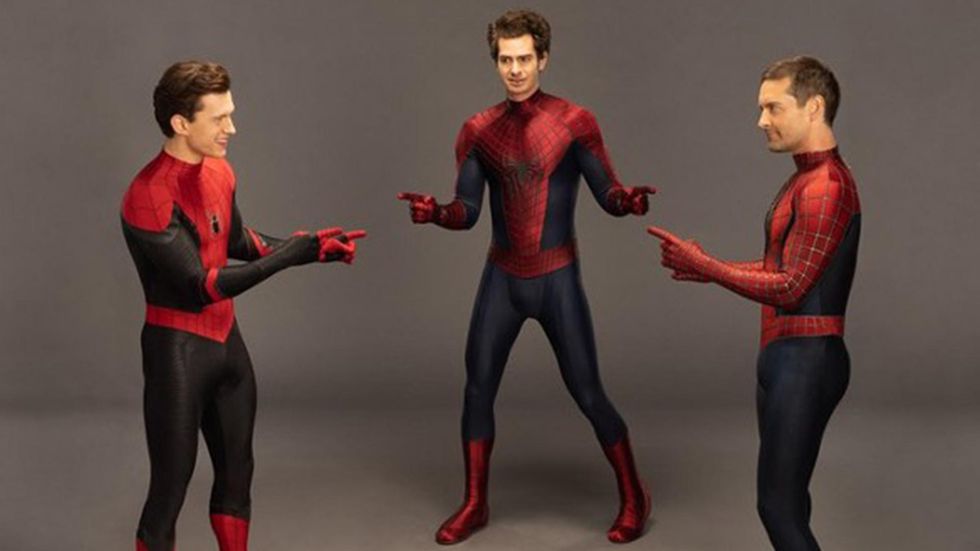 Spiderman in triplicate: from left, Tom Holland, Andrew Garfield and Tobey Maguire.MARVEL/TWITTER
So, back to my earlier question: why are so many franchises starting to do this? Spiderman, Scream, Jurassic World, even Batman. Michael Keaton will play Batman again in the new Flash movie, due for release in 2023, 30 years after he first donned the Caped Crusader's costume.
Clearly the formula is working for movie studios. With multi-million dollar production costs, Hollywood loves a sure bet. But in my opinion, it's the audience that is the key. These films make money because it's working for the audience too. Who doesn't enjoy a little nostalgia?These films offer the audience so much more than a movie.
For people who grew up on these characters, as I did with Tobey Maguire's Spiderman, these new films are given a whole new dimension. They have the power to combine two separate periods of a person's life, taking the viewer on a trip down memory lane while at the same time allowing them to enjoy a new take on the story. They also allow young people to experience these iconic characters for the first time. It's a win, win ... win (if we are counting the franchises who have benefitted from this trend).
It may also be a moment-in-time phenomenon. To revisit a franchise, you must first create it — an iconic blockbuster seared into the communal cultural psyche. In an age of streaming, will that communal experience even be possible? We won't know for decades. In the meantime, that's one more reason to savour this film trend.
Jurassic World: Dominion opens in cinemas in Australia on June 9, 2022.