Guiding principles for choosing your 'helper' include not to short, not too fat, not too young and without family in Hong Kong to teach lazy habits.
IT WAS Christmas Eve. Samantha, a 35-year-old domestic helper, waited in the kitchen for her employers' family to finish their meal. Hearing the talking and laughter from the dining room, Samantha knew that she could finally enjoy a free moment, as no one would pay attention to her anymore. Thinking back to the phone call she received just before dinner started, she cried silently, no longer able hold back the tears. The joyful memory she had of sending home New Year gifts to her daughter and her mother in Philippines a week before was washed away, replaced by the memory of her elder sister Angela's weak voice saying: "I'm so tired."

The first year of the pandemic, 2020, was an unusual one for Samantha. After completing her first two-year contract in Hong Kong, she was unable to return to Philippines for a vacation due to the pandemic. Angela, who also works in Hong Kong, on the other hand, had to return to their hometown because of stomach cancer.
Both Samantha and Angela, who asked to remain anonymous so they could speak openly about their situations, are foreign domestic helpers, known locally as FDHs. Since the early 1970s, the Hong Kong Government has allowed FDH to work in the city, assisting local families with household chores, caring for the elderly and providing childcare, in a bid to unleash the potential of the local labour force. Without the many foreign domestic helpers, it is hard to imagine Hong Kong's economy could have taken off so rapidly in the 1980s. The existence of foreign domestic helpers allowed tens of thousands of Hong Kong women to enter the labour market freely.
The number of foreign domestic helpers has increased each year. In 2019, according to the Immigration Department, there were 399,320 foreign domestic helpers in Hong Kong, accounting for nearly 10 per cent of the total labour force. Of that number, the overwhelming majority came from two countries: Philippines (55%) and Indonesia (43%). In September 2019, the legal minimum wage for foreign domestic helpers was raised to HK$4,630 (A$787) per month. Employers are also required to provide free meals or a monthly meal allowance of no less than HK$1,121 to the FDH. The work permit is generally for two years and can be renewed. Without the work permit, there is no way for FDH to legally reside in Hong Kong long term.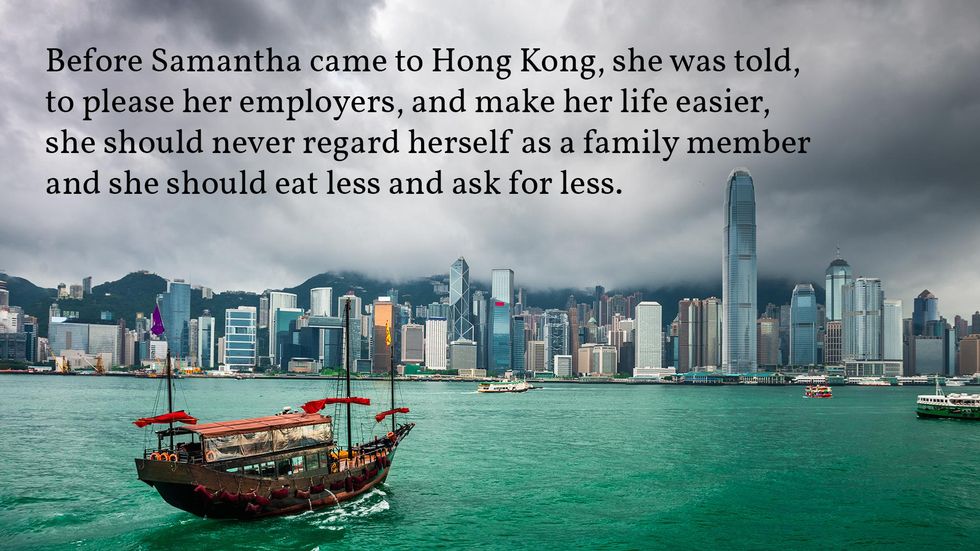 SHUTTERSTOCK
There are protections for FDH in the labour laws which regulate the market. Chapter 57 of the Employment Ordinance and Chapter 282 of the Employees' Compensation Ordinance stipulate foreign domestic helpers enjoy the same worker rights as local employees, such as standard wages, weekly rest days, paid statutory holidays, paid annual leave, maternity leave, sickness allowance, severance payment and long service payment. In addition, the government's Standard Employment Contract stipulates the employer must provide free medical care if a foreign domestic helper is sick or injured, regardless of whether it arises out of their employment.

"In the event that an FDH is ill or suffers from personal injury during the period of employment … the Employer shall provide free medical treatment to the Helper", the contract states. Samantha did not expect that. In coming to Hong Kong, the English phrase she remembered most deeply would be this one in the contract. Now, night after night, she looks at the document, over and over again, trying to find the strength to keep going on.
It's been two years since her plane landed at Hong Kong's international airport in Chek Lap Kok, since she hugged her sister Angela with excitement, looking forward to her new life in this city. That night, at her new employer's home, she said to herself: "I must be strong for my daughter." Samantha never thought then that she would first need to become stronger for her sister.
'Modern-day slaves'
ANGELA is 11 years older than Samantha. In early 2000, she went to Hong Kong as an FDH to help earn a better living for the family. She has worked for three local families over the past 10 years and has experiences in both taking care of the elderly and the newborn. In that time, as far as Samantha knows, Angela has only had one good employer, in her last tenure, about a year ago.
Changing employers is not easy. Most employers are unwilling to hire foreign domestic helpers who have a record of job hopping, and are more willing to hire young newcomers, as they believe novices are simpler and more obedient. Therefore, even when the foreign domestic helpers encounter unkind employers, they usually prefer staying until the completion of the contract, rather than prematurely terminating it.
Before Samantha came to Hong Kong, Angela had once told her that to please her employers, as well as making her life easier, she should never regard herself as a member of the family, and that she should eat less, and ask for less. Angela's first employer, an old lady living alone, gave her only two boiled potatoes for lunch each day.
Kelly could not at first imagine herself being an accomplice of this exploitative system, seeing it as breaking free from the patriarchal cage while at the same time locking another woman into that same prison.
It is a long-existing but often ignored problem that foreign domestic helpers are sometimes ill-treated or even tortured. A 2013 Amnesty International report highlighted the exploitation and abuse of Indonesian domestic helpers in Hong Kong. The 97 respondents worked an average of 17 hours a day; 51 of 93 said they were not allowed to take a day off; 56 of 94 interviewees did not have their own room; and 63 of 94 said they had been physically or mentally abused, ranging from verbal abuse to sexually assault, by their employers.
In September 2013, a couple convicted of eight accounts of common assault were sentenced to 39 and 66 months jail respectively, for abusing their Indonesian helper for two years. One year later, in a separate case, an Indonesian helper Erwian admitted to a fellow domestic helper, she had been beaten and even imprisoned by her employer. The incident provoked demonstrations by foreign domestic helpers and social groups demanding better protections for FDH. The employer involved was later convicted of 19 charges, including common assault, and was sentenced to six years' prison. The foreign domestic helper system in Hong Kong was cast in a very poor light, with Time magazine describing the Indonesian helpers as "modern-day slaves" in Hong Kong.
Samantha believes high-intensity work and the poor diet provided by her sister's previous employers caused her sister's stomach cancer. Angela started to feel discomfort in mid-2018. At first, it was just prolonged muscle pain and inexplicable drowsiness, and then it turned into a pain all over her body. Angela first thought it was due to the tiredness of caring for a newborn baby. Then, one day, she passed out at home. Urged by her employer, Angela went to a public hospital and then transferred to a private hospital in Sha Tin for examination. A few weeks later, Angela was told she had Stage 3 lymphoma. The cancer had spread. She needed chemotherapy immediately.
The diagnosis came as a bolt from the blue for Samantha. Halfway through the chemotherapy, Angela's hair began to fall out, and her body became weaker. She could not continue working, so she took sick leave and moved out of the house. The law stipulates that within the first 12 months of employment, a foreign domestic helper can only accumulate two days of paid sick leave after each full month of service. With the help of a foreign domestic helper's support agency, Angela moved into a shelter centre in Sai Ying Pun, the western district of Hong Kong, with other Filipino maids who needed medical assistance or were pregnant. Samantha did not give up hope. Instead of going to church on Sundays, Samantha went to either the centre or the hospital to encourage her sister.
During the 2020 Lunar New Year, the doctor allowed Angela to go back to work, but he told her not to work too hard. "Many cancer patients can recover after treatment and return to work," Samantha told her employer in a delighted voice.
One woman's freedom, another's prison
KELLY Yuan, a 25-year-old clerk with an accounting agency in Central, found herself pregnant at the beginning of 2020, as the Covid-19 pandemic began sweeping the world. Relatives and friends told her that if she did not want to "sacrifice" her career for the family, it was best to hire a foreign domestic helper to take care of the baby.
Self-identified as a feminist, Yuan's first reaction was to refuse. She had read a report that foreign domestic helpers were forced to pay at least seven months' salary as recruitment fees to work in Hong Kong, and the monthly deduction could reach HK$3000 (of a maximum monthly income of HK$4630). Although violating the law, this practice was common and made life financially difficult for many foreign domestic helpers. According to local media reports, more than 70 per cent of intermediary agencies were suspected of charging an intermediary fee that was at least 7.5 times higher than the fee mandated by labour law (that it be 10 percent of the first month's wages). Due to the vicious debt cycle this created, many FDH had to endure poor working conditions, exploited by the intermediate agencies or their employers.
Yuan could not at first imagine herself being an accomplice of this exploitative system, seeing it as breaking free from the patriarchal cage while at the same time locking another woman into the same prison.
Women hire domestic helpers to achieve a "spousal egalitarianism", according to the Association of Women for Action and Research. After women enter the workplace, they hire others to handle housework, and the couple can continue to work at the same time without arguing about who will clean the house. Since the foreign domestic helper works in a private environment, the employer tends to treat them as private property, thinking that they have purchased the helper's services and time, while the helper loses a home that allows her to rest and gain a sense of security.
Turning her home into a workplace made Yuan uneasy. Moreover, she felt nervous about a stranger staying in her home. She was afraid of the possible "revenge" of the foreign domestic helper, such as cooking stockings in a pot and adding "unpleasant ingredients" to the soup. She even imagined how terrible it would be to hire a troublesome foreign domestic helper. Seeing the abuse cases of domestic helpers, she also began to worry whether she may become a mean person in her interactions with a foreign domestic helper.
However, in the end, her desire to reach a balance between her family and the work won out, leaving her with no choice. Introduced by a friend, Yuan joined a WhatsApp group founded by a group of mothers who had hired FDHs. Every day, group members exchanged information on how to choose foreign domestic helpers. Among various topics, FDHs getting pregnant was the one that triggered nightmares for every group member. Under the law, a foreign domestic helper who has been employed for 40 weeks and becomes pregnant is entitled to 14 weeks of paid maternity leave. If an employer dismisses a pregnant domestic helper, they will be prosecuted and face a maximum fine of HK$100,000.
The common way Hong Konger employers see it is "if the foreign domestic helper is pregnant, it's the employer who pays the bill". Many regard foreign domestic helpers giving birth in Hong Kong and even obtaining the right of abode as a threat, and the act of helping foreign domestic helpers to obtain the right of abode is largely unwelcomed.
In 2010, a judicial review of foreign domestic helpers' right of abode in Hong Kong caused huge social discussions. The review came about after an FDH challenged the compliance of the Immigration Ordinance with regulations related to "Hong Kong permanent resident" under the Basic Law. Foreign domestic helper Vallejos filed a judicial review, hoping to overturn the regulations so that foreign domestic helpers who had lived in Hong Kong for seven years were eligible to obtain Hong Kong permanent resident status. In September of the following year, the High Court ruled that the relevant provisions did violate the Basic Law. This meant all foreign domestic helpers who had lived in Hong Kong for seven consecutive years could become permanent residents.
The verdict caused an uproar. While foreign domestic helper organisations and some Hong Kong political parties and residents welcomed the ruling, many Hong Kongers believed once the precedent was set, it would shake up the admission policy of foreign domestic helpers and could even change the demographic makeup of Hong Kong.
A few days later, the Hong Kong government appealed the judgment. In March 2012, the Court of Appeal ruled that the Immigration Ordinance did not violate the Basic Law, and the first instance judgment was overturned. Vallejos refused to accept the judgment and appealed to the Court of Final Appeal. In March 2013, the Court of Final Appeal rejected the appeal and held that the nature of the foreign domestic helper's residence did not meet the definition of "ordinary residence" under Article 24(2)(4) of the Basic Law. Even if they had lived in Hong Kong for seven years, they would still not be granted permanent resident status. The dispute over the right of abode of foreign domestic helpers over the previous two years was finally settled.
Guiding principles when choosing a FDH
AT FIRST, Kelly Yuan wanted to hire a Filipino maid. She felt that Filipino domestic helpers spoke better English, and their eating habits were not as "troublesome" as Muslim Indonesian domestic helpers.
The WhatsApp group administrator gave her a template on how to make house rules. The principles included:
1. Never hire a foreign domestic helper who did not finish a full contract, even if she has a letter of recommendation from a former employer (nine out of 10 are fake);
2. Never hire a foreign domestic helper who is too short, too fat, or too young (those who are short or fat have low working efficiency; young people don't have much experience);
3. Never hire a foreign domestic helper whose husband works in Hong Kong (in case of pregnancy);
4. Never hire foreign domestic helpers whose relatives are already working in Hong Kong (they may learn how to be lazy and to deceive her employer from these relatives);
5. Never lend money to foreign domestic helpers, nor allow foreign domestic helpers to use the employer's address to lend money;
6. If foreign domestic helpers do something wrong, they must write a review and sign it. Issue a fine and deduct the money proportionally (punishable things include wasting water and electricity, forgetting to do housework, breaking things, etc.) The first time issue a fine of HK$200, the second time HK$400, and the third time would be a dismissal;
7. Foreign domestic helpers cannot lie to their employer;
8. If the foreign servant is found stealing something, she will be fired immediately and the employer will call the police;
9. When dismissing a foreign domestic helper, be sure to record the process and ask the helper to write a resignation letter (to avoid denial by foreign domestic helpers and claim of false dismissal by the employer);
10. Be sure to let the foreign domestic helper take a holiday on Sunday so that they can get together with their friends (foreign domestic helpers should have reasonable and effective holidays. If they have a holiday on Saturday, they will lose a lot of social opportunities).
The administrator also provided a template of the house rules and work schedule, reminding group members to make two copies, and let the workers sign on the first day of work, in order to better regulate the helper's behaviours. "You bring in the situation of how you and your boss get along, and many problems will be solved," the administrator said.
Many group members said that the template was very helpful in training their helpers. Yuan found that she had also been "brainwashed". In the past, she felt that it was inhumane to not let the Filipino maids eat at the same table, but now she tells herself that this table is not the Filipino maid's table, but a table in the workplace.
"Will you like to eat with your boss every day? You will definitely find an excuse to hide behind your desk and eat takeaway!" Yuan said.
Yuan felt well prepared to hire her new helper, but she could not anticipate the pandemic and how it would disrupt her plan. The number of confirmed cases in the Philippines was high and many Filipino domestic helpers tested positive on arrival in Hong Kong and were transferred to the isolation centre immediately after getting off the plane. The intermediary charged the employer an additional quarantine fee, and the WhatsApp group began to share the list and prices of quarantine hotels. Some group members also fired their Filipino domestic helpers while they were on vacation back in The Philippines.
Yuan had to set aside the WhatsApp group advice. She hurriedly accepted an Indonesian maid named Ida, recommended by the agent, despite being a little short in height. The intermediary assured that she was a reliable candidate. "Ida's last employer was too bad, and she couldn't bear but resign," the agent explained.
Inhuman system laid bare
ANGELA had to move back to the shelter centre. She had just finished chemotherapy and was susceptible to pneumonia. Samantha started running between the hospital and the centre again. However, this time, she was not optimistic.
Angela's two-year contract was about to end. Samantha believed the chance of renewing the contract was very small. If the contract was not renewed, the sisters would not be able to afford the public medical services. "It costs HK$5,000 a day," Samantha said. "We don't have so much money."
Samantha suggested Angela should return to Philippines when the contract expired, but Angela insisted that she could still work. Finally, the sisters' dispute ended in a hug and tears. "I don't want to die yet," Angela sobbed.
The pandemic had further exposed the deficiencies of Hong Kong's foreign domestic helper system. FDHs who lack support are marginalised and receive little help if they lose their jobs. This makes them vulnerable to exploitation and unable to reunite with their families. From April to early June 2020, the Hong Kong Federation of Asian Domestic Workers Unions interviewed 427 foreign domestic helpers from Philippines, Thailand, Nepal and Indonesia. The results showed that more than 80 per cent of foreign domestic helpers said they suffered more discrimination during the pandemic. The survey also found that not all foreign domestic helpers were paid during the 14-day quarantine period, and some were not provided with masks and other protective gear by their employers.
In the winter of 2020, Angela's health declined sharply. Carrying enough medicine for only the next three months, she boarded a flight to Philippines.
Two women together yet worlds apart
KELLY Yuan decided to quit the WhatsApp mothers with helpers group. The complaints of other members about their helpers made her uneasy. More importantly, she found that templates are not a one-size-fits-all solution. Ida taught her that. She was a helper of smaller stature, with a job-hopping record, but Yuan found her both diligent and smart. She is good at handwork and had even made Yuan's daughter a plush toy bear. Yuan was also surprised to learn Ida had a Bachelor's degree from a university in Indonesia.
"I have friends who studied Education in the university and came to Hong Kong to be a helper. Actually, many helpers I know have a high school degree or above, and they can also speak several languages, including English, Cantonese and Mandarin," Ida said.
The foreign domestic helpers have changed the city of Hong Kong, but have also been changed by the city. The cruel reality of exploitation and abuse, as well as a certain level of liberation, are occurring in tandem. It's not common, but Xyza Cruz Bacani, a former Filipino helper who has worked in Hong Kong for nearly 10 years, embarked on photography study and then a career with the assistance of her former employer. Now she has completed her studies and even opened a solo exhibition.
Yuan has chosen not to join another WhatsApp mothers with helpers' group.
One day, as she watched Ida changing her daughter's nappy, she asked: "Did you learn that from the experience of taking care of your own children?" Ida replied: "No. I left my son to work when he was one-month old."
Holding back the tears, one thought emerged in Yuan's mind: "Putting aside the employment relationship, we are just two ordinary women who are trying to earn a better living for our children."