How e-commerce retailer Wayfair got caught up in baseless claims its overpriced cabinets represented something much more sinister.
An American online furniture and home goods retailer has become the latest target of an internet conspiracy theory, linking overpriced industrial-grade cabinets to child trafficking.

As with many conspiracy theories, it started with a post on social news aggregation site Reddit, posing the question of a possible link between Wayfair, the furniture outlet favoured by American millennials, and missing children.
Reddit user PrincessPeach1997 made a post to the r/conspiracy subreddit last Thursday asking the question: "Is it possible Wayfair involved in Human trafficking with their WFX Utility collection? Or are these just extremely overpriced cabinets? (Note the names of the cabinets) this makes me sick to my stomach if it's true :("
She made her supposition based on the high prices of four storage cabinets and their names, which allegedly matched those of missing children: Neriah, Yaritza, Samiya & Alyvia. The cost of these cabinets ranged from US$12,699.99 to US$14,499.99. After the Reddit post gained traction, the Wayfair listings were removed from the website.
This sent the internet into a frenzy as more posts popped up, initially on the subreddit and then on the wider web, with #Wayfair and #Wayfairgate trending on Twitter. In response to the growing online furore, a company spokesman told Mashable , "I can confirm that is a glitch and something we're working to address," in reference to the pricing of the products.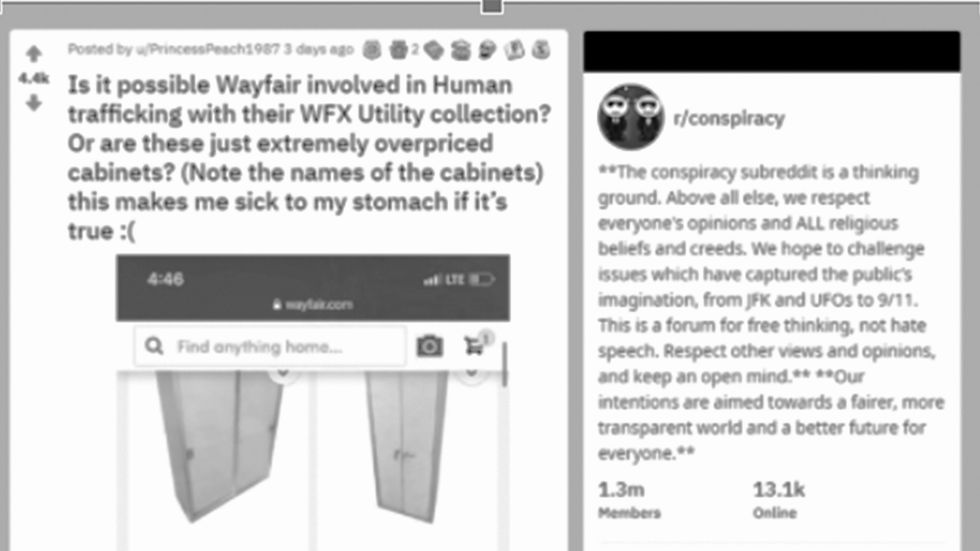 REDDIT
Wayfair's digital platform, with 2019 sales of US$9.8 billion, stocks 14 million items from more than 11,000 global suppliers. Undaunted, the internet's detectives swarmed the site, claiming the storage cabinets were not the only high priced items that matched the names of missing children. Rugs, throw pillows, night lights, and more had an expensive tag and a missing child's name to match. Similar listings were being sold on the website without the enormous price tag and the matching name, further fuelling speculation it was individual children being sold under the guise of buying particular products.

'I'm not missing and I'm not in some goddamn cabinet.'
Wayfair's name lit up Twitter, with Rolling Stone reporting 600,000 mentions in a 24-hour period , compared to about 500 mentions a day a week earlier. The Wayfair theory was spread by far right conspiracy group QAnon .
The company found itself putting out spot fires everywhere, as mainstream media joined the conversation. "There is, of course, no truth to these claims. The products in question are industrial grade cabinets that are accurately priced," the company said in a statement to Newsweek . "Recognising that the photos and descriptions provided by the supplier did not adequately explain the high price point, we have temporarily removed the products from site to rename them and to provide a more in-depth description and photos that accurately depict the product to clarify the price point."
Even Ghislaine Maxwell, girlfriend of convicted pedophile Jeffrey Epstein and his alleged procurer, got a mention with a photo circulating on Twitter which showed her with a man said to be Wayfair's director of operations. It was not.
It didn't help that this conspiracy theory came in the wake of Wayfair's controversial sale of furniture to a child immigration detention centre in Texas a year earlier. Employees had protested the company's involvement with the controversial program. This link led conspiracy theorists to connect the US Immigration and Customs Enforcement (ICE) and its documented loss of many migrant children to the alleged Wayfair child trafficking scheme.
As the allegations spun out of control, it echoed the 2016 Pizzagate conspiracy theory which claimed a leftwing group led by Hillary Clinton was running a child sex slave ring out of the basement of a suburban Washington DC pizzeria. Despite all evidence to the contrary, the unfounded story persisted in the lead-up to the November presidential election and in December that year, a North Carolina man arrived at the pizzeria, armed with a military-grade assault rifle, which he discharged at the scene, to rescue the children. He was later sentences to four years' jail .
Even Ghislaine Maxwell got a mention with a photo circulating on Twitter which showed her with a man said to be Wayfair's director of operations. It was not.
Conspiracy theories burn bright and fast. After the first rush of uncritical blog reporting of the claims, came the re-examination of the alleged "facts" of the story. Snopes , a website that fact checks internet rumours, labeled the Wayfair theory "false " , saying "the claim that Wayfair is trafficking children is based almost entirely on one person's confusion over an expensive cabinet, absolutely no credible evidence has been offered to back up this accusation."
At least one of the allegedly trafficked "Wayfair cabinet kids" came forward to reject the claims. Samiyah Mumin posted a Facebook Live video in which she rejected the conspiracy theory claims saying: "I'm not missing and I'm not in some goddamn cabinet."
The original poster, PrincessPeach1987, contacted by Newsweek , would not reveal their non-Redditor identity, but acknowledged they were "involved in a local organisation that helps victims of human trafficking," which had led them to be "suspicious most of the time now".
So, story over?
Not so fast. After burning across Twitter and Reddit, according to Rolling Stone , despite being debunked, the conspiracy theory is now gaining traction on Instagram and TikTok . Mark Andrejevic, a professor of media studies at Monash University, explained to the magazine why viral platforms are such lightning rods for conspiracy theories. "These theories don't work well in contemplative, deliberative contexts. They make no sense. They are pure affective charge, which means they lend themselves to a quick hit, viral platform."