Collapse is a culmination of decades of social strife, monetary mismanagement and an ingrained culture of corruption and nepotism.
Paul Khoury wakes up at 6am, brushes his teeth, puts on his suit, combs his hair and heads off to work, a routine all too familiar. The 57-year-old has been an English teacher for 35 years. On his drive, he reluctantly listens to the morning news. From the ongoing currency collapse and rising inflation to new coronavirus cases and violent protests, Khoury is overwhelmed and quickly turns it off.
He has been called in to meet with the school administration after three months of teaching his classes online due to COVID. "My mind was racing; I knew it could only mean one thing." Sure enough, Khoury was let go. Always the provider, he had been working two teaching jobs because "a teacher's salary in Lebanon can't feed a family of five". Two days later, he lost his second job.

Khoury is just one of tens of thousands of people struggling to survive Lebanon's "worst economic crisis in decades". Unlike their neighbours, the Lebanese have long stood out in the Middle East for prioritising their luxurious lifestyles, irrespective of ever-present political turmoil and civic tensions. Lebanon has achieved this, for the past two decades, by tethering the Lebanese lira exchange rate to the US dollar, and in doing so providing its citizens with a false sense of security. It allowed, for a long time, Lebanon's middle class to enjoy the finer things in life.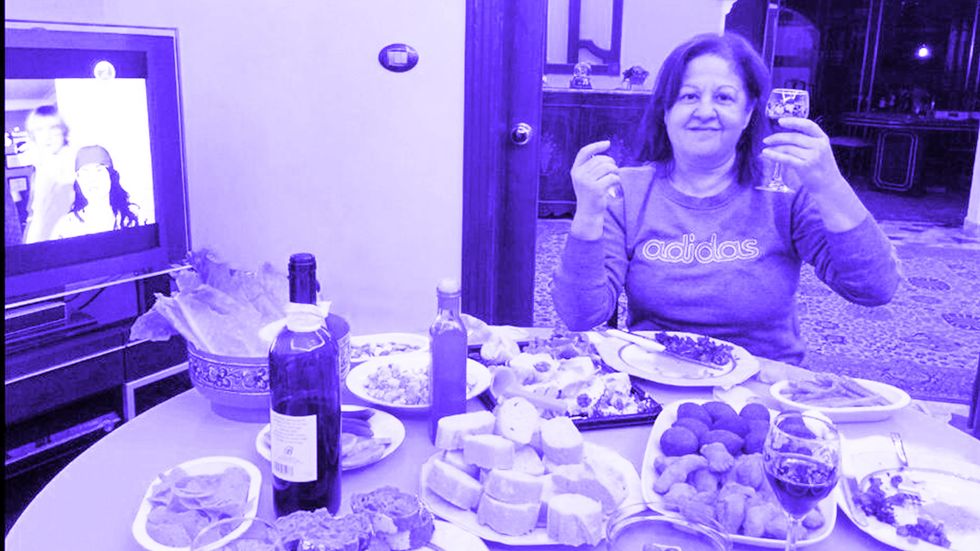 Rosette Yacoub "living like a queen".SUPPLIED
The lifestyle drew expatriate Lebanese back to the old country. Rosette Yacoub, 63, always knew she would retire in Lebanon. Born and raised in Australia, she worked hard to save for her future. In 2016, she sold her house and moved to Lebanon with her husband and son. Naturally, she put all her money in the bank to live off the high interest rate, which went as high as 14 per cent. Wide eyed, she said, "I was living like a queen and I loved it."

This prosperity did not come without ramifications. Pegging the lira to the dollar led to a disproportionate reliance on imports and a deterioration of domestic industries. Primarily, Lebanon received US currency inflows through remittances from tourism, overseas workers and foreign aid and spent those dollars on purchasing imports.
As the country's foreign currency reserves declined, the government struggled to sustain its US dollar peg. In 2019, Lebanon was the third most indebted country in the world. To finance government spending, the Central Bank boosted the interest rate to 14 per cent, incentivising dollar deposits at large volumes. This policy, also known as "financial engineering",was labelled a Ponzi scheme by former Central Bank Vice Governor Nasser Saidi.
Lebanon "lived beyond its means" by dollarising its economy, said Nafez Zouk, an emerging markets strategist with Oxford Economics based in London. It couldn't last. Eventually, the system ran out of dollars to pay back debt, to import goods or to cover the cash Lebanon's middle class had deposited with the banks.
'I hope there's something left for me when all is said and done.'
In October 2019, as the lira began to lose value against the dollar for the first time, the government introduced a controversial tax on WhatsApp, which proved to be the straw that broke the camel's back.
"It threatened our way of life," said Khoury. The country erupted in protest, calling for total political and economic reform. Although Lebanon always had its share of civic issues, from undrinkable tap water and an unreliable electricity grid to government corruption and mismanagement, "we shut up and put up, but this felt different", he explained.
Since October 2019, Lebanon has been spiralling down. The lira has lost 78 per cent of its value. The International Monetary Fund calculated GDP contracted by 12 per cent and the inflation rate has surged to 17 per cent, its highest in 25 years. Local banks have been exercising unofficial capital controls by restricting dollar withdrawals and international transfers. This loss in confidence has led to a double downgrade of Lebanon's foreign currency rating by Moody's and S&P Global Ratings to C and D, respectively.
With the economic collapse, Lebanese citizens are experiencing a sharp decline in quality of life. Unemployment is over 30 per cent, most regions only receive three hours of electricity a day and living costs continue to soar.
The political management of the country is also dire. Transparency International's Corruption Perception Index for 2019 ranked Lebanon 137 out of 180 countries.
The Lebanese people know it's bad. Only 4 per cent of Lebanese citizens rated their lives as "thriving" according to global analytics firm Gallup. (Its three life rating classifications are thriving, struggling or suffering.) This is the worst Gallup score to date for the country and the second worst rating globally behind Afghanistan.
To make matters worse, the coronavirus-induced lockdown is accelerating the economic downturn. Khoury, who worked his whole life to secure a decent living for his family, faces uncertainty as he approaches retirement. "My life savings are trapped in the bank. I want to exchange what little money I have left but the dollar is a rarity; you cannot buy dollars except through the black market at very high exchange rates."
Middle class families are reportedly desperate for help but too embarrassed to ask. Female activists and female NGO volunteers are quietly handing out envelopes of cash to housewives "on the understanding that men in the house must never find out".
Essentially, the elusive Lebanese mentality measures success in society's eyes as having material comfort and flaunting it. Therefore, its absence brings shame.
In Beirut today, the middle class can still buy bread and feed their families but are struggling to pay for other necessities like rent, petrol and phone bills. As Khoury puts it, "poverty is invading".
The World Bank has forecast an alarming 45 per cent of Lebanese citizens will fall under the poverty line. Lebanese economist, Roy Badaro, estimates "the middle class has lost approximately two-thirds of its purchasing power and moved to the low end of the spectrum". He emphasised that loss of the middle class could lead to system imbalance and complete social disruption. (I visited Lebanon in February. I watched as prices skyrocketed and witnessed first-hand the looming frustration. On return to Sydney, I took part in the Martin Place protests in solidarity.)
As the situation has worsened in Lebanon, a new wave of protests is sweeping the nation. This time, however, anger is manifesting as violence. Protesters hurl stones at the Central Bank, set local banks on fire and clash with the armed forces who use tear gas and rubber bullets. It has resulted in the death of one demonstrator.
Khoury describes these protesters as "men in suits, doctors and lawyers; I am one of them." There are unsettling echoes of Lebanon's 1975-1990 civil war era. In 1987, the Los Angeles Times published a harrowing article describing the nation's "well-dressed scavenger army" which is too proud to scavenge in daylight. Is history repeating itself? Will Lebanon's scavenger army be forced to rise again?
After the crisis hit and the interest rate had dropped from 14 per cent to 0.5 per cent, Yacoub, who had lived like a queen, knew she couldn't survive as that deposit interest was her only income. When the banks didn't let her withdraw her money, she cut her losses and bought a ticket to Australia.
"I'm comfortable here [in Australia] and I love the country, but I miss my home," Yacoub said tearfully, speaking of Lebanon as if in mourning. She told me of her lemon trees, barbecue area and newly renovated kitchen.
"This is wrong, you can't just do this to a person," she said, visibly uncomfortable, of the economic collapse that has forced her out. "But then again you have to feel sorry for the people that don't have the option to leave the country. I feel for them, I cry for them."
Retiree Yacoub is not the only one who has left Lebanon. The crisis is prompting a new wave of migration, a brain drain which will make rebuilding the economy more difficult. Khoury, unable to migrate, is desperately looking for new sources of income. He is considering revegetating a block of land he inherited from his father. Sixty-three per cent of Lebanon's total land area is under agricultural use. Regardless, he admits, "you need money to begin with. It takes months and during that time, all you're doing is spending."
Others are selling their gold, bartering on Facebook and even making flatbread at roadside stands. The middle class is adapting to these desperate times but that alone will not be enough to pull Lebanon out of its pit.
Exiting the crisis will require a combination of external assistance and systemic change, according to the International Crisis Group. In March, the Lebanese Government approved a five-year economic reform plan that centred on an IMF bailout package, but the strict conditions quickly divided Lebanese officials, subsequently halting negotiations.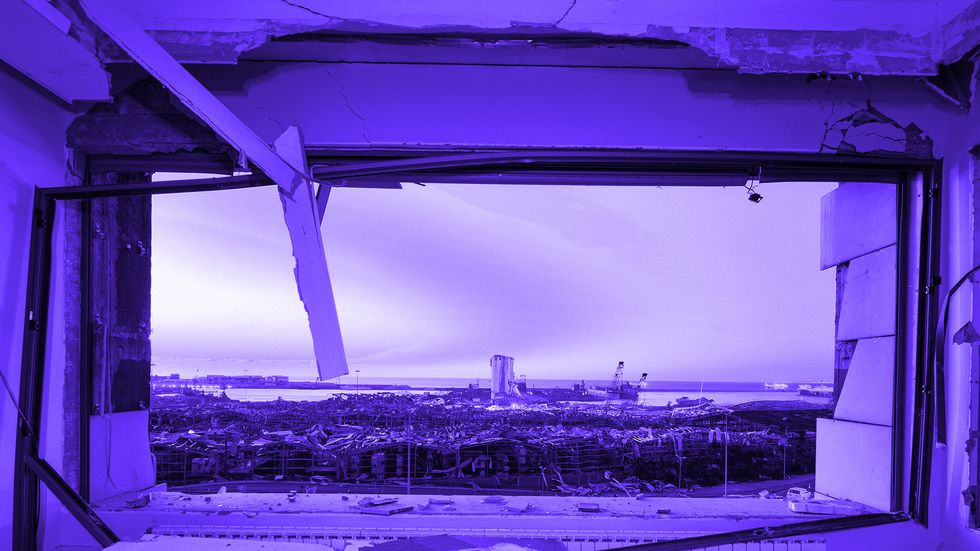 Destruction caused by the Beirut port blast.SHUTTERSTOCK
The current economic crisis has been a long time coming. It is the culmination of decades of social strife, monetary mismanagement and an ingrained culture of corruption and nepotism.
What will the country be like in five to ten years' time? From Australia, Yacoub sees a future where Lebanon is okay. She is part of a large diaspora that has always celebrated the best of Lebanon, proudly boasting it's a place where "you can ski in the morning and swim in afternoon". She also has the privilege to leave when things get hard.
And things have never been harder. On August 4, nearly 3000 tonnes of unsecured ammonium nitrate detonated at Beirut's port, devastating the city, bringing down the government and setting off a new exodus of citizens.
Even before the explosion, Khoury was not optimistic; he has been here before and seen it all play out. All he can say is: "I hope there's something left for me when all is said and done."