As she prepares to don the Thunderbirds' pink dress again in 2023, netball rookie Tayla Williams talks opportunity, world-class competition and playing through pain.
It was a rainy afternoon in Sydney when I found myself on a call with one of netball's most exciting prospects, Tayla Williams. The zippy mid-courter who plays for the Adelaide Thunderbirds made a statement in her rookie year, proving that she has what it takes to compete with the world's best netballers. Her athleticism and composure with the ball made it seem like she had been playing Super Netball for years.
In professional sport, there's so much that goes on behind the scenes, so in Williams' stellar rookie season, I wondered what challenges she had stared down. She paused for a moment, then said: "I guess, trying to get across the fact that there's something wrong when you don't exactly know what's going on."
The cryptic comment referenced a four-year journey of discovery to find what was "going on" with her body and whether it was real or imagined. This year brought answers. In July, she shared a poignant post with her 3300-plus Instagram followers, saying "the pain I have had for years is real and valid, it wasn't all just in my head."
Sports mad, just not for netball
WILLIAMS grew up in Balaklava, a country town in South Australia where playing sport was one of the few things you did to fill your time. From a very young age, Williams was a sports fanatic and played every sport under the sun. Ironically, netball was not an early favourite. Her first memory of the sport was on the sidelines, cheering for her mother and sister. But when she finally gave netball a go, at 10, she didn't look back.
"I remember getting up nice and early on Saturday mornings in the freezing cold, running around in my little pleated skirt and white top," she smiled as she reminisced about her early netball games. To Williams, it didn't matter if it was rain or shine, all she knew was that it was game day and she needed to put her best foot forward.
Unlike many athletes, Williams never had her mind set on becoming a professional netball player. When I asked about her early netball journey, she described it as a "slow burn." Growing up in the country meant that she didn't have much exposure to elite pathways. Playing against a representative team in a netball carnival, she caught the attention of State selectors. When she was subsequently invited to try out for a representative team, Williams didn't fully grasp its significance. The first time she tried out for the State's Under-15 team was also her first time of hearing about it.
There was plenty of competition. Netball is Australia's biggest team sport with 1.2 million women, men and children participating. Williams' attitude of taking one game at a time saw her steadily climb up the Netball South Australia ladder. Her game play caught the eye of Tania Obst, the current Adelaide Thunderbirds coach and at 18, Williams was named as a training partner for the Thunderbirds.
Her first training session with the Thunderbirds was something she'll always remember. She recalls walking through the doors, overwhelmed to see some of the biggest names in netball, such as Chelsea Pitman and Maria Folau, in front of her. "It was such a weird experience training with people you only watched through a TV screen," she laughed, "I definitely got starstruck then."
Famous athletes aside, Williams was just happy to be there. "I was just being a sponge and taking it all in because they're successful and you just want to be like that," she said. But even at this point, Williams still saw netball as a hobby, rather than a viable career.
Daring to dream
WILLIAMS' first year as a training partner coincided with the COVID pandemic in 2020 and she found herself relocating to South-east Queensland where all matches were played in a condensed format. Sitting on that Thunderbirds' bench, far from home, she realised she wanted to compete with the best and that netball was something she wanted to do for the rest of her life.
Part of Williams' reason for the "slow burn" career decision came from the league's structure. Earning a professional netball contract seemed like an impossible feat with only 80 full-time contracts available. When you consider the 20-strong Australian Diamonds' squad and the additional (uncapped) imported players, it didn't leave many spots for the younger players coming through. "I really didn't have the confidence in myself to think that I could be one of those 80 players," she said as she reflected on her journey.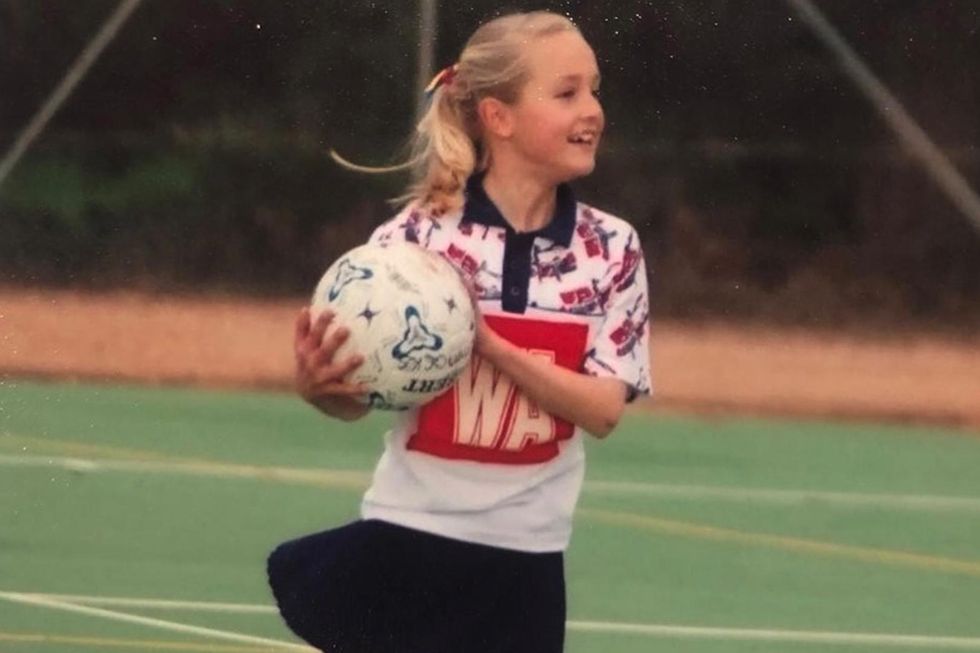 Tayla Williams began her netball journey at 10.SUPPLIED
She served her time as a training partner in 2020 and, in 2022, was rewarded with a player's contract. She had the debut season of her dreams: given the opportunity to shine in the second half of the season, she showed her mid-court versatility as the Thunderbirds' starting centre where she bagged an impressive 14 intercepts, 21 deflections and 95 assists.
Throughout that impressive debut season, Williams was fighting her own body, battling something she couldn't even put into words until a month ago. In July, Williams was diagnosed with endometriosis, a painful chronic reproductive system condition that impacts one in 10 Australian women, many of them undiagnosed.
It occurs when tissue that lines the uterus grows outside of it. It not only affects your everyday life but is the number one cause of infertility. Although endometriosis cannot be completely cured, there are effective treatments that can help relieve the symptoms once it is diagnosed.
Just before the Under-15 State training camp Williams first recognised how much her undiagnosed endometriosis could hinder her netball performance: she hoped and prayed she wouldn't get her period during the camp. For Williams, it felt impossible to play a week's worth of netball while managing her period. "It was just a big cycle of pain," she said, impacting her sleep, energy levels and everything in between.
Netball is a physically and mentally demanding sport. Add to that, the monthly unexplained period pain. "I think it's hard because obviously our body is essentially our job, and you need your body at peak performance all the time to be successful in your job," Williams said.
Some days, rocking up to training seemed like the hardest hurdle to overcome. Not knowing what exactly was happening made it harder for her to voice what she was going through. For the longest time, she felt like she was fighting herself, contemplating whether what she was feeling was real or just in her head.
"I clearly remember thinking 'everyone gets their period and it's just something females need to put up with,' and at that time, it's something I thought I needed to put up with, so I just didn't say anything," she said, speaking to Newsworthy via Zoom from Adelaide.
Having undiagnosed endometriosis can suck the joy out of life's great moments. For Williams, there were times in her career when she needed to brush everything aside to play her best netball, but because of her endometriosis, that wasn't an easy task.
One of her first games as a training partner with the Thunderbirds, against the Sunshine Coast Lightning, is a game she would rather forget. She recalled feeling very unwell that week, not sleeping at night, vomiting all day, bedridden. Then a teammate was ruled out and she got the call-up to start on the bench. She took the court that day against reigning World Champion New Zealand centre Laura Langman.
"I remember saying to myself, 'I should be so grateful I'm here and playing this game, but I feel like I shouldn't be here right now,'" she said as she reluctantly told the story. "I was so tired, but I had to go out there and try to perform against someone like Laura Langman. I know I should, but I wouldn't want to remember this as a happy memory."
She knew, as a training partner in such a competitive environment, every chance might be her last, so pulling out of such an opportunity was never an option for her. She didn't want to be put in a position where she was not selected or brushed off by the coaching staff. She would rather not bring it up and play through the pain.
While she initially hid her health issues, the fiercely competitive Thunderbirds environment proved a blessing in a different way. It made her realise her condition wasn't as normal as she made it seem. Working with the team's support staff opened her up to more discussions on women's health, which eventually helped her decide that she needed help. In 2019, her diagnosis journey began.
Trial and error
WILLIAMS' journey to diagnosis came with lots of trial and error. To know what would best relieve her pain, she tested different forms of medication for months with no guarantee that they would work.
It was a frustrating cycle of uncertainty. "You obviously have hope that this next thing would work and when it doesn't, it's quite disappointing because you feel like you wasted a few months trying, and it hasn't worked," she said.
Ultimately, she and her doctors decided surgery was the only option left to diagnose her endometriosis. Just weeks after the season ended, she went under the knife. It had taken Williams four years to receive a diagnosis and she is considered one of the lucky ones. One in 10 women suffer from endometriosis and spend, on average, seven years searching for a diagnosis.
Williams is lucky to be in a supportive environment where women's health is a priority. The Thunderbirds' willingness to understand and work with what was best for her helped her find the balance to take her career to the next level.
Although the surgery doesn't change the fact that endometriosis is a long-term condition and the pain won't completely vanish, Williams is glad she has finally been diagnosed.
"Just mentally knowing that there is actually something there and not all in my head, and there is a reason for my pain, takes a huge weight off of my shoulders to know that it's actually real."