In a tight Federal election campaign, school students can't vote but are pushing hard for their message to be heard.
Australian students will hold a third national climate strike this Friday, timed to apply pressure for pledges of meaningful change to climate policy ahead of the May 18 Federal election.
Sixteen-year-old Aisheeya Huq, a Western Sydney high school student and an organiser for the School Strike 4 Climate (SS4C) said this strike, on May 3, is the start of "so much more to come". The strike comes on the heels of the Federal government approval of the controversial Adani coal mine's groundwater plan and two weeks before the Federal election.
Organisers say rallies are planned at more than 70 locations across Australia, (up from 50 for the March 15 school strike) and they expect tens of thousands of school students, alongside university students and adults, to participate in the #ClimateElection National Day of Action.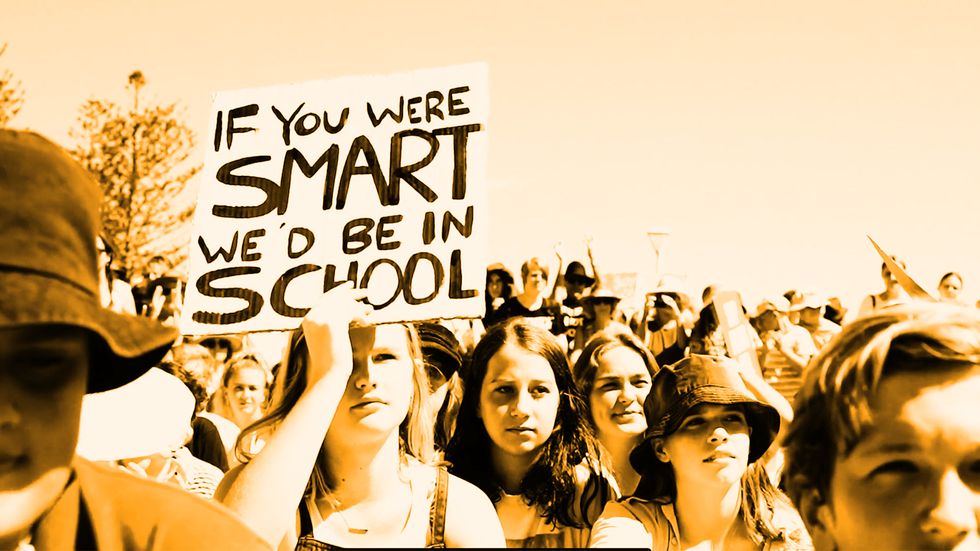 Students in Byron Bay join the global strike day.
The rallying cry of school students at the first two school strikes (in November and March) was "we can't vote but we do have a voice". Huq told Network 10's The Project, after the second strike, that they had made it really clear what they wanted and it was really important politicians acknowledged those demands and took action on them. Those demands, set out in a new call-to-action video "The youth are rising, no more compromising" are #stopadani, no new fossil fuels and 100 per cent renewables by 2030.
"Young people will experience these impacts a whole lot more than the current people in power," said Huq, who is also a member of the Australian Youth Climate Coalition's Student Climate Leadership Program.
The Coalition may be more focused on wooing 2019 voters than playing nice with the voting class of 2022 and beyond.
Unlike the first two strikes which featured big protest rallies, Friday's day of action will focus on federal politicians' electoral offices around the country. "The creativity, intensity, and measures to which we take our actions will be dependent on the responses (or lack thereof) that we receive from our representatives in parliament," Huq said in a phone interview with Newsworthy.
There has been far less media focus in the lead-up to this week's strike than the previous ones. Last November, ahead of the first strike, Prime Minister Scott Morrison told students to "stay in school" and in March, Government leader in the Senate Mathias Cormann warned they were being "used as pawns by professional adult activists as part of a cynical political strategy".

This time, crickets.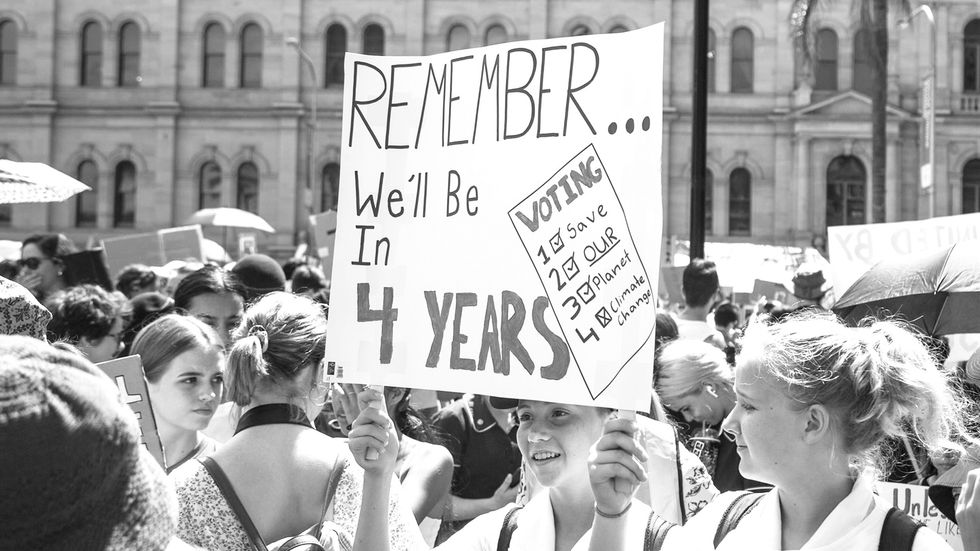 Students in Brisbane remind politicians that they might not have a vote yet but the time is coming.
However, there is no question climate change is playing a part in this election. On Wednesday, seven independent candidates joined forces, announcing they would demand serious action on climate from either a Labor or Coalition government as the price for supporting them in the new parliament.

Like the students themselves, the school student-led push for climate action is young. It only kicked off last year when a 15-year-old schoolgirl sat down outside the Swedish parliament, demanding action. Greta Thunberg's protest attracted global attention and fired the imaginations of youth across the globe. She was nominated for the Nobel Peace Prize on March 14. The next day, millions of young participants, in more than 100 countries, took to the streets demanding their governments do more to save the planet from climate change. Across Australia, organisers estimated 150,000 students of all ages joined the strike.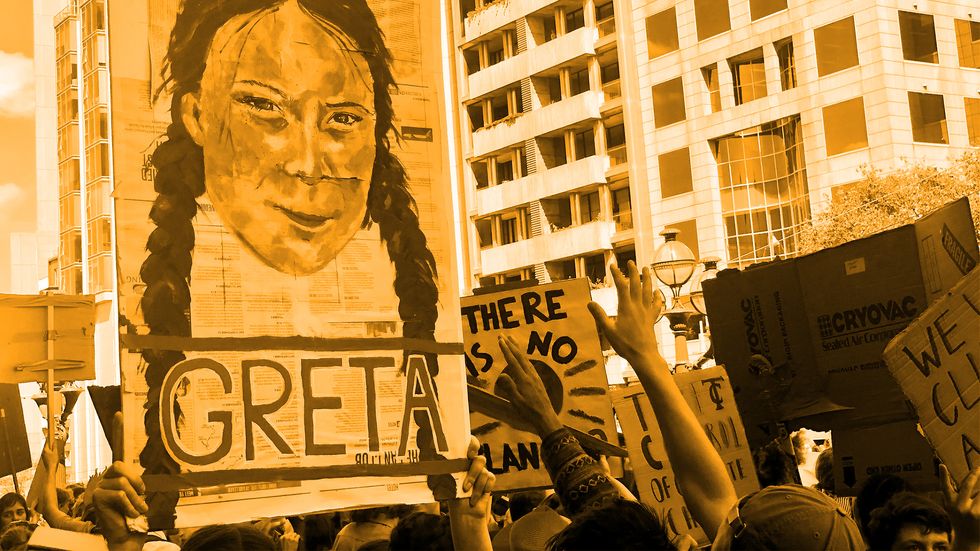 In Melbourne, students paid tribute to Greta Thunberg, the Swedish teenager who sparked the movement.
The focus of media coverage of the strikes so far has been on school-aged students (and whether parents should be letting them miss school to attend) but the issue is also very much a live one for university students, many of whom are eligible to vote. The chant of "this is what democracy looks like" echoed across the UNSW Kensington campus on March 15 as students marched out of class and down the university mall. On April 8, the Fossil Free UNSW (FFUNSW) society held a protest calling for the university to divest of its investments in the fossil fuel industry. At universities across Sydney, students are coordinating their protests to present a united front with the high school students, as well as holding their own independent rallies.
The students have inspired others to promote their message. The @icaremvt Instagram page re-posts images of small- and large-scale climate actions from Australia and around the world. Paul Hann, who runs the page, is no fresh-faced student. A middle-aged man from Brisbane, once a self-declared conservative, he is passionate about the power of community involvement to affect climate action, saying "everyone should get involved". The recent school strikes are "the best hope to build momentum behind the fight to bring climate change to the attention of the masses", he said.
Will that momentum keep building? With two strikes planned for May - the Australian #climateelection day of action on May 3 and a proposed global school strike on May 24 - the commitment of school students to the ongoing fight will be tested.
The school students say "we can't vote but we do have a voice". The bigger question is: in a fiercely contested election cycle, will politicians be listening? Right now, the Coalition may be more focused on wooing 2019 voters - and demanding the costings of Labor's election climate action pledges – than playing nice with the voting class of 2022 and beyond.