Tokyo 2020 is a Newsworthy series focussing on the challenges – physical, psychological, financial and social – athletes must overcome to compete with the best of the best.
When the Tokyo 2020 Olympics were delayed a year, athletes had to get creative, taking to social media to share the imaginative ways they kept training in lockdown. Swiss skier Andri Ragettli entertained followers with his #stayathomeparcour, Australian canoeist Jess Fox took to the swimming pool with her canoe.
In shutting athletes out of their elite training facilities, the pandemic briefly levelled the playing field. For athletes from developing nations, such as Papua New Guinea's Ashley Seeto and Fiji's Cheyenne Rova, access to sport-specific resources for training and recovery has always been limited.
Set to make her Olympic debut in Tokyo, Rova understands all athletes work hard to qualify for the games. "But the competition is not fair in the sense that I didn't have access to the facilities that could have prepared me better," she says.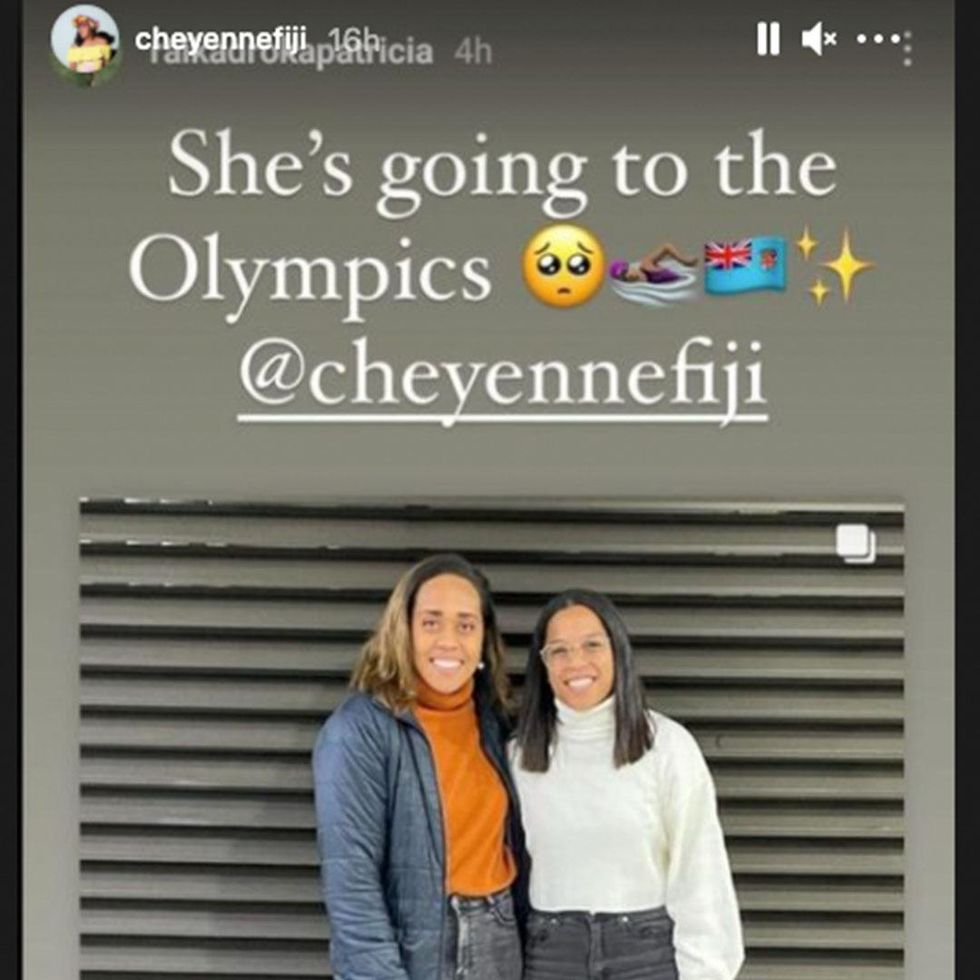 The pool where she trains in her hometown of Nadi is the only 25-metre pool in the Fijian town of 42,000. It is used by four clubs with more than 100 swimmers in all, and also shared with the general public.

"Trying to get in pool-time is really difficult when there are younger kids there to have fun and socialise and I'm there with goals, trying to get to the Olympics," Rova says.
Rova trained in the USA at Minnesota State University (MSU) from 2015-17, with access to facilities "specifically for athletes" as well as psychologists and physiotherapists and says she saw improvements in her athletic performance and swim times.
Back in Fiji, Rova says the athletes "don't really have access" to these resources and when they do, they're "not sports-specific."
"I've had a couple of injuries and I went to four different physios, and they all told me something different," Rova says, slowing her recovery and putting additional strain on her mental health.
'Trying to get in pool-time is really difficult when there are younger kids there to have fun and socialise and I'm there with goals, trying to get to the Olympics.'
Sports commentator Tracy Holmes agrees the disparity of resources between "rich, white nations" and developing nations challenges the Olympic concept of an equal playing field.

"When you have competitors, who have had the best coaching, psychologists, and physiotherapists, competing against somebody from [a developing country] that is lucky to get a plane ticket to the Olympics," Holmes says, "there is no equal playing field."
PNG swimmer Ashley Seeto saw this at the Gold Coast in the 2018 Commonwealth Games. The now retired swimmer says the elephant in the room is "the big, first world nations have a lot more money".
"They have everything necessary to go forward and be the best athletes they can be and as a Pacific Nation, we just have to deal with what we have."
Seeto recalls his Gold Coast 2018 experience. "No matter what country you're from, you're staying at the same hotel, it's all the same transport, then when we got to the swimming complex, that's when things changed," he said.
"In the room where all the athletes from different countries do their dry-land work, stretching and physio before they jump in the pool. That was probably the first time I felt really inadequate as an athlete."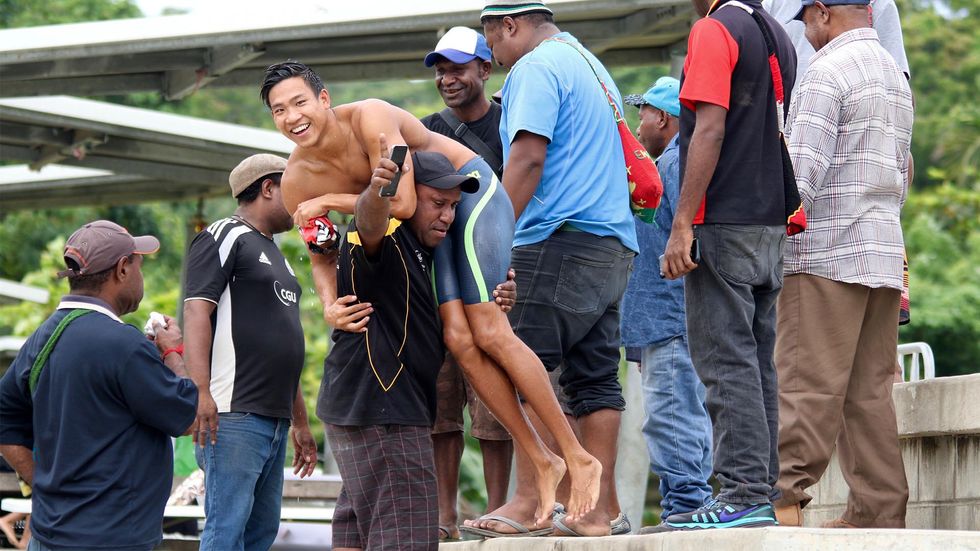 Ashley Seeto celebrates qualifying for the 2018 Commonwealth Games.INSTAGRAM/ASHLEYSEETO
The Australian Olympic Committee's 2017 "Programs & Funding Guidelines" show more than $21.5 million was allocated to fund Tokyo 2020 Olympic team, with separate funding packages to support athletes in qualifying for the team.

By comparison, the Fijian Government allocated $1 million for Team Fiji's preparation and a further $400,000 to participate, according to a report in the Fijian Sun newspaper, quoting the executive chairman of the Fiji National Sports Commission, Peter Mazey.
Seeto and Rova don't see dwelling on the injustice of global wealth inequality as a productive use of time but say the comparative lack of resources and the way they are often "looked down upon" by other competitors because of this, has a negative impact on their mindset and performance.
Rova's performance improvement during training at MSU, she says, was not because of the world class facilities and resources themselves. It's the "atmosphere" created when athletes are supported in a way that allows them to reach their potential, and the mindset that comes with this.
A mindset easily impacted, says Seeto, when athletes from "bigger countries" with more funding and greater access to resources treat athletes from "smaller countries" like they don't exist.
He saw this at the 2016 World Championships when "Australia, Great Britain, the US, China and Russia" staked out large warm-up areas for their athletes, and again at the 2018 Commonwealth Games. It left the Pacific countries to "fight for ourselves" and find somewhere to share, Seeto says.
Holmes says international sporting competitions are "about bringing communities together, about inclusion".
However, for Rova and Seeto, this has not always been their experience. "Knowing what it feels like to go to a big competition and feel like the minority means we (Team Fiji) are always welcoming other athletes to come join us," Rova says.
Seeto sees past his personal experience at international competitions to what it means to his own community in PNG that "someone of their status made it" to the world stage, and the importance of representing what is possible to others.
Equality of competition at the Olympics, for Seeto, starts with an "acknowledgement" that all competitors are deserving of their place on the starting block. "In 2018 I swam in the same race as Adam Peaty, the British world champion. Just before the race he came up and just gave everyone a fist bump. Little things like that, acknowledgement of that kind, impacts your mindset and makes you feel like you deserve to be there."