An award-winning photographer sets out the standards she sets for herself.
When a photojournalist hoists her camera to capture an event, she has the power to convey the raw reality of a situation but she is also obligated to ensure her work does not cause harm.

This duality of ethical photojournalism was unpacked by The Sydney Morning Herald's award-winning photojournalist Kate Geraghty and Managing Photographic Editor Mags King at a recent panel discussion "Photojournalism in an age of fake news" at UNSW Sydney.
Geraghty, a three-time Australian press photographer of the year and Gold Walkley winner, highlighted the need for photojournalists to maintain objectivity, regardless of the circumstances. She drew on her experience covering the 2002 Bali Bombing and its aftermath as an example, where she had to interact with both survivors and perpetrators.
'We don't only photograph people: we hear their story and we will remember them for the rest of our lives.'
"It doesn't matter who it is: ethic-wise, you can't be biased, and you have to be completely impartial," she said. "We spent two days with Idris, one of the Bali bombers, and you have to afford him the same respect you would a survivor of the bombings. They're telling you their story, which can be difficult, but your opinions don't matter."

Geraghty also explored the unique ethical challenges that photojournalists face when working on the frontlines of conflict. She has 20 years' experience as a war photographer covering conflicts in Iraq, Lebanon, Afghanistan, South Sudan, the Democratic Republic of Congo and most recently Ukraine, where she documented frontline forces fighting the Russian invasion.

There are rules of engagement around frontline photography and Geraghty said a lack of consideration when capturing and circulating wartime images can have lethal consequences for those on the ground.
"You can't show where you are, because you have an ethical responsibility from the moment you leave this unit," she said. "You cannot have their deaths on your hands by publishing identifying features in the landscape that will get people killed.
"Another one of the rules is that you do not publish an image or a video showing what has just been bombed. This is because the opposition military will see those images and go, 'oh we didn't get one of the buildings', and they'll re-bracket and hit it, so some civilians will get killed because of stupidity."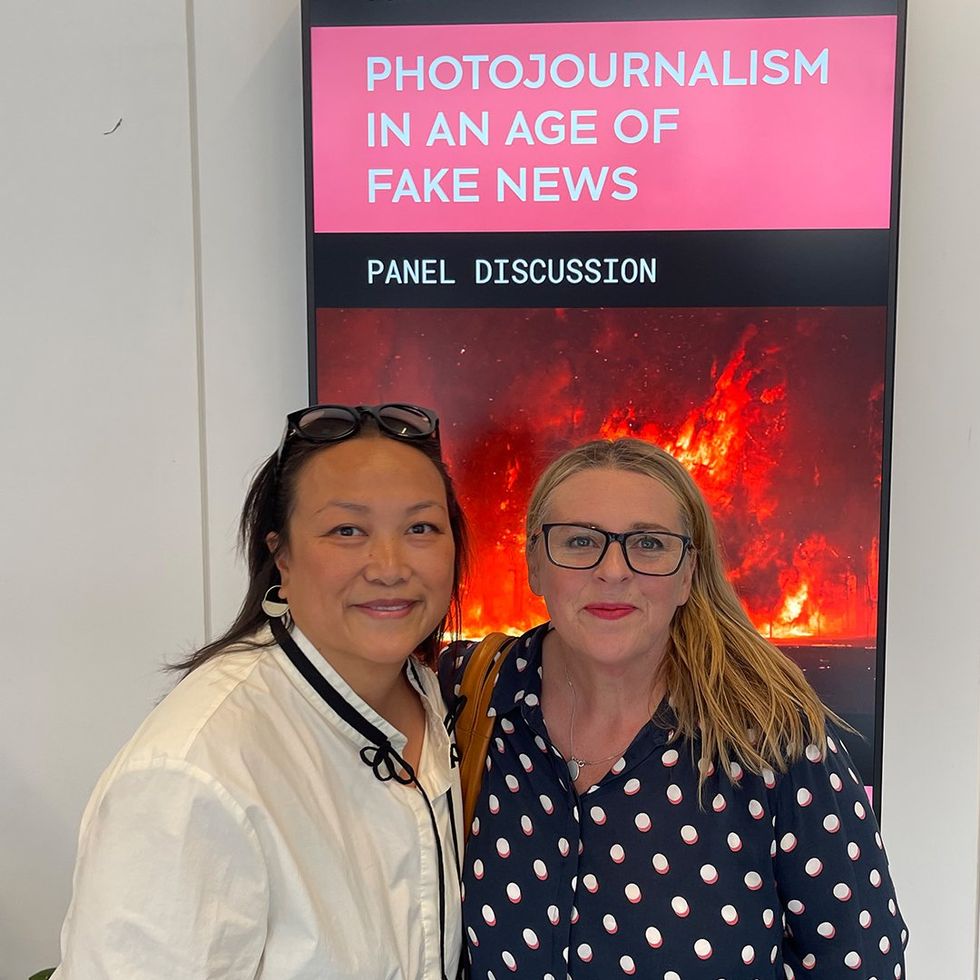 "Bound by ethics": Mags King, left, and Kate Geraghty.CONNIE LEVETT
Whether on the frontline or covering day-to-day civilian suffering, Geraghty said, "you don't interfere: sometimes people can get upset, and you have to be respectful, but they also want to show you the reality of what's happening … You'd get kicked out of an area if the authorities didn't want you there, but you ask permission when you can.
"You have to be prepared: you will be abused, and it's unwarranted a lot of the time. People who are angry don't want to hear that we're documenting history, and you have to understand that they're angry for a reason."
Geraghty travelled to Ukraine three times in 2022 to "document history" for The Sydney Morning Herald and The Age, and in doing so, offered Australians a trusted source of ethically-taken images of a conflict where disinformation is rife.
Image verification and need to identify potential digital image manipulation are a live issue in newsrooms and on social media sites around the world. SMH photographic editor King, who is a World Press Photo jury member and curator of the Herald's annual Photos1440 exhibition (currently on show at UNSW's School of the Arts and Media), acknowledged you can't always trust what you see but argued your best option for authentic photojournalism was to receive it from credible mastheads where checks and balances are in place.

"We're bound [in] everything that we do: all the photographers in our team, as well as the journalists, we're all bound by ethics," she said. "If it's a photo that we haven't photographed, it goes through a series of verification steps, and we take it very seriously.
"[Freelancers] tend to send pictures that are relevant for that day, year, or month: if it's really on point and you think, 'gosh, we must have this', there's a series of questions, but I haven't seen one that fools me yet.
"I remember one picture: it was a big shark, and you can see that the tail was so disproportionate to the head, and so there are lots of visual cues that alerts you to question it further. And then again, you kind of think, 'okay it's not worth it', it's not worth the hassle."
Those ethical boundaries also definitively rule out image manipulation at the Herald.
"You cannot change a scene, you cannot clone anything out: you will be sacked," Geraghty said. "It is digital manipulation, and we see the manipulation of images as the same as the manipulation of words … If someone makes up a quote, it's the same as digitally changing an image, and we don't do it."

King confirmed any post-production work on images is "literally just brightness and contrast, and for design purposes, you might end up cropping the image."
Photojournalism is defined by its capacity to capture a moment, to convey feelings that words cannot describe. For Geraghty, ethical photojournalism means ensuring the dignity of the person she photographs is respected, that their story is reflected by the frame, because as a photojournalist she is documenting history, and in doing so, carrying their memory into the future.
"We don't only photograph people: we hear their story and we will remember them for the rest of our lives."