REVIEW
Soul Burger
49 Perouse Rd, Randwick
Open Mon-Thu, Sun 11am-9pm; Fri-Sat 11am-10pm
|$| @soulburgerau
Rating: Four and a half stars out of five
Every diner option available and every one of them is plant-based.
We're officially past the Spring Equinox but as the damp, cold days go on, there is one food in particular we still crave: comfort food.
Whether it's apple crumble, mac and cheese, or chicken soup, everyone has one dish that makes them feel warm inside. But as a vegan, many of these comfort foods are only available as stodgy, disappointing versions of themselves.
Soul Burger aims to change this. Founder Amit Tewari dropped out of medical school in his third year to start a business that could double as a place for him to socialise.
'If you are looking for indulgence without the food coma, this is the restaurant for you.'
Opening initially as a regular burger joint using pasture-raised meats, they rebranded, becoming Australia's first entirely plant-based burger joint in December 2015. The Sydney-based franchise now has locations in Newtown, Glebe and Parramatta as well as Randwick, and uses soy protein as a substitute for meat.
Soul Burger is proud to be plant-based, and shows this off in its decor, with the term plastered across the exposed brick walls in its Randwick restaurant.
Offering every regular diner option and more, it is at first difficult to grasp that everything on the menu is plant-based. From BBQ beef brisket, to battered fish and chilli duck, it truly does not fall short of burger options.
The diner uses minimalistic decor, with wooden stools, booths and concrete flooring. It is also wheel-chair accessible, reflecting the restaurant's policy of welcoming everyone. While the stools are slightly uncomfortable, the interior is reminiscent of a stripped-down classic American diner, which is reflected in their menu.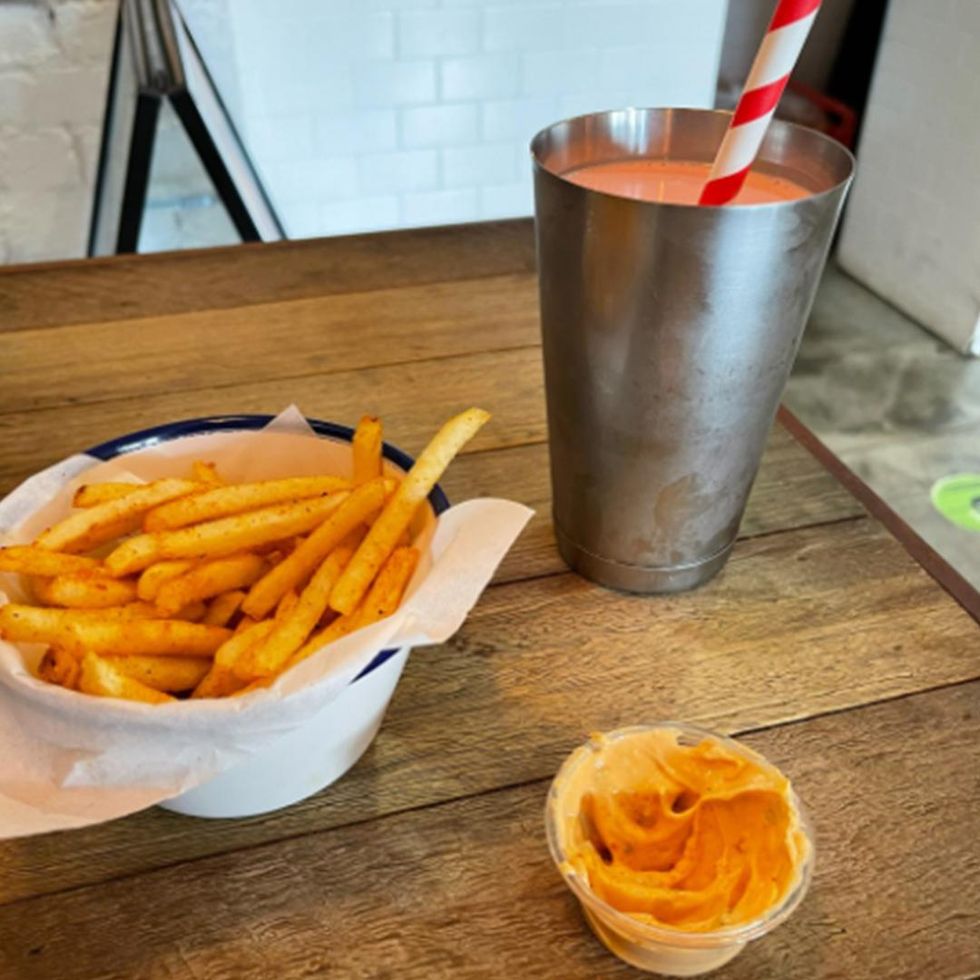 Nostalgia trip: A plant-based shake and fries.RHIANNON LIDBURY
By scanning a QR code beside my table I had every option at my fingertips, accompanied with mouth-watering visuals. After only 10 minutes, the food arrived.
Going for the classic diner combo, I ordered their Southern Fried Chicken burger ($19.00, with extra crispy bacon bits), tangy fries ($5.50), a strawberry milkshake ($8.50) and some churros with caramel sauce ($9.50) to finish the indulgent meal off.
Visually, the food was identical to any animal-based product. Taking a sip of the cold, bubbling milkshake, the nostalgic taste of artificial strawberry, along with the frosty metal tin the shake was served in, brought back memories of after-school treats with my mum as a child.
This was paired perfectly with the smokey seasoning coating each crispy shoestring fry, which there were many of considering I ordered a small size.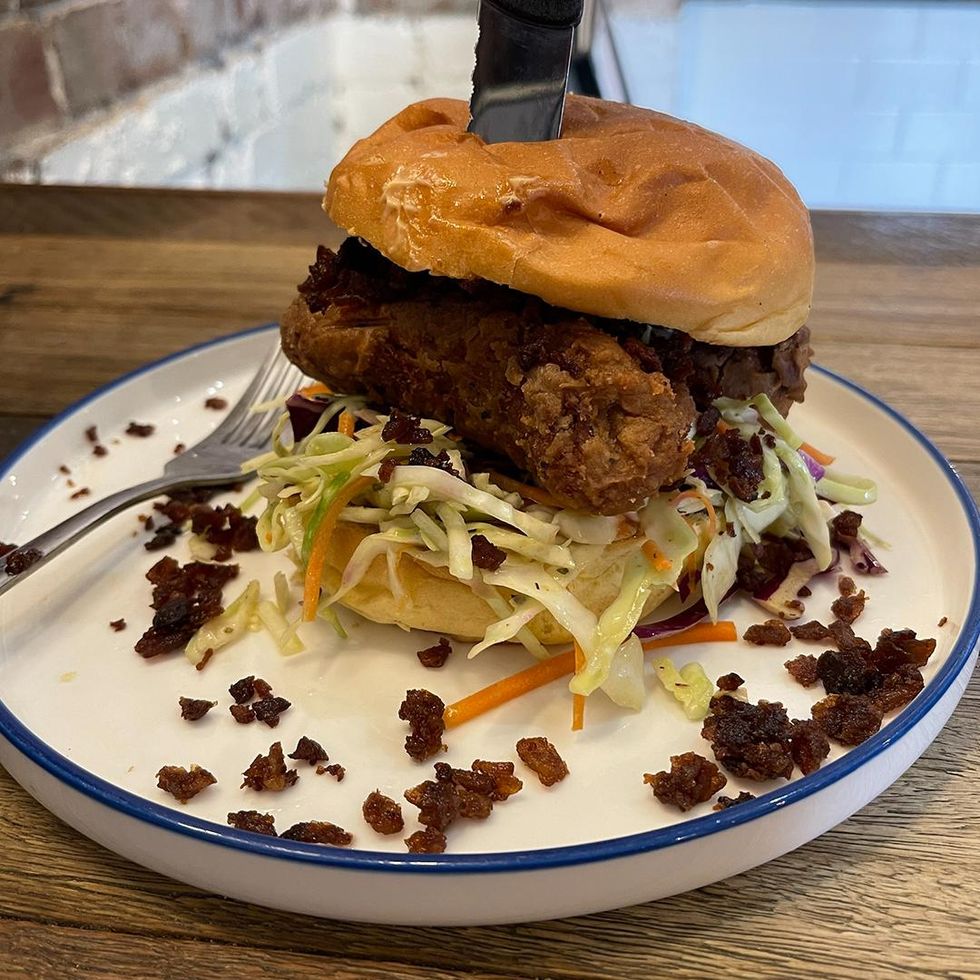 Soul Burger's plant-based "chicken" burger. RHIANNON LIDBURY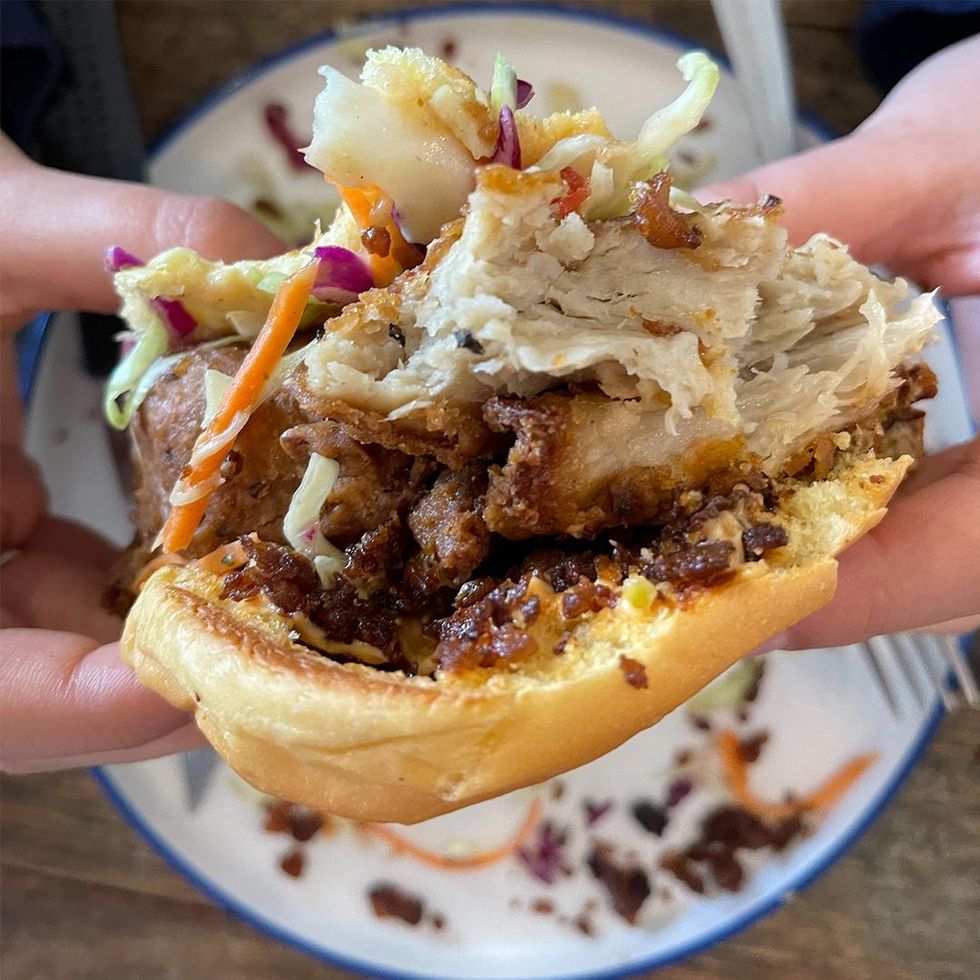 What the "chicken" looks like when pulled apart.
Though the burger joint refrains from loudly advertising the environmental and health benefits of plant-based foods, if you are looking for indulgence without the food coma, this is the restaurant for you.

And the burger? While vegan sceptics may disagree, as a vegetarian it was almost off-putting how similar the plant-based fried chicken was to the real thing. The punchy crispness of the outer coating rivalled fast food chains' "secret seasonings" and the "chicken" itself was succulent. Apart from the burger being a little messy, it was an absolute delight to eat.
With the churros, even if my eyes were too big for my stomach, the delicious cinnamon-encrusted, caramel-coated dessert left me feeling nourished, without that slightly queasy feeling you get after eating an animal-based meal that size.
If burgers aren't your thing, the franchise recently launched "Plantas Taqueria", a plant-based Mexican "restaurant" within their Soul Burger outlets. The footprint for plant-based food keeps growing and I am here for it.