The coronavirus lockdown was an overwhelming upheaval for restaurateurs in Randwick's entertainment and dining hub The Spot, but not all of it has been negative.

Now, as the lockdown on dining out is cautiously relaxed, small business people at The Spot speak of how quick thinking and adaptability helped them through eight weeks of COVID-19 uncertainty.
Laurent Giannesini, co-founder of Four Frogs Crêperie, said during a crisis, businesses had to "be strong and quick."
Before the crisis Four Frogs had done some takeaway and zero delivery. The business was forced to adapt their largely dine-in model to remain open.
"It has definitely taught us something important, that our product can travel and people are still satisfied with it," Giannesini said.
Eddie Murillo, a senior employee at Bat Country, a neighbourhood bar and café, said the day the government restrictions on hospitality came into force, they had a full staff meeting to discuss strategy.
Murillo said Bat Country had three goals while in lockdown: to keep the business open for trade, keep as many employees as possible on the books and to support the Randwick community.
The virus came early to Randwick in Sydney's densely populated eastern suburbs. It had unsurprisingly flourished in nearby Bondi, which draws the international backpacker crowd. But, it also came to low-key Randwick, where The Spot draws a much more local crowd.
In an early sign of closures to come,11 days before the NSW Government shut down restaurant dining, Randwick City Council cancelled The Spot Festival which attracted up to 15,000 visitors annually, because of concerns around community transmission.
As the shutdown went into effect on March 23, Bat Country immediately launched a new takeaway menu and, recognising there would be different community needs in the new landscape, began stocking hard-to-find household essentials. Its inventory expanded to include toilet paper, soaps and pantry basics, all in short supply due to panic buying.
Communication between employees and management were an essential part of adapting, Murillo said. The kitchen staff came up with many of the culinary solutions. They began creating readymade dinners and dinner kits with all the necessary ingredients for families with working parents and children at home.
'We've had dozens of calls asking whether we would be open, many people wanted to book the whole place.'
As the pandemic rolled on, the usually bustling streetscape emptied save for delivery drivers and those picking up takeaway. Real time tracking of COVID-19's impact on the Australian economy showed a 258 per cent increase in spending on food delivery services in the first week of May compared to the pre-pandemic average.
At Four Frogs they introduced new products including mulled cider to-go, their freshly milled buckwheat flour and handmade sauces.The business began offering naked crepes and galettes to plate up with different toppings at home. Giannesini credited his staff for many of these strategies.
"If you have staff who are dedicated, strong and involved, they become creative and that helps a lot," Giannesini said."The biggest challenge for this industry is, what's next?"
If people changed their social behaviour for good and opted for delivery, businesses would struggle to afford big spaces with heavy rents, he said.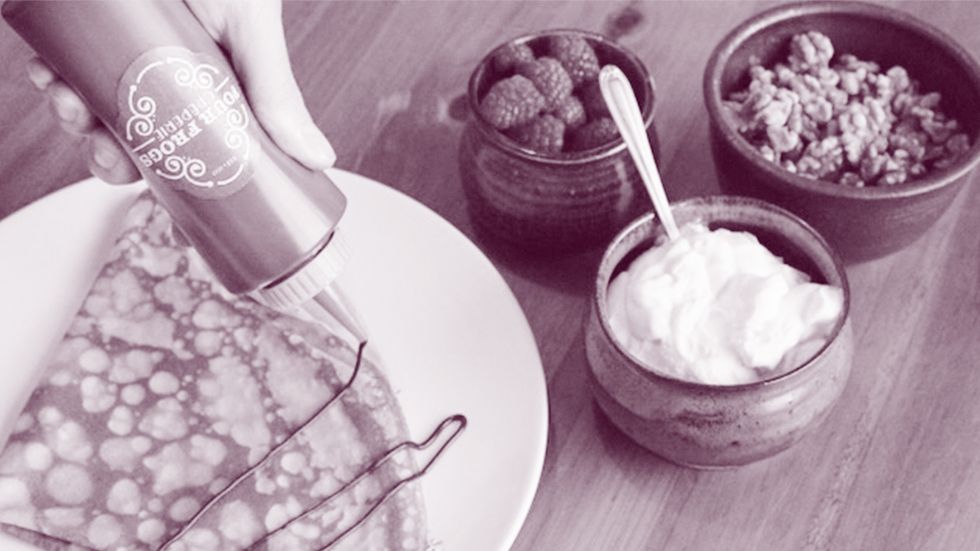 Four Frogs' naked crepe proved a hit with stay-at-home customers.VIVIENNE CROWLE
The lockdown created another problem specific to Four Frogs. The specialised nature of their menu means they mostly employed French chefs, many of whom have returned to France. Even when restrictions relax in Australia, the borders will likely remain closed for some time, so "we won't be able to get them back anytime soon."
Amid the difficulties, there is also opportunity. Giannesini said the business had previously tried to create a training school and may do again.
"Because we were not forced to do it, we didn't get it right, now we have been pushed to do it better," he said. The experience has taught him working around constraints can make a business stronger. "Somehow, there is a silver-lining somewhere."
Four Frogs has reopened for dine-in customers from Friday to Sunday and will continue to offer takeaway and delivery every day.
Bat Country will wait a little longer. Murillo said the present limit of 10 patrons was impractical for the business but he was optimistic it would return to normal in a few weeks with a further lifting of restrictions.
"We've had dozens of calls asking whether we would be open, many people wanted to book the whole place."
Until then, Bat Country is updating their space, creating a new winter menu and updating the beer, wine and cocktail selections "for a fresh start".