Student musicians confront prolonged sting of the pandemic and discover it's affected the way they make music.
Review
Digital Oceans Virtual Jazz Festival: Part One
Fine Music Sydney 102.5FM, August 15
Rating: Three and a half stars (out of five)
In the Digital Oceans Virtual Jazz Festival, ensemble musicians turned bedrooms into rehearsal spaces and living rooms into recording studios to build diverse sound worlds that hold no secrets.

Barring the messiness evident in corona-impacted collaborations, the project's debut broadcast on Fine Music Sydney on Saturday was a testament to the musicians ability to adapt and keep original works flowing. The festival, developed with the UNSW jazz program, brought together students who had been unable to rehearse together in person since mid-March.
Sandy Evans, the 2019 Australian Jazz Bell Hall of Fame inductee and a UNSW music lecturer, said, in introducing the program: "Playing in a band online is extremely difficult. You can't play together in time with each other, you can't hear each other properly, you can't rehearse [or] create music together in the way that you normally can. So, we had to rethink everything that we were doing."
The students learned how to record on their phones, tablets and laptops. They found new ways of collaborating, communicating and improvising. "They've had to rehearse in their bedrooms, they've had to turn their living rooms into recording studios," Evans said. "For many of them, they've had to do this with major disruptions to their living circumstances and their work and family environments."
With the festival, the student musicians were looking to craft a set that, while underscored by reflections on the pandemic, "connects, inspires and uplifts us", said Evans, who is the director of both the UNSW Jazz Orchestra and the Virtual Jazz Collective.
It's a funny kind of chaos, slightly mocking, on which to take a final bow.
The set kicked off with the eponymous Digital Oceans, by members of the Virtual Jazz Collective. It was a smooth, bouncing samba-inspired introduction to the night. Guitarist Byron Zeledon-Torres punctuated the piece early on with an enticing solo carved with fractured phrasing and heavily accented polyrhythms. A breathy voice drifted in and out of clarity, hitting the audience with on-the-nose quotes such as "iso keeps me bored". A deliberate wink to listeners, we knew what we were squarely being positioned to ruminate on for the duration of the hour.
Taking a different tone for the second number, listeners were pulled into a lush psychedelic indie folk feel with a catchy form and numerous short solos. Winter Flowers opened on a triple-time beat with beautiful lyrics and soft vocal work from Laura Higgins. This was a track which spoke of exhaustion while searching for light. Morphing into a common time rhythm, the tune came alive with a punk sentiment from the second verse. It lost its footing with an odd mood change in the bridge which emphasised clashing vocal qualities, perhaps a result of the final mix, but one musician in particular carried the piece from start to end. Drummer Alexander Antoniou shone as its driving force.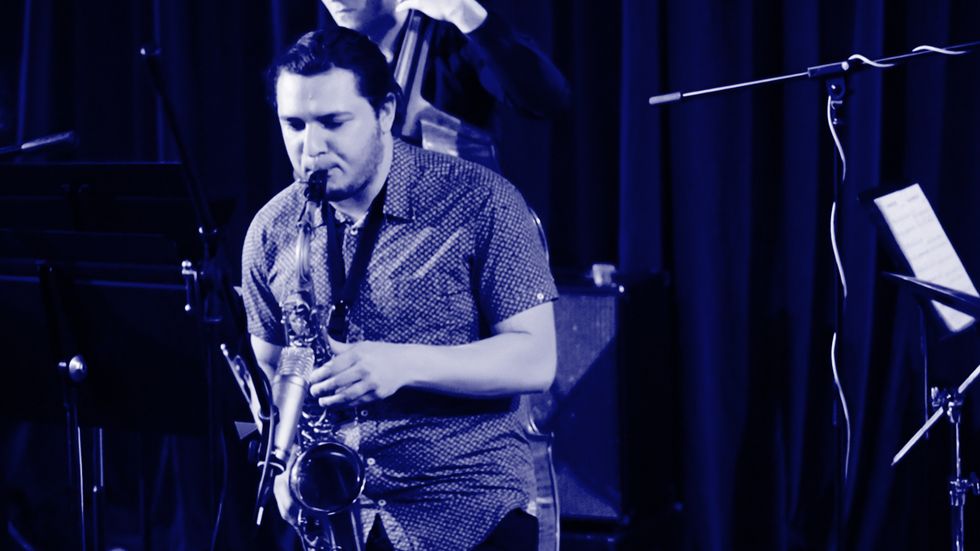 Greg Stopic's work can be heard in Digital Oceans Part Too this Saturday.EITAN MUIR
With My Dear, created by UNSW Jazz Orchestra's saxophonist Lachlan Anderson, was inspired by longing for absent loved ones during the loneliness of lockdown. Leaning heavily into a romantic ballade style with broad 12/8 swing rhythms, the audience was drawn between the excitement of a powerful vocalist, Rebecca Mathews and a tight, well-orchestrated backing band.

Intricate horn arrangements and rich vibrato aside, Mathews' vocal efforts may have received more justice in a higher key situated comfortably in her range. Virtuosic runs throughout the violin solo excited and energised the mood, and inscribed in their imprint was an odd yet fabulous saxophone solo with modern edge.
Adrian Lim-Klumpes' Advanced Jazz Ensemble brought more flavour to the collection with Tequila for Two andBlood Pumping. Lynx Van Den Brink's first atmospheric treat was heavy on cymbal fills with saxophones weaving about to guide the ear. One could briefly forget the loneliness of the COVID experience with the fullness of sound that swept all attention towards it.
Blood Pumping on the other hand opened on spacious vibes reminiscent of the dusty soundtracks of Western cinema. This lonely space was shaped cleverly courtesy of heavy delay on the saxophone bleeding into distortion, accompanied by an ever-present bass. A solid drum presence and expertly blended keys joined the pack. It was a piece which, while initially strong, plateaued towards the end of its eight-minute-long life.
To its credit, the real joy of this ambient tune was the beautifully-arranged recording which made interactions between players all the more interesting. Vocalist Ofri Einav's minimalist melodic layering is fantastically descriptive in its simplicity ("faces wrinkling, bones breaking, joints cracking, backs contorting"), with enunciation that cut clean through the mix and allowed us to enjoy our sonic environment with little strain.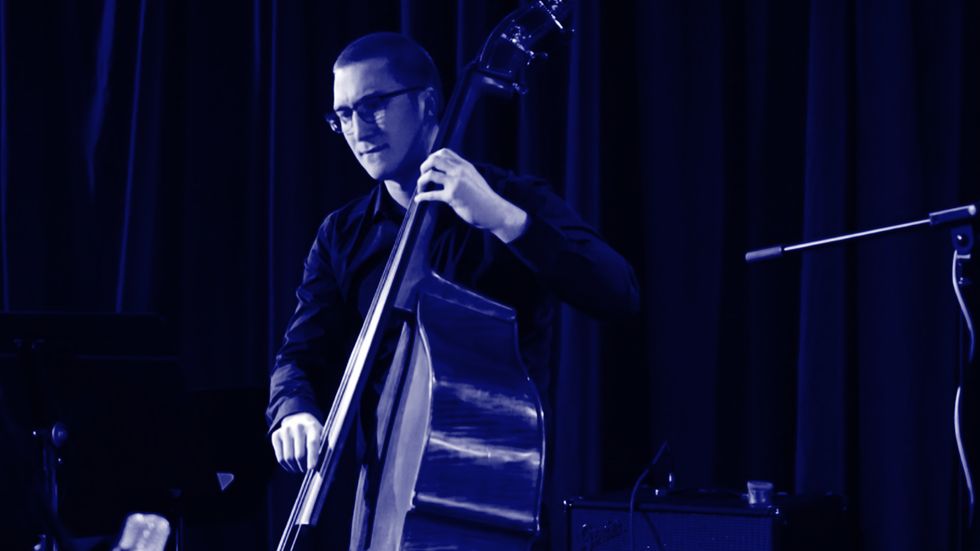 Tomas McKeever Ford found a larger audience for his complex work.EITAN MUIR
Eitan Muir and Tomas McKeever Ford also had an opportunity to showcase their complex pieces. The Honours students had previously presented their ensemble work, under university COVID special provisions, to an audience of two. On Saturday, they were delivered to audiences of a size that they deserved.

The evening drew its last breath on an ironically upbeat and energised finale by the UNSW Jazz Orchestra which took us in with a name so on-brand it could have been wearing a mask. Lockdown boasted a kooky vibe and a super long modal vamp that was almost enough to make us feel we've either all gone a little bit loopy or the creators of the tune were in deep rumination on the apocalyptic absurdity of the past few months. It's a funny kind of chaos, slightly mocking, on which to take a final bow.
Holding its own against the weight of current hardship, Digital Oceans offered a thoroughly engaging commentary on recognisable experiences, narrativised and punctuated by sound. UNSW's jazz musicians have brought a strong presence to the digital stage.
Digital Oceans: Part Too airs on Fine Music Sydney (102.5FM) on Saturday, August 22, 7pm, or watch Tuesday's music video livestream here.