Australia's most decorated spy chief David Irvine was a child of Cold War politics. Just weeks before his death, he spoke to Newsworthy about today's shape-shifting geopolitical landscape and what it means for Australia.

It's 1954 and Soviet spies have arrived in Canberra. Posing as diplomats in the Soviet Union's embassy, they are tasked with collecting intelligence from government departments, infiltrating political parties and seeking out communist sympathisers. Cold War tensions are at their peak, when suddenly, the almost unthinkable occurs – two of those Russian "diplomats" risk life and limb to defect to Australia.
This historic moment, which became known as The Petrov Affair, would trigger a pair of revolutionary royal commissions 20 years later that laid bare the classified operations of Australia's intelligence organisations. It was at this time, in 1974, at "the tender age of 27", when David Irvine began his highly celebrated career as a Foreign Affairs Liaison Officer. He travelled with Royal Commissioner Robert Hope, who would deliver a ground-breaking report that established the framework for how Australia's intelligence organisations operate to this day.
"I was still pretty young and feckless and I don't think I fully understood the gravity of the issues we were dealing with … that understanding didn't come until a lot later on," he recalled, speaking at his home in Canberra, just weeks before his death on March 30. (His family consented to the article's posthumous publication.)
'In the modern world, national security and national well-being don't depend on how strong your armies are. They depend on how strong your infrastructure is; they depend on how well protected it is.'
"Essentially, Commissioner Hope said to [then prime minister Gough] Whitlam, 'No, you can't abolish ASIS, you need it. And you can't abolish ASIO, because your allies will never talk to you again." Irvine was referring to Australia's domestic and foreign spy agencies. The Australian Security Intelligence Organisation was formed in 1949 and is responsible for protecting the country from espionage, sabotage and foreign interference; the Australian Secret Intelligence Service is the country's foreign intelligence gathering service and was formed in 1952.
In March this year, Irvine found it easy to draw parallels between the previous rivalry of the Cold War years and rising political, trade and cybersecurity tensions between Russia, China, and the West. He was well placed to know. At the time of his death, the former spy chief sat on the board of the Cyber Security Cooperative Research Centre and was Chair of the Foreign Investment Review Board.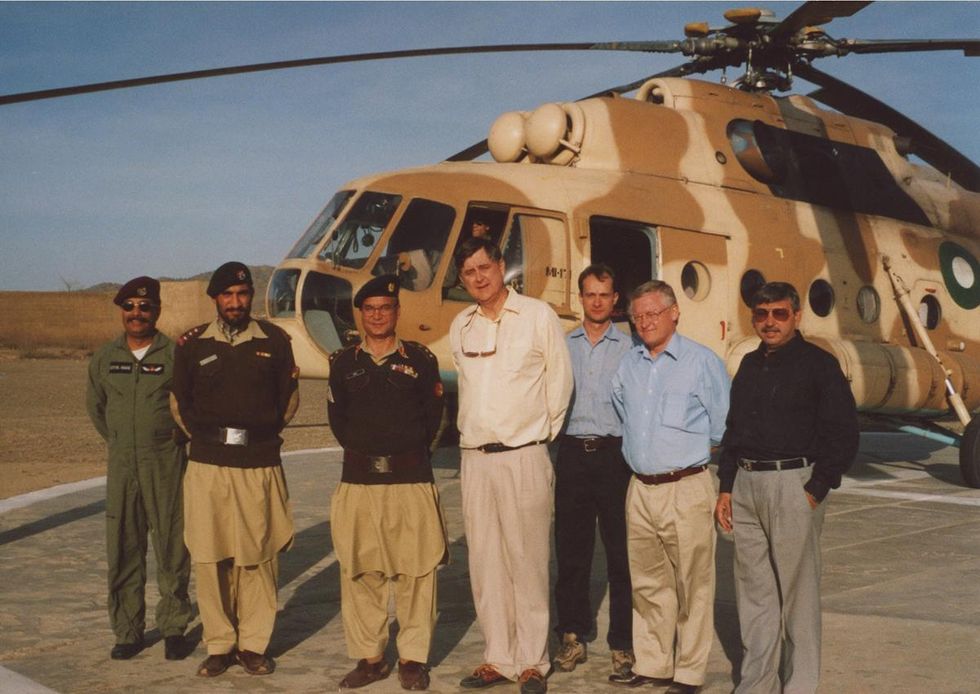 David Irvine, centre, on the Khyber Pass in 2004, says the focus has shifted from counterterrorism to counterespionage.SUPPLIED
"In the modern world, national security and national well-being don't depend on how strong your armies are. They depend on how strong your infrastructure is; they depend on how well protected it is. In modern warfare, they are the things that are attacked before shots are fired. So, you have to be protecting yourself," he said.
Irvine's extensive knowledge of security comes from more than 30 years' working in Australia's diplomatic corps. From Rome to Jakarta, and on to Beijing, Irvine rose to become one of Australia's most senior diplomatic officials, ultimately serving as Ambassador to China at the turn of the century.
"I left China in 2003, and thought I would be going back to Indonesia, which is what I wanted," he said. "But apparently Alexander Downer [then foreign minister] had other ideas and appointed me as head of ASIS. So after all those years between when I had been working on intelligence matters with the Hope Commission, I was suddenly in the intelligence community – in a big way."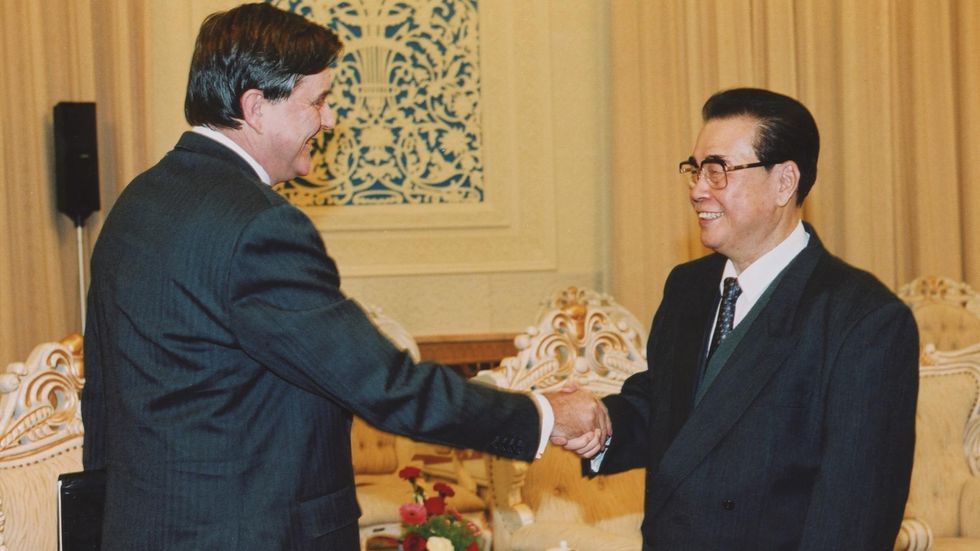 David Irvine, with Chinese premier Li Peng in 2002, has seen "the spectre of a Chinese threat" rise in recent years. SUPPLIED
Unsurprisingly, Irvine remained tight-lipped about his time with ASIS from 2003 to 2009. "I'm not going to talk a lot about ASIS, except to say that yes, it does spy overseas" he said. "Let's not beat around the bush … if you ask me what they did in a public place, I'd say 'they collect information overseas to inform the government to make better decisions,' but essentially, they're spies!"
For many, life as a spy conjures images of a glamorous life of international travel, high-speed car chases and shiny gadgets. Irvine assured me the reality is about as far away from a guns-blazing, martini-sipping James Bond persona as you can imagine.
"I came into an ASIS that was just getting used to the fact that it had to operate according to the law. Which meant, for example – we couldn't shoot people. We had no lethality in anything we did," he said. "We could support lethality, we could provide intelligence to the armed forces who could go and shoot people in a foreign conflict, which is sort of normal ... But we didn't have a lethality function of our own. Although I did have that changed to ensure that we could carry weapons for self-defence."
After six years as the Director-General of ASIS, Irvine had a sudden career change when then prime minister Kevin Rudd asked him to "go across the river", appointing him as Director-General of ASIO in 2009, tasked with defending Australia's national security against a newly emerging threat of a more assertive China.
"Despite all the work I'd done on China over many years into supporting the relationship, events were occurring which were beginning to raise the spectre of a Chinese threat. China was becoming much more assertive," he said. "It meant that we would have to focus more on ASIO's traditional job, which was counterespionage. Resources had very much been run down in that area then because we had all been focusing on terrorism. So now, it was a question of preserving resources we had and building on our counterespionage function. And that's a process that has gone on to this day – you can read the papers any day and see how far that has progressed."
Despite growing tensions between China, Russia and the West, Irvine was confident that Australia's intelligence organisations were capable of handling future security threats.
"The Australian intelligence community is the most oversighted organisation in history … to the point where some of the processes and procedures you have to go through are like self-applied red tape," he said. "But what I hope it does do, is give the Australian public the confidence that the organisations they are funding to protect their national security, are able to do so in secret, are not corrupt, and they are properly oversighted … By and large, the community is very, very, well-protected."