COMMENT
Taylor Swift's much-hyped Eras tour lands in Australia in February but why shell out up to $1,250 for that when you can grab a ticket to your local pub gig with a front-row view for the price of a pint.
It's Friday night, you're walking down the Princes Highway from St Peters Station as you share beers your mate snuck in his pockets with fellow concertgoers you met on the train. You reach a dilapidated building covered in band posters with people in fully thrifted outfits, mullets and tattoos queuing out the front. The beer garden inside is lit up with fairy lights and you hear muffled drum beats and guitar tunings. Once inside, a bartender with two gold teeth hands you red wine in a plastic cup and you go stand at the front of the stage, wishing luck to the indie-rock band your friends are mates with. This is the House of Music and Booze.
It's been a tough few years for small venues. A report on the live music sector released in March found it was heavily disrupted by COVID-19 with an 80 per cent fall in the number of promoted events from 35,800 in 2019 to just 7,300 in 2020. Music NSW reported that in the two years "between March 18, 2020 and February 18, 2022, there were only 12 days without restrictions for venues". Those 12 days occurred between "Freedom Day" on December 15, 2021 and the rapid re-introduction of restrictions on December 27 following the Omicron surge.
If you like listening to Tame Impala, Ocean Alley, The Kid Laroi ... why wouldn't you go support the next of their kind up close?
In a post-pandemic world, small local pubs and hotels are playing a pivotal role in keeping the Australian live music scene thriving. These intimate venues can offer a refreshing alternative to the massive stadium concerts that are often too expensive, crowded, and commercialised.
Bryn Chapman, lead singer of Sydney-based band Mac the Knife, performs in the crowd at The Lady Hampshire.LAURA GORDON
Sydney Morning Herald music critic Bernard Zuel perfectly summed up the pre-pandemic magic of Sydney's small gig experience: "Following a band as it moved up the line from the Lansdowne to the Oxford Art Factory to the Metro and then to the Enmore, or chasing an act from the Civic Underground to Goodgod Small Club to Home to the Hordern Pavilion wasn't just a musical journey: it felt like being connected to this city."
Last Thursday, the NSW State Government seemed to recognise COVID lockdowns and lockout laws had damaged that connection, proposing a suite of changes that will make it easier for pubs and clubs to host live events, extend hours and manage noise complaints.
So, ditch Accor, Allianz and Sydney Showground for local gems like the House of Music and Booze, The Great Club, the Landsdowne, the Lady Hampshire, Oxford Art Factory, The Abercrombie, Mary's Underground, the list goes on.
Forget Taylor Swift's $1250 tickets. At the House of Music and Booze, owned by the Music and Booze Co, who also operate other Sydney treasures such as The Great Club, Vic on the Park and Waywards, you can get tickets for as little as zero dollars. On average, tickets will be $15, with featured artists ranging from local musicians who have just started out to bigger names such as Yoke Lore. Let's be real, megastars like Taylor, Harry Styles and Drake have enough of our money already.

The challenge for Australian venues, as they finally win government support to revive the live music scene, is that we fans have begun to feel the squeeze of the cost-of-living crisis.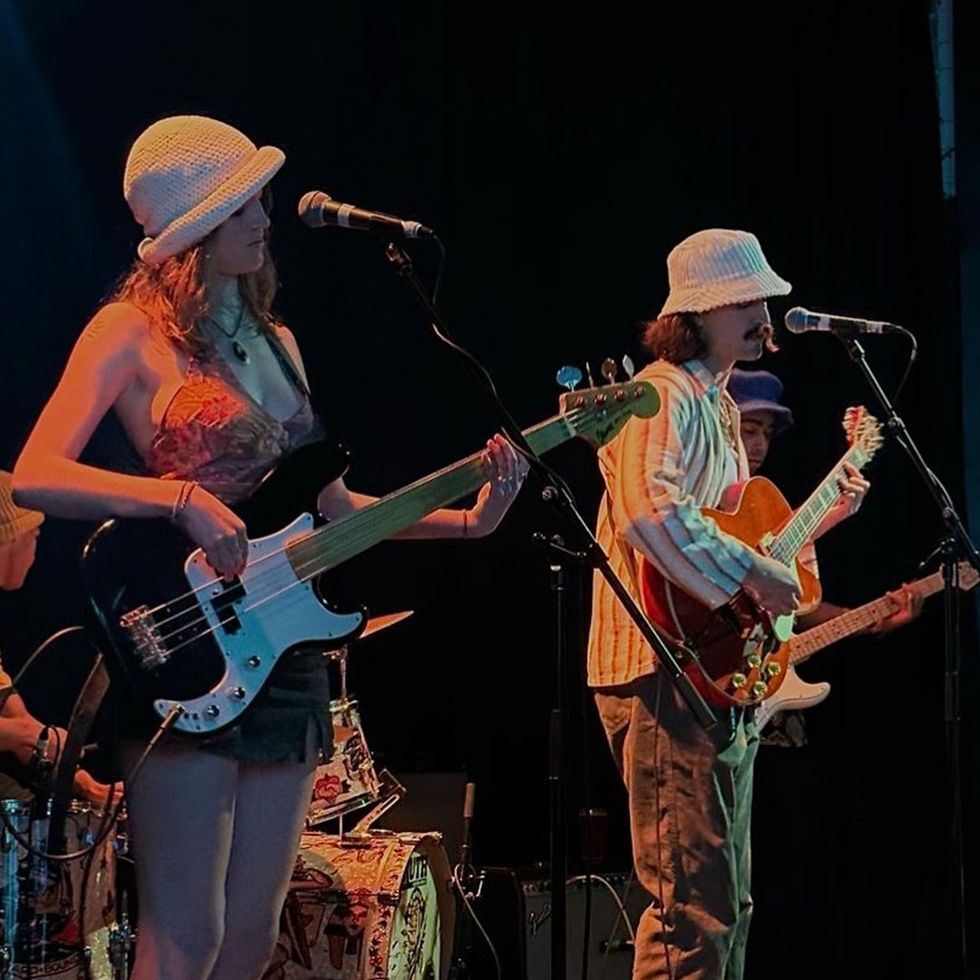 Sydney band Genie Loci perform at the Oxford Art Factory's Gallery Bar. LAURA GORDON
Cheap nights out are a godsend for young Aussies who make up the majority of these audiences and who are hit the hardest by the current cost of living crisis. We need to balance full-time study, part-time work and insecure housing at inflated costs.
In the 12 months to June, the Australian Bureau of Statistics reported the cost of food for Australians rose 7.5 per cent, rents jumped 6.7 per cent, insurance was up 14.2 per cent and utility prices rose between 12 and 14 per cent. With all those extra costs piling on, even a $15 ticket starts to look expensive.
Apart from a good night out, we also get to hear the next wave of Australian music. You won't necessarily hear it on radio. Radio stations are only required to play at least 25 per cent Australian music from 6 am to midnight weekly and even that is self-regulated.
This isn't even mentioning how difficult it is for artists to break out of Australia and go international. Melbourne musician Eilish Gilliganwriting in The Guardian explained "Australia is a small market, which offers few options for artists to "make it" – it says a lot that The Kid Laroi had to move overseas for his career to take off."
These small music spaces have been historically invaluable to up-and-coming musicians. After getting a nod and a wave from Aussie band, the Terrys, as we both queued at Maccas for a pre-show dinner, and an epic show by them later in the night, I knew I had to go to their next gig at the Great Club. And it certainly was great with people crowd surfing under the disco ball and an antique lamp being knocked over at the bar.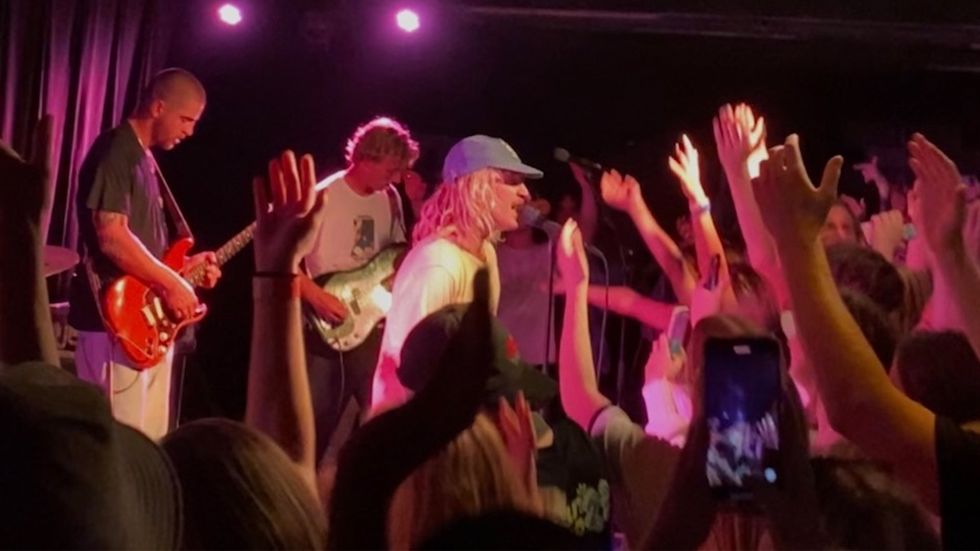 Australian band The Terrys perform at The Great Club, Marrickville.LAURA GORDON
The Terrys, who wrapped up their first Australian tour earlier this year, kicked off their first international tour in September. This feat was largely made possible thanks to the exposure these small venues provided.
The Oxford Art Factory's Mark Gerber, explained the ecosystem to the SMH this way: "For Oxford Art Factory to function well, it needs venues like the Lansdowne, for the same reason the Metro needs the Oxford Art Factory. It's an ecosystem, a landscape [bands] can traverse. It's absolutely crucial that you have these small to medium venues where a particular scene can gather and they can exchange ideas and philosophies are discussed. And they become catalysts for all manner of things."
So, if you like listening to Tame Impala, Ocean Alley, The Kid Laroi, Cub Sport, Dope Lemon or really any Australian artist ever, why wouldn't you go support the next of their kind up close? Because that's what you'll get at these venues, you'll be rubbing shoulders (literally) with some pretty impressive, (for now) underrated musicians.
Don't you want the bragging rights to say you saw them before they got famous, or maybe even sat down for a beer or a Maccas with them post-show?