For many Chinese parents, the groom owning an apartment is a prerequisite to giving permission for their daughter to marry.
In Chinese traditional thought: no house, no family. Although there has been some softening in attitude in recent years, for the wider Chinese population, buying a property remains a significant life goal.
In China, buying a "house" usually refers to an apartment. However, even for an apartment, the huge cost means that those young adults who can afford it will spend almost of half their lives as "house slaves" fighting to achieve this goal. They do this because, without an apartment, many young people struggle to see a future (or a family) for themselves in modern Chinese society. So, they have little choice but to work longer and harder, to try to earn more money.
****
JUNYUAN Su, 25, is from Qingyuan City, a small Tier 4 city in Guandong province, close to the provincial capital of Guangzhou. The unachievable cost of housing has shattered his life.
This year, on the night before Chinese New Year, he had lain awake all night. Earlier that day, his girlfriend of five years broke up with him leaving all of his dreams for the future – a beautiful wife, happy family, adorable children – dashed. He collapsed into bed for most of the day, in no mood to enjoy the traditional family reunion dinner.
Su's mother, Yueyou Liang, was worried about his condition: "He was like a different person on that day, no matter how much we comforted him, he was unwilling to respond."
"I knew this day would come sooner or later, but I still could not accept this reality at the time," Su recalled. "I know why she wants to break up with me, but I still try with many ways to save my love." Su hoped his actions would touch his girlfriend. He sent gifts and took her on holidays, spending almost all his savings, but he didn't succeed.
"She has hinted to me many times that the poor economic conditions of my family [were an issue] and she also told me she won't get married without a home and a car," Su said. He felt insulted when she talked like that to him, but he could not refuse her.
"Not everyone thinks the house is important, but I have to admit having an apartment indeed puts people in an advantageous position." Su's hope for the future is "if it's possible, [that] I can meet a girl who understands me".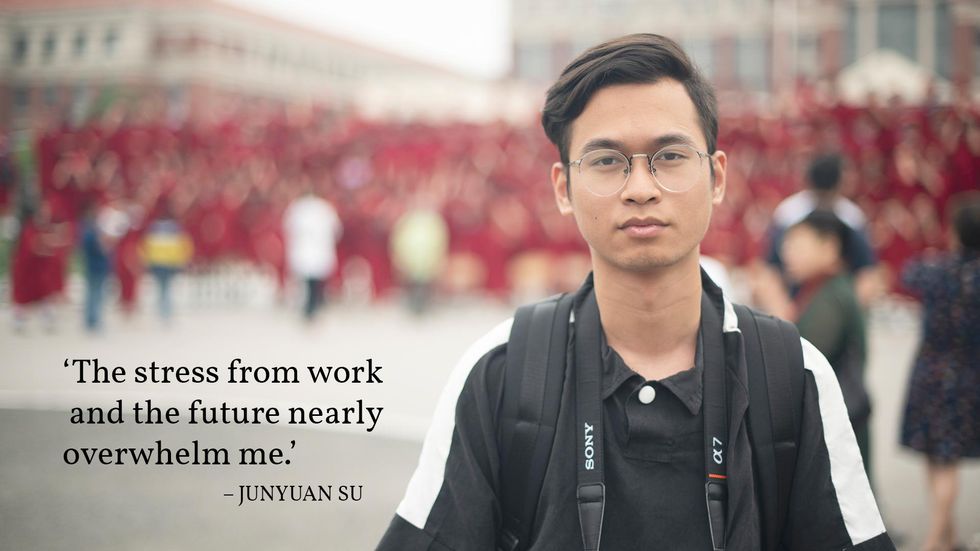 For many Chinese families, the groom buying a home is a prerequisite to giving permission for their daughter to marry. In some cases, the wife's side requires that her name is written onto the property certification after husband buys the apartment. This is considered a test of the husband's loyalty and a means to exert moral pressure on him. It will be seen by the state as communal property despite the husband having paid for it.

Research by China Youth News showed close to 90 per cent of young people in Tier 1 cities who have bought apartments relied on their parents' support to do so. Buying that apartment in a good area of a city will cost more but bring additional benefits such as access to good schools. Due to the law of compulsory education, their children will have no barriers to going to these schools and will not have to take any entrance examination.
For Su, even though he does not live in a Tier 1 city, his family can't financially help him buy an apartment. His mother is a housewife in Qingyuan and his father works in Shenzhen. Recently, Su's parents purchased a 60-square-metre second-hand apartment in Qingyuan City, which cost 400,000 RMB (A$86,068).

"This apartment is not prepared for me. My parents lived in a bungalow before and they just want to improve their living conditions," Su explained. "I don't want to burden my parents, so, I can only rely on my own."
Buying an apartment in Qingyuan looks possible in the future for Su, but he wants to look for better development opportunities. In September 2018, he chose to stay in Nanjing, a Tier 2 city, after he graduated and found a job promoting products through a live streaming e-commerce platform.

Junyuan Su at work on a live e-commerce platform.YUAN XIAO
At first, he earned less than 5000 RMB (A$1076 ) per month and needed to work on Saturdays. "Even so, 5000 RMB is better than work in my hometown, because Qingyuan's internet industry is relatively backwards," Su said.
Nowadays, Su's salary has risen to 7500 RMB (A$1614). But to get that increase he has to work longer hours. As well as his regular live streaming e-commerce work, he also creates videos – planning, shooting and editing – and posts them to the company's Douyin (Tiktok) channel.
For Su, it feels like he does the work of three people. "The stress from work and the future nearly overwhelm me," he said. ''Working alone in a place far from home makes me feel helpless but I can't give up; all I can do now is earn more money, as much as possible."
Deducting rental and living expenses, Su can save 3000 RMB (A$646) per month. He has saved nearly 20,000 RMB (A$4303) since breaking up with his girlfriend. He thinks this is a good start even though he is under huge pressure. In coming years, he plans to return to Guangzhou, a Tier 1 city closer to his hometown, to search for better opportunities.
"Working in Guangzhou I can get a higher salary, and it takes less than two hours from Qingyuan to Guangzhou by coach," he said. "I will not have any pressure if I don't need to buy an apartment before I get married. And I can save money which may make it possible to be able to afford the down payment for an apartment [later]."
The average price of apartments in Guangzhou has risen to 30,000 RMB (A$6455) per square metre and the price in the city centre is more than double that, 78,690 RMB (A$16,934) per square metre. With the average two-bedroom apartment in Guangzhou sized from 55 to 80 square metres, price ranges from a minimum of 1.65 million RMB (A$351,114) to 2.4 million RMB (A$510,712). In the city centre, a preferred two-bedroom 80 sq m apartment, which will accomodate future children, is 6.3 million RMB (A$1.34 million).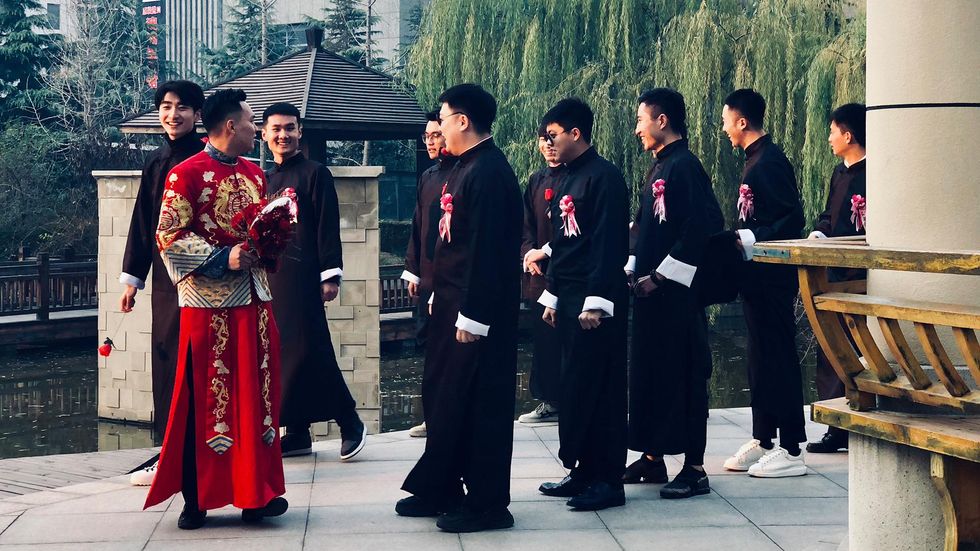 Here comes the groom: To marry, a man is expected to first own a home. YUAN XIAO
"The reality is cruel, even if the government has made efforts to control apartment prices, it is still hard to buy one in a big city by oneself," Su said. He pins his hope on the trend of population migration to big cities. He believes the large number of people flooding into central cities will lead to population loss in satellite cities.
"The apartment prices in cities around Guangzhou may goes down or remain within an acceptable range," he said. "The way I can think of is to work and save money in Guangzhou and then put a down payment on an apartment in Qingyuan before I'm 30."
"If I choose to buy an apartment in Guangzhou, I will live under the pressure all my life."
By buying an apartment in third or fourth tier city he thinks he can avoid becoming a house slave who spends the next 30 or even 40 years paying off the debt.
"Anyway, an apartment is just a rigid demand in the future, my primary goal at present is to realise my self-value – because I am single now."
****
YIYUN Yang, also 25, works for a state-owned real estate company and lives in Guangzhou's city centre where apartments cost 78,690 RMB per square metre. His parents bought three apartments and a house in the area 10 to 15 years ago before property prices soared.
He will marry his girlfriend in 2023, and one of the apartments will be used as marital house. He has his own fixed entertainment expenditure every week, for playing badminton, going to restaurants and shopping with his girlfriend.
He recognises not having to consider apartment issues makes his life easier. "At least I can enjoy my life rather than considering everything whether I can afford it or not," Yang said. "And most important is that I have enough energy to make a long-term plan for the future."
"But, in terms of current prices, my parents can only pay a down payment for a new apartment in Guangzhou," Yang added. Most prospective apartment buyers will need a parking space. "Even a parking space in my community has reached 800,000 RMB (A$172,135)."
The cost of a parking space in a downtown Guangzhou community is greater than the cost of the "second-hand" apartment Junyuan Su's parents recently purchased in Qingyuan, 80 kms away.
"It's understandable because young people prefer to go cities having more job opportunities and fast development, leading to an oversupply of apartments in those cities like Qingyuan," said Yang, confirming Su's thinking on housing affordability in smaller cities.
From his position of privilege, Yang acknowledges "most young people can't buy an apartment in first or second tier cities without relying on their parents' wealth. Some of my friends are elite in specific fields, they can afford expensive apartment prices, but they are just individual cases."
For those young professionals who will never be able to afford housing in Tier 1 cities, Yang suggests they should look at regions with development potential and lower apartment prices. "After all, having an apartment means you have a guarantee for the future."