Sapphic representation is rising in the performing arts industry and these media makers are making it happen.

As the glitter settles from Sydney's month-long WorldPride festival, the biggest LGBTQIA+ party the city has ever hosted, the Sapphic subset of the queer community is assessing what went right, what didn't, and how they can push for greater visibility for their stories within the larger queer media narrative.
There were victories: it was the first time anyone could recall two sapphic plays leading a main stage theatre in Sydney. And reminders of the challenges to come: It was impossible to achieve parity in the queer films about men and women screened at the Mardi Gras Film Festival because far fewer films involving sapphic love are made.
Sapphism is an umbrella term that describes women attracted to other women. Sapphics may identify as queer, lesbian, bisexual, pansexual, asexual, non-binary or more broadly.
For Parker Constantine, "Mardi Gras is a weird time because I don't feel my expression of queer identity is one night. It's every day," they said. The 19-year-old videographer and Australian Film and Television and Radio School (AFTRS) student, spent their Pride month working behind the scenes on the sapphic love play Feminazi at Belvoir St Theatre in Surry Hills.
By contrast, Monique Placko, 24, a producer (and AFTRS student), went all in, attending the Pride Parade, Pride March and the closing ceremony with her friends. Only recently had she understood why people celebrate Pride, previously struggling with the idea of foregrounding her gender identity.
"When I was first figuring out who I was, my sexuality and how I define it, I didn't want my sexuality to be what defines me. It's changed a bit now because I see why we have Pride, and I see the beauty of it and why it is such a big part of life, and it's become such a big part of mine as well," Placko said.
Alyssa Dimarucut, a 23-year-old producer, podcaster, and writer/director, celebrated her identity through the Empire sapphic-lesbian party, back for the first time since COVID-19. She was excited to celebrate in a place she felt most welcome: "They are the only queer POC place for women I genuinely feel safe."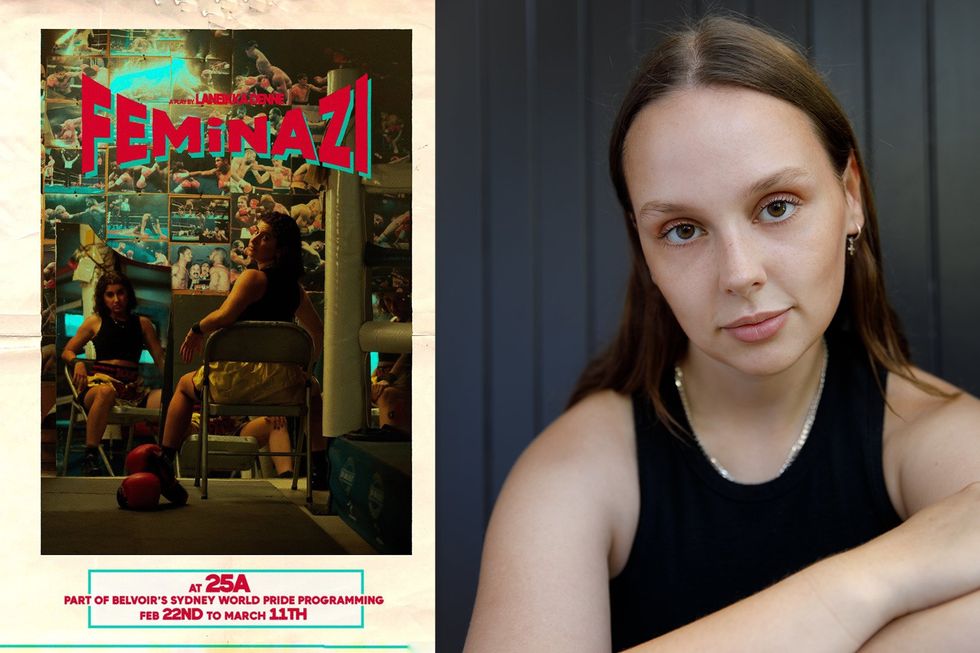 Playwright Laneikka Denne, 21, staged her second play Feminazi at Belvoir St during WorldPride.SUPPLIED
WorldPride featured more than 300 events over the month and in a small backstreet in Surry Hills, history was made. As Feminazi played in Belvoir Street's Downstairs theatre, Blessed Union, a play by Maeve Marsden about a lesbian couple navigating divorce, was on stage in the Upstairs theatre.
"It is the first time in Sydney that two lesbian plays have been the only plays to lead a main stage theatre," said Feminazi's creator, Laneikka Denne. "The typical play that gets put on in theatre companies is always about white cis gay men."
The 21-year-old writer and actor was overwhelmed by the support her play received across the queer community. "You'd have this older crowd of 40-year-old lesbians, to '78ers, to dykes on bikes and then a different entirely younger crowd of queers that are all experimenting with who they are. It was just lovely to have a whole range of community there."
'The most powerful stories come out of when you find people that will listen and respect authenticity.'
Feminazi is one of a growing number of sapphic stories written and produced by sapphic women. For Denne, representing her identity means representing her community. "If my community doesn't like my writing, I would pull whatever it is because it isn't authentic. If it's written by a queer person, that doesn't mean it's authentic. Authenticity is whether the community says it's great."
Her play tells the story of Zan, an AFAB (assigned female at birth) and self-proclaimed "feminazi", who sets out to kill every man in the world while experiencing gender dysphoria themself. For many queer women in Sydney, this story provided much-needed representation that goes unseen in contemporary media.
Feminazi ends with Zan (played by Ziggy Resnick) typing "Queer is indefinite, unlimited… endless. I'm going to go work that out," into their phone as they walk off the stage in their Calvin Klein underwear, with "Feminazi" seemingly knitted into their bare chest.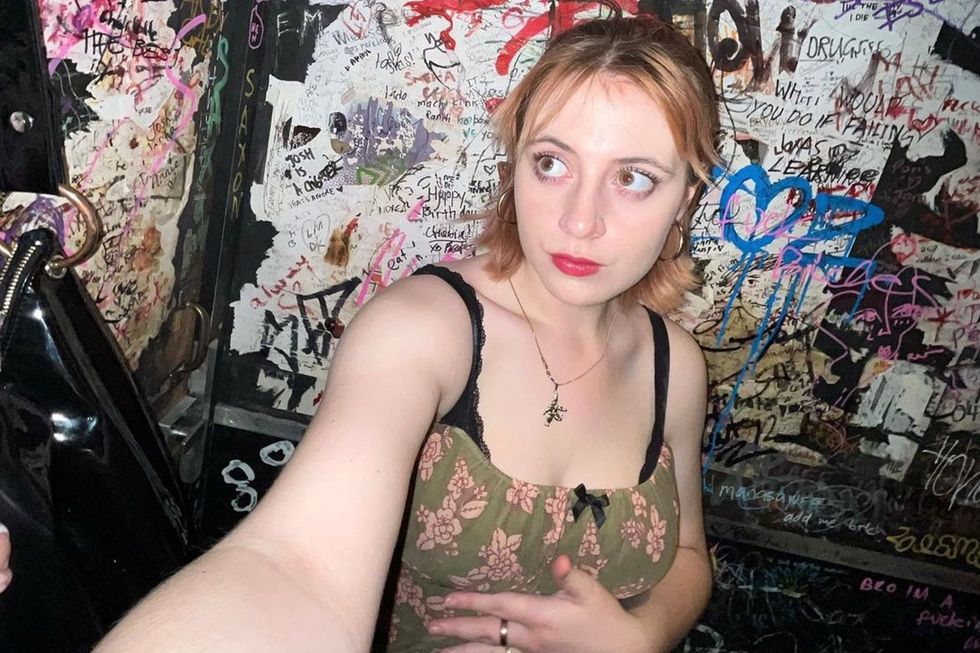 Videographer Parker Constantine on sapphism: "You know it when you see it".SUPPLIED
For Constantine, Feminazi offered a way for the community to bond during Pride month. "The audience would leave the theatre crying and hugging people, feeling healed from the stories being presented on the stage."
For many sapphics, media and art creation have helped build and understand personal identity and expression. The performing arts community is most expressive and accepting of those who feel excluded in other senses.
"I view sapphism as 'you know when you see it' and I feel that's quite true with experimental and lesbian art," said videographer Constantine. "My work inadvertently deals with people that are rejected by society, in a similar way that queer people are, but not in an intentional way. I feel as though outsiders come together."
Dimarucut found that her identity became clearer after she was exposed to sapphic content and people. Her web series, Bad Asians, helped her explore her identity as a bisexual POC woman. The pilot episode follows two Filipino sisters hiding secrets from their parents; 24-year-old Charlene is pregnant out of wedlock and 19-year-old Jasmine is a lesbian.
"I remember writing this because I was feeling weird about my identity. I felt that I was not Filipino enough because I'm bisexual. I was using this character Jasmine to explore my bisexuality," Dimarucut said. "If you can show this unique feeling of figuring your sexuality out through a piece of art and it touches someone, I think then you've done your job as a queer artist."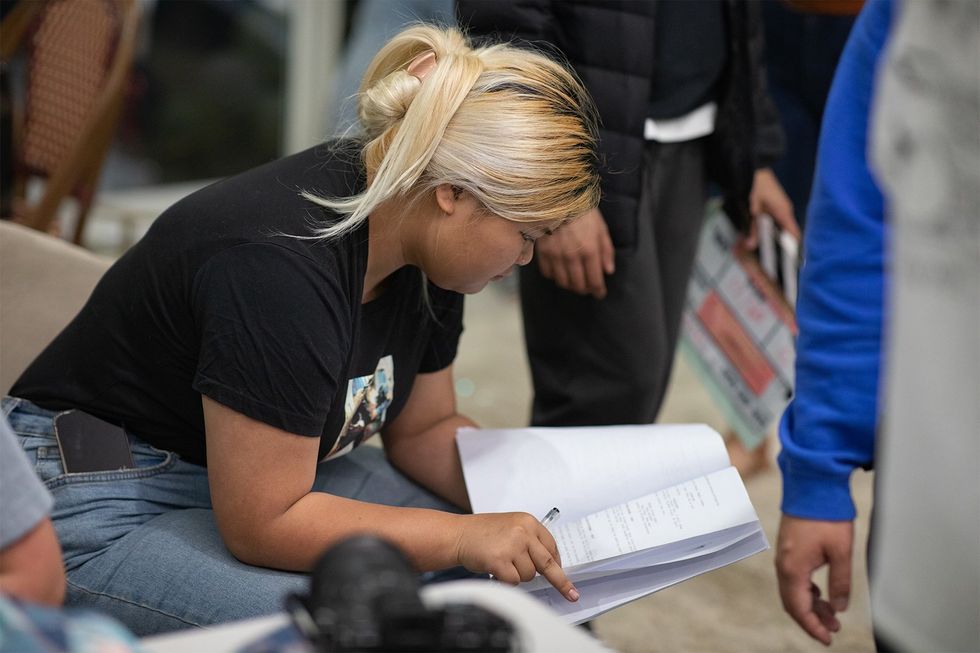 Alyssa Dimarucut on the set of Bad Asians.SUPPLIED
Lisa Rose is the festival director of Queer Screen, a Sydney organisation founded in 1993 with a mission to "transform and engage individuals and communities through queer storytelling on screen". Every year, it presents The Mardi Gras Film Festival in February and Queer Screen Film Fest in August.
When Rose took on the festival director's role in 2017 after more than four years on Queer Screen's Board, she found there were always more male love films than sapphic films available to screen.
"There has been a couple of times I've been able to do parity of the films about men and women, purely because of the [smaller] size of the Queer Screen film festival," Rose said. "With the Mardi Gras Festival, it would be impossible to do that because there's not enough content about sapphic stories for parity."
While the number of films and plays featuring sapphic representation is slowly growing, there remains a lack of diversity in the types of women and stories portrayed. When there is sapphic representation, it appears as what Denne and Placko describe as aesthetic representation, two white feminine cisgender women.
"Queer representation, as much as it's come up more in recent years, it's not necessarily diverse queer women in gay relationships. It's skinny women, pretty women, which representation, in general, is great, but I still think it has quite a long way to go to be authentic," Placko said.
"The most powerful stories come out of when you find people that will listen and respect authenticity," Placko said.
Accurate queer representation in the arts will first require a better understanding the diversity of queer identity and its people. That diversity includes gender, racial and sexual identity. However, it can also encompass the personality of the queer character. For Constantine, it is important that the queer character need not always be nice. She referenced an interview by queer writer Cassie Hamilton, who emphasised the importance of mean and problematic queer characters.
"People are scared to represent queer people as bad people. I'm sick of queer people being perfect because no one in life is perfect," Constantine said. "Authenticity is not about being nice, it's also about being mean."
With younger audiences producing diverse content, the quality of and expectation for sapphic stories is growing. Rose said this was evident in the recent airing of Sapphic stories at the Mardi Gras Film Festival.
"There are a lot more films that are getting made now, and the quality of those films is just astronomically higher than six years ago," Rose said. "There's a diverse range of stories being told, not as stereotypical or don't have as many tropes as in the past."
Each year, Queer Screen hosts Pitch Off, where would-be filmmakers pitch their short film idea to a jury, for a $10,000 prize. Over the past five years, it has supported multiple sapphic stories.
"We end up having six people that pitch to a jury, which is a great experience for people because pitching is an important skill set that you need," Rose said.
For Constantine, queer success is addressing the unique. Stories that are loud are the ones that attract the most attention.
"You have to be loud. Do what no one else is doing. The reason Feminazi got up is that it's in your face, and it's not going to bow down to censoring. It's pure queer, and you're going to listen."
Denne believes that art and media can change people's thinking, and it is essential to talk about what matters. "If we are not speaking and we aren't calling, we will go back to being invisible or go back to being hurt. It's not too hard to create, and it's not too hard to be a leader in queerness. It's not too hard to be part of queer history."
Queer Screen Pitch Off: Submissions for the $10,000 pitch competition to produce a short film open in June.