Click through to Best of 2020 to discover the Newsworthy articles with greatest impact: whether by highest page views, social media engagement or reportage on important social issues.
Women size up politics as a way to make a difference in response to 2020's cascade of crises.
On a chilly Tuesday morning in Canberra, Gunnai-Kurnai woman Lidia Thorpe entered the Senate chamber of the Parliament, her right hand raised in a fist towards the sky. Cloaked in a possum-skin cloak and bearing a message stick, she held her head high and walked proudly towards the centre of the chamber. Fellow senators watched on as she was sworn in as the first Aboriginal woman to represent Victoria in the Senate. Her message to the people was clear: I am here to bring a much needed voice to this place.
While the weekend confirmation of Kamala Harris as Vice President-Elect of the United States (the first woman to hold the office in US history) and Jacinda Ardern's October landslide victory in New Zealand are cause for celebration, in Australian politics women remain in the minority. The country is ranked 57th in the world in terms of female political empowerment according to the 2020 World Economic Forum's Gender Gap Index.
Women make up 51 per cent of Australia's population yet, in 2020, they make up only 31 per cent of the Federal House of Representatives. In the Senate, with the swearing in of Thorpe in October, the picture is improving. For the first time in the Senate's history, there are a majority of women in the upper chamber. That said, in Cabinet, the key decision-making body of the Liberal-National Party Coalition government, only 26 per cent (six of 29) are women.
While I may be the first, I won't be the last. https://t.co/R5CousWtdx

— Kamala Harris (@Kamala Harris) 1604807629
Despite this deficit, Licia Heath, CEO of Women for Election Australia, a not-for-profit organisation dedicated to encouraging more Australian women to run for office, marks 2020 as a potential turning point.

With this year's ongoing cascade of crises, Heath is seeing an uptick in interest from women wanting to make a difference politically, mobilising in response to the things that are having a negative impact on their communities.
In 2017, when Women for Election Australia ran its first event "we were scrambling to fill seats the night before but now the last two events have sold out," said Heath. "The main motivator for women has been seeing things like the bushfires and COVID unfold and the whole notion that when we have seen women mobilise over the last century, starting with the suffragette movement, it has been the result of us realising that no one else is going to save us, so we have to save ourselves."
Research shows women in leadership have a lot to offer. Aresearch study published in Harvard Business Review revealed women score higher than men on 17 of 19 key leadership skills, including skills such as taking initiative and championing change. The Pew Research Centre found women in politics are perceived to be better than men at being empathetic, honest, working out compromises and standing up for what they believe in.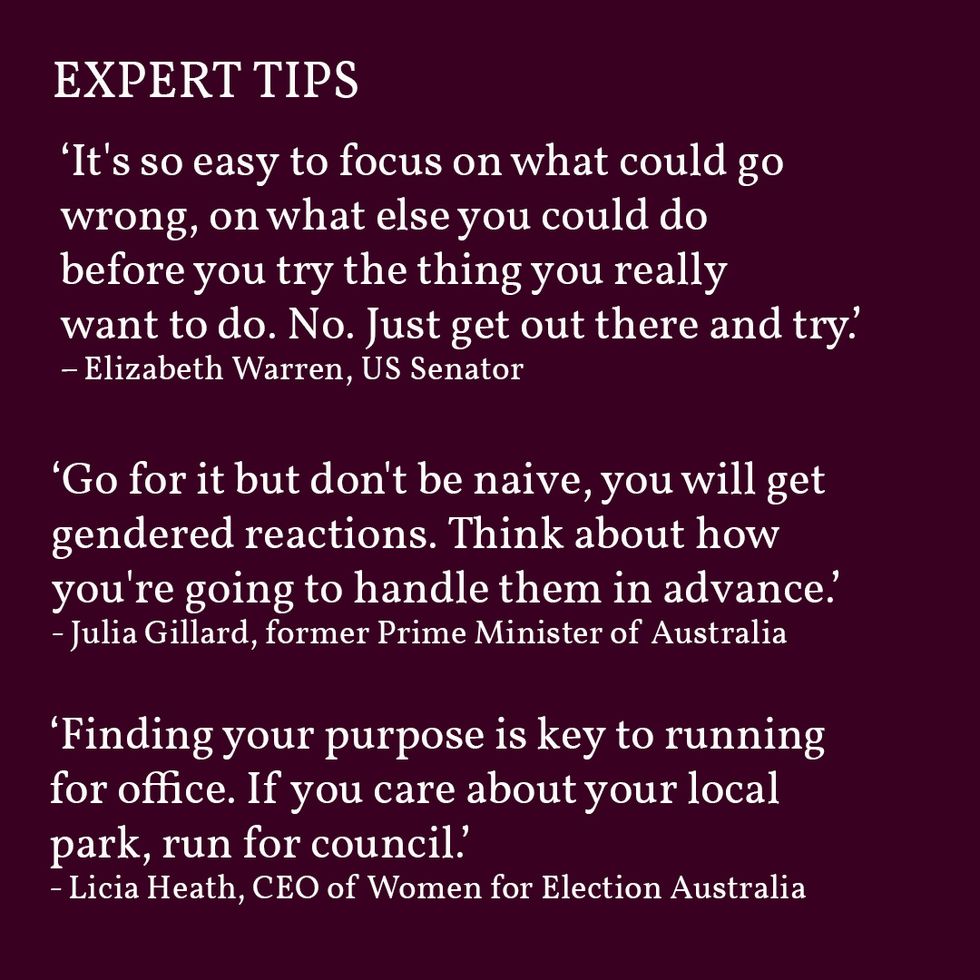 Heath said women face five key barriers to pursuing a career in politics: confidence, cash, culture, childcare and candidate selection procedures.

"We talk a lot about this at WFEA and how it's our responsibility for us to normalise politics. It's about those moments where a girlfriend will say "you know what, I think I'll give politics a crack, maybe I'll run for local council" and then what will happen is everyone around her will call her crazy. We are all guilty of that because it's in our nature to want to protect our friends from what can be seen as a toxic environment. What we should be saying is 'absolutely do that, go for it and how can I help?'
"The other issue is that we don't do a great job of teaching civics in school ... When you don't understand something, you tend to disengage from it. I was 40 years old when I understood that the Senate was the same thing as the Upper House," she recalled. "We need people from diverse backgrounds in our parliamentary chambers. The more diverse our young leaders the better. Working as a member of the Young Liberals or Young Labor, or becoming a lawyer are not the only ways to break into politics.
"The whole remit of Women For Election Australia is to make the whole process more transparent. The more transparent, the more accessible you make it, and thus less daunting for any woman wanting to run for office."
'Our friends choose to be indifferent ... because they only hear the negatives of politics. There are so many positives and we need to shine a light on that.'
Women from different cultural backgrounds are especially needed, Heath said.

"We need Indigenous and CALD [culturally and linguistically diverse] women, women with disabilities and LGBTQI+ women in government to truly represent the cultural footprint of our country. That instills trust in those communities, and then you create a positive feedback loop. The main thing we try to tell our women is to link purpose with parliament. That purpose that women feel to improve things, we want to link to parliament be it local, state or federal".
"The more we disengage, the easier it is to be a rubbish politician. There exists a really negative feedback cycle but now that us women are watching, we are asking: 'Well, are you going to do anything? Okay, if you're not then I guess I will.'"
Heath's advice for women considering a career in politics is to ask themselves: "What is important to me?"
"If education funding is important to you, then you might want to focus on a particular tier like state or federal. If local sustainability is important to you then local government is where you can have the greatest impact Everything is political. The roads you drive on are political, the cleanliness of the air you breathe is political, the buses you're taking are political, the university fees, the lack of jobs, every, single, thing, without exception is related to policy".
While Ardern, Harris and millennial US Democrat Alexandria Ocasio-Cortez (AOC), the youngest women elected to the US Congress, have grabbed the headlines, Heath encourages would-be politicians to look at Australia's own political backyard for lesser known but more relevant role models.
"The rising profile of female politicians overseas whether it's Angela Merkel, Jacinda Ardern or Alexandria Ocasio-Cortez is a big positive for the collective group of us as females but what also needs to be taken into consideration is that many women may look at AOC and think 'I cannot be her, so I won't get involved.' We have to find the middle road of being able to take inspiration from them whilst not being intimidated.
"The fact is that there are a lot of female leaders in our own backyard and we don't do a good enough job of raising their profiles. We are trying to shine a light on Australian female politicians and give them a similar profile. Your friends who choose to be indifferent and not get involved, it's because they only hear the negatives of politics. There are so many positives and we need to shine a light on that. When we interview women like Julia Banks, Kristy McBain, Nicolle Flint and Zali Steggall we ask them why they got involved, and what difference they are making, in order to share those stories with other women like them."
And the more women we see in politics, the less "radical" it will be, Heath said.
"What is radical about [women political leaders] is that they have made it. It's not their views that are radical. It's funny that men tend to forget that for a woman it is a shock to see another woman on the world stage standing up for what she believes in, and if you're not inspired by that you definitely should be."
Visit the Women for Election Australia website to learn what you can do to increase the number of women in parliament.