Tokyo 2020 is a Newsworthy series focussing on the challenges – physical, psychological, financial and social – athletes must overcome to compete with the best of the best.
The Australian Women's Water Polo Team made a tough call to prioritise their health over pre-Olympic competition this year, so they head to Tokyo, without a clear read on their greatest competition.
UNSW elite athlete, Amy Ridge, who makes her Olympic debut for the Aussie Stingers, admits the decision to skip the traditional three-month international pre-Olympic season has sparked some anxiety for the team, but believes it was the right call.
"We thought that the best thing for us was to make sure that we can get to the Olympics without any COVID cases to give us the best opportunity to actually play the games," Ridge said. "Getting there COVID-free is more important to us than having a traditional preparation like we normally would." She said the decision was unanimous.
The last major international tournament the Australians played was more than 18 months ago at the 2019 FINA World Aquatic Championships in South Korea where the Stingers won bronze. This makes it hard for them to gauge which teams are the most serious medal contenders.
"Anything can happen. All of the countries are quite close, considering we haven't seen anyone in a year and a half, it's going to be different and more nerve-wracking than what we expected," Ridge said.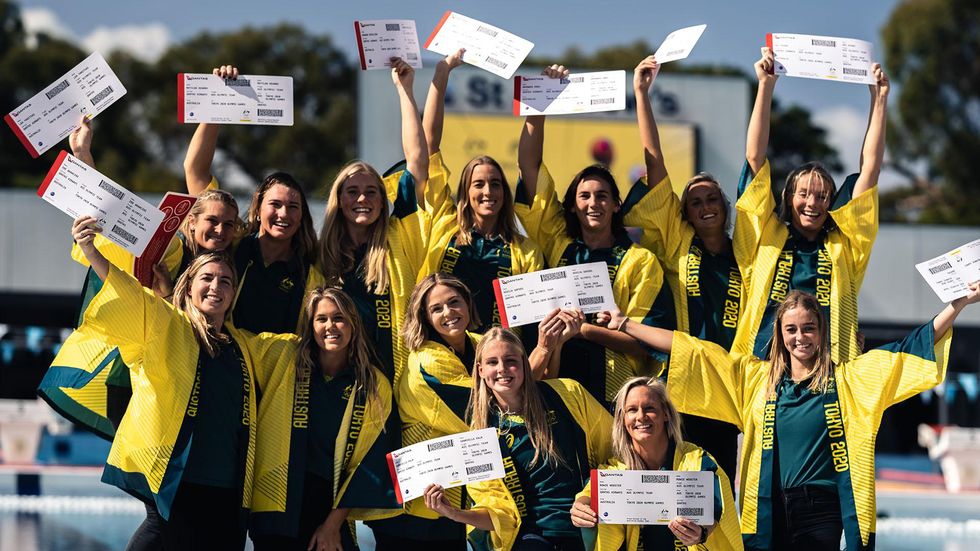 Tokyo bound: The Australian women's waterpolo team.SUPPLIED
The Australian women have a formidable Olympic record, winning gold in Sydney 2000, when women's water polo was introduced as an Olympic sport. Since then, the team has qualified for the medal rounds at every Olympics except Rio 2016. They won bronze in London 2012, and are keen to reestablish their Olympic medal credentials this year despite their unorthodox preparation.

Ridge does not accept missing out on international games before Tokyo puts them at a disadvantage. "Who's to say that the preparation we have now isn't the best preparation. When we made that dedication to our health, we knew that we were doing everything we possibly could to get ourselves in a good position to win a medal."
'The restrictions remove some of the distractions the Olympics normally have, which is a good thing for our team.'
2020 was marked by the postponement of the Olympics, lockdowns, pool closures and cancelled training camps. In 2021, the Stingers have trained together extensively on the Sunshine Coastin the first six months of the year, revising their plays over video footage, and competing against the 18s boys' team.
"This is probably the most intense work of training we've had together for a long time. This is the fittest and most in sync we've been as a team," said Ridge.
The Stingers preparation is not the only thing that will be different at this year's Olympics. The Official Tokyo 2020 "playbook'" states athletes must eat alone, be tested daily, always wear a mask with minimal exceptions, and refrain from having physical interactions with others.
"The experiences that everyone normally is excited about are not going to be the same for us," said Ridge. "The restrictions remove some of the distractions the Olympics normally have, which is a good thing for our team. We'll have quite a singular focus on playing well."
Veteran ABC sports reporter Tracey Holmes said this year's games will be very different. "We don't know what everybody else has been doing. Some people have spent more time training and proving their personal capabilities, while others have been travelling and competing.
"The Olympic Games is going to reward athletes who have been able to face the challenges, who have been the most resilient and adaptable."
The Stingers will start their Olympic campaign at Tokyo's Tatsumi Water Polo centre on July 24, drawn in Pool A with Canada, Spain, Netherlands and South Africa.
"I am so grateful that it's going ahead and that we get the opportunity to play," Ridge said. "Even though it won't be what we expected, it will be an incredible experience nonetheless."