Click through to Best of 2019 to discover the Newsworthy articles with greatest impact: whether by highest page views, social media engagement or winning national awards.

"Holden Commie got it locked down"
"Call up my boy he's a tradie"
"Going on a Maccas run"
It's not what you expect to hear in a rap lyric but that's exactly how new age Australian emcee Lanstan wants it to be and fans are listening. His creative integration of "trap culture" with Aussie slang in his first music video "Garn Servo" broke the internet.
"I thought I'd make a melodic trap style song and I'd make it about the most Australian thing I could," said Lanstan (real name Paul Smith), from Sydney's northern beaches. "At the time a lot of my friends were making memes about this idea of "Garn Servo" because it's slang for going to the petrol station."
Trap, or mumble rap, a sub-genre of hip hop, has exploded internationally in recent years with songs such as Desiigner's "Panda", Migos and Lil Uzi Vert's "Bad and Boujee", and Cardi B's "Bodak Yellow" forcing the genre into the mainstream. In Australian rap, acts such as Hilltop Hoods, Bliss N' Eso, Illy and 360 have achieved international recognition but their work has remained grounded in the lyricism which has historically dominated listeners' perception of rap music.
Lanstan thinks rap in this country needs to move past its history. "I think Australian hip hop historically, in the underground scene, has been all about lyrics and all about who can come with the best flows and the best bars. I appreciate that but it's more about trying to be something a bit different. Australian rap has well and truly covered hip-hop in that way," he said.
What Lanstan wants to hear is hip hop music with a distinctly Aussie flavour. In 2018, he and collaborator Miles Marmalade released The Aussie Tape, an EP inspired by their motivation to create an "Australian wave" of trap music. Tracks included "Gang Gang Cockatoo" and "Green Ps" as well as "Garn Servo".

'He is just starting out, but, yeah he is very good.'
"When I started making music for myself and not just featuring on someone else's song, I really wanted to do it in a way that I thought could represent Australian culture," said the skip-hop artist who was "instantly hooked" on the genre at age eight, when he heard "Lose Yourself" by Eminem.
From then on hip-hop was always the Brookvale Academy student's genre. "I had a weird in between phase during my early teens where I was really influenced by Indie Rock, psychedelic rock, and then they kind of fused now to the point that the music I'm most interested in, has trap hip hop elements like heavy 808 and drums."
Lanstan was on the bill at Hustle & Flowbar's weekly Rock the Block night in Redfern last month. "I think his first performance here for Rock the Block was like a year ago," said bar owner Nigel Tarrant. "So, we hit him up to come back to do another show."
Tarrant said on both occasions, it was a capacity house and "there was a massive crowd for Lanstan". He estimated about 60 per cent of the crowd were friends and followers of the rapper.
"I think his music is good. He is just starting out," he said, "but yeah he is very good."
Trap has struggled so far to gain widespread traction with Australia fans, it isn't at the "core" of the music industry, as it is in America and Europe. Lanstan hopes blending Australian culture may accelerate its growth here.
"I think it will grow naturally anyway. But that was why we did it," Lanstan said. "I really wanted to show people how trap can exist in the Australian music scene and how it can be done tastefully and how our culture is something to be celebrated through music in any format," he said.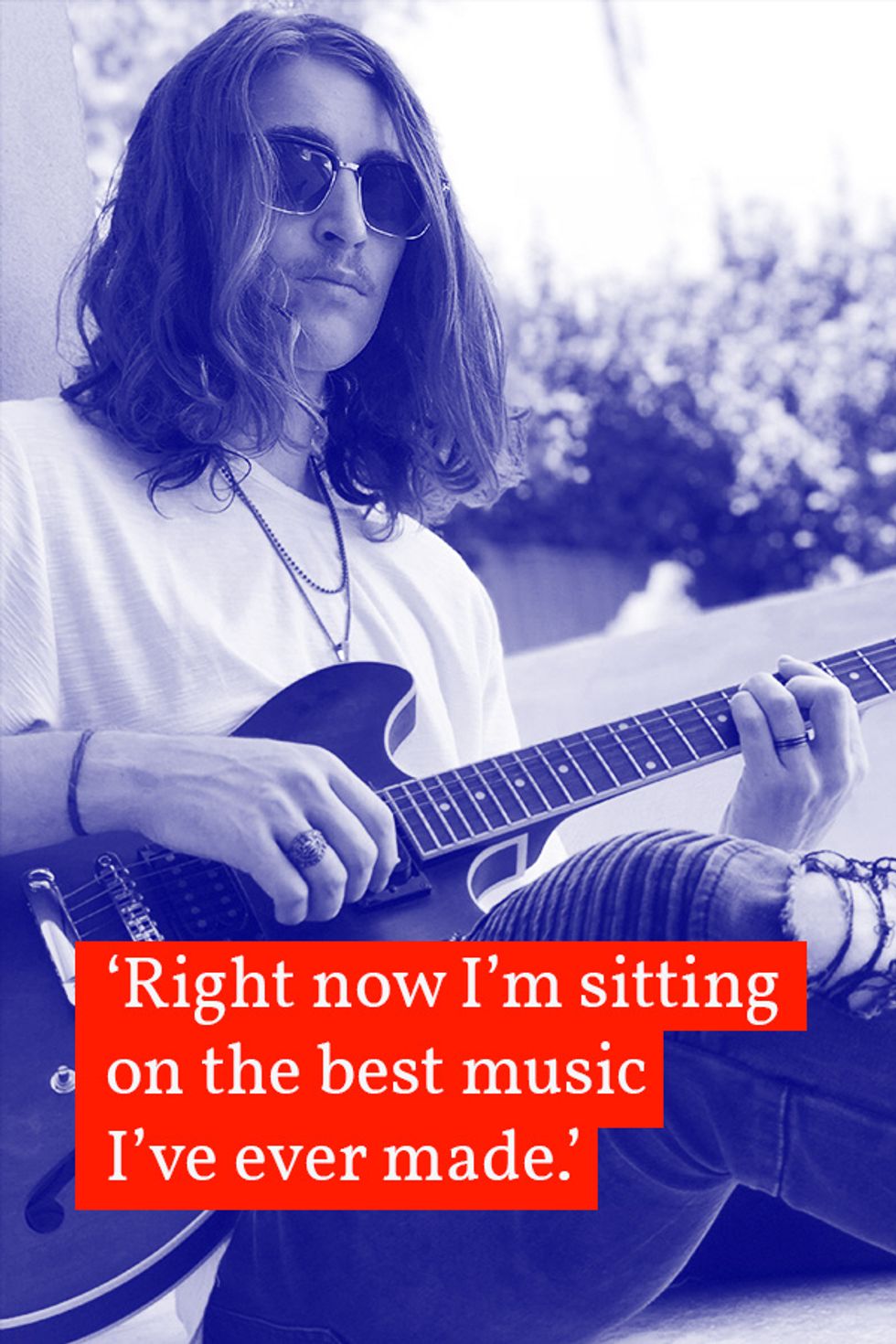 Photo: SUPPLIED
"I think people's problem is that they're worried trap is the next development of hip hop and they're scared of that. But in my mind, it's almost a different genre entirely," he said. "I think if you look into the scene, you'll see that it is exploding in Australia, but it just hasn't reached that peak yet."
"And I know a lot of people in the industry that are on the cusp of their run as it were, where they're about to break out and this will explode in the next year," he said, referencing Australian artists Kwame, Sampa the Great and Remi who all have songs that lean heavily on trap's hard baseline and 808s.
He points to video and visual content as the best means to raise awareness of trap music. "Garn Servo" had 20,000 plays on Spotify when the video came out. It now has more than 100,000 plays.

"The second the video came out, within 10 minutes, I refresh my phone and I had about a hundred notifications. It just takes it to a new level because people can sort of engage with it and lay a whole further dimension," he said. The video has 101,000 views on Facebook and 16,000 on YouTube.
Lanstan's engagement with fans through social media has been another prominent feature in his rise, with frequent posts, stories and messages to fans all over the world.

"I feel like because of this facade of social media, everyone seems to believe that it's just about the quantity of the followers and not about the quality. And that's so incorrect because at the end of the day when you actually do a show and you talk to people and they really connect with your music, that means so much more."
Given that commitment to fan interaction, when he went quiet on his social channels earlier this year, fans were left to wonder. He's now returned, with a new collaboration with Sam Hunter, posting on Facebook he used the time away to conceptualise and create new music.
"Right now I'm sitting on the best music I've ever made, including collaborations with some of the most talented artists in Australia." His plan for late 2019 is an Australian tour "to come see everyone that has supported me around the country".
Lanstan will perform with Justagame and Friends at the Woolly Mammoth, Brisbane on July 26.