Maria emigrated from Ukraine as a child. Knowing she is safe, while her courageous grandparents are not, offers no relief at all.
"The thought of seeing all of you so soon gives me and your grandfather the strength to go on every day."
These were my grandmother's words. After the pandemic. Before the war. She said this to me in a phone conversation which took place, what feels like forever ago, but was only last month. We were making plans together: reminiscing, joking around and looking forward to being reunited.
Since my parents and I migrated to Australia in 2011, we had regularly returned to Ukraine to spend time with the rest of our family. The last time was in late 2019, before the pandemic. This year, with border restrictions easing, we could finally start making plans to go back my homeland once again. As I hung up, I could have never imagined the next time I spoke to my grandmother, she'd be hiding in the basement of a dark, barricaded house that shook from unceasing shelling by the Russian army.
That night, my mother and I stayed on phone with my grandparents, silently crying and praying that they would make it out.
In the past few weeks, I, and every Ukrainian around the world, have learned that war changes your perception of time. We no longer care about what day of the week it is, or what date is on the calendar. Now, we are only familiar with how much time has passed from the moment our lives were permanently changed; the moment in time that divides our lives into the "before" and the "after".
That moment came in the early morning of February 24, 2022, as multiple large explosions were heard within the largest Ukrainian cities. Later that day, Russian president Vladimir Putin announced a "special military operation" would take place in Ukraine for the purpose of its "demilitarisation and de-Nazification".
On family, grief and gratitude
Today marks the 28th day since the Russian invasion.In that time, more than 3 million of a population of 44 million Ukrainians have been forced to flee the country, whilst another 7 million have been internally displaced. The United Nations reports there have been at least 2000 civilian casualties so far; however, the Ukrainian government believes the real number is in the tens of thousands. The war has brought colossal destruction to the country's infrastructure. Hundreds of schools, hospitals, residential buildings and historical monuments in multiple towns have been levelled.
My hometown, Chernihiv, has been heavily impacted. Situated in the north, between the Russian border and Ukraine's capital Kyiv, it was one of the first cities to come under bombardment as the Russian convoys pushed south towards Kyiv and what they wrongly thought would be an easy victory.
Since the invasion began, the city has been relentlessly attacked from all sides. Many of my family remains trapped inside that conflict zone. For my grandparents, it's not their first experience of war. My grandmother was born into it. Her pregnant mother fled the Ukrainian city of Poltava for Soviet Union-controlled Georgia after it was occupied by the Nazis. My grandfather, born in 1938, was a year old when World War II began. When I was little, he used to gather me and my cousins around and tell us stories of his childhood: about how his village was occupied by Nazis; how our family had to live underground; how as a six-year-old boy, he farewelled his young uncle who was leaving for the front line, not then knowing that he would never see him again.
Despite their rough childhood, my grandparents survived to live simple and honest lives. They built a house together, grew their own kitchen garden and raised a strong, loving family. They deserved to have a peaceful and joyful retirement. Instead, they are stranded in a cold home, forced to fall asleep to the sounds of shelling and their windows shattering. Their everyday life in Chernihiv is contained. They huddle around the radio, listening in for updates on the war's progress, listening out for air raid alerts. Going out is too dangerous for my grandparents. Even moving around inside their boarded-up home has risks. The city's emergency sirens wail almost every hour of the day but it is at night that the enemy attacks are especially persistent, torturing already-sleep deprived, malnourished and demoralised citizens.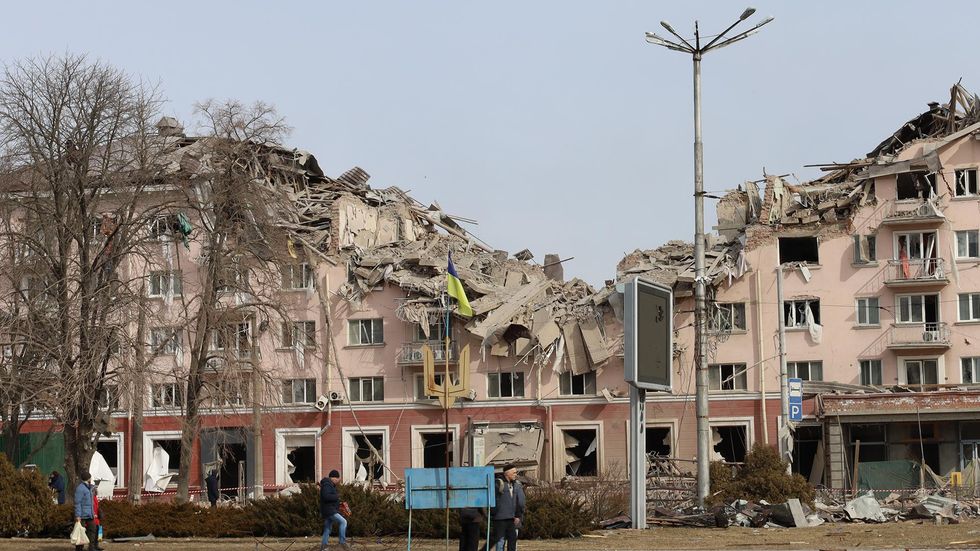 A bombed hotel in Chernihiv.SHUTTERSTOCK
On Day 8 of the war – March 3 – I was on the phone to my grandmother, who reassured me everything had been relatively calm for a few hours and not to worry. Minutes after we ended our phone call, planes bombed residential buildings within walking distance of my grandparents' house. Over the next few hours, their entire neighbourhood was bombed. Many apartment blocks and shops within their area were destroyed, the school my mother had attended as a child was reduced to rubble and 47 civilians were killed as a result of the attacks. They were buried in mass graves. We realised then the Russian foe did not differentiate between a legitimate military target and a civilian target, between a soldier and a simple citizen. Any feeling of temporary security, as a civilian, was an illusion.
That night, my mother and I stayed on phone with my grandparents, silently crying and praying that they would make it out. There is no bomb shelter near their house and in the event of a direct threat, they would have no place to escape to. Even if they did, due to a leg condition, my grandfather can barely walk, only moving short distances at a time.
'These cities are in a very difficult position ... We won't abandon you. And we won't forgive them.'
"The sky is blood red all night. They're burning the city to the ground," my uncle, Alexander, told me. Since the war began, he and his family have been living in a makeshift bomb shelter with other civilians. On the occasions when it's safer to go outside, he returns to his apartment to feed the family's cats, which they could not bring with them to the overcrowded shelter.
Before the war, Chernihiv's population was 285,000. It's estimated more than half have fled. Those families without a vehicle, including my own, were forced to stay behind. Viacheslav Chaus, governor of the Chernihiv Oblast, said attempts to establish humanitarian corridors out of the region have been blocked by Russian forces that encircle the city. "As soon as there is an agreement with the enemy on the possibility of creating a humanitarian corridor, the city and I will organise an evacuation," he said.
The city is on the verge of a humanitarian crisis. The bombings have destroyed the power station, telecoms and water supply networks, leaving much of the city without electricity, gas or water for more than two weeks. City services advise services may not be repaired before the end of March. Keeping in contact with my family has been very difficult. Sometimes, we aren't able to get through to them for days at a time. Without power, there is no refrigeration, food storage is difficult and supplies are quickly running out. The few pharmacies that are able to remain open can only offer a very basic range of products. People in need of prescription medicine, such as my grandfather, cannot access it anywhere.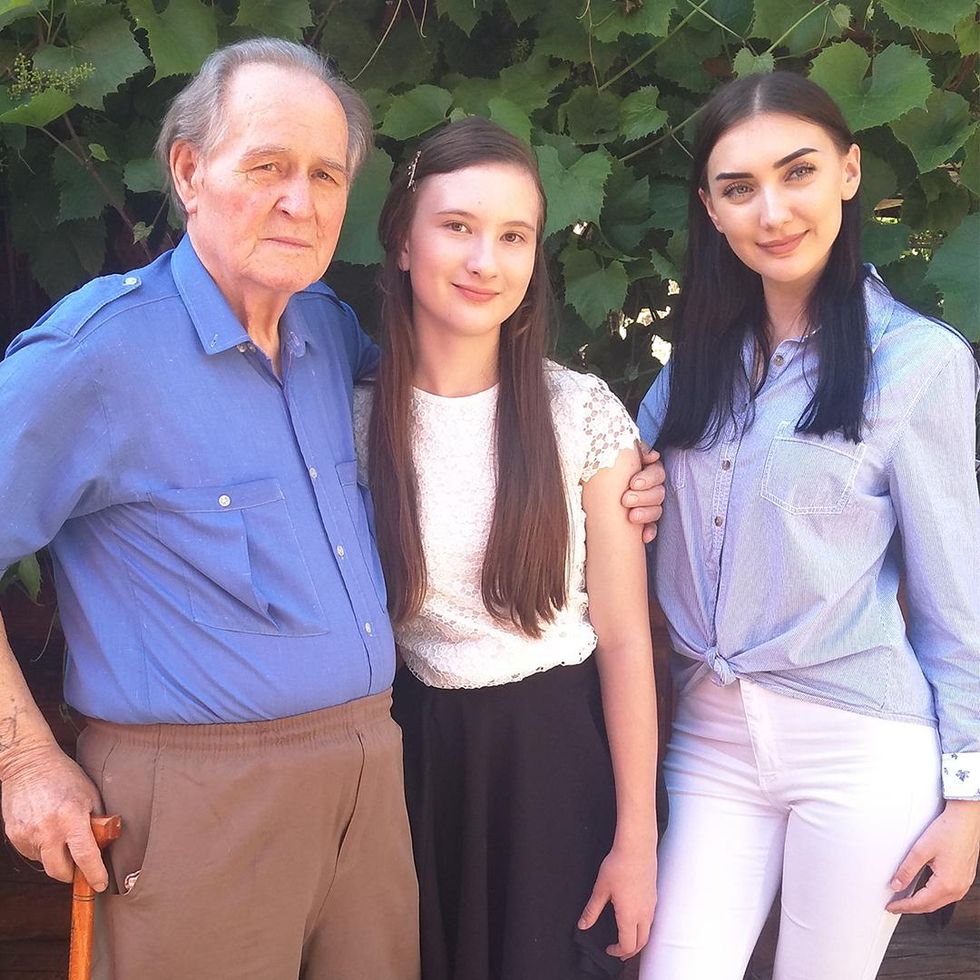 Maria Tatarin, right, with her grandfather on a visit to Ukraine.
On March 16, a Russian missile, launched from outside the city, hit a group of civilians standing in line to get bread. Ten people died. It happened on my grandmother's street. When the Ukrainian news outlet Suspilne reported the bread line tragedy, its social media was inundated with demands to release the victims' names. At the time, it was the only way of finding out whether your relatives in Chernihiv were safe. We could not contact them personally.
The city is not occupied, but with the Russian army pressing its perimeter, there aren't enough military men to hold them off. Cherihiv's resistance forces consist mostly of an army of volunteers. On March 18, Ukrainian President Volodymyr Zelensky named Chernihiv as one of the six "Hero Cities" due to withstanding the enormous destruction caused by the Russian army.
When not fighting the Russians, the citizens of Chernihiv are trying to distribute what humanitarian aid they have to those in need and to prioritise the children and the elderly. The mindset is to stay strong and prevent Russians from entering our borders.
"These cities are in a very difficult position. Very. We are doing anything we can to help," Zelensky said. "Our army, police, State Emergency Service, humanitarian convoys, the church. All of our people. We won't abandon you. And we won't forgive them."
****
FROM Sydney Australia, Ukraine seems so far away and yet so present in my every thought. It's eerie. I am constantly tormented with guilt because of how little I can do to help. At times, I feel like I would have been better off in Ukraine, next to them. Knowing that I'm safe while they are not offers no relief at all.
For a Ukrainian in Sydney, these last weeks have consisted of reading the news, of constant phone calls, trying to reach every friend and family member to ensure they are okay. The current outages in multiple Ukrainian cities, mean none of us know how much longer we can remain in contact with our families, or when, if ever, we will speak to them again. Although we try to remain hopeful, for some in the community it has been overwhelming.
We do what we can, joining ongoing protests to make Australians aware of the horrors the Russian government is capable of. We marched to Circular Quay and passers-by stood and clapped for us. Because of our outcry, the Australian Government has taken a more active stance to aid Ukraine, sending medical and military supplies and allowing humanitarian visas for fleeing Ukrainians. We are ready to provide immediate assistance to our fellow Ukrainians when they arrive here.
We never anticipated the support we have received from the Australian public. Whilst we are incredibly grateful, we also acknowledge other conflicts of the same magnitude have not received the same attention. War is war, and it should be condemned equally, no matter which part of the world it is in.
Every Ukrainian is tied to their land. This war has taught us we are all interconnected. Our family consists of millions of people that care and look out for each other. And all of us have the same desire – to live in a peaceful, sovereign nation, embrace our national identity and simply be free.
Today is March 24, Day 28 of this war. Tomorrow, my grandmother will turn 80. We made many plans for this anticipated occasion, but they have all been overturned by the horrors of the past four weeks.
"Don't worry, soon we will get a chance to properly celebrate," my grandmother reassures me. "After we reclaim our liberty."
— Podcast interview by Jessica Penny, George Al-Akiki, Rida Babar and Sanjana Jose.