It was the last few minutes of the game, the audience watched anxiously as the two teams wrestled for the ball - in five-metre deep water.
"It's silent, beautiful and weightless," said Scott Philip, the captain of champion UNSW's Whales A underwater rugby team. "All your senses are either muted or engaged."
Forget sledging, this is a no talking, contact sport involving two teams of six players who can pass and move in all directions, making it a "three-dimensional" sport.
After claiming the 2018 national championships mixed division title, UNSW's underwater rugby team, Whales A, went on to compete in the Champions Cup in Berlin in November against teams from around the world. A second Australian team, the Victoria Seadragons also qualified, in the women's competition.
The Whales A won two of their five Champions Cup games, "raising eyebrows", said team members, with the quality of their play and placing them 10th overall. "They were very impressed with the standard of our game and that Australia has really improved since the last time they had seen us [in 2016]," said Whales goalkeeper Nick Coumbis.
'Women are usually worried about playing a contact sport with men but ... end up smashing them.'
"In underwater rugby, players kitted out in snorkels, dive masks, fins and caps, hold their breath as they battle for underwater supremacy, tossing a saltwater-filled ball to team mates with the aim to dunk the ball in their opponents' goal basket on the floor of the pool. They will surface momentarily for a few breaths of air before diving back into the high-intensity action. Each game is comprised of two 15-minute halves, where a point is scored every time a player lands the ball into the basket.

The Whales' top-10 finish at the Champions Cup (and an 11th place finish by the Seadragons) is made all the more impressive by how young the sport is in Australia. Invented in Cologne, Germany in 1961, it is a popular winter sport in northern Europe and Scandinavia but was only introduced to Australia 11 years ago.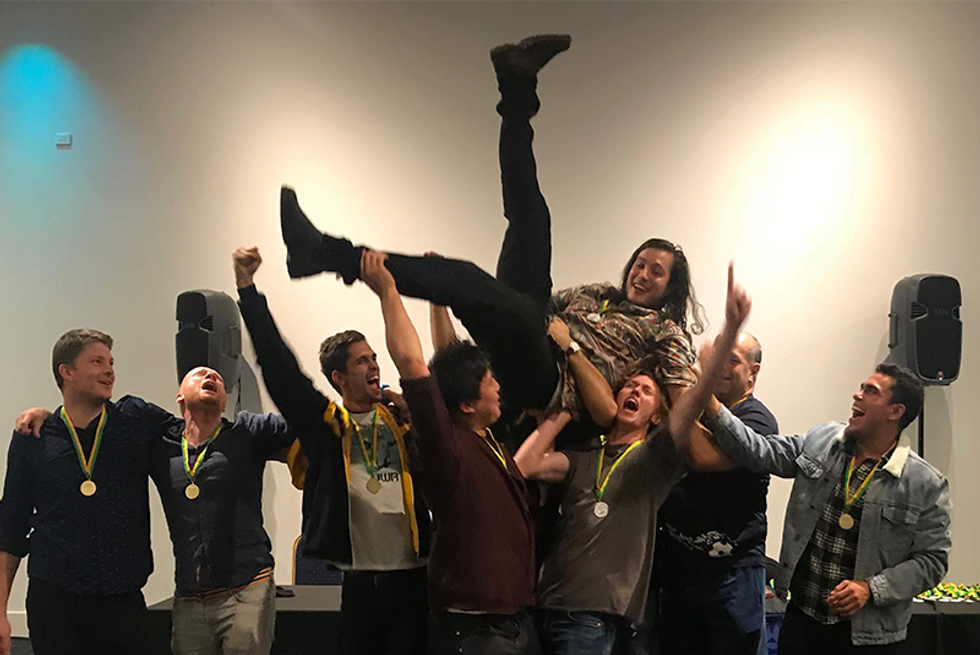 Success breeds success: UNSW underwater rugby players celebrate a victory.Photo: UNSW UNDERWATER RUGBY
Celine Steinfeld, a UNSW student on exchange in Sweden, fell in love with the sport and brought it back to UNSW Sydney in 2007. "Underwater rugby was so unusual and captured my attention as it was so different to any sport I've come across before. You realise that a whole world will open up underneath the water," she said.

Steinfeld not only introduced the sport to UNSW, but to the country. "I feel really proud that something that I did, over a decade ago now, has turned into something so important to so many people in this country," she said.
Philip, captain of Whales A team, asks: "How many people can say that they know the person who started a sport in a country?" In 2017, the underwater rugby competition was renamed The Steinfeld Cup in recognition of her pioneering role.
Since 2007, the sport has been taken up by teams across Australia and is growing in popularity elsewhere in the Asia-Pacific too, with devotees in New Zealand, Singapore and Hong Kong, and word of a team starting in India.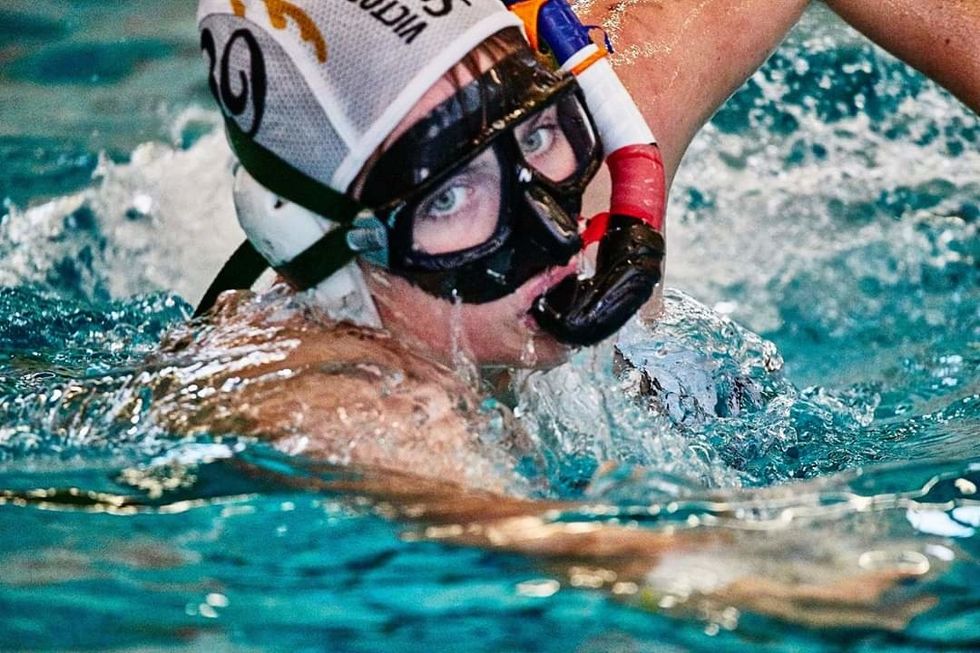 Claire Rocuet says the sport is empowering for women.Photo: UNSW UNDERWATER RUGBY
In 2018, UNSW sent two mixed teams and one women's team to the nationals in Adelaide. Player Gonzalo Serna Diaz puts the sport's growing popularity at the university down, in part, to their success, winning the nationals in 2014, 2015 and 2018. He is one of the three members of Whales A who competed in both the 2016 and 2018 Champions Cup.
The UNSW underwater rugby club has used social media and Orientation Week activities to spread the word about the "anti-gravity" sport. "Students walk by [at O-Week]," said former club president, Claire Rocuet, "and are just like 'underwater what?'

The sport's growing profile on campus has allowed the club to start women's only training sessions for the women's team, the Platypuses. The sport is "empowering" for women, especially in the mixed teams, said Rocuet. "They (women) are usually worried about playing a contact sport with men but in the end, they end up smashing them."
Players describe it as the "ultimate team sport" and say they feel like they are part of a family.
"I've been playing for about 15 years and this [Champions Cup 2018] has been about the closest I've been to a team," Serna Diaz said. "Once you're in, you've probably made the best decision of your life."
What is underwater rugby? - Promotional videowww.youtube.com