COMMENT
It's time for Rugby Australia to wake up to a generational opportunity to grow the sport.
The Australian men's national rugby union team watched with bated breath as Portugal, a team with many amateur-level players, did what they could not, triumph over Fiji in the group stage of this year's Rugby World Cup.
While a truly historic win for Portugal, the winning margin sadly wasn't large enough for Australia to progress through to the knockout rounds. As the Springboks and All Blacks go through final preparations for this weekend's final (Sunday 6am AEDT), the Wallabies have long flown home after failing to get out of the group stage for the first time in their history.
Now if you're hearing all of this for the first time, I'm not surprised. In recent years, Australian rugby has endured an extended period of mediocrity, complacency and waning popularity.
The Wallabies scrummage against the All Blacks in front of a small crowd in 2017. DAVID MOLLOY/FLICKR
Rugby now lags behind all three other major footballing codes in Australia. Average attendances for international and domestic games are dwindling, broadcast coverage of most domestic matches is kept behind a paywall and grass-roots participation is struggling against more family-friendly soccer. All these factors combine to mean lower support and lower revenue for Rugby Australia, the sport's national governing body.
Rugby in Australia is failing but there's a solution — The Wallaroos. Australia's women's national rugby team are perfectly positioned to launch the code into the public consciousness once again. All they need is commitment from Rugby Australia, and a long-term strategy that has been absent from the men's game.
To understand why the Wallaroos so badly need this support, let's look at some numbers. Despite Rugby Australia's money troubles, men's team coach Eddie Jones is reportedly earning $750,000 per year. In comparison, Jay Tregonning, the Wallaroos' head coach, works as a PDHPE teacher to complement the income he earns from coaching the women's national team.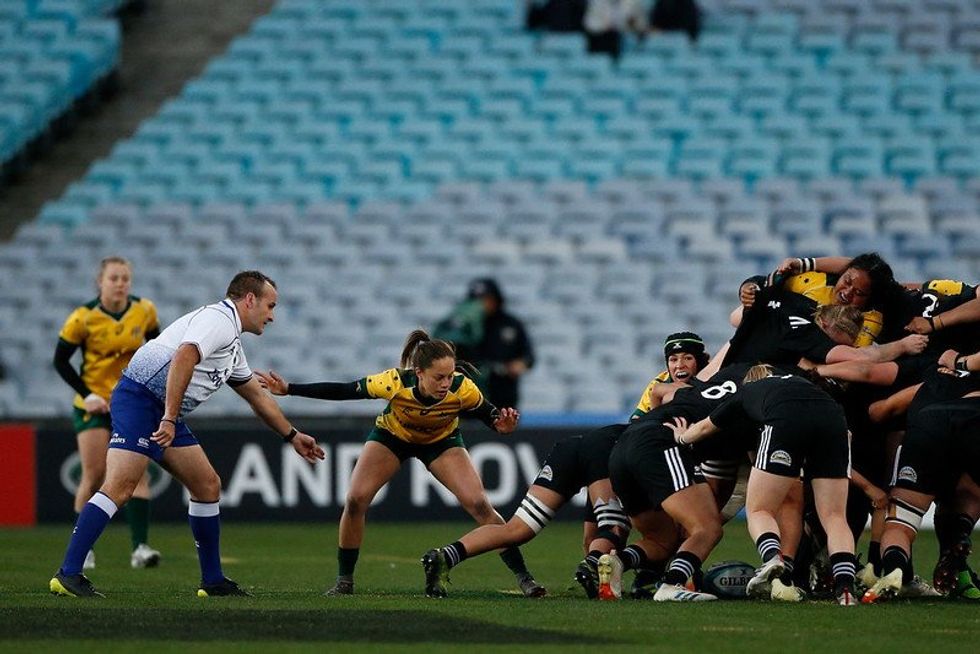 The Wallaroos compete against the Black Ferns in a mostly empty stadium in 2018. DAVID MOLLOY/FLICKR
This disparity is not confined to the coaching staff. In March, Rugby Australia proudly showed off a new agreement that would pay some Wallaroos players between $30,000 and $52,000 per year, to cover both international and domestic competitions. In contrast, Rugby Australia recently extended (then thankfully rescinded) an offer of $1.6 million over two years to poach the NRL's Angus Crichton.
Crichton wouldn't have been the highest paid player at Rugby Australia. Joseph Suaali'i, an NRL young gun, signed a deal in March to hop codes for $1.6 million per year. To put that in perspective, that's 30 times more than the highest-paid female player. Make it make sense.
Now, as there always are with conversations about women's sport, there will be detractors. A popular argument is that because women's rugby doesn't attract as much income as the men's game currently, it shouldn't receive investment. Thankfully, we have a purpose-built counterargument, in the form of the FIFA Women's World Cup. Football Australia (FA) made a conscious decision to pursue the pinnacle of the women's game and then invested heavily in coaching, facilities, pay and publicity for the Matildas, for a long-term reward.
We all know the result of FA's investment, but let's relive it for our own gratification.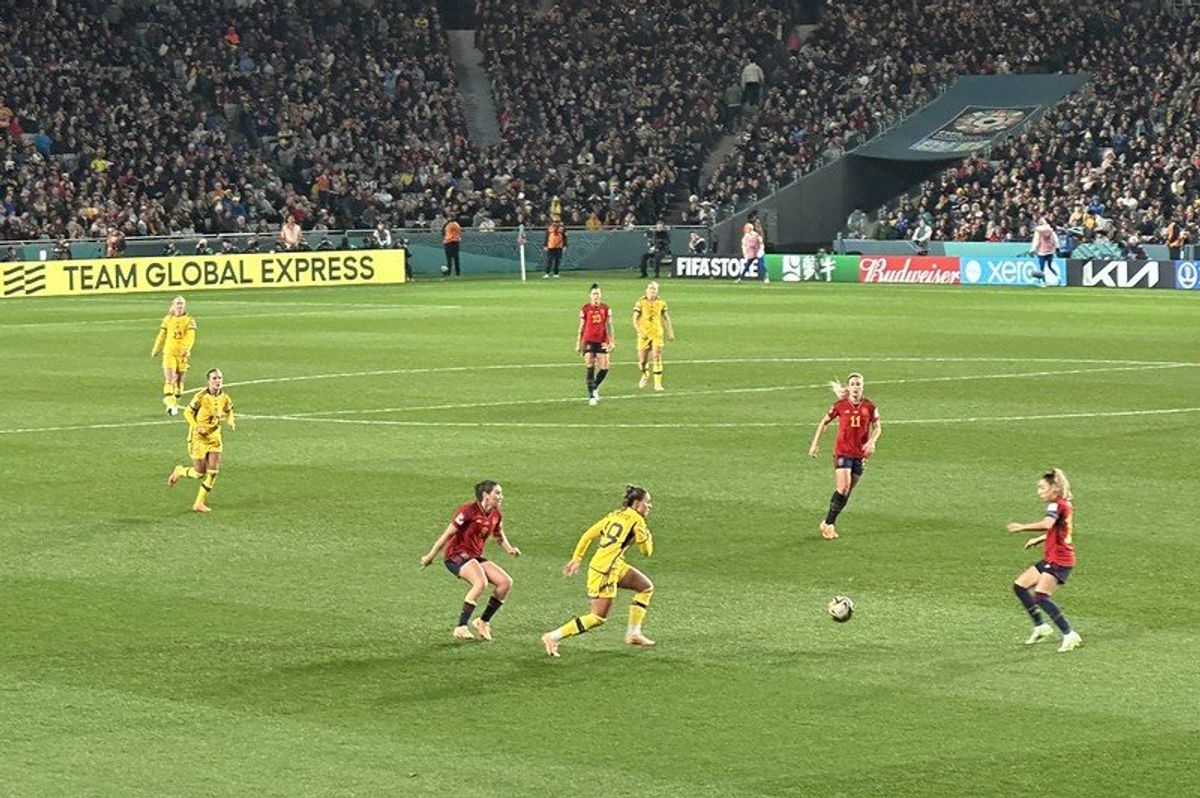 The 2023 FIFA Women's World Cup played out in front of packed stadiums in Australia and New Zealand. WENDY HARMAN/FLICKR
The Matildas' semi-final was the most-watched program EVER on Australian television. EVER. More than Cathy Freeman, more than the wedding of Will and Kate, more than anything. (The Matildas' epic quarter-final win against France is third on that list, just quietly).
The Tillies became a true national symbol, with kids and adults around the country sporting gold jerseys adorned with Sam Kerr's number 20, or Mary Fowler's 11. The event earned $890 million worldwide, with packed stadiums for every Matildas game. And it did not end with the World Cup. This week, 100,000 fans will show up to barrack for the Matildas across their three Olympic qualification matches in Perth. This is the blueprint that rugby needs to follow to bring fans back to the game.
Last year, Newsworthy published a solemn reflection on Australia's successful qualification for the men's FIFA World Cup, suggesting failing to qualify may have been a better longterm outcome for the Socceroos. In 2023, it was not the men's game that revitalised soccer in our country, with more engagement and more participation. We have the women's game, and Football Australia's investment in it, to thank.
This brings us to the future of Australian rugby. It has two important events on the horizon. The first is the next iteration of the Men's World Cup, which is due to hit our shores in 2027. The second is the women's equivalent, which will take place in 2029. There is no doubt that Rugby Australia will want to pour all their resources into the men's tournament, to capture global attention, without creating a longterm reward for the local market. Once the world cup caravan rolls out of town, after another middling performance from another nothing Wallaby team, will we see local support for rugby roll out with it?

The best way to get more people involved with the wonderful game of rugby is to increase the market. Invest in the women's game. Show young girls and boys the level of greatness that they can achieve in the game. Build it, and they will come.
Rugby Australia must make the 2029 Women's Rugby World Cup a central focus of their rebuilding phase. This is a chance that we cannot miss. The sport's administrators have missed countless opportunities to uplift the Wallaroos in the past, from the team's third place finish in the 2010 World Cup to their their Olympic Sevens triumph in 2016. But as they say, the best time to plant a tree is 20 years ago. The second-best time is now.