Hold your keys between your fingers, fake a phone call, avoid wearing heels – all are tips and tricks that young women have used to feel safe when walking alone at night. But for many, putting in a pair of earphones and tuning into a podcast detailing the graphic and gruesome details of murder cases is a better way to feel less vulnerable during a night time commute.

Whether it is Emmy award-winning documentary Making a Murderer or beloved television series such as Underbelly, Australians are fascinated with the darker side of life. Now, a new breed of true crime connoisseurs is on the rise, with young women being drawn to stories of kidnapping, cults and killers.
A major driver of this trend is My Favorite Murder, an American podcast hosted by comedian Karen Kilgariff and television chef Georgia Hardstark. In 2018, the podcast has yet to slide from the Top 10 Global iTunes podcast charts and the pair are presently on a sold out live show tour that has taken them across the US, to the United Kingdom and Australia. Their Facebook group boasts more than 200,000 passionate fans who call themselves Murderinos and post anything from grisly hometown murders to patchwork quilts containing the podcast's infamous catchphrase: 'SSDGM' which stands for 'Stay Sexy and Don't Get Murdered'.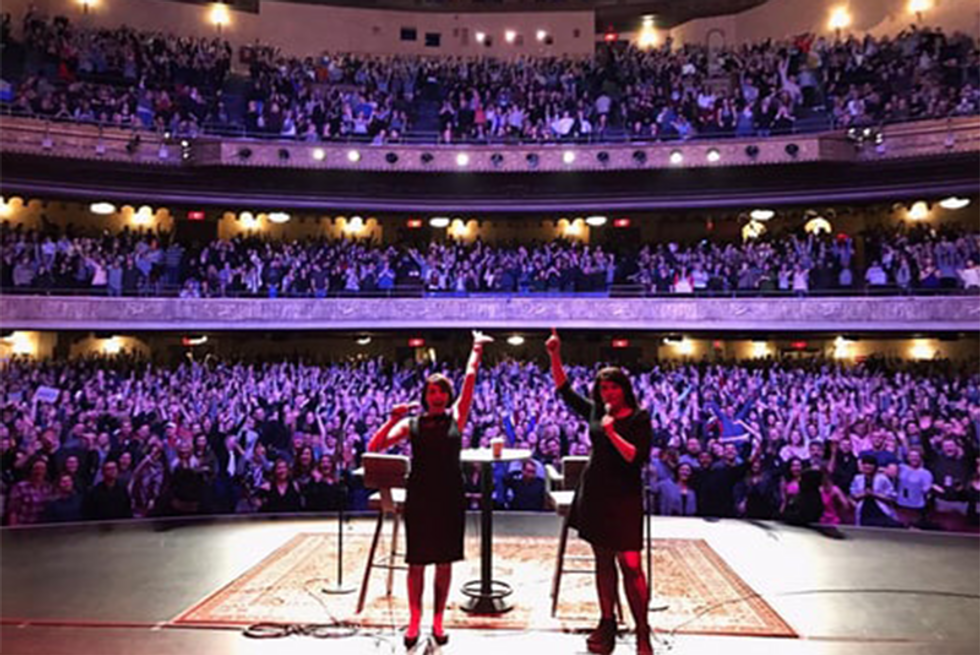 A packed house for the My Favourite Murder live show.Photo: SUPPLIED
Olivia de Jong is a Murderino who was inspired, not to make elaborate fan art, but to create a podcast of her own. The 19-year-old, who also studies law at the University of Newcastle, started Behind the Veil Of Innocence in April and in each episode she examines a different Australian female criminal. She believes that by talking openly about the potential dangers young women face, "it helps us regain a sense of control and power over something that is intimidating".

"Being able to engage in a dialogue about victimhood, abuse and trauma in a way that is exploratory as opposed to focusing on the emotional side of things can be really empowering," she said.
While traditional mediums such as documentaries and TV dramas remain popular, podcasting is on the rise as a favoured category of true crime. University of New South Wales students Rachael Ward and Meg Wheelhouse both say they prefer podcasts over any other genre.
"I don't like the graphic violence that a lot of documentaries and TV shows include, and podcasts focus on the individual rather than the crime," said Ward.
Talking openly about potential dangers young women face, 'helps us regain a sense of control and power over something that is intimidating'.
"Yeah, and podcasts are so easy to consume! I can listen while doing other things and I like how the hosts often banter and have their own comments to add to whatever topic they're discussing. It adds something human to what can sometimes seem inhumane," said Wheelhouse.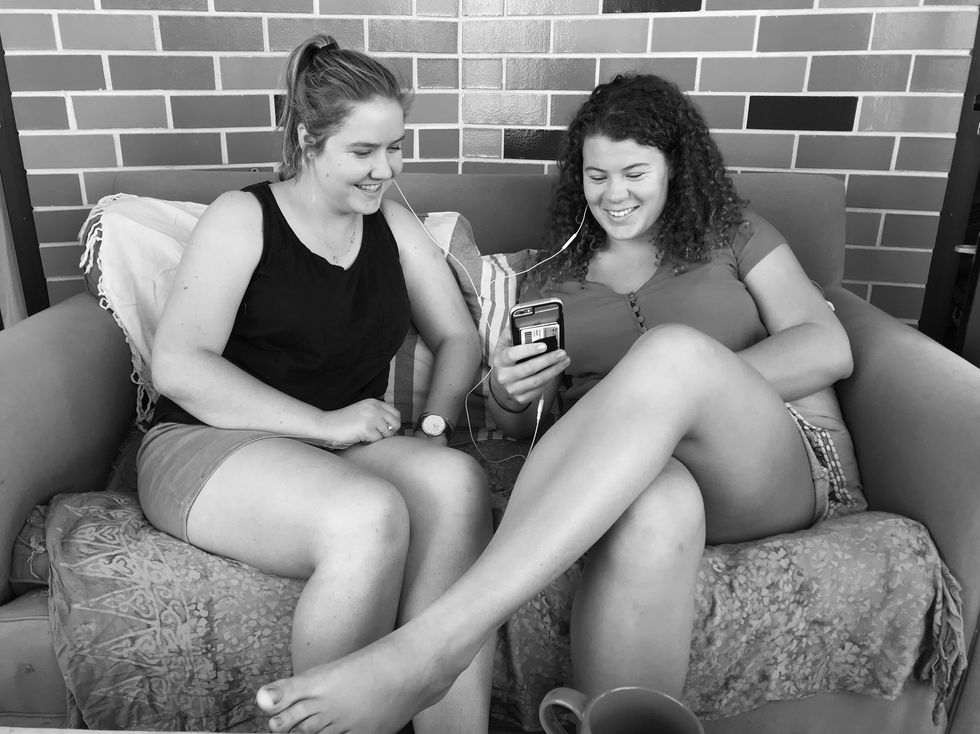 Meg Wheelhouse and Rachel Ward enjoy the focus on the individual as much as the crime.Photo: ABBY BUTLER
While constantly absorbing such graphic and grisly narratives may seem challenging, these are ever present in the minds of young women. Australian Bureau of Statistics data for 2017 shows 18to-24-year-old women are the most likely age group to experience sexual harassment. The media is awash with reports of brutal rapes and murders by strangers such as the cases of Eurydice Dixon and Jill Meagher, and of disappearance and murder at the hands of a family member, such as in the case of Alison Baden-Clay. The potential dangers for women can seem, at times, inescapable.

Emily Webb, a Melbourne based journalist, crime writer and the co-host of Australian True Crime, a podcast with half a million listeners every month, believes this is part of the reason for a rise in interest among young women.
"We have an ingrained sense that we have to take a bit of extra care about how we move around in the world. It's not right that we have to do this, but it's reality," she said. "For instance, when I'm walking the dog at night I am super conscious of my surroundings. When I travelled overseas, I was extra careful and when I use public transport I am always scoping out the train platform, or carriage to look for any signs of risk to myself or my children."
While a healthy dose of caution may be wise, Professor John Dale of the University of Technology Sydney worries that engaging in too much true crime media may cause harm, shifting perceptions from paranoia to fear to a skewed idea of how dangerous the world really is.
"I think a problem of true crime is that it isn't a true reflection of our society, it rarely depicts what's actually happening. If someone watches true crime too much, they begin to believe what they see on TV is what is actually happening behind the scenes in their neighbourhood all the time. It can affect your perception and perspective of things."
Psychology professors Amanda Vicary and Chris Fraley outline a "vicious cycle" they say can occur from absorbing too much true crime in their paper "Captured by True Crime: Why Are Women Drawn to Tales of Rape, Murder, and Serial Killers?" In that cycle, a woman may fear to become a victim, so she turns to true crime to learn strategies and techniques to stay safe. With every book the woman reads she increases her awareness, but also her fear which can potentially lead to more serious mental health issues.
However, for Australian True Crime podcaster Webb, such a possibility seems far-fetched. Rather than finding an issue with her mental health, her extensive research and lifelong fascination with true crime have led to her finding a community of women, whether they be podcasters, journalists, authors or her listeners. In discussing stories of domestic abuse, sexual assault and much more, a sort of solidarity is formed.
"I was always at the true crime section in libraries and there was always at least one other woman there scanning the titles as well," said Webb. "In the past, it was almost like something you'd keep secret but now it seems everyone's into it!"