Sports uniforms build team unity and differentiate opposing players for spectators and officials. They should also promote participation and sustain engagement, especially for young women.

When the buzzer rang out, marking the end of the 2008 Beijing Olympics gold medal match in women's basketball, the US team had handed the Australian Opals another heavy defeat. But what the Aussies left on court that day extended far beyond their third consecutive gold-medal round loss to the Americans.
The 2008 Olympics marked the end of an era for the Opals and their controversial signature lycra bodysuit uniform which had made its first appearance at the 1996 Atlanta Games, only to be scrapped in 2012 in response to criticism that it over-sexualised the players' bodies. In the 2012 and 2016 Olympics, the Opals reverted to a traditional loose-fitting jersey and shorts, in part in response to media debate of whether skin-tight uniforms were appropriate for women.
That was then. When the Opals take the court for their first Olympic pool match on July 27, they'll be returning to the iconic bodysuit for the first time in 13 years – a move apparently intended to reignite the Opals' match-winning energy and spirit and to prioritise athletic performance. They did not reach the gold medal round in either 2012 or 2016.
Former Opal Renae Garlepp supports the reintroduction of the lycra uniform, comparing it to the symbolism of the baggy green for cricket in Australia. "When I first started my professional career, we wore bodysuits … I loved playing in them. I felt like you were very free … no one could grab your singlet. You had a lot more room to move. And whenever I played for Australia in that bodysuit, it just had so much importance. We had so much respect for the uniform."
There has been media commentary around the decision to return to a uniform, which was dropped in 2012 to lessen the "perve factor", and Garlepp acknowledged not every player was a fan. When the bodysuit was unveiled as part of the Olympic Team uniform on March 31, @BasketballAus did not acknowledge the decision on its Twitter account.

"A lot of girls didn't like [the bodysuit] because they were very self-conscious. Lots of issues came from that – eating disorders and anxiety," Garlepp told Newsworthy. "A lot of people thought it was not the right thing. But then hearing that the players have been pushing for this for a very long time, I think it's really cool that they gave them what they wanted."
'Performance should come first, before any efforts to adhere to a gendered idea of what women should and shouldn't wear while playing sport.'
Getting "the right uniform" is not just an issue at elite sports level. Women and girls find clubs and suppliers often fail to provide gender-specific uniforms, which can be a deterrent to them continuing in a sport.
In 2019, Helen Ritchie founded Even Playing Field, a Canberra-based company, to address this issue by manufacturing sportswear and equipment designed specifically for the female body.
"I gave up on netball, a game that I loved, because I didn't want to wear a lycra dress," Ritchie recalled. "I don't want girls to give up because they're feeling self-conscious."
So, what do girls want? A study by Victoria University of 727 young women between the ages of 12-18 across Australia showed 65 per cent were opposed to wearing skirts during school sport. What they did want in a sports uniform was one that hid sweat marks, was made of a stretchy material and was darker in colour.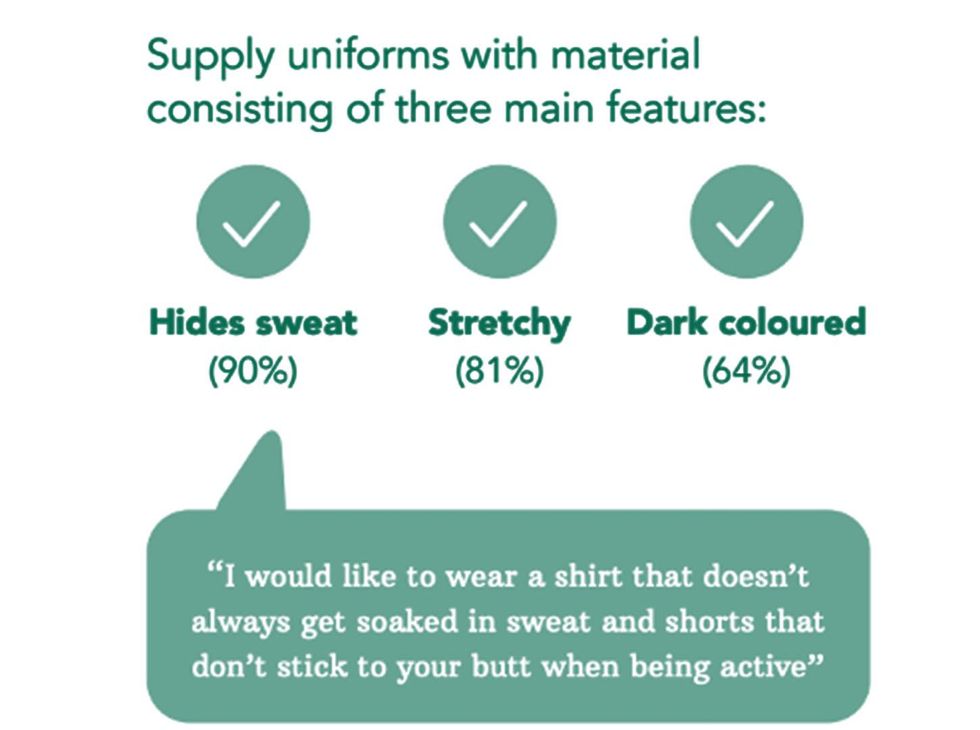 VICTORIA UNIVERSITY
Ritchie stressed the importance of moving towards female-specific uniforms that are able to promote physical and social comfort for young women, while also supporting performance in their given sport.

"The girls that play football predominantly don't want to go out there thinking that they look fabulous - that's not what it's about. It's about being comfortable. It's about not being self-conscious and being able to focus on your game, rather than adjusting your gear all the time."
She noted that there were other factors that might affect how young women feel in their uniforms. "A lot of the girls hitting that stage are 11 or 12, and are just starting to to go through puberty, so they're very self-conscious about their changing bodies as it is."
Victoria University's study also found 76 per cent of girls surveyed want their uniform to make them feel ready to play, with more than 25 per cent saying feeling fashionable was the least important aspect.
"What they wear shouldn't be the barrier to whether they want to play or not. There are already other barriers… clothing just seems like such an easy fix," Ritchie said. "It's probably the easiest place to start."
Ella Pinkerton, a representative basketball player for the Sydney Comets and the NSW U20 State Team, found her own creative solution to circumvent the uniform issue she faced. Using a sewing machine, she has changed the crotch length of all of her playing shorts to fit her figure better.
"Luckily I'm able to alter the uniforms myself, but I wonder what dissatisfaction others might feel knowing they just have to wear the uniform as it is," she said.
Pinkerton also raised the problematic issue of the male outlook towards young women's uniforms in sport.
"An U14's team was told by another team's parent to unroll their shorts because it brought attention to their private areas. I find it really alarming that in their efforts to make [unisex shorts] more comfortable to play in, a team of 13-year-old girls were reminded of the need for themselves to limit the masculine gaze directed toward them."
She echoed Garlepp's comments about the Opals decision to re-embrace the bodysuit.
"The sports clothing women wear is best able to move freely and comfortably, which is why I love to see the comeback of the bodysuit. Performance should come first, before any efforts to adhere to a gendered idea of what women should and shouldn't wear while playing sport."
When the Opals step out onto the hardwood at the 2021 Tokyo Olympic Games next month, Australia will be hoping their collective decision to wear the feel good bodysuit will also help put them back in gold medal contention.