Media coverage of women in sport has been woeful, six years ago Mary Konstantopoulos did something about it.
Even in late summer in Sydney, when the NRL season was kicking off amid a series of sex tape scandals, Mary Konstantopoulos was an "absolutely, yes" on her support for the footy. As Sydney gears up for a chilly Origin III her commitment to the code has only grown stronger.
As one of NRL.com's panel of Origin experts, Mary K, as she is also known, picked the Blues to win Origin II in Perth and keep the series alive. She's backing them again for a win in the Origin III decider this Wednesday.
While Konstantopoulos is passionate about the men in blue and maroon, she also looks beyond that field. On June 21 she was at North Sydney Oval to cheer on another Blues team to victory in the Women's NRL Origin clash, in front of 10,515 fans. Her takeaway, as told on her own website: "The world is changing before our very eyes and the beneficiaries will be the next generation of girls and boys who will grow up in a world where it is completely the norm for both men and women to have the opportunity to play rugby league at a domestic, state and international level."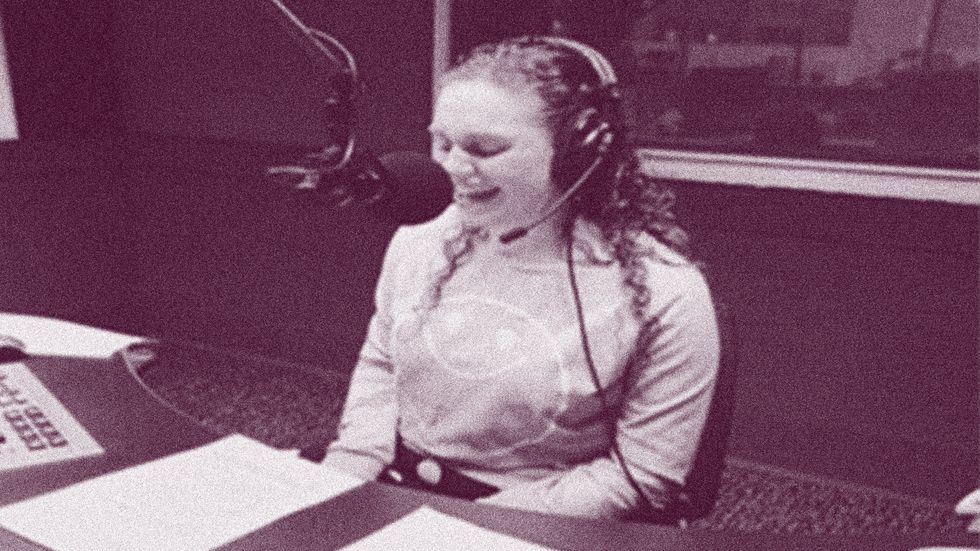 Mary Konstantopoulos, on a mission to make women athletes visible. Photo: SUPPLIED
This super fan of both rugby league and cricket is a big supporter of women in all sports and works as an advocate and sports commentator to promote them. Six years ago, Konstantopoulos started the Ladies Who League blog, to raise awareness of women who played the sport. She had met female athletes and heard their stories. "At that point [those] women were not visible," she says. So, she decided to write about women athletes playing rugby league, to support them. "Other people needed to know these women."

'I saw my influence actually give money to female athletes, that has been really special.'
What began as a blog site has grown into a group of websites focussed on women's sports: with commentary on the players and coaches and the issues that impact them. As well as Ladies Who League there are Ladies Who Legspin, Ladies Who Lineout, Ladies Who Leap and Ladies Who W-League. The sites cover the personal and the global, from the AFLW female coach who led her side to victory in the competition for the first time to discussion on progress on equal pay for female athletes.
"[It] is all about encouraging and promoting women to get involved in conversations about sports," says Konstantopoulos, who, in her spare time, creates (in text and audio) 90 per cent of the Ladies Who sites. She also holds down a full-time job as a lawyer.
In covering women athletes, one story that has stayed with her is that of Talesha Quinn. When they met, Quinn had just made the move from a NSW rugby league team to Queensland, only to discover the league competition up there had folded. She didn't give up, switching to rugby union until she could return to Sydney and a place on the Cronulla Sharks' Nines team. In 2017, she was selected for the inaugural Women's State of Origin match and made her debut with the Australian Jillaroos.
Quinn never gave up. Nor has Konstantopoulos. From humble blog post beginnings, she has built a career in sports commentary. Her articles are now featured on NRL.com and The Roar, she has written for The Sydney Morning Herald and has her own Ladies Who League podcast on the ABC.
"Becoming a powerful voice and sharing stories from people that you would not normally get to know, that's what I'm really proud of."
Last year, she met a woman at a function, who was keen to sponsor female sports. She wanted Konstantopoulos to help her to find a women's sports team. She put a call out on her Twitter account and got more than 15 applications from women's sports teams, successfully connecting the would be sponsor with a couple of teams.
"I saw my influence actually give money to female athletes, that has been really special."
Selina Steele, News Corp's deputy head of national news, and a former sports editor for Brisbane's Sunday Mail, acknowledged the role Konstantopoulos has had both as a commentator and an advocate.
"[She] has created a presence through social media but her influence now expands beyond this," says Steele. "Mary K is passionate, articulate and generous - and women's sport is richer for it."
Her work has brought a new focus to women athletes, but she's also deeply involved in coverage of the men's codes. As scandal after scandal engulfed league earlier this year, she wrote on the issue for The Roar and her own Ladies Who League site.

"When I have to write something about the scandal it doesn't make me happy but it is important to add my voice to the conversation. If we don't say something then nothing is going to change," she says. "The players need to know what we expect of them."
She says rugby league reflected the society in which we live, whether it was facing the issue of the gender pay gap, workplace gender discrimination or domestic violence. She believes tackling something head on is far more powerful than complaining about it.
Asked if she had faced gender discrimination in sports media, she stepped around the question. "It's definitely changing, [there are] a lot of women in our industry now," she says, adding that, to be honest, it didn't bother her, "it's important I share these stories".