Culinary journey reveals the great regional variation in Chinese noodles and the engaging stories they carry.
Highly Commended in the 2021 Ossie Awards for student journalism in the Best text-based story by an Undergraduate Student (over 750 words) category.
Chinese food, so commonplace across much of Australia, is often misunderstood. It is stereotyped as greasy, cheap, the "easy option". The truth is that 'Chinese food' is made up of a plethora of diverse cuisines that differ from province to province, sometimes even from city to city. Noodles – the ultimate comfort food – are a great example of this diversity and you don't have to go to China to taste the differences.
Come with me on a journey across Sydney and experience the great regional variations of Chinese noodles – and the great stories they bring with them.

1. Beijing zhajiangmian
Restaurant Beijing Impression
Address 1909 Dining Precinct, Level 3, Market City, 9-13 Hay St, Haymarket
As described on the menu Beijing Noodles with soybean and meat paste, $10.80
Origin Beijing
In August 1900, Beijing was on fire, the enemy was at the gates of the imperial capital. Before Empress Dowager Cixi and Emperor Guangxu and the imperial court fled west to avoid capture by foreign-backed troops of the Boxer Rebellion they made one final stop. A folk tale has it they paused their flight to eat a bowl of zhajiangmian. After the meal, the Empress Dowager asked the eunuchs if they enjoyed the dish. They replied, "This is definitely a good noodle. Good, good!"
Now, in a restaurant in the modern, glitzy 1909 Dining Precinct above the historic Paddy's Markets in Haymarket, you too can enjoy this "good, good" noodle. Beijing Impression, is lavishly decorated with wooden furniture and archways to resemble a Beijing mansion from centuries past.
The plain, thick wheat noodles in Beijing zhajiangmian, which literally translates as fried (zha) sauce (jiang) noodles (mian), are served in a bowl, with a small dish of the black eponymous sauce and an assortment of vegetable toppings including sliced cucumber and carrots, bean sprouts, spring onions and edamame.
Part of the fun of eating zhajiangmian is salivating (while mixing all of these elements together), then slurping them up. The sauce is pork-based and should be both intensely savoury and sweet. The noodles themselves are chewy and al dente, aim to coat each strand with the sauce. The vegetable toppings add freshness, texture and bring the dish together.
2. Suzhou-style topping noodles
Restaurant A Bowl of Noodles
Address 735 George St, Haymarket
As described on the menu Many Suzhou-style options, from $10.80 to $22.80
Origin Jiangnan region (Shanghai and parts of Jiangsu and Zhejiang provinces)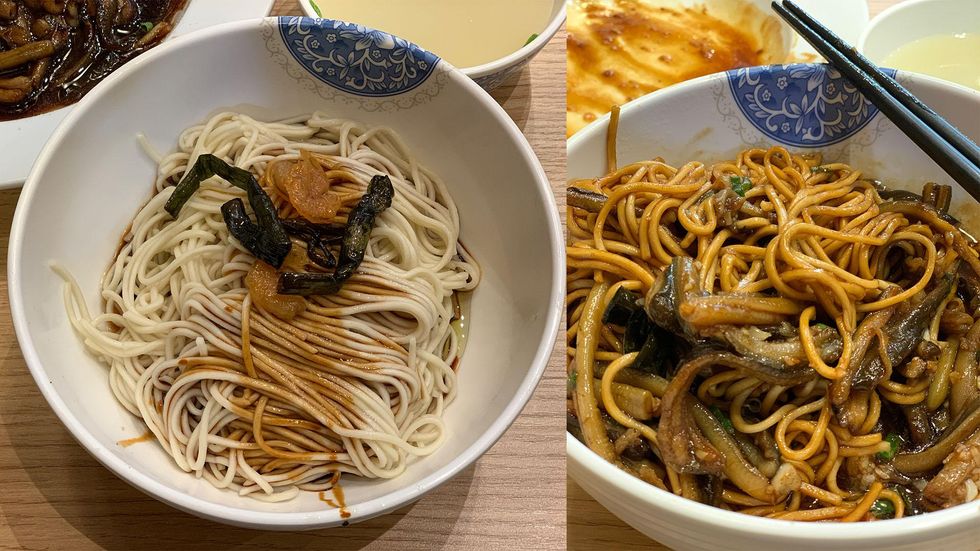 For our next dish we travel down the coast to the Jiangnan region of eastern China (jiangnan means south of the [Yangtze] river) where the cuisine is known to be much sweeter and more delicate than in the rest of the country. Here, it's all about the topping noodles which made their way from the water town of Suzhou, famous for its canals, bridges and classical gardens, to the international metropolis of Shanghai in the late 19th and early 20th centuries.

A Bowl of Noodles (yes, that's the restaurant name) in Haymarket serves up these noodles as their signature dish, as well as an array of Shanghainese snacks and fusion dishes. Essentially, you have the choice between a soup or dry noodle, and then a plate of toppings to scoop over the noodles. The soup noodles comes with a light chicken broth, and the dry noodles sit in sweet soy sauce with some dried shrimp and green onions.
What makes this dish is the variety of toppings you can choose from to cover your noodles. A Bowl of Noodles offers 20 different toppings, including braised duck, pork belly with marinated egg, curry chicken, stir-fried mushrooms and more. The stir-fried shredded eel topping I ordered came in a plate of thick, syrupy sauce. Try the noodles plain first, then add the toppings for a flavour explosion.
3. Fuzhou laohua rice noodle soup
Restaurant Guo's Noodle House
Address 285 Forest Road, Hurstville
As described on the menu Chef's special noodle soup with [many options], $13.80
Origin Fuzhou, Fujian province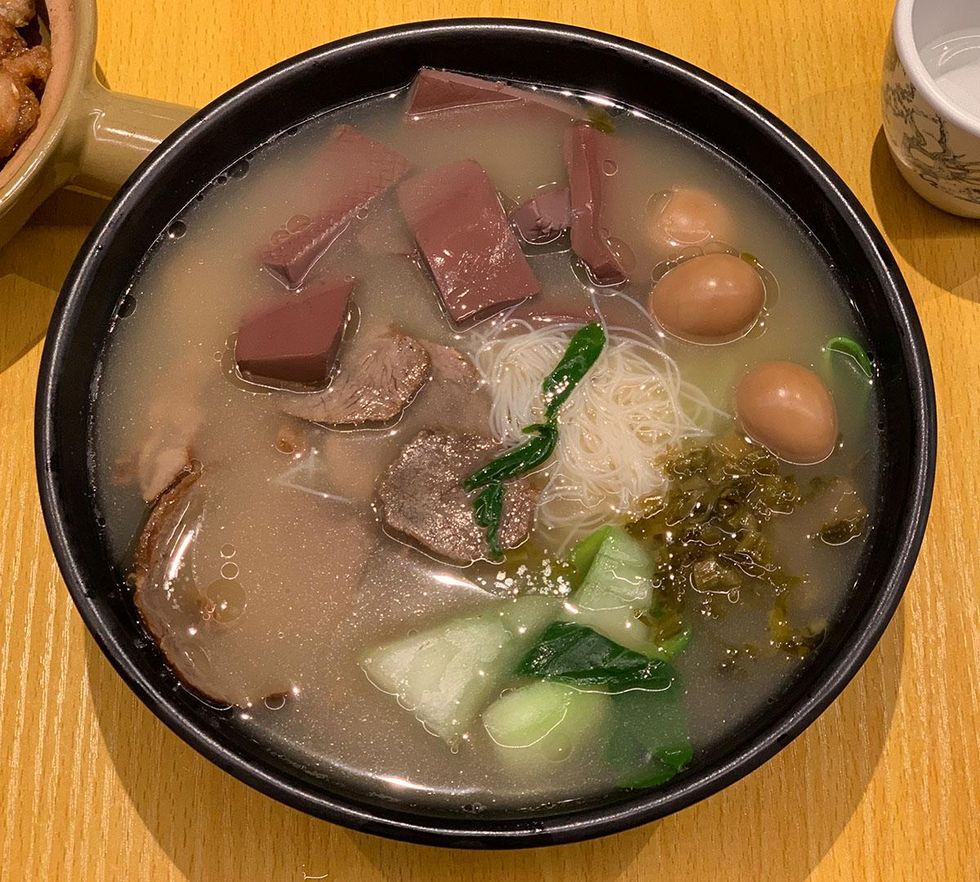 When the Qing dynasty was defeated by Great Britain in the First Opium War in 1842, the already prosperous commercial city of Fuzhou, capital of Fujian province, was forced to open as a treaty port and became known globally for its tea trade. Soon after, Fuzhounese merchants began to migrate, along with migrants from southern Fujian province known as the Hokkien people, across the Taiwan Strait and to more distant lands such as British Malaya and the United States.
As a result, the philosophy of Fujian cuisine has had a profound impact on the food culture of Chinatowns from New York to Taiwan, Singapore and Malaysia. The food of Fujian, and Fuzhou in particular, is light and delicate, focusing on drawing out the natural flavour of the ingredients.
At Guo's Noodle House in Hurstville you can try laohua, a classic rice noodle soup dish that is common on the streets of Fuzhou. It is abbreviated from lao Xinghua fen, meaning "scooped Xinghua rice noodle". Xinghua was the historic name of Putian, a city which borders Fuzhou. The dish is packed full of umami, with extremely thin rice noodles in a clear, refreshing bone broth with greens, braised quail eggs and other toppings of your choice. The bowl featured in the image was noodles with braised beef slices and pork blood jelly. The version of the dish with tenderised beef is especially good, with texture like soft candy when you put it in your mouth.
4. Cantonese wonton noodles
Restaurant Canton Noodle House
Address 3/206 Forest Rd, Hurstville
As described on the menu Combination Won Ton Noodle Soup, $13
Origin Cantonese regions (Guangdong province, Hong Kong and Macau)
Now we arrive at a dish that everyone knows and loves. The humble wonton noodle soup is a common dish slurped on the streets of Guangdong province and Hong Kong, as well as any lands to which the Cantonese migrated. Slight variations exist, but the basic premise is the same: plump wontons served in a hot broth with egg noodles, vegetables and toppings.
Canton Noodle House in Hurstville is an institution in a suburb well known for its many good Cantonese restaurants. When you walk past the cashier and head upstairs to the main dining area, you will be transported back to the heyday of old Guangzhou – the metropolis that is the capital of Guangdong province, (historically romanised as Canton, thereby giving this name to its people, language and cuisine). The restaurant's tables are tightly packed with families, the walls are tapered with menu items in Chinese and waiters run up and down the stairs to fill their diners' orders.
Their combination wonton noodle soup comes with a lightly sweetened broth and al dente egg noodles, with tasty pork-and-prawn wontons.Toppings include Cantonese staples like char siu slices, fish, tofu and other seafood.
5. Guilin rice noodles
Restaurant Yummy Noodle & BBQ
Address Shop 36, 1 Dixon St, Chinatown
As described on the menu Many Guilin-style options, from $11.90 to $13.90
Origin Guilin, Guangxi province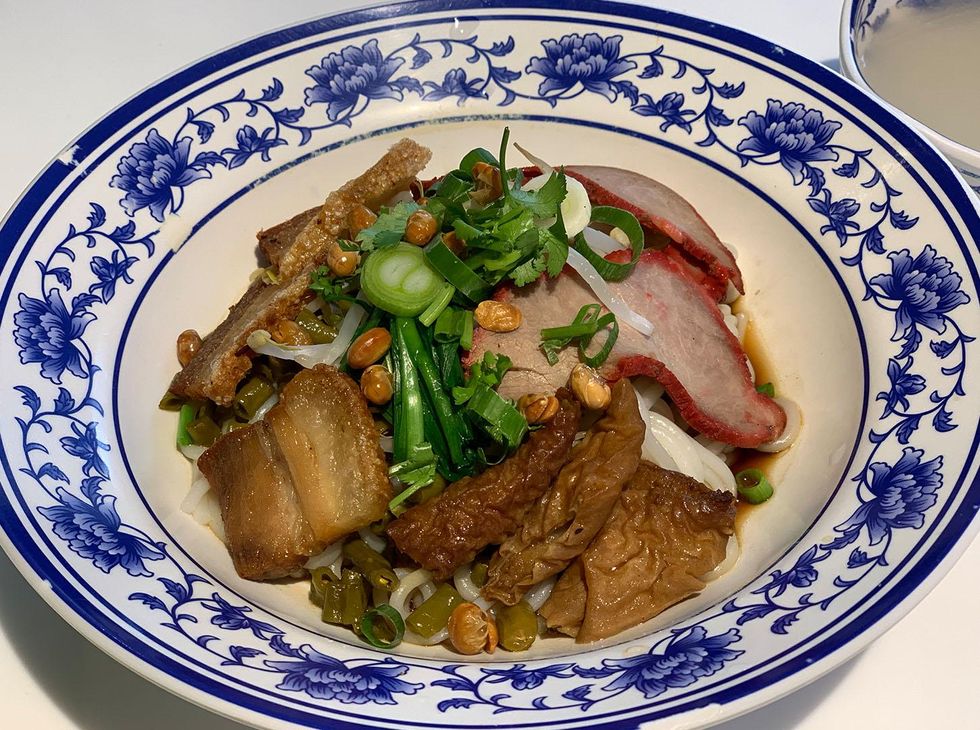 The city of Guilin, in Guangxi, rests by mountains and the water and is considered one of the most beautiful in China. It lies on the Li River, part of a series of waterways leading from Guangdong to Hunan province and the unique cuisine of the city reflects its geographical location. Its famous rice noodle dish is a marriage between the light sweetness of Cantonese and the savoury and spiciness of Hunan cuisine.

Yummy Noodle & BBQ is in the quieter part of Chinatown. Order their Pork Mix Rice Noodles to experience a famous version of this Guilin noodle dish. It is served with three types of pork- soft roasted pork, crispy char siu and cuts of chitterlings. The meat is marinated in a sweet sauce that recalls classic Cantonese food, and each type provides a different texture when you slurp it up with the soft rice noodles. Although the noodles may look plain, the gravy they sit in packs a savoury punch. The restaurant also offers two ways to add chilli to your bowl, as pickled slices or as a tangy paste.
6. Chongqing xiaomian
Restaurant Chongqing Street Noodles
Address 1/14 Gadigal Ave, Waterloo
As described on the menu Many xiaomian-style options, from $9.80 to $20.80
Origin Chongqing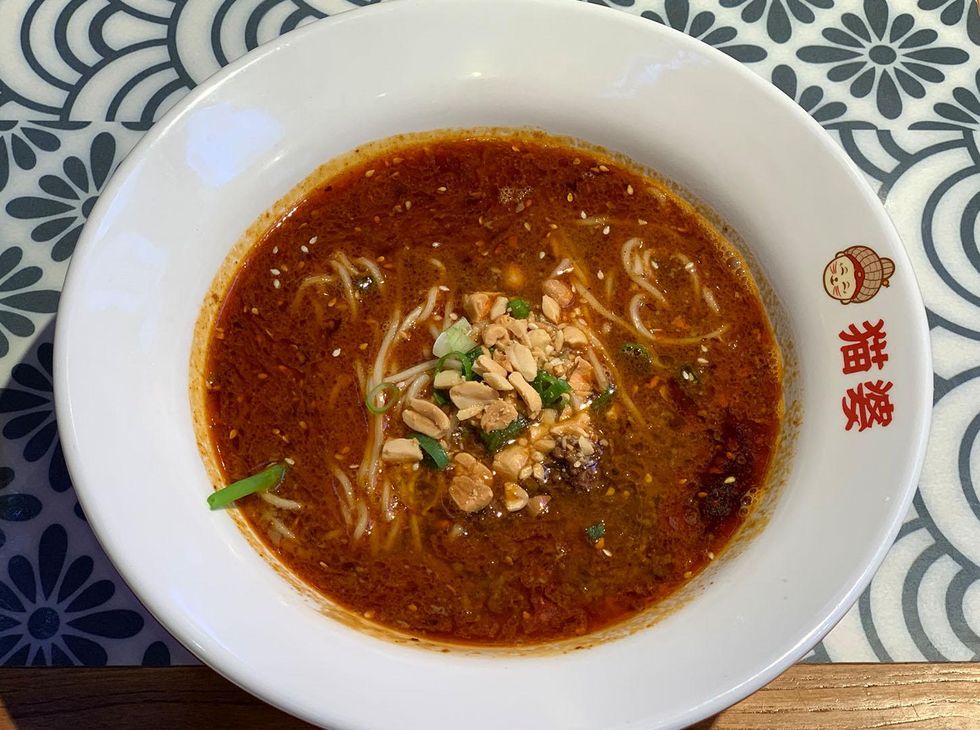 The misty concrete jungle of Chongqing, the world's largest "city proper", served as China's provisional capital for much of World War II, when its name was romanised as Chungking. Just as Shanghai's culture and cuisine is highly influenced by the Jiangnan region at large, Chongqing is influenced by Sichuan province, of which it was once a part. The numbing Sichuan peppercorn is a big part of the cuisine in this neon-lit city.

Chongqing xiaomian (literally little noodles) is named for the thinness of the wheat noodles used in the dish. Chongqing Street Noodles in Waterloo serves many versions of this dish –the plain one is vegan. As well as the Sichuan peppercorn, the complex and fiery broth that covers the xiaomian is crafted from ingredients such as star anise, peanuts, coriander seeds, fresh chilli, dried chilli, Sichuan pickles and sesame seeds. The restaurant's "signature street noodles" broth is especially spicy and nutty, as evidenced by the crimson colour.
7. Biangbiang noodles
Restaurant Biang! Biang!
Address Shop 39, 1 Dixon St, Chinatown
As described on the menu Many Biangbiang-style options, from $10.80 to $13.50
Origin Shaanxi province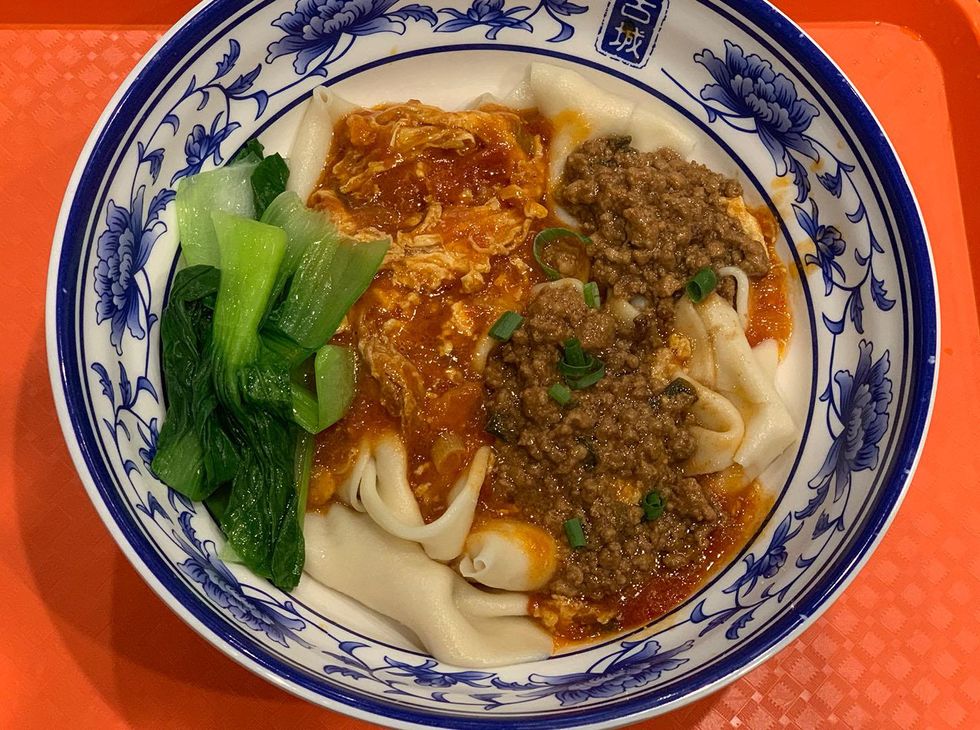 Xi'an, capital of northwestern China's Shaanxi province, was once home to the city of Chang'an, imperial capital of the Tang dynasty more than 1000 years ago. In its heyday, it was both the largest and most cosmopolitan city in the world, a place where merchants traded goods and philosophers traded ideas. Although today's Xi'an is not a direct continuation of Chang'an – the latter was largely destroyed after the fall of the Tang – its people still pride themselves on the history of their hometown.
Xi'an, and Shaanxi province more widely, is known for wheaten food, especially their noodles. The bizarrely named biangbiang noodles are one of the most famous of these. The character biang is the most complicated Chinese character, with 58 strokes in traditional writing and 42 in simplified Chinese, yet it does not appear in any modern or historical dictionaries. It's thought to have originated from the sound of the noodle-maker slapping thick noodle strands against a hard surface.
Like the Chongqing xiaomian, the plain chilli and vegetable-topped version of the Biangbiang noodles served in Haymarket's Biang! Biang! is vegan-friendly, but the recommended version for meat-eaters is the one with tomato and egg plus pork gravy. The noodles are hand-pulled, thick, as wide as a belt and exceptionally chewy. They are made to be coated with the eclectic flavours of the toppings.
8. Lanzhou beef lamian
Restaurant 1915 Lanzhou Beef Noodles
Address Shop 17, 123 Liverpool St (World Square), Sydney
As described on the menu Many Lanzhou-style options, from 12.90 to $13.90
Origin Lanzhou, Gansu province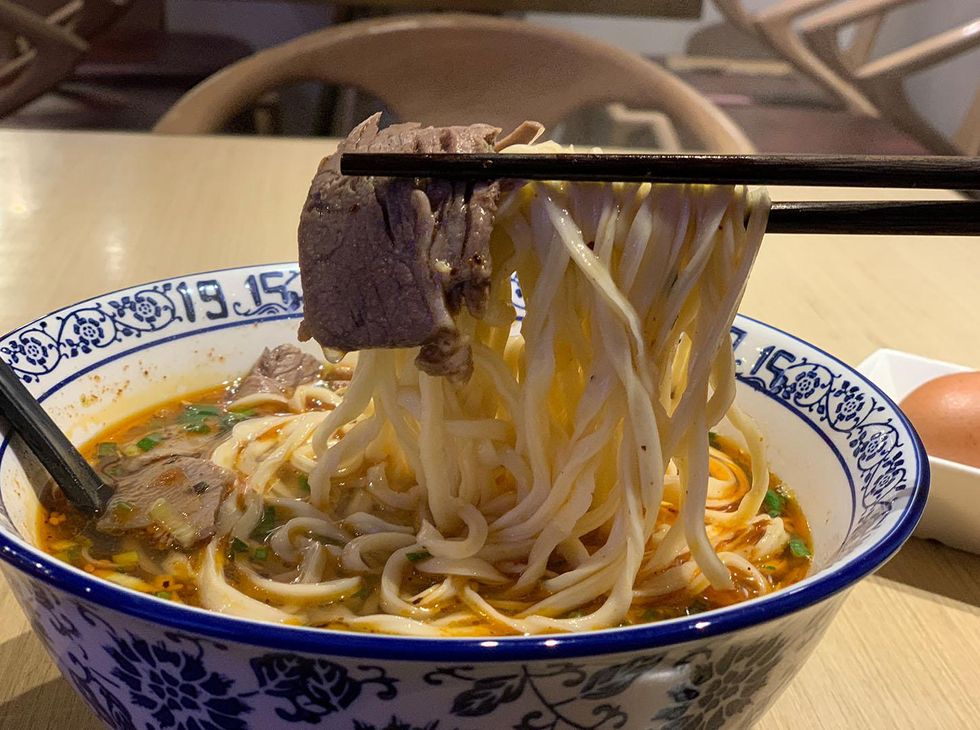 In the early 20th century in Lanzhou, capital of the sparsely populated Gansu province, there lived a Hui Muslim noodle vendor named Ma Baozi who attracted customers to his street noodles by pulling and stretching them by hand just before they were cooked and served. His famous dish simply became known as Lanzhou beef noodles in the city, and Lanzhou lamian in other parts of China. Lamian means "pulled noodles", and once this particular concept of a wheat noodle dish with broth and meat travelled to Japan, the pronunciation and characters for lamian was borrowed to form the term ramen.

There are many restaurants around Sydney that serves this halal noodle dish, but 1915 in World Square stands out and is always crowded at lunch and dinner times, so arrive early! Order the traditional beef noodles, choose your noodle thickness and watch the chef rapidly pull them in front of your eyes. A good bowl of Lanzhou noodles must have five colours: clear broth, white daikon radish, red chilli oil, green cilantro and yellow noodles.
There's a secret here in the noodles in the form of penghui, which is an alkaline ingredient made from the ash of a plant from the Gobi desert, just north of Gansu province. This dish is simply perfect. Each element – the rich soup, tender beef slices, chewy noodles –works together to satisfy all your senses.
The dynamic food culture of Sydney is reflected in the manifold Chinese noodles dishes that can be found across the Sydney the city. Retrace my steps and embark on your own culinary journey.