Indigenous trailblazer Freda Glynn fought to preserve the oldest living culture in the world by preserving Central Australia's languages.
When a young Freda Glynn looked at "white man's TV" she saw only one type of Aboriginal portrayed, a criminal; she saw a medium that served only to denigrate and shame Aboriginal communities.
She knew better than to wait for change to come, she made the change herself, campaigned for the satellite rights to broadcast commercial television in remote areas of eastern and Central Australia and when, in 1988, Imparja TV launched, provided the first real portrayal of Aboriginal culture on television.
For this Kaytetye woman and indigenous media pioneer, the Imparja TV licence marked her second momentous breakthrough in a decade. Seven years earlier she had been crucial in setting up the groundbreaking Central Australian Aboriginal Media Association (CAAMA).
Now 79 and looking back on her life, having founded and fostered an indigenous media industry – Imparja TV serves an estimated 1 million viewers across 3.6 million sq kms in six states - she plays down her game-changing role. A new documentary She Who Must Be Loved celebrates her legacy but she refuses the accolades. "I was in the right place at the right time and I stuck with it," Glynn says in the film. "I just wanted good things for good people".
Good things were scarce in Glynn's formative years. Her experiences were harsh, oppressive, and firmly in line with the standards of the time. It was the 1950s, and she was Aboriginal. Glynn, like all other Indigenous Australians of the Northern Territory at the time, fell under the subjugation of the Aboriginals Ordinance, a piece of legislation known colloquially as "The Act".
Born just months after World War II began, she never knew her white father. She, her mother Topsy and sister Rona were at the mercy of the state with no say in where or how they lived. "You belonged to the government".
Glynn was "moved around at the whim of the government", forced into the Bungalow Half-Caste Institute in Alice Springs and then evacuated, with 40 Alice Springs children in 1942 when the Japanese bombed Darwin, to the Blue Mountains, NSW, for the duration of the war.
'It's really important for this country to know that you can't tell anyone else's story'
What unfolded post-war was a life fraught with, but not defeated by, marginalisation. She raised five children, working full-time as a cleaner before cofounding CAAMA in her early thirties. None of the indignities, small and large, imposed by Australia's systemic racism could overshadow Glynn's remarkable achievements of Indigenous enfranchisement.

With modest formal education and business training, she co-founded the Aboriginal media organisation in Central Australia providing, for the first time, rural Indigenous communities with "vital information in their own language".
The United Nations has declared 2019 the International Year of Indigenous Languages, to highlight the consequences of "endangerment of Indigenous languages across the world, with an aim to establish a link between language, development, peace, and reconciliation".
Glynn didn't need the UN to tell her this. "Your language is your culture," she says in an archival clip. "If you can't understand your language, you can't understand your culture."
At the beginning of the 1980s, the non-English speaking Aboriginal bush communities of Central Australia were still not within the language purview of English-spoken news. Vital information was not passed on.
Glynn decided if the "white man" wouldn't recognise her people's needs or give them a voice, she'd do it herself. In establishing the Central Australian Aboriginal Media Association, (with Phillip Batty and John Mucumba), Glynn helped overcome this isolation by delivering audio cassette tapes to those rural communities - the one-hour audio-tapes contained news that impacted the communities, vital health information, interviews, music and stories. In the early 1980s, more than 300 cassettes were produced every month and mailed out to 31 communities.
"It was for us," Glynn says.
Then came Imparja, and with it, with CAAMA received a three-year training grant. "People learnt to do radio and do journalism, it became a media school," says Freda's daughter Erica Glynn, an alumnus of the program.
It was here, where the likes of Anmaterr woman, producer-writer-actor Trisha Morton-Thomas, Arrernte woman Rachel Perkins (director, Mystery Road, Radiance), Freda's son Warwick Thornton (director, Samson and Delilah), and daughter Erica Glynn (She Who Must be Loved), honed their craft.
The training gave Indigenous Australians the opportunity to provide their own perspective, their own take on the world through the mediums of radio, journalism and film.
She Who Must Be Loved - Trailer - SFF 19
Having created the opportunities for indigenous Australians in media, the camera has now turned firmly back onto Glynn herself. The feature-length documentary, She Who Must Be Loved, written and directed by her daughter Erica, won Best Australian Documentary at this year's Sydney Film Festival. Erica set out to capture her mother's remarkable life in an affecting and cinematic vein. Her mother is "the product of a very ugly time", says Erica in the film. She acknowledges her documentary is political insofar as "there's no avoiding the politics, particularly in mum's life".
Freda's son, acclaimed director Warwick Thorntontold The Sydney Morning Herald last year his earliest memories were of his mother's anger at the injustices she saw around her. "The reason we are who we are is because of her. We were allowed to play and we were allowed to get angry and we were allowed to question stuff because mum did that … She taught me to have a voice."
The indigenous trailblazer has earned her feisty reputation, built over a lifetime of taking on "the white man" but in person, she emits a warmth at odds with that. A frank demeanour and unintended humour carry through in her public appearances. When she addressed the Sydney Film Festival audience at a screening of the documentary – laughs and smiles ensued.
'People do make films now about Indigenous people all the time. Although well-meaning, in most cases the end result is ... an inauthentic portrayal of black perspectives.'
In the documentary's opening sequence the gentler Glynn is on show. We hear Erica playfully bickering with her mother from behind the camera as Glynn goes through her morning routine of tea and crossword puzzles. I met with an almost identical scene on arrival at Erica's home in Annandale for an interview with the filmmaker. There was Glynn sitting at her glass table, crossword puzzle in hand, ringed by an abundance of trees and greenery.
Reflecting on her mother's legacy, Erica says "CAAMA was about giving voice to people who'd never had voice".
Today Imparja invests heavily in its local communities, positively promoting Aboriginal culture and values. To date, according to the organisation's website, it has gifted more than $400,000 to community programs.
Indigenous "voice" was a key theme of NAIDOC Week 2019 - Voice. Treaty. Truth. It builds on the 2018 theme which "recognised the essential role women have played – and continue to play – as active and significant role models at community, local, state and national levels".
The Freda Glynn documentary was one of two at this year's festival highlighting the importance of Indigenous voice in their own story telling and the power of Indigenous women in marginalised communities to rise above systemic racism and the disadvantage that accompanies it.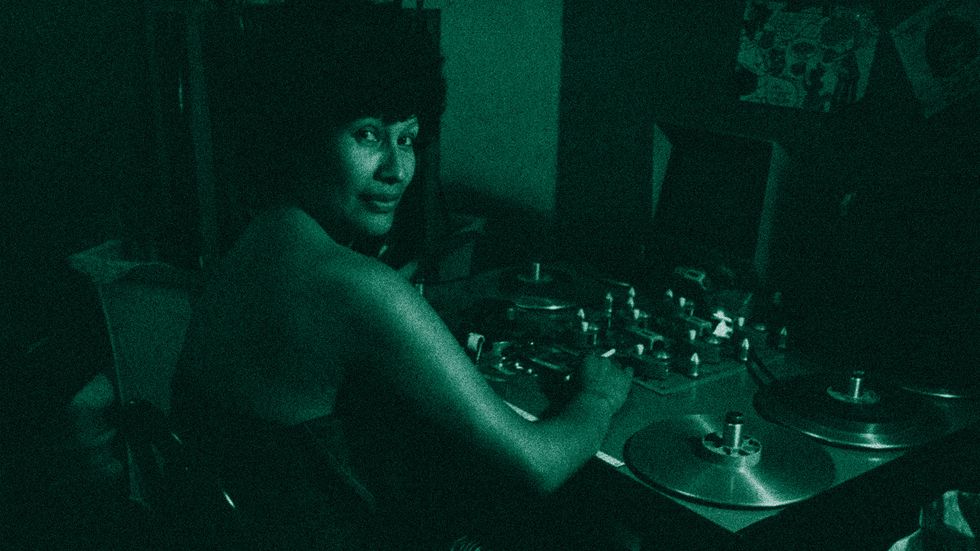 Merata Mita at work.Photo: Courtesy of HEPERI MITA
New Zealand filmmaker Heperi Mita's documentary Merata: How Mum Decolonised the Screen, tells of how his late mother, Maori filmmaker Merata Mita, used film to counteract the "dominant, white, monocultural perspective".

Her film Bastion Point: Day 507, made in the early 1980s, examined the dispossession of the Ngāti Whātua Maoris from their traditional lands and her film Patu! documented the clashes between anti-apartheid protesters and police during the 1981 South African Springboks rugby tour.
In their life works, both Glynn and Mita prioritised giving voice to the marginalised and giving a platform to the Indigenous perspective through media.
Filmmaker Heperi Mita, Merata's son, says cinema offers "a very meaningful way of expressing our worldview about our struggles and that we share in those struggles … [that we can] relate to that as an Indigenous person having to deal with those issues of those side effects of colonisation".
Jane Mills, associate professor in film at UNSW, Sydney says it's very important Indigenous and first-nation people have the platform for their programs and films to be told, "not just among themselves – to other first nation people – but to the rest of the world, to other nations, to the dominant white nation".
Heperi Mita, like Erica Glynn, knows the importance of telling one's own story, of having Indigenous people voice their own perspective. "People do make films now about Indigenous people all the time. Although well-meaning, in most cases the end result is a very misguided portrayal, an inauthentic portrayal, of black perspectives," Mita says.
Merata: How Mum Decolonised the Screen - Trailer - SFF 19
Award-winning documentary filmmaker Judy Menczel (Angst, When Friends were Enemies) says the "intimate knowledge" possessed by indigenous filmmakers is incredibly important. "I'm not saying white filmmakers can't do that as well, but I think it does give an extra resonance to it, being Indigenous, and it's very important."
It's this need for a lived, authentic voice of Indigenous persecution and perspective that Glynn's life and Erica's film maintain as moral and cultural maxim. Glynn pushed back, fiercely, against a wave of Aboriginal oppression. She laid the foundation for some of Australia's most prestigious filmmakers and media professionals to pursue their craft and mainstream the Aboriginal perspective. She lent voice to afflicted disadvantaged Indigenous communities who are now, because of her, reaping a social justice.
It's a lesson "she kept banging on about" and her children took to heart. Echoing her mother's words, Erica says "It's really important for this country to know that you can't tell anyone else's story … That's our culture, that's our law, that's our thing and that gets confused in contemporary life … particularly when you're dealing with Western storytelling and screen storytelling".
She Who Must Be Loved is available to stream on SBS on Demand.
Merata: How Mum Decolonised the Screen is scheduled to screen July 24, at Event Cinemas George St, Sydney.