As an undergraduate acting student at the National Institute of Dramatic Art (NIDA) in the 1990s, Kenneth Moraleda noticed an absence of diversity at the prestigious institution. As a person of Filipino descent, he sometimes felt a sense of desperation to connect with others from his cultural background.
He recalls it as predominantly white and "the only other Filipinos that were around me were these cleaners that used come after hours". Moraleda would be at NIDA after hours, learning a monologue or in rehearsals and "would rush to see them constantly just speak to them in Tagalog".
"It's just interesting that you always feel like an outsider if you're the only one," he said.
In the 26 years since NIDA, Moraleda has seen a shift in inclusivity in the industry but believes there is a still a way to go. In co-founding kwento, a new culturally diverse theatre production company, he hopes to produce stories that represent the under-represented and continue that shift to greater inclusivity in our theatre.
Moraleda co-founded kwento, which translates as "story" or "to tell a story" in Tagalog, with Jordan Shea (Creative Producer – Content) and Jana Vass (Creative Producer – Logistics) in December 2020. He is the Creative Producer – Artistic. Together, they aim to produce "new and diverse works that challenge the norms of Australian society".
'Solidifying diverse stories in the canon of Australian theatrical work is crucial ...These are Australian stories, not just 'other' stories.'
The kwento cofounders want to add to the growing body of diverse Australian works that counter the centring of white voices as the dominant Australian narrative. Vass said that they want to "ensure everyone's voice is being heard because they don't believe that there is "one specific Australian voice – there are multiple".
In addition to bringing diverse representation to their casts, creative teams and crews, the kwento team also aims to be a space for artists to develop and hone their theatrical skills.
"We really want to makes sure that [kwento] is engaging with artists at different career levels," Shea said.
Suzanne Pereira, managing director of Contemporary Asian Australian Performance, a professional arts company dedicated to creating contemporary Asian Australian work, believes that emerging, culturally diverse theatre companies, such as kwento, allow artists to produce stories they value.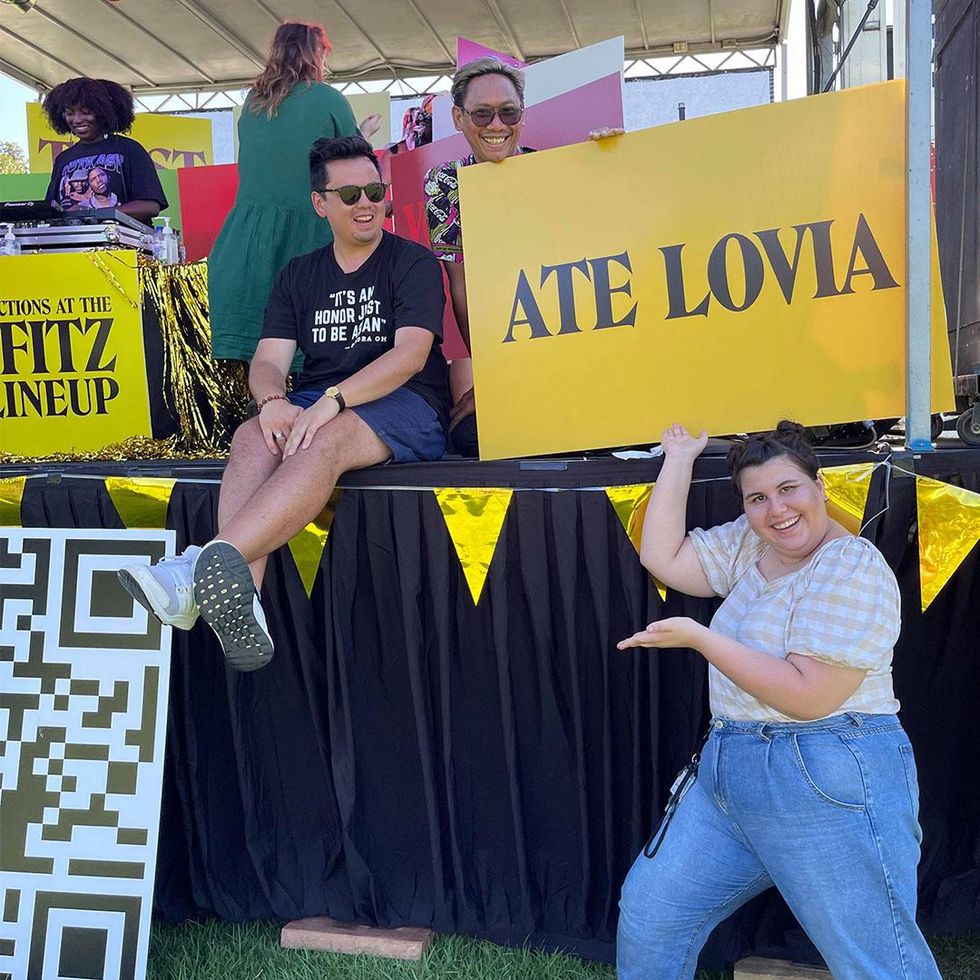 kwento's co-founders, from left, Jordan Shea, Kenneth Moraleda and Jana Vass promote their first production Ate Lovia.
"Culturally and linguistically diverse artists, artists of colour, have gotten really sick of waiting, of knocking on doors and not getting access to places," Pereira said. "Sometimes when you need space, you can't wait for someone to offer it, you've got to create it yourself."
Like Moraleda, Pereira can see improvement in theatrical diversity in Sydney but "there is still work to be done", particularly from an intersectional perspective. She says it is important not to homogenise cultural diversity and to understand the nuances and complexities of identity. Solidifying diverse stories in the canon of Australian theatrical work is crucial to cementing inclusivity in the industry. "These are Australian stories, not just 'other' stories," Pereira said.
With two plays currently in production, the kwento team aims to showcase different lived experiences of Australian society. Both plays held open auditions in order to find artists who may not have been recognised before.
Until the Delta variant put paid to Sydney's cultural life, The Marriage Agency was scheduled to open in August 2021 as part of the KXT Storylines Season. Written by Saman Shad, it is a comedy-drama about a man named Nas who opens an arranged marriage business in Australia while, simultaneously, his own marriage is falling apart. It is now planned to open in September this year.
Ate Lovia, written by co-founder Shea, will now be the company's first production, opening at the Old Fitz Theatre on May 12. Ate Lovia is a Filipino-Australian drama set in the mid 1990s about 19-year-old Lovia and her family, who live in the Sutherland Shire. It is a play that "interrogates an evolving Australian migrant dream" alongside questioning "what it means to stay loyal to your family".
Shea set the play in the mid-90s because he believes "it was a crucial turning point for Australia politically. That time of Howard and Hanson was just so hostile to so many people, we don't see much written about how it impacted first generation migrants or First Nations people".
'To present characters from your particular cultural background as fully fleshed out, wonderful ... with aims, ambitions, flaws – it's a great feeling.'
While the two plays differ in content and tone, the kwento team said both plays were unified through a common theme of trying to survive in a society where they should be, but were not always, accepted.
Diversity in the performing arts doesn't start and end on the stage, however. Pereira makes the point that representation must also occur at a decision-making and executive level, including among company leaders, funding bodies, marketing departments and programming roles. "We can't actually make significant change and systemic change until we change who holds the keys to the buildings, who opens the doors," she said.
Shea agrees that representation must also be evident backstage in roles such as lighting design and stage management. He says at kwento they have tried to engage with creative teams who have different connections to their culture. "Ate Lovia's creative team, bar one, is entirely culturally diverse and we are from all realms of Australia's cultural diversity as well," he said.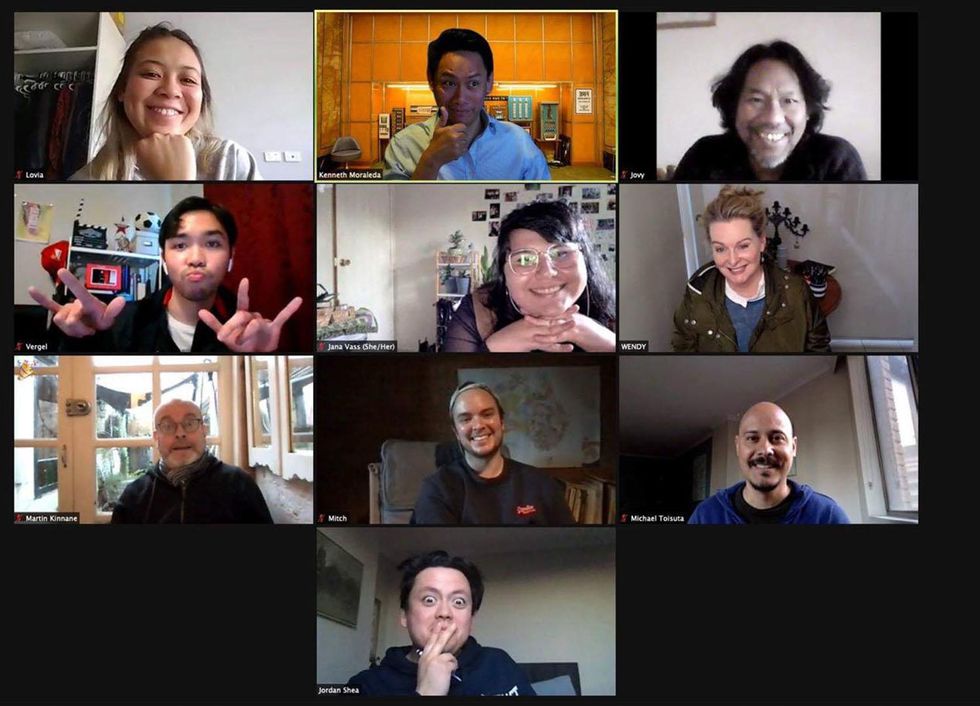 The kwento team met for an online development workshop of Ate Lovia during last year's lockdown.
Theatre-going audiences need to be a part of the diversity equation too. Both Pereira and the kwento team agreed that Australian theatre is not wholly accessible to culturally and linguistically diverse communities.
Moraleda believes "access to the theatre is the problem," rather than the theatre itself. "All cultures exist with some sort of theatre, it's a matter of keeping the conversation open." For example, kwento plans to role out community engagement programs to encourage the Sydney Filipino community to come and see Ate Lovia. "The Filipino community will come to see things if you engage with them correctly," Shea said.
With the Sydney lockdown behind us, the kwento team are hopeful the Omicron wave will have ebbed and their plays can go ahead towards the middle of the year. They have continued rehearsals and development workshops over Zoom and discussed the possibility of filming the productions if stage performance remain off limits. Vass said the team's top priority is "that everyone can still stay and get work".
For Moraleda, after playing the "terrorist or the boat person" in mainstream theatre roles, kwento is an opportunity to create complex stories that are necessary additions to Australian theatre. "To present characters from your particular cultural background and present them as fully fleshed out, wonderful characters with aims, ambitions, flaws – it's a great feeling."
— Podcast interview by Ruby Derrick, Erik Jankovic and Mikaela Lezcano.