In the year since Russia's invasion of Ukraine, online use of the Belarusian band Molchat Doma's music has morphed from simple tributes to post-Soviet living into a soundtrack for Russian military propaganda. Videos on TikTok and YouTube depict Russian soldiers riding on tanks and marching through crumbling Ukrainian cityscapes to a soundtrack of Molchat Doma's best known tracks, such as 'Kletka' (Cage).
No-one asked the band. As Molchat Doma's music is hijacked by Russian nationalism, despite their opposition to the war, the group continues to tour the world — it's safer than returning home.
In the darkened warehouse of Carriageworks' Bay 17 earlier this month, a booming bass merged with humming synths. The crowd was silent in anticipation and the crimson glow of stage lights flared to reveal three men. One leant into his microphone and announced in a rumbling voice: "We are Molchat Doma from Minsk." Aside from a quick thank-you to close the show, this was the only English the band spoke all night.
It the band's first time in Australia, kicking off with a headlining performance for Sydney's Vivid celebration, then performing in Brisbane and Hobart's Dark MoFo. The trio is composed of vocalist Egor Shkutko, guitarist, keyboardist and drum machinist Roman Komogortsev, and bass guitarist and synth player Pavel Kozlov.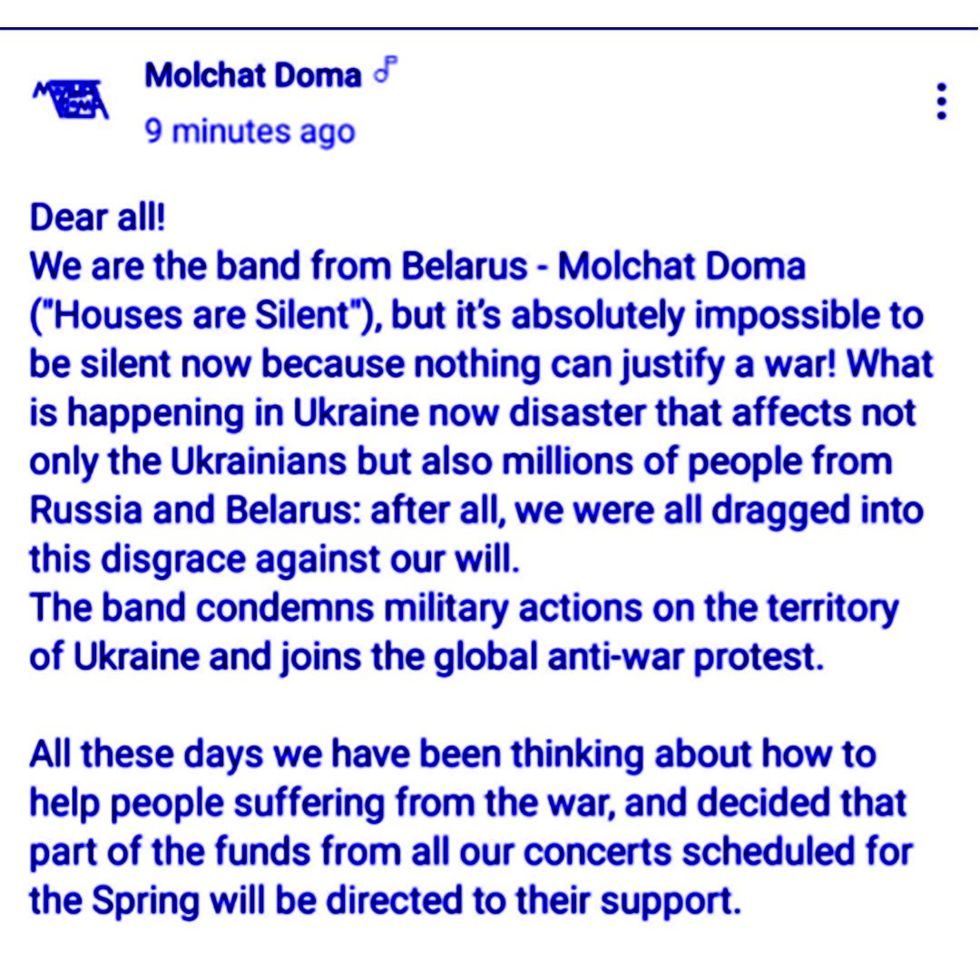 Molchat Doma's social media post protesting the invasion of Ukraine.
Molchat Doma's name, translated from Russian, means "Houses are Silent", and their style reflects this; born from a brooding mix of post-punk and dark wave that draws on 1980s Russian rock legends such as Kino's Viktor Tsoi, with a dash of Western influence from post-punk bands like Joy Division and Depeche Mode. Yet, the band inhabits a space of their own by infusing their work with a sense of Soviet nostalgia common in some former Eastern Bloc countries. Their album covers feature Soviet iconography and brutalist architecture, such as the hammer and sickle and Slovakia's Hotel Panorama, and their lyrics discuss themes of loss, death, and a yearning for bygone days.
This cultural nostalgia contributed to their early fame, as their music was featured in various "doomer" and "slavcore" edits on TikTok throughout 2020 and 2021. These edits typically featured their song "Toska" ('Yearning') playing over a reel of post-Soviet images to provide a window into Eastern European life.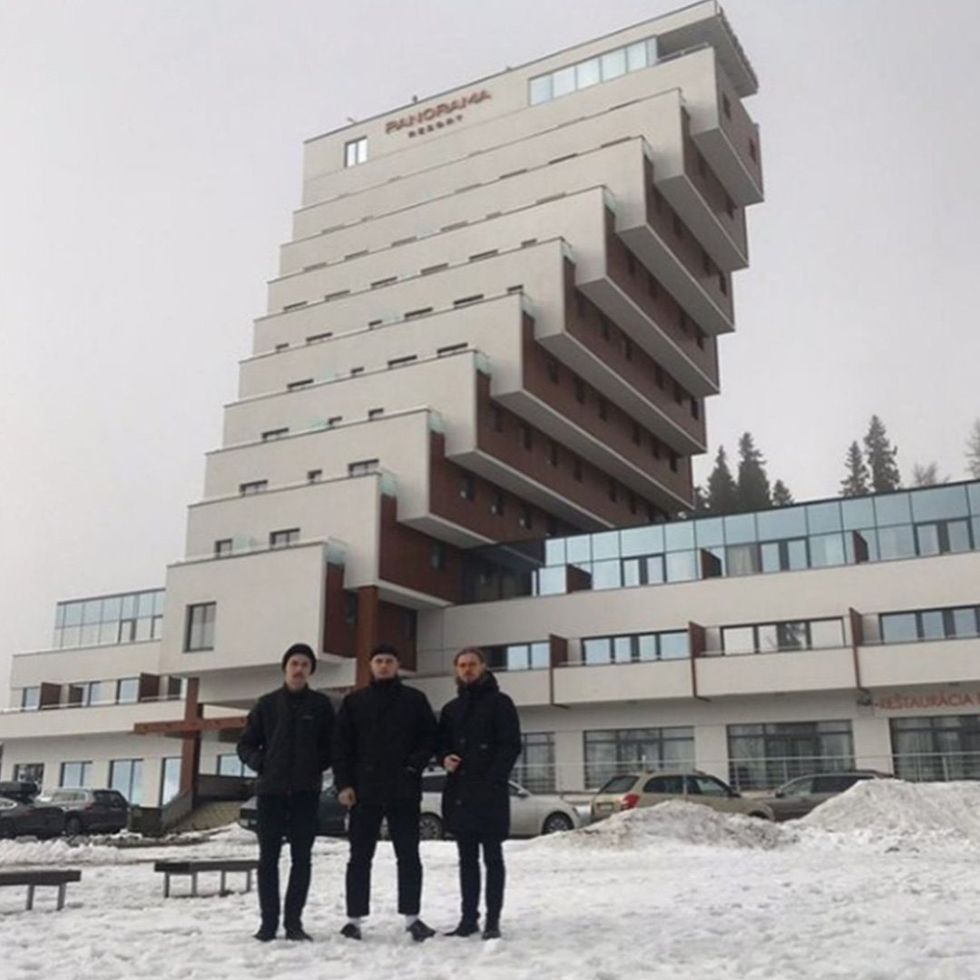 Soviet nostaglia cover art: The band in front of the Hotel Panorama in Slovakia for their album 'Etazhi'.MOLCHAT DOMA
When Russian forces invaded Ukraine in February 2022, launching the main attack from Belarus, immediately to Ukraine's north, Russia's other army, of online keyword propaganda warriors, took Molchat Doma's music along for the ride. The original melancholic message behind their work was twisted to promote Russian nationalism and to glorify the country's soldiers.
Molchat Doma's music is tinted with political commentary but far from pushing nationalist objectives, the Soviet DNA ingrained in their work serves to capture the struggle of growing up in the nation of Belarus, where the optimism of the past has faded into a repressive gloom caused by lingering traces of Soviet authoritarianism.
"We are quite depressed people… brought up in far-from-cool conditions," the band said in an April email interview with Nashville Scene. "We know there are situations much worse than ours, but one way or another, life in the 2000s — post-Soviet era — leaves a certain imprint on you."
Ukraine X Russia War: Molchat Doma Kletkawww.youtube.com
For the people of Belarus, the Soviet Union may be a distant memory, but its stifling totalitarian structures remain. When the Soviet Union collapsed in 1991, Belarus didn't fully democratise like many other Eastern Bloc nations. The country's president, Alexander Lukashenko, was elected in 1994 and has, in the 29 years that followed, consolidated total power, referring to himself as Europe's last dictator".
Today, Belarus is an autocracy that forces its citizens to adhere to strict political and artistic restrictions. In 2022, Belarus intercepted a Ryan Air flight en route from Greece to Lithuania and forced it to land in Minsk, where security police seized a 26-year-old Belarusian journalist Roman Protasevich, from the flight. (He was sentenced to eight years' jail on terrorism charges but pardoned in May this year.)
'Any hasty word that was said too loud can result in a loss of freedom.'
State-imposed censorship puts Molchat Doma at significant risk if they were to comment on issues of freedom of speech or to criticise the government or the war. In an interview with The New York Times, bass guitarist Kozlov spoke about the risks of artistic expression. "Any hasty word that was said too loud can result in a loss of freedom," he said. "In a good situation, that would mean 15, 30 days of arrest; in a worst case, two to three years behind bars. So, as a band, we don't talk about politics, and our music doesn't touch upon it."

The threat of imprisonment hasn't totally silenced Molchat Doma: in March 2022, the band spoke out against Russia's invasion of Ukraine in a social media address under the hashtag #STOPWAR. They condemned the invasion and pledged some of the funds from their spring shows to Ukraine.
This declaration of solidarity was a dangerous move, and Shkutko, Komogortsev and Kozlov could have joined other dissidents jailed by the regime. Thus far, they have avoided detainment through constant global touring, not returning to Belarus since 2021. While their music doesn't outright condemn the conditions of their nation or decry Russian expansionism, they capture the sorrow-inducing climate of the current geopolitical landscape in their music and use it as fuel for their performances across the world.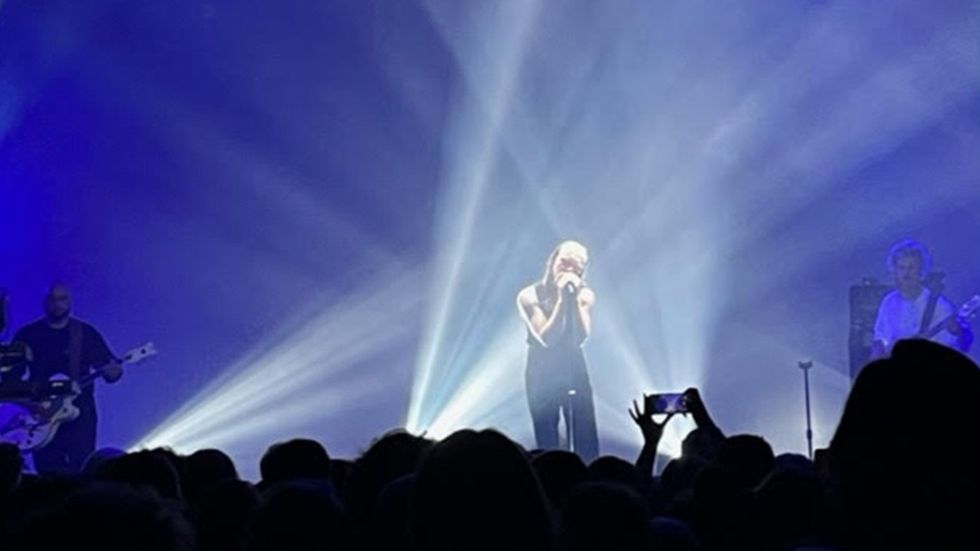 Molchat Doma perform at Carriageworks, Sydney in June.KYLE SIMITZS
The Carriageworks performance epitomised the paradox of their music's impact. Despite the melancholic subject matter of their songs and the restrictive conditions of their homeland, Molchat Doma revelled in the opportunity to spread their art to an Australian audience.
For many in the crowd, the performance had a personal resonance of national significance. Belarusian and Ukrainian flags were held high, and when the band departed the stage at the end of the show, they were farewelled with cries of Slava Ukraini (Glory to Ukraine) and Zhyve Belarus (Long Live Belarus). Where one would expect discord between these two groups due to the war, there was no conflict to be found at the performance. They seemed unified in their celebration of the music, leaving the concerns of the crisis outside of the venue.
While Belarus continues to languish under the shadow of despotism, and the war rages in Ukraine, joy can still be found in the experience of art. Molchat Doma's music shows that even in these dark times, aspirations for a brighter tomorrow never quite die.