Review
Sexual Misconduct of the Middle Classes
Belvoir St Theatre
Rating: 3.5 stars (out of 5)
Award-winning writer Hanna Moscovitch's play Sexual Misconduct of the Middle Classes makes its Sydney debut at Belvoir. It is a timely play, written by the Canadian playwright in 2020 amid a momentous era for #MeToo, which brought to light a multitude of stories of abuse of power within our cultural and political institutions. As Petra Kalive writes in her director's note: "It is no wonder then that a play like Sexual Misconduct of the Middle Classes finds its place on our stages."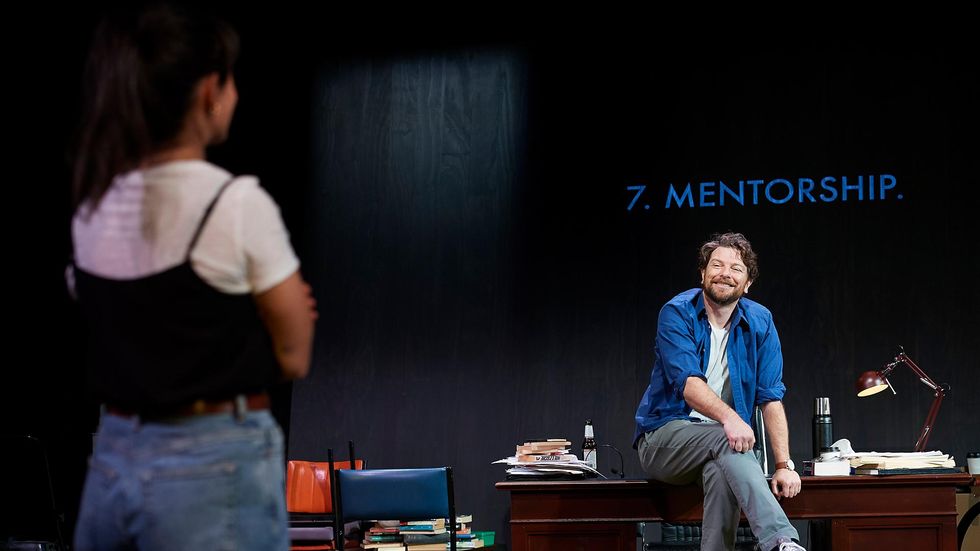 Izabella Yena and Dan Spielman explore student-teacher power dynamics.BELVOIR ST THEATRE
Annie (Izabella Yena), is a 19-year-old, bright-eyed, first-year undergraduate student trying desperately to find her feet while fangirling over her "cool" arts lecturer Jon (Dan Spielman), a self-proclaimed "rockstar-professor" and award-winning-writer who is picking up the pieces of his failed third marriage. Jon becomes instantly intrigued by Annie – or as he knows her, "the girl in the red coat" — who sits at the front of his classes, is a fan of his work and just so happens to live across the road from him. It is a carefully crafted exploration of the power dynamics at play within our institutions, in this case, shrouded by the impenetrable cloud that is "academia".
Jon is undeniably repugnant yet, through some masterful wizardry within Dan Spielman's craft, we warm to him.
Moscovitch's writing is razor-sharp and hilariously confronting, taking the audience on a journey as Jon narrates the "affair" from his perspective. The audience (much like Annie) are silenced by the contradictions and complexities of his internal monologue. He is seemingly self-aware of the immorality, announcing that "this is bad", yet is unable to control his urges in ways which are quite literally inexplicable to him — "so um … yeah" — and to us.
Jon is undeniably and resoundingly repugnant — teetering somewhere between obnoxiously charismatic and deeply nauseating. Yet, through some masterful wizardry within Spielman's craft, we warm to him. That is, until a swift shake-up in tempo reminds us of the harrowing narrative we find ourselves in.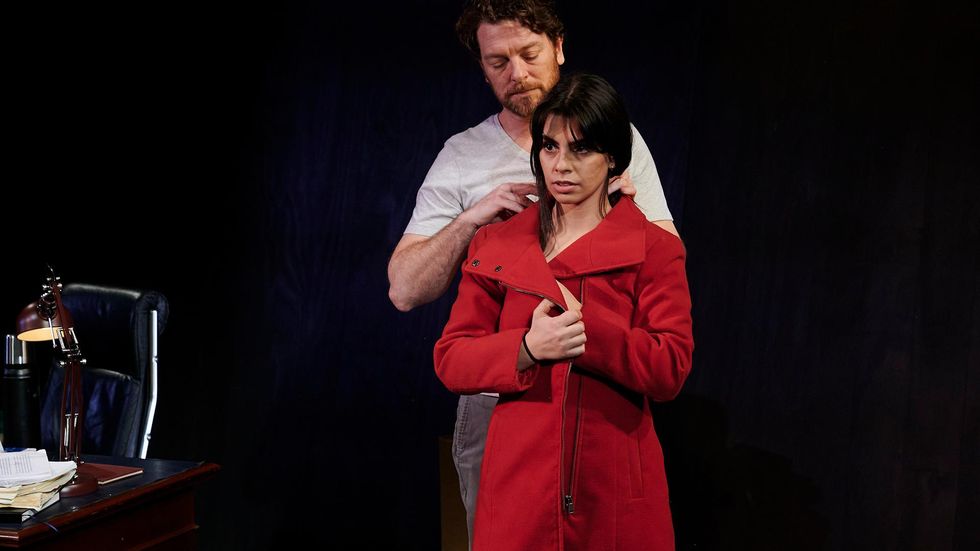 Powerful silences tell the story in this #MeToo tale set in academia.BELVOIR ST THEATRE
With no audience access to Annie's inner dialogue, Moscovitch teases the question — who is actually in control of this story? Despite being drowned out by Jon's narration, Izabella Yena lets the audience in on Annie's complex inner life with a grounded wisdom that resonates throughout her performance. Yena is totally compelling in the role at every stage – in Annie's 19-year old naivety, her 23-year-old vigour and finally her unwavering strength and maturity at 31, proving her to be so much more than the "dull look" Jon reduces her to.
Do the silences that bring Sexual Misconduct of the Middle Classes to life silence other more diverse non-middle class stories?
While the story can feel somewhat predictable, it is the things left unspoken, the "pregnant pauses" as they are aptly described, which generate the play's true meaning. Movement consultant Xanthe Beasley's clever direction uses these moments between words to keep the weight of the circumstances alive within the bodies of the performers. In this way, the play reminds us of the importance of these stories and conversations beyond the theatre foyer, as it is often what is left unsaid that speaks the loudest.
The play, while touching on important themes, adds one more volume to the catalogue of white-middle-class stories which oversaturate the #MeToo space, co-opting what originated as a black civil rights movement spearheaded by Tarana Burke. Do the silences that bring Sexual Misconduct of the Middle Classes to life silence other more diverse non-middle class stories?
In saying that, too often it is the middle classes that do not get held to account, their behaviour reinforced and legitimated by the powerful institutions from which they operate. For the mainly white middle-class Belvoir audience, the conversations this play sparked in the foyer might just justify its necessity.
Sexual Misconduct of the Middle Classes is an enjoyable and provoking night out. It's a tragic tale, if one that errs on the side of caution, with most of its conflict generated through silence. If you're looking for the kind of theatrical treatment of the "fired-up screaming at the TV on a Wednesday night" kind – this probably isn't for you. It is, however, a tale that will have you walking out of the theatre equipped with a fresh perspective and a number of post-show dinner conversations.
Sexual Misconduct of the Middle Classes runs at Belvoir St Theatre, Surry Hills until July 10, 2022.