At the start of the war, these artists fled their homes and paused their artistic practise. Now, fuelled by a desire to document the moment, they are driven to create.

In Kyiv, air sirens wail, the missiles fall and Yulya dances on. Veronika fights her war with words: publishing plays, directing festivals, reinvigorating Ukrainian culture.
"It's very important to continue to work with art," Veronika said.
War and art may seem far apart but as Russia seeks to crush Ukraine's army and identity, Yulya and Veronika, far from the frontline, are fighting a secondary essential war to preserve Ukrainian culture, retain language and embolden Ukrainian identity.
"Art is something that produce values," said Veronika, who believes that to be an independent country it is necessary to have an independent culture and that part of this is the creation of contemporary art. "Then you can be like [a] successful country, subjective country with your own identity and be ready to defend your borders."
*****
IN THE beginning, both Veronika Skliarova and Yulya Lukyanets fled their homes, paused their careers, paused their art. Now, they pursue their art with great determination – fuelled by their desire to document this moment in time and preserve Ukrainian culture.
"I don't remember anything that is before. Of course, I have sweet memories and cool memories, but I feel that now all I remember is that something started on that day," Yulya said. That day was February 24, 2022, the day Russia invaded Ukraine.
'It's artists against invasion, culture versus colonialism, freedom of speech resisting an empire.'
"It's like a new life," Yulya said, speaking by Zoom from Kyiv, the capital of Ukraine, where she now lives.
For Veronika, there is a terrible repetition to her new life. "Everyday someone amazing, someone very nice dies and it's quite a marathon to deal with it every day. Not once, not twice, but really every day. Now I'm seeing that the war won't stop in the nearest future. I think it will be really for a long time."
*****
WE FIRST met these women in April 2022, less than two months after the invasion. Back then, "Yuliia Lukianets" was living in Poltava, 300 kms south of Kyiv and "Veronica Skliarova" had escaped to Germany with her two young sons. Veronika has since returned to Ukraine. As they fight for the survival of their country and culture, both women have adopted the Ukrainian spelling of their names Veronika Skliarova and Yulya Lukyanets.
It has been more than 500 days since the start of the war. Russian President Vladimir Putin had thought his "Special Military Operation" would be done in a week. When I mentioned the July 8 500-day milestone, Yulya said "it's so funny that you know what is the day now. Last time when we met, I think I also counted. But now I don't even count."
'What is this sacrifice for? So that other people, our children, will live in a beautiful country.'
In July 2023, UNHCR estimates there are 6.2 million Ukrainian refugees outside the country, with an additional 5.9 million internally displaced; including both Veronika and Yulya.
Veronika reflects that when the war first began she was scared but it was an initial reaction. "Now I'm very scared, in advance, of the impact of the war to the psychic health of society," she said. "It's very scary because … people become, not more violent, but more unpredictable and the level of human despair is huge."
As the war drags on, the men and women fighting on the frontlines are not professionally trained soldiers, they may be playwrights, dancers and artists. Everyone knows someone. In Yulya's case, her Mum is working as a nurse in Kharkiv. There have been an estimated 125,000 Ukrainian frontline casualties. For Veronika, the dead and wounded aren't just "civilians"; they're colleagues or writers such as Victoria Amelina, who was killed in July after a strike in Kramatorsk.
For men, there is renewed pressure to join the fight. Initially, men aged from 18 to 60 were deemed eligible for military service and prohibited from leaving the country. Rules around conscription have tightened this year. Now, with the level of internal displacement making it difficult for authorities to locate men at their registered addresses, the law has been changed to allow mobilisation papers to be delivered on the street.
"Males, they can't just walk on the streets," said Veronika, whose husband works delivering humanitarian aid in Kyiv. "They immediately get a ticket to go to the war or to military centres."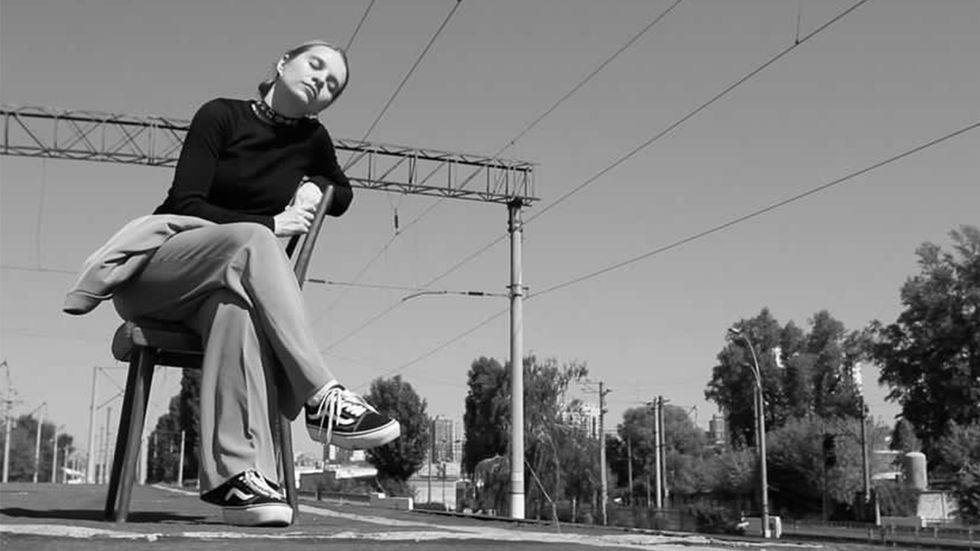 Yulya Lukyanets has returned to live in Kyiv.SUPPLIED
Yulya's journey: From Poltava to Kyiv
"We are living in the centre of Kyiv and here we have air defence system. It's very loud and you hear it. It's like 'boom, boom'."
In 2022, with Kyiv under constant Russian missile attack, Yulya fled south to regional city of Poltava, but has found her way back to Kyiv last August, in an effort to reclaim some of her life before the war.
"I'm sure that all Ukrainians lived through the feeling of when they felt that it is their last day. Like literally, it's their last day," she said. "If it's my last day, do I want to live my life each day experiencing this huge mess of drama, and tragedy and sadness and mourning and seeing all those deaths?
"I really want to experience at least something that brings me joy, pleasure, something mine. I want to read. And I want to dance. And I want to interact with my students, or I want to teach, or I want to help people," Yulya said.
At the beginning of the war, Yulya did not dance for months. At times, she struggled to get out of bed. Now, dance keeps her going. "I try at least every day to live it like, not my last, but maybe my last day. So, I'm back to my dance.
"Dance is something that keeps me up, I can pull myself together. It's something that gives positive emotions, some endorphins, chemicals. It affects my body, so I feel better."
Veronika's journey: From Germany to Lviv

'It's long, long story after Germany.'
Veronika's story is like that of many Ukrainians. Displaced, hopping from country to country. When the war began, she was living in Kharkiv with her husband and two sons. They happened to be on holiday when Russia attacked their hometown. Veronika and her children managed to escape to Germany via Poland; initially only having packed for a short family holiday.
"I couldn't manage to have permission to work in Germany. They didn't allow us, me and my kids, to register there. And then I didn't have money."
A job opportunity came up in France so she moved there for a few months, then to Croatia for a few months. Veronika is the Festival Director of Paradefest, a contemporary theatre festival that before the war, was based in Kharkiv. Now, although displaced, festival staff work remotely, continuing to produce new work.
Early in the war, they recovered art archives from cities under attack such as Kharkiv and the surrounding regions, moving the artworks to safer locations.
Then, Veronika and her team published fellowship 24, a series of contemporary Ukrainian plays, published in their native language as well as English.
This year, Veronika and her team created With Fire and Rage, an "immersive audio experience following artists on the frontline in Ukraine". Presented in Liverpool, UK, as part of Eurofest 2023, Veronika explained it was about Ukrainian artists' resistance and resilience, showing how some went to the frontline, some remained behind to support refugees and how they, step by step, started to work. Writer, Victoria Amelina whose recordings were used in the project, was killed last month.
Finally, Veronika made it back to Lviv, Ukraine.
"We went back to Lviv. Both to work and, also, I wanted my youngest kids to go to school offline. To see kids, to talk to them in Ukrainian. It's important to be in this normal environment."
This "normal environment" in their new school can mean some days the children spend all day in the basement, "But they have a very nice shelter in school".
"I like the school, they're trying to explain how it works, what this war is about," she said. Every day the children observe a minute of silence for Ukrainians killed in battle, followed by the singing of a Ukrainian hymn.
Lviv is considered safer than many other Ukrainian cities but it's relative. Two days before we spoke there was a cruise missile attack, destroying several civilian apartments. "It was so loud. It was maybe 1 km from our apartment."
Since the missile strike, her boys want to sleep in the same bedroom as her each night. "I mean, I'm trying to convince both myself and you that it's kind of normal now back in Lviv, but it's also not normal."
From dam busting to nuclear peril
The war plays out in tragedies small and large. For Yulya, "one of the most emotionally tragic events during all this war" unfolded on June 6in the east of the country. The 3.2 km-long wall of the Kakhovka Dam was breached by what Ukrainian President Volodymyr Zelensky described as an "internal explosion of the structures" within the dam. It led to a devastating uncontrolled release of water and widespread, rapid flooding of the Dnipro River basin.
Yulya finds talking about the dam is difficult. She has to pause to compose herself. The river's left bank is controlled by the Russians, the right by the Ukrainians.
"I was worried because… I knew that [the Russians] would leave the people die in the water and, and afterwards we heard the news that corpses were floating, corpses of old people children, because nobody cared. Some of our soldiers were able to evacuate some people from the left bank, even though it was very dangerous but it's almost impossible."
Two days after the dam attack, Zelensky announced Russia had launched an assault on a flood evacuation centre. "I just I was shocked. I couldn't even say that it's an appropriate word to describe the feeling."
For Veronika, the dam attack signalled Russia is becoming emboldened; potentially moving one step closer to triggering a nuclear disaster.
"After the dam I was thinking about it really a lot because it's the next step… They can expose the nuclear plant station in Zaporizhzhia. That is possible. If they did this, if they're really stupid enough to make such a step, they will not stop."
It is front and centre of many Ukrainians' minds.
"I think that Ukrainians are ready for everything," Yulya said. "I'm like, 'Okay, I need what are we gonna do? We need some medicine, we're gonna buy this. We need some food. We gonna stay in our house?'
"Everybody, even my parents, we talked about it. My brother who is 16 years old, we are talking about how will they survive."
The Zaporizhzhia nuclear power station, in south-eastern Ukraine, is the largest in Europe. It has been under Russian control since March 2022 but Ukrainian technical staff continue to manage the facility. For months, Kremlin-backed media has claimed Ukraine is mismanaging the powerplant. Many Ukrainians fear this is a propaganda ploy designed to pave the way for a nuclear "accident".
Living in the shadow of a nuclear disaster, both women describe a sense of isolation. While grateful for the ongoing international support, Ukrainians say words and ammunition are not enough. The destruction of the dam, and the lack of consequences for Russia, have left Ukrainians asking: What is NATO's red line, does it have one? "We felt abandoned," said Yulya, of the lack of outside support during the catastrophic flooding.
"I have a feeling that we're just being watched, how we are being killed. I don't know. Maybe it's not as simple and we are not the centre of the world," Yulya said.
At the NATO Summit in Vilnius last month, member countries refused to give Ukraine a timeframe for joining the military alliance.
"It's like we have support and words, but without real support and without their actions," Yulya said. "Every time I ask, what can be worse? Like, what in the world what are you waiting for? Are you waiting for the time when like half of Ukraine is destroyed? Is it the explosion of the nuclear plant? What is the final line?"
Sacrificing it all for the children
Neither Yulya nor Veronika chose to run this marathon, a dictator with imperial delusions decided for them.
"I don't know how many more sacrifices we need [to make] … But it's not our choice. Somebody decided it for us. What is this sacrifice for? So that other people, our children, will live in a beautiful country.
"We have no choice but to win and to think only about victory, I feel that if we don't win, we will perish," said Yulya.
Yulya remains in Kyiv, teaching and dancing with her community in person and online. "My hope is that we can show the power of kindness. To show that the good side can and will win. I'm sure that it will win."
This month, Veronika was awarded an artist's residency in Scotland, where she will work until January 2024. She is "a bit desperate to believe that it will finish soon. I really see it as a marathon."
Veronika sums up the role of the artist in her director's note for the With Fire and Rage immersive audio installation: "It's artists against invasion, culture versus colonialism, freedom of speech resisting an empire."