The way society perceives the victim and abuser in the sensitive issues of domestic violence and family abuse is dictated by the white privilege of Australia's mainstream media, according to a panel of prominent First Nations women.
Journalist Bridget Brennan, Sono Leone, who heads a domestic violence NGO, and academic and health researcher Chelsea Watego discussed the need for Aboriginal women's voices to be amplified to take control of the true narrative that has been warped by the Australian media. They were speaking at the online panel discussion "Future Voices: Decolonising Australian Media" at The Wheeler Centre in Melbourne earlier this month.
Bridget Brennan, a Dja Dja Wurrung and Yorta Yorta woman and the ABC's Indigenous Affairs Editor, recounted an event in Alice Springs, where rural Aboriginal women marched down the main street in order to demand the media report on the deaths of women in their community accurately.
"Someone I know said to me 'that story was really powerful, it's so hard to get Aboriginal women to talk about these issues,' and that made me so angry because it's not, they just haven't been given the microphone. There's a difference between being voiceless and not having the amplification," Brennan said.
That lack of amplification of the voices of Aboriginal women comes as data shows an Aboriginal woman is up to 80 times more likely to be a victim in family violence and have 29 time s the rate of hospitalisation for non-fatal family violence assaults than a non-Indigenous woman.
'When I'm writing a story ... if it doesn't mean something to a black audience then it's meaningless.'
Sono Leone, a proud Butchalla and Garrawa woman and CEO of domestic violence organisation Strong Women Talking, believes that Aboriginal women are looked at in a different light when it comes to domestic violence situations.
"It's really hard being in the domestic violence space when societal DV services are all based around white feminism and when you come and have this different lens, it's like you are almost looked at like, 'oh my gosh what is she talking about' because it's so singular," she said.
Leone says she's noticed this lens not only in her work in domestic violence but even when she's been interviewed for media stories. "I was rung up and interviewed around a coercive control piece but obviously what I said did not fit the narrative, so I didn't get any airtime or even make the cut – I don't know if it was too foreign, or they didn't understand what I was saying."
Professor Chelsea Watego, a Munanjahli and South Sea Islander woman, who works as an Indigenous health worker and academic at QUT's Faculty of Health, challenges how white feminism has paved the way for Aboriginal female voices to be silenced in the issue of domestic violence.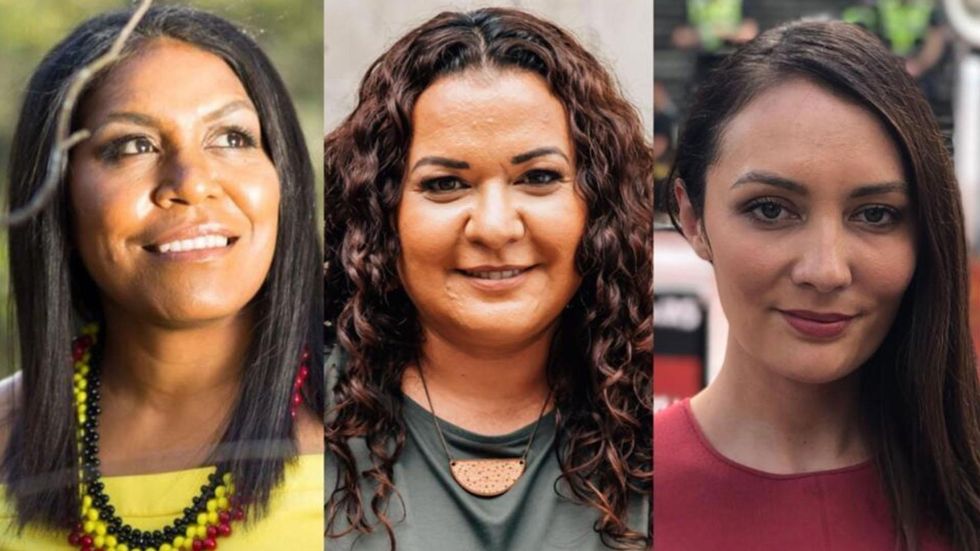 Demanding a new true narrative: From left, Sono Leone, Chelsea Watego and Bridget Brennan. WHEELER CENTRE
She referenced Goenpul author Aileen Moreton-Robinson's book, Talkin' Up to the White Woman , never out of print since it was first published in 2000, which explores how white feminists constructed their views of Aboriginal women. Watego sees a similar pattern in the way the Australian media paints Aboriginal communities in a violent light.
"They cast us in a certain way, but also decide what the narrative can be before we've even put pen to paper."
Watego said the narrative that has been shaped by white women affects the relationship that Aboriginal women hold with white women.
"White women are talking about coercive control but that's the relationship that we find ourselves in with white women," Watego said. "To ignore all of those stories, yet at the same time in the media, push out this line that Aboriginal women are silent about this violence and their experience … If we dare challenge that, then there's something wrong with us, we are now the threat, we are now the perpetrators. White women are the ones that are perpetuating this."
Brennan thinks the issue is bigger than a failure by the media to sensitively cover issues of domestic violence, saying that even on something as universal as vaccine hesitancy, the media's coverage has been really concerning.
"Even in COVID, we have seen an absence of discussion around health policy. I think it's a shame on the nation that we don't first look at how this will affect the First Peoples, instead it's always up the back and I think that has a really damaging effect on a lot of different areas."
However, an effort has been made to increase the amplification of the Aboriginal female voice in the media environment. Brennan's work in the Indigenous Affairs Office at the ABC is symbolic of the movement that is being taken to involve Aboriginal audiences in a respectful manner.
"Naturally for me when I'm writing a story about someone, it's them, they are at the heart of the story, rather than thinking about the audience so much. If it doesn't mean something to a black audience then it's meaningless."
"For all non-Indigenous people, if you are thinking about how you can support the work of Aboriginal people, please amplify the voices that already exist in the media. We are carrying on the work of our ancestors."