The Afghan-Australian cricketer helping a new generation of Afghan refugees into the sport.
Abdul Hameed Kherkhah still remembers the shock of arriving in his new country.
"I definitely remember the early days … It was sort of leaving everything behind and moving with family here. We felt very lonely and separated from everyone, cousins, uncles, aunties … not knowing anyone within the community," he said of the move to Sydney in 1999.
Twenty-four years later, much has changed. "What I have now, I don't think I would ever have anything like this in Pakistan or Afghanistan. So, I am very lucky, very fortunate to be here."
'I heard that you are a pretty good cricketer ... I thought this is like a dream come true.'
As a child in Pakistan, Hameed would play cricket with his older brothers. When they moved to Australia, those battles, using old tennis balls, between the seven brothers continued. In their new home, cricket was the only point of connection the brothers had back to their old life. As he made new friends through school, they played cricket with leather-cased hard balls and his "passion to play with hard balls" was born.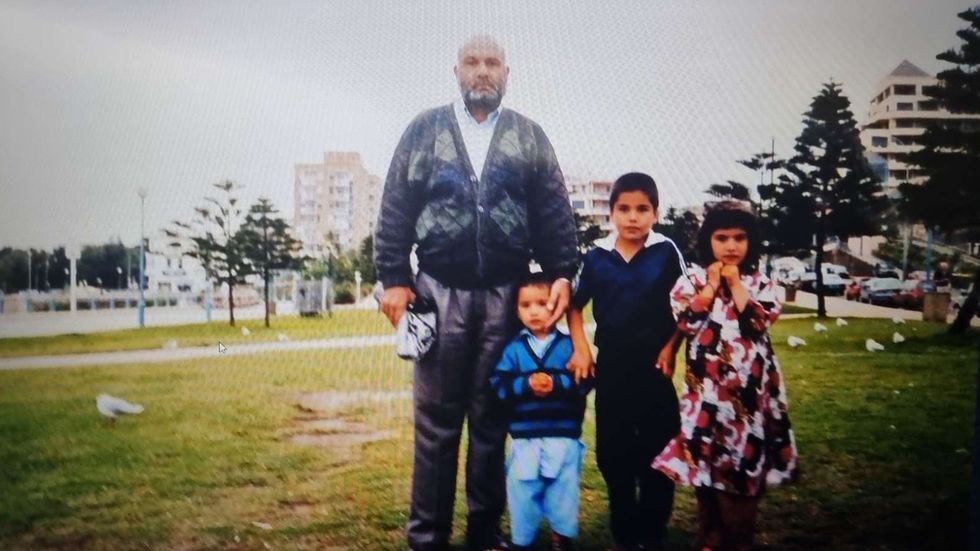 Abdul Hameed Kherkhah, second from right, with his family in Auburn, western Sydney.SUPPLIED
In Australia, a young Hameed saw sport was "part of everyday life" and it was difficult to "live without sport". He recalled when he started at Holroyd High School in Sydney's west, the school's cricket team played every Tuesday afternoon. "My brother was in that team, so I got picked," he said.
The teenaged Hameed was in love with cricket, and wanted to make a career of it but his parents were not supportive. "No-one in the family was happy [for Hameed or his brothers] to play any sport because our parents' mentality was that once the war finished, we would go back to our country," he said. "My dad and my mum wanted us to be a doctor, engineer or something like that and go back home [Afghanistan] and help out."
He kept playing, focussed on improving his off-spin bowling technique, but recalled that without his family's support, it was a hard road. "Once I got my [driver's] licence, I was struggling to find a way to be a professional cricketer. I tried very hard." In the community, he met a man who had played Under 19s representative cricket for Pakistan. "I told him that one day I would like to play for Australia, or for NSW cricket. How do I do that?" His advice was to join to a local cricket club.
Abdul Hameed Kherkhah was 19, working as a night stacker for Coles in western Sydney in 2010, when he received his first call up from a cricket club. "I got a phone call from Pennant Hill Shire Cricket Club, and [the man] said, 'I heard that you are a pretty good cricketer, we have some injuries, and we need one player to play for us this week on Saturday?' … I was very excited, I thought this is like a dream come true."
Four years later, in 2014, Kherkhah saw a new opportunity to further his dream when the Twenty20 Big Bash League introduced a community rookie initiative whereby each team would name two rookies to its squad from a non-Anglo cultural background. In western Sydney, he was one of 25 aspiring cricketers from Afghan, Indian, Nepalese and Pakistani backgrounds who nominated themselves for a six-week contract with the Sydney Thunder team. In winning a place, he became the first Afghan-Australian to join the squad. "From those 25 players, I was lucky to get picked," he said.
Abdul Hameed Kherkhah, right, with former primer minister John Howard and Ziaulhaq Abdul Rahimzai at the 2019 Bradman Gala Dinner.SUPPLIED
At the completion of his contract, Kherkhah remained with Sydney Thunder, working in their community leadership program to help motivate Australia's new generation of cricket stars.
"It was all about sharing the story of my cricket journey and my dad's story about how we got here [Australia] and also Usman Khawaja's story," Kherkhah said. (Khawaja, a Pakistani-born Australian Test cricketer, was a foundation member of Sydney Thunder. Kherkhah's father arrived in Australia by boat in 1997 and was accepted as a refugee; the rest of the family followed by plane on a refugee visa two years later.)
"I was also the captain of the Sydney Thunder community team, where we went to Melbourne, Wagga Wagga and played against the other multicultural teams."
Fast forward to August 2021, when the Taliban routed the Afghan government, more than 6000 Afghans were evacuated to Australia, with hundreds more who had left the country and moved to Pakistan, Iran and other neighbouring countries, also granted visas.
'I want an Afghan to represent Australia ... I don't want them to think that there is no opportunity for us here.'
"Since the Taliban arrived, a lot of Afghans have arrived [ in Australia] and there are very good players [among them]," Kherkhah said. "I am working with another coach to come up with a program to push them forward, to show them pathways and help them to play professional cricket."
"As an assistant coach in Hawkesbury Cricket Club, the benefit to myself and for the Afghan community is that I give everybody a chance to represent or play good cricket."
When Kherkhah was growing up, his parents discouraged him from pursuing his passion for cricket, wanting his to focus on his studies. After years of struggle, as they saw him make a career out of his cricket, his parents gradually started to appreciate sport and to support him to achieve his future goals.
"Now my parents, they love the sport, they love cricket, they're always supporting me. Every Saturday and Sunday I'm not at home because I'm playing cricket but before they were always asking me: 'why am I playing cricket?' … Now they are all supportive; my nephews are playing, my kids and nieces are playing [cricket].
"Now cricket is a big thing in the community, and I have organised a lot of [sport] events and competitions for the Afghans."
As a boy, Kherkhah dreamed of playing for Australia. That won't happen but he sees a new path. In the near term, he wants to become a senior cricket coach and help the new generation of Afghan refugees to one day represent Australia. In the long term, he sees himself as a coach for a national cricket team — Australia or Afghanistan.
"I want to become a head coach of a club and hopefully that will be sometime very soon, and then progress from there as a coach and help my community," he added. "I want an Afghan to represent Australia. There are a lot of Afghans, and I don't want them to think that there is no opportunity for us here [in Australia]."
"Every coach has a goal, to coach a country, of course that would be a dream come true to be a coach of an Australian department or even Afghanistan as well."