Italian world record holder says time in Australia opened his eyes to a new level of professionalism in swimming.
When I first knew Simone Barlaam, he was a happy-go-lucky exchange student at Castle Hill High School in Sydney's north-west, affectionately known as the "Italian Stallion". He also just so happened to be a Paralympic world champion.
This week, he will compete against Australia's Paralympians in the pool and if he touches the wall first ahead of our swimmers, Australia will have played a not insignificant role in the making of this champion.
To say Barlaam is a decorated swimmer would be an understatement. He is a seven-time world champion and a five-time European champion Paralympic swimmer and has been described as "the king of the S9 division".
The S9 classification covers "swimmers with weakness, limb loss or movement difficulties in one arm or leg only; or with slight co-ordination difficulties". The athletes use regular starts, strokes and turns.
'Being [in Australia] made me understand what it was like to train professionally, to train every morning and every afternoon and going to the gym.'
Barlaam was born with a deformed hip and congenital hypoplasia of the right femur meaning that his right leg is shorter than his left. It hasn't slowed him down. In the most recent Para-World Championships in London in 2017 he won every race he swam and he broke four world records in the process.
Barlaam's Australian connection happened when he spent 12 months on exchange in Australia over the summer of 2017-18, joining us at Castle Hill High in the Year 12 Class of 2018.
"My time in Australia definitely made me grow as a swimmer," Barlaarm said. "That was truly forging me for my future."
In Australia, he trained every morning with able-bodied, two-legged swimmers whereas at home in Italy he had done tailored para-athlete training. He also had the opportunity to compete in the trials for the Gold Coast Commonwealth Games, swimming alongside Australia's national team and sharing a podium with Aussie Paralympic legend Timothy Hodge.
"The whole experience really made me want to push harder and galvanised me and made me fall in love with sport even more," he said. "Being [in Australia] made me understand what it was like to train professionally, to train every morning and every afternoon and going to the gym. Which is something that probably because I was too young to understand, I didn't know I needed before going to Australia."
Barlaam also noted the different attitude towards the sport, that it seemed to be synonymous with Australian culture.
"In Italy, swimming is some minor, minor, minor sport. Here everything is about soccer or football and all the other sports are put to the side," Barlaam said, speaking by Zoom from Milan, in northern Italy, after a training session. "In Australia there is footy, there is swimming, there is cricket, so it's a little bit more equal and I think that the culture about sport in general is different.
"Australia makes it way easier to at least to pursue studying a career and for anyone to pursue a sport … In Australia if the student is a professional athlete the school is proud to have them, and they try to help the student too to be able to balance the two things."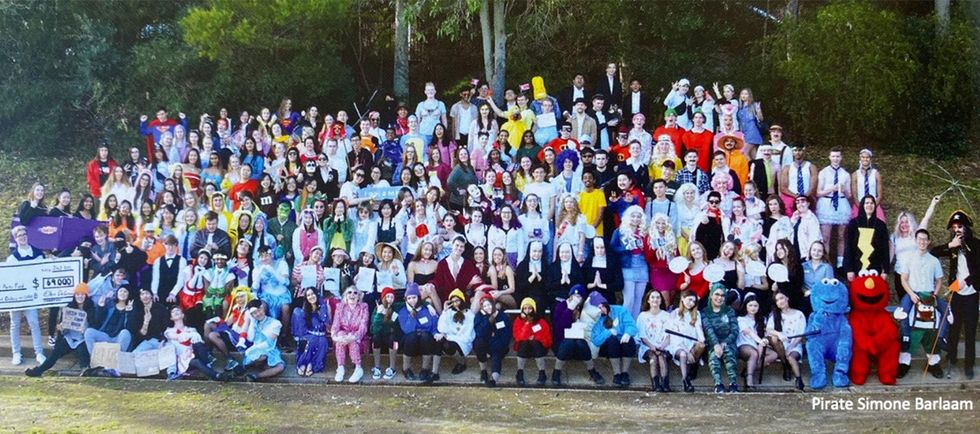 Castle Hill High Muck-up Day, 2018. Simone Barlaam as a pirate, far right.SUPPLIED
Barlaam returned to Italy in 2018 with a goal of competing in Tokyo. At the start of 2020, his training season was ramping up for the Paralympics in the second half of the year. Then COVID happened.

When the pandemic hit, Barlaam's family was scattered across the globe. He was living in London with his girlfriend, his sister was on exchange in Canada and his dad, a foreign correspondent, was on assignment in New York.
"My family was spread all around and that was a little bit scary because no one was near the action … One of my teammates lives in the [Italian] countryside so usually she hears nothing but birds from the windows and she told me that in March 2020 she could hear like 25 ambulances a day which was quite surprising in an obviously bad way," he says.
Italy was the first European nation to be hit hard, giving the rest of a world a window into the horror of the impending pandemic. Eighteen months later, more than 128,000 Italians have died.
Barlaam says while the lockdown interrupted his training program, it gave him the opportunity to connect with the passions he normally would push aside as an athlete. He started drawing again and reading more. "Drawing and reading is a sort of Nirvana in that it makes your mind just fly away and imagination run free and escape the rest of the world for the little bit."
The pandemic has upended lives and tested the personal resilience of people across the world. For Barlaam, resilience is something he has had to call upon throughout his life. "The word resilience is the word that has accompanied me for a while, for all my life, let's say with slightly different meanings and connotations; now sportier, when I was younger and much more under the knife in operating rooms, a little more from a personal point of view," he said in an Italian Paralympic YouTube video released ahead of the games. "But it is a word that means a lot and that I think is perhaps one of my components that make me who I am."
"Sport in my life is now an integral part. As well as a passion it has become a profession and is a very important component of what defines me."
He also spoke of his long held post-Tokyo 2020 plan to return to Australia to be reunited with the friends he made in his exchange year, but "unfortunately I think will be very difficult because Australia still has a very strict policy, closed boarders and various lockdowns".
Beyond the glamour of the pool and podium, Barlaam says he is "the 'normalest' guy", with all the ordinary challenges that everyone goes through in their twenties. "The media show you the picture of a swimming winner, always muscly and celebrating in the pool with medals and smiles, but in like 30 minutes I'll be there cutting my veggies cooking my lunch and then washing my dishes like the most normal person."
When Barlaam dives into the Paralympic pool this week, expect "The King of S9" to be anything but ordinary.
I wish him well in creating electrifying new moments and breaking world records. But whatever extraordinary goals he achieves in Tokyo, my favourite memory of him will always be captured in a class photo from 2018: there he stands in the Year 12 Muck-up Day group shot, six feet, two inches tall, a pirate with an eye patch and long, shiny fake facial hair, smiling widely, waving his legitimate prosthetic leg in the air.
#versoTokyo: Simone Barlaamwww.youtube.com