With luck, Peter And Kylie Warrington survived the South Coast fires. Two years on, they worry lessons hard learned will be forgotten.
TEN minutes out from 40 Corunna Road, Narooma, I get a text from Peter: "Park up near my ute."

I go through the shoulder-high wooden gates and park next to Peter Warrington's white, fat-tyred Ford Ranger. Walking down the cement driveway, I notice another car parked at the sandstone cottage. Peter is soaked, he has just been fixing the high-pressure sprinklers he installed around his property in the wake of the Black Summer bushfires. He beams "Haz! Welcome to 40 Corunna Road!"
He walks me to the house, "The cottage is booked today, so you'll have to settle for the main house" he jokes as he shows me inside. Kylie, Peter's wife, is out dragon boat training at Moruya. Peter works hard and has a playful childish side to him. His breadth of knowledge and practical experience reveal a man who has built his happiness. There is always room for improvement with Peter, he never settles for mediocrity.
Peter has been spending weekends in Narooma since 2011. The picturesque town on the Sapphire Coast that straddles the Wagonga Inlet has become his home. On still days, you can hear the distinct sound of seals honking on the aptly named Seal Rocks. In the evening it is the soft rumble of trucks moving goods along the Princes Highway, the drivers desperately trying to avoid using their compression brakes as they go through the sharp s-bend that separates the lower flats of Narooma from the older homes on the hill.
'Kylie's friend came up to her and gave her a hug as they left. She said everything is replaceable and Kylie just started crying.'
The Warringtons bought the 3.2 hectare farm in 2017 as their escape from the hustle of Canberra. Peter wasn't content with settling at "The Bay," his name for Batemans Bay. According to Peter, many Canberrans stop at the Bay and that's where they stay. Some go 20 minutes south to Moruya or 40 minutes north to Ulladulla but never do they come to the hidden gem of Narooma.
They have been steadily improving their Narooma home over the years since they bought it. But, then, in the summer of 2019–2020, all that work looked like it may go up in smoke. As a chain of fires burned its way down Australia's east coast, the Warringtons had a decision to make: flee with their lives and leave their property to fate or stay and fight, going all in with the cards they were about to be dealt.
"This is my home. We wanted to fight for it" says Kylie. What she could not know was it would be Australia's most deadly destructive fire season in post-colonial times.
****
DENSE forest covers the NSW South Coast. The coastal forestry town of Eden sits 125 kms south of Narooma. "The east of the Princes [Highway] is managed by NSW Parks and the west is Forestry," explains Peter Standen, the captain of the Eden Fire Brigade.
Peter and Jutta Standen have invited me into their northern Eden home on a windy Saturday afternoon.
"The inland air temperature warms during the day and, as it rises, the moist air over the ocean is drawn in creating the cooler onshore breeze," the fire brigade captain explains as we stand on the balcony overlooking Twofold Bay. The strength of that wind controls the direction of fires. Faster winds provide more oxygen and fan a fire's flames.
The Eden Brigade began its firefighting season on September 9, 2019, more than 1200 km to the north in south-east Queensland. "The fires moved like the wheat harvest. They start in the north and move their way down the coast," said Standen. The fires the brigade fought started for a range of reasons: locals losing control of a back burn, dry lightning strikes, log trucks that caught fire in the intense heat, arsonists deliberately lighting fires and travellers discarding cigarette butts.
The Rural Fire Service worked hard to contain fires, no matter their cause. Standen's motto was "Get in and get the job done," perhaps influenced by his decorated military career. It was a scramble but as the year closed out, the Eden crew had held on. Then, on New Year's Eve, the fires began to merge. "They draw into each other, feed off each other," says Standen. "It's hellish when that happens."
****
PETER and Kylie Warrington were experiencing a very different December 30. The fires burnt as festivities began. Peter's friends were down to celebrate his birthday the next day. Narooma seemed safe as the fires burnt tens of kilometres away in the national parks. Peter and Kylie were unaware that the wind direction was predicted to change on December 31 and send the fires towards them. "We joked that it wasn't going to come, remember that babe?" Peter gestures to Kylie, who nods in agreement.
That joviality was extinguished when Peter's friends informed him they were leaving. They made the decision to flee to the safety of a much larger and better-resourced city. "They spent the night in Narooma and left for Canberra the next day."
Peter and Kylie toyed with the thought of leaving. They weighed up their options but quickly decided to stay. "This is meant to be our retirement home" Kylie says. Peter elaborates: "We have put too much into this house. Easy for other people to say 'come on, let's go'. But when you have worked as much as we have on this house, we weren't going anywhere."
Well-meaning friends fumbled through final remarks. "Kylie's friend came up to her and gave her a hug as they left. She said everything is replaceable and Kylie just started crying," Peter recalls. "It was like saying your house is going to go. She was just trying to be a supportive friend, but she said everything is replaceable. It's. Not. Fucking. Replaceable. There are a lot of memories here."
As their friends left, the reality of fighting a bushfire smacked the couple. "Kylie was in tears. I don't think I ever searched 'how to fight a fire' on Google, but it was here, and we had no idea how to prepare for it. We hadn't even spoken about bushfires before," says Peter.
"The night of the 30th was hell," Peter recalls later as we park his John Deere ride-on mower, having tamed the property's lush uneven surrounds. Its license plate, purely decorative, proudly proclaims PETERS #1.
Surveying the bushy terrain as a gusty wind displaces beads of sweat collecting on my forehead, I think "how could this place ever be hell?"
****
ON DECEMBER 31, the Warringtons woke to a thick oppressive smoke and an orange glow that consumed the light. "It was like night at midday."
"On the 31st we started to get more serious about preparation." Peter says. However, with no experience, they did not know where to start. Luckily, Steve Dobbs, a retired conservationist with five seasons of bushfire experience and a 30-year resident of Corunna Road, was patrolling the street. Dobbs took Peter and Kylie through a bushfire fighting and survival crash course. "I told them to fill their bins with water and have saucepans ready to put out spot fires, stuff wet rags into gutters, remove anything that can burn from around the side of the house, cut the grass as low as you can go, stuff towels under the cracks of the roofs and most importantly, have two escape routes," Dobbs recounts.
Rather than allow that smothering smoke and sinister orange glow to demoralise them, Peter and Kylie began the hard work of preparing for a bushfire. They developed a hasty plan in their "Headquarters", a 15 by 10 metre shed that sits between the house and the cottage. "The fire is most likely to come down the road, so we need to focus our efforts there," Peter said to Kylie. The high-walled glass doors of the new headquarters conveniently angled to the predicted direction of the fire front. Headquarters was where they stashed their makeshift firefighting equipment: beekeepers outfits became their firefighting suits, wheelie bins their fire tankers, pots and pans their fire hoses and most importantly, gin and tonic their sustenance.
As black leaves fell around them, Peter and Kylie, fuelled entirely by adrenaline, started defending their property. PETERS #1 was rolled out of the shed and shredded the grass "to an inch of its life." Kylie prepared the house by filling sinks and plastic containers with water. Tears welling up, and uncertain if they were from the smoke or what she was about to do, she turned on her treasured garden. She pulled out lavender, felled nascent trees and tore apart flower beds. Hours, years of work was up-rooted, anything that could potentially fuel the fire had to go. They piled the garden remains deep on their property where it could burn without threat to their home.
As the soot fell and smoke clogged their lungs, Peter and Kylie started to fight their bodies too. They developed gastro from the smoke. Diarrhoea added to their woes. Exhausted and suffering but hesitantly defiant, they staggered on.
****
THE couple welcomed in the New Year with ears fixed on the emergency radio. "ABC was the only thing we could get on New Year's Eve."
On January 1, 2020, four fires had encircled Narooma but they were separate fronts. The Bumbo Creek fire to the north, cutting off the Princes Highway, the Big Belimba Creek fire to the north-west, the Badja Forest fire to the west and the Werri Berri fire to the south-west behind Bega. Fires to the north, fires to the south, fires to the west.
The Rural Fire Service warned, on New Year's Day, that January 4 would be D-Day from Batemans Bay to Bega – Narooma sits halfway between the two South Coast towns. Then NSW Premier Gladys Berejiklian declared a seven-day State of Emergency from January 3, including an unprecedented "tourist leave zone" from Nowra to the Victorian border, due to the ongoing fire crisis.
On January 4, a worst case scenario emerged – the Bumbo Creek, Badja Forest and Belimba Creek fires merged and cut off the last access to Narooma. Fires were everywhere.

****
ON NEW Year's Day, Peter and Kylie Warrington still had a brief three-day window for final preparations ahead of the January 4 D-Day. The previous two days had been painful and tough, they feared the next four days would be hell. "Once we heard Cobargo went up, [we thought] 'Shit, that's 40 kms away from us'," Peter recalls.
They first saw embers at 40 Corunna Road on January 2. What had been black leaves were replaced by glowing red fire spawn. The couple stood guard on rotating night shifts, drowning the embers as they landed to prevent spot fires taking hold. Defending their property was tiring, but no one else was going to do it. Armed with their meagre firefighting tools, they nervously wondered how they would hold off the approaching inferno with pots of water.
Their memories of those days are difficult to surface. Or perhaps they are reluctant to go back there. Peter and Kylie have been nothing but generous but as I ask questions like "What did you feel? How did you cope?" I notice slight cracks appear. Slumping body posture, a dropping of the head. Their first bushfire season took a toll. A long silence takes over. But then it's gone.
"I can't remember what we were living off. Lots of gin and tonic," Kylie laughs, displaying a sturdy resilience. It's a resilience born of teetering on the edge of survival and making it through.
Peter recalls the exhaustion of, having prepared the property as best they could, waiting for it to strike. "'It's coming. It's not coming. It's coming.' It's tiring."
The Rural Fire Service forecast that on January 4, the Badja Forest fire would spread to the coast, burning through Corunna Road and Narooma on its way. The waiting game was seemingly over. For Peter and Kylie, after five days of preparation, there was a sense of inevitability about the approaching blaze. They lined up their low-tech equipment in their Headquarters and hoped they had done enough. They couldn't sleep that night as the fire approached. Embers fell like rain.
****
JANUARY 4 arrived. At 9am, the weather station at Moruya, 50 kms north of Narooma, reported westerly winds. As Kylie watched the trees, she understood a westerly would close the precious few kilometres separating 40 Corunna Road from the fire front. The bathtub was ready, the house soaked, the grass shorn to the bare ground.

They waited.
As the wind picked up in the early afternoon with gusts of up to 72 km/h, the threat of fire seemed imminent but the feared front never came. The first-time firefighters didn't realise what had happened until late that evening when Dobbs told them a change in wind direction had pushed the fire north, not south towards Corunna Road.
Relief washed over them, but as quickly as it appeared, it receded, with the knowledge that the capricious fire still might turn again. Their peril was not over. The fire still raged with a fury across containment lines and at the whim of the wind.
****
While the residents of Corunna Road, Narooma, narrowly escaped destruction, 75 kms south, Batemans Bay wasn't as lucky. North-westerly winds had pushed the fire east to the coast, destroying many homes. As the threat of January 4 passed, conditions eased on the South Coast. Light rain fell and the temperature dropped a few degrees.
On January 6, Peter and Kylie were still on watch for embers as they raked up debris and picked up dead foliage. Dobbs, who had given them the crash course in firefighting a week earlier, came knocking. "The winds have died down, the fire should be no bigger than ankle height," he said to the couple "Do you want to visit the fire front?"
Peter considers for a moment, looks at Kylie who nods slowly, and replies "Let's do it."
Rather than tell me what they saw that day, Peter wants to show me. We head down Tebbs Road, which leads into the Bodalla National Park. Many months later, the scale of destruction is frightening and in stark contrast to the unburnt oasis around Corunna Road. Only two kilometres west of Peter and Kylie's house we see burnt stumps, relics of stringy bark and the charred trunks of fire-resistant eucalypts.
'There is no doubt the fire season is getting longer, the temperatures are hotter, the fires are getting bigger, and the fuel loads larger.'
Recalling the trip with Dobbs, Peter stops at a concrete water tank two kilometres along Tebbs Road. Nestled on a ridge among shoots of green regrowth, it overlooks the surrounding charred landscape of burnt trees. "You couldn't see through the trees before the bushfires," he sighs as he gets out of the car to take in the bald rolling hills and exposed rock.
"This is where we stood and watched the fire." Peter raises his finger. "Along this line from north to south, the fire burnt, no higher than my ankle. It was there, burning away slowly, posing no threat to anyone."
Photos from that day show Kylie and Steve. Kylie is standing in the exact spot I am with Peter. She is dressed in a thick long-sleeved blue shirt tucked into brown sturdy work pants. Her blonde shoulder length hair is up in a ponytail with strands hanging loosely. Her arms crossed, a stern face focused on Steve as he points to rising smoke two metres from them, a fire hidden in the gully. Kylie stands two metres away from the flames that might yet consume their house. The fire flickers vulnerably. Nothing like the scorching blaze they have anticipated for days.
As we get back into Peter's ute he recalls a joke he made leaving this exact spot in January 2019: "Shit if that came over the hill, that little trickle of flame? That was nothing, if that f---er came over we're as good as gold, I'll blow it out."
As we continue down the road, Peter mused "To be honest, I don't feel much from that time. [Fires are] just what happens down here." We descend into a valley dotted by farmhouses surrounded by burnt forest. "This must have been the worst place to be."We stop frequently to survey the damage. At the first stop, a shiny steel fence with taut barbed wire looks good. "Is this new?" I ask.
"Look closer," Peter says.
Half a metre in front of the fence sits the burnt stump of a solid corner fence post, designed to handle the strain of kilometres of fence line. It's black, charred and brittle to touch. "The community donated time and money to rebuilding this farmer's fence," Peter says as we get back into the car.
Further in the valley, burnt and displaced trees absorb all colour. Stacked in piles that occupy every paddock. We head further west, and the scenery becomes more dystopian. A burnt out shed barely holds a sagging roof, the remaining beam defies gravity.
It strikes me, what would have happened if this fire had torn through 40 Corunna Road?

We take a different route on our way back to Corunna Road, past isolated huts, lone houses and paddocks speckled with tree stumps. A shiny new sky blue water main sign stands out among the green and brown landscape. "We are recovering," Peter says.
Later that afternoon, sitting in Peter and Kylie's outdoor spa, he recalls the hellish wait for the fire.

"Not much happened." Peter continues, sinking deeper into the water. They waited for the fire to turn towards them, but it never did. For four days, from January 6 until January 9, Narooma was shrouded in a devilish orange glow as the fire raged dangerously close. They couldn't rest.
All they could do was hope for a favourable change in conditions that would blow the fire back on itself. On January 9, the relief finally came. The winds turned the fire that threatened Narooma back on itself. The Badja Forest fire continued to burn until March, but Corunna Road and Narooma were no longer threatened.
One town's good fortune is another's misfortune. To the south, the changing wind direction spelled trouble for Eden. The fire approached quickly, racing 47 kilometres in one day as the fire crews fell back to defend the township. The fire was eventually contained two kilometres from Eden. Peter Standen, captain of the Eden Brigade laughs: "I suppose luck has a lot to do with it doesn't it?"
****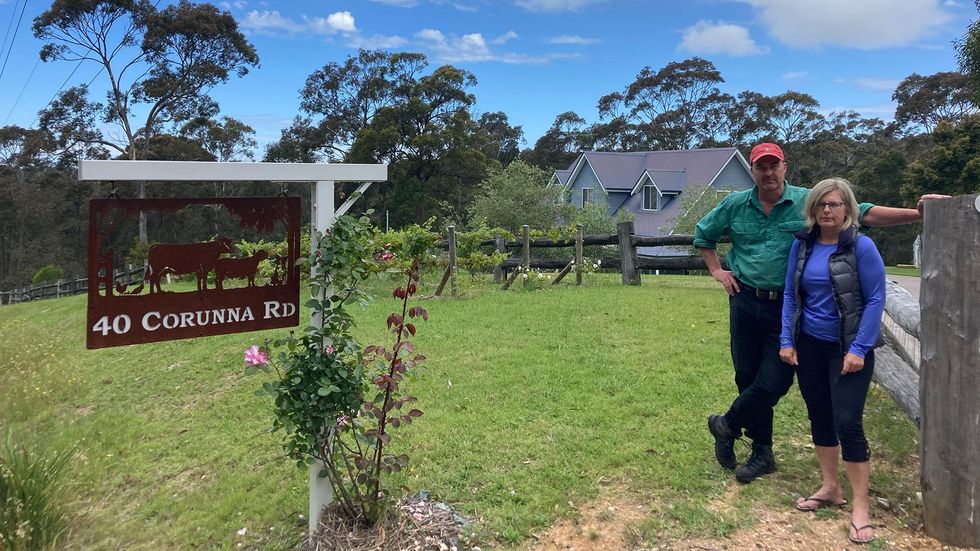 Kylie and Peter Warrington say in the Black Summer fires "we were just lucky" to survive.SUPPLIED
KYLIE WARRINGTON recalls the immediate aftermath of the fires as death itself. The eerie quiet, desolate plains, no animals, no sounds of any kind. Burnt cars by the side of the road, fields as black as night, trees still smouldering. A hellish landscape.Two years on, the scars remain. Fuzzy scorched trees, bald mountains and bright splashes of green regrowth are testament to that devastating summer.
In NSW, 26 people died, including six firefighters, 2,448 homes destroyed, an estimated 1 billion animals, many reptiles, were killed and there was $1.88 billion property damage. From September 2019 to March 4, 2020,fires burned uncontrolled along the east coast of Australia, first igniting in south-east Queensland, stretching the length of the NSW from the Tweed to Eden and on into Victoria's East Gippsland. The term megafire was coined to describe the exponential increase in fire intensity when separate fires merge.
The United Nations' report Spreading like Wildfire: The Rising Threat of Extraordinary Landscape Fires, released on Wednesday, pointed the finger at land clearing and climate change for the rising threat of intense fire events. It forecast a 14 per cent increase in extreme fires around the world by 2030, jumping to a 50 per cent increase by 2100.

For many locals, the debate on whether climate change has impacted the intensity of our fire seasons, is closed. "It's bullshit," says conservationist Dobbs when asked about those who still don't believe the climate is changing.
For Daniel Osborne, the Rural Fire Service's Far South Coast District Coordinator and a lifetime resident of the region, "there is no doubt the fire season is getting longer, the temperatures are hotter, the fires are getting bigger, and the fuel loads larger". Asked what this means for the fire service, Osborne's optimism shines through. "We'll be able to manage." Every firefighter I spoke to echoes this sentiment.
The Warringtons say they have come to terms with living with bushfires but worry that the devastation of Black Summer and the hard lessons learned will be forgotten. "It makes me feel that we are going to forget about what happened." Peter says. "It makes me think we are going to go back to being unprepared and people are going to get caught off guard."
"We won't ever forget it," says Kylie, who picks up dead sticks, "just to be prepared for the next season" every morning on her walk around the property because those sticks could fuel a fire.
When Peter and Kylie think back to their week-long odyssey waiting for the Badja Forest blaze that never came, they acknowledge, given their lack of preparation, "we were just lucky".
"But next time," says Peter, "we will be ready from the start."