Review
Standing Up for Sunny
Directed by Steve Vidler
Rating: Four stars
Disability and mental illness seem an unlikely starting point for a romantic comedy and yet it works. In an era of superfluous Netflix romcoms, Standing Up for Sunny, written and directed by Australian Steve Vidler, stands out. Not because it has radically changed the convention of a romcom - boy meets girl, complications arise, cheesy chase ensues in which boy tells girl he loves her – it hasn't. This film succeeds because, while it still follows this formula, it delivers something extra via a cohort of charming, self-deprecating, affecting and real characters.
I saw Standing Up for Sunny at the Sydney Film Festival in June at the Hayden Orpheum. Speaking at a Q&A after the screening, producer Michael Pontin opened up to the forum, saying this film, made on a low budget by a small team, "has been a passion project years in the making".
Despite warm reviews, the film has been hard to find at cinemas. It did not receive wide release in Australia and has relied on festival screenings. You can catch it as it rolls out across regional Australia to 18 towns in NSW, Queensland and Northern Territory as part of Sydney Film Festival's Travelling Film Festival.
RJ Mitte, (best known as Walter White Jr in Breaking Bad), stars as Travis, a young man living with cerebral palsy. Angry at the stigma his disability carries within society, Travis locks himself away from others in his dingy room in Sydney's Inner West. His routine of isolation and bitterness is rudely disrupted by the arrival of Gordo, a blind roommate with zero boundaries, a delightful comic turn played by new talent Italia Hunt.
'We were looking for an actor with cerebral palsy ... handsome, charming and charismatic ... there was one man for the job.'
In choosing grungy Inner West locales, rather than bombarding us with the classic Australian film backdrops of infinite red desert landscapes or panning shots of Sydney Harbour, director Vidler helps us focus on the story he wants to tell and reminds us these landscapes don't define our country and our culture.
The story begins at the local pub where a drunken misogynist is heckling Sunny, an amateur stand up comedienne, played by Philippa Northeast (Home and Away). The heckling triggers Travis' anger at the world's ignorance and he delivers a quick-witted, intelligent, hilarious and inspiring monologue in her defence. In doing so, Travis's inaccessible personality is transformed and we see past his disability to a jaw-droppingly handsome and sensitive man whom I dare you to not fall in love with.
This empowering "performance" by Travis gets him a job. Sunny's boyfriend Mike (Sam Reid) hires Travis to help Sunny with her stand-up routine. He sees it as preparation for her to co-host his breakfast radio show, something he wants more for her than she wants herself. This backfires for Mike when Travis takes Sunny's place on stage, adopting the persona of "Bag man". Once marginalised and isolated, Travis, with support from Gordo and Sunny, becomes a comedic sensation while Mike runs unwelcome yet provocative interference.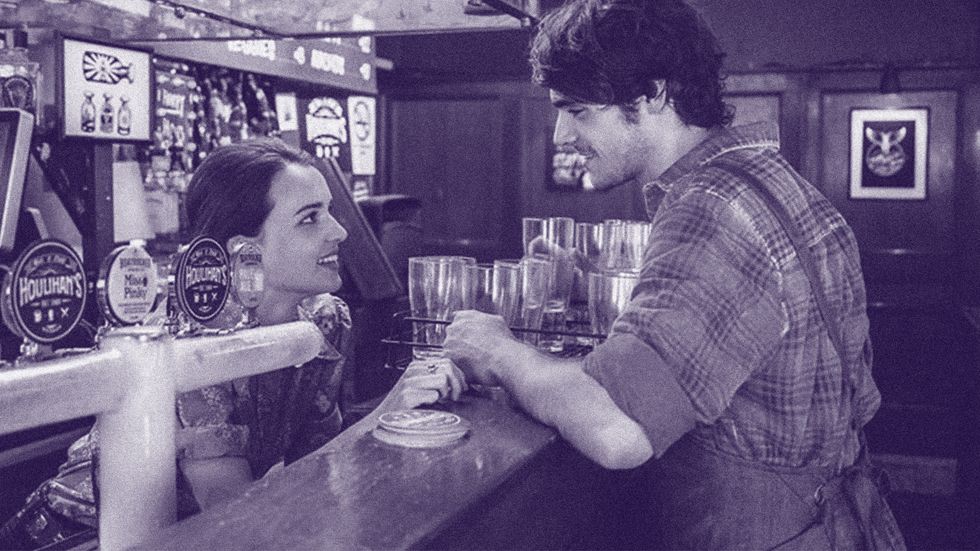 Breaking down barriers: Sunny (Philippa Northeast) and Travis (RJ Mitte).Photo: JOEL CHAMAA
Sunny is crucially relevant in her portrayal of the "failing" woman trying to forge her own identity as the people closest to her seem determined to subdue her desires, to keep her safe and secure. In Travis she finds an ally, someone who pushes her to confront her past trauma, to recognise her mental illness and to listen to her own intuition and direction. His faith in her guides Sunny to claim her independence; to choose to live with her flaws rather than adopt the persona of the perfect sunny woman others are trying to force upon her.

The film successfully breaks down barriers around disability and mental illness, telling a story about characters who are struggling to find their direction in their 20s, who just happen to have cerebral palsy and bulimia.
One criticism of the film is we don't get to know and understand the supporting characters; we only access them through Travis and Sunny's eyes. They are there to facilitate and complicate their journey. Importantly however, they also provide a means for Sunny and Travis to heal, accept and confront their own disabilities, and through that, to make each other stronger.
Director Vidler, whose last directorial outing was Blackrock (1997), poignantly achieves this by presenting each character's disability as a unique quality, a trait that has the ability to be character-building rather than impeding. Ironically, the characters that are unable to grow are those who are discriminatory, their prejudice is revealed as the most disabling quality of all.
In making Standing Up for Sunny, the producers actively embraced inclusivity. Recent Australian film programs such as Focus On Ability and Screenability have also created new opportunities to explore inclusive subjects . Looking at diversity and representation beyond the screen, UNSW will stage Diversity Fest, a weeklong celebration of inclusiveness, from September 23–27.
Casting Mitte, who has cerebral palsy, invites a whole community to engage in filmmaking by seeing themselves on screen. Asked about that casting decision, producer Pontin said "we were looking for an actor with cerebral palsy, who could also be a handsome, charming and charismatic romantic lead and there was one man for the job".
What Standing Up for Sunny communicates is that it is not just representation on screen that needs to be addressed, it is accessibility holistically. It's a film that goes against the grain, charming, heart-warming and funny, featuring cameos from loved comedians including Barry Humphries. Itis an Australian gem and everyone needs to find it!
Standing Up for Sunny is screening as part of Sydney Film Festival's Travelling Film Festival until September 2020.