Review
The Poison of Polygamy
Sydney Theatre Company
Rating: Three stars (out of 5)
Bringing Wong Shee Ping's 1910 serialised story The Poison of Polygamy, thought to be the first Chinese-authored Australian novel, to the stage opens a multitude of avenues to explore the central premise of the book, the chasm in understanding between Western and Chinese thought and cultural practice.
It's a shame then, that in trying to address them all, the play has, at best, created a narrative haunted by the inequity and incompleteness of its exploration. Promising ideas of the nuanced role of Chinese Australians in Australia's colonial history and the tribulations of integration for the immigrant gold panners from around the world are only hinted at in throwaway lines. In a text spanning decades and continents I yearned for more detail.
This story has real resonance for a more diverse, modern Australian audience. The play, commissioned by Sydney Theatre Company (with Queensland's La Boite Theatre as a co-producer), was created by Thai-Australian playwright Anchuli Felicia King (White Pearl, 2019, STC) when she was the Patrick White Fellow at the STC.
This story has real resonance for a more diverse, modern Australian audience.
King and director Courtney Stewart (Top Cot, 2022, STC) work hard to draw out those narrative threads in this performance in the round at The Wharf Theatre. Deborah Brown's choreography, combined with James Lew's minimalist and dynamic set design, demonstrated a deft understanding of the strengths of playing in the round. Each scene felt like a real moment with dimensions visible on every side, and with an entire world that existed beyond, begging to be realised.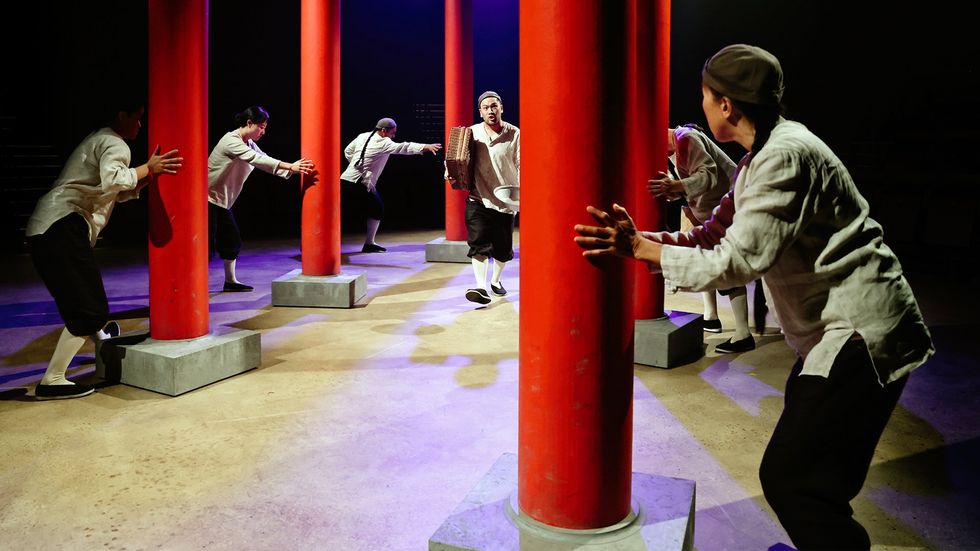 James Lew's minimalist, dynamic set design demonstrated a deft understanding of playing in the round.PRUDENCE UPTON/STC
As The Poison of Polygamy opens, The Preacher, played by Shan-Ree Tan, immediately draws the audience into a debate. We are the West and he is the ghost of a Chinese Christian preacher, existing both within our "Western" world view and on the opposing side. Following a short sermon, he tells a story to persuade us against Chinese polygamy.
He tells the story of Sleep-Sick (also played by Shan-Ree Tan, seamlessly transitioning into this second role), a reprehensible character motivated only by vice. Sleep-Sick departs his home in Guangdong, southern China, for the Australian gold fields to escape his poverty, promising to send funds back for his wife, Ma (played with subdued strength by Merlynn Tong).
On the way, he gathers a group of friends, the poet Song (played with sharp humour and candour by Gareth Yuen), the businessman Ching (Ray Chong Nee), and the farmer Chan (Silvan Rus). They become inseparable despite Sleep-Sick's disastrous impact on each of their lives. Eventually, though he had promised Ma to remain faithful, he takes a concubine named Tsiu Hei, played by Kimie Tsukakoshi in a performance sliding between confidence and caricature.
With Tsiu Hei's introduction, the play shifts. Up to this point, the story has been told exclusively by the proselytising preacher, but with Hei's arrival, another ghost enters the narrative. Tsukakoshi's Hei, exuding confident but jarringly pompous flair, challenges the Preacher.
This story has real resonance for a more diverse, modern Australian audience. PRUDENCE UPTON/STC
The power of the play resides in this fascinating dichotomy: The Preacher, who reflects author Wong's modernising, Christian ethos, and Hei the concubine who reflects the villains in moral literature, especially women, who tempt protagonists into sin. Before, she was a demonised archetype in The Preacher's sermon, a means to an end, but King and Stewart redeem her by imposing her perspective on the original narrative and questioning what voices have been unjustly silenced, both in history and in art.
The remainder of the play stages a battle for dominance between these two narrators. As Sleep-Sick's comedic tragedy takes its final turns, the floor that was once the Preacher's falls away. The Concubine's voice rises.
The play explores a number of historical conflicts but they are not given equal attention. In politics, for example, Sleep-Sick's friend Song tries to set up a group to advocate for Chinese Australians' rights as he simultaneously ridicules the First Nations' peoples as "spear-wielding savages".
Though we get some glimpses of the play's world and racial relationships in Australia in Song's wishes and diatribe, the resultant picture is spotty and disappointing. The world the play is trying to convey is quickly left behind, leaving me, at times, internally begging for the characters to "tell me more!"
So many promising quandaries, so many unfinished threads.
The Poison of Polygamy plays at STC's Wharf Theatre until July 8.