The second in a five-part series, Sweltering cities , on how rising global temperatures will impact daily living and working conditions — and what needs to change.
When the mercury rises to sweltering heights, people in Sydney's east grab a towel and sunscreen and head for the beach. In Western Sydney, people head to the library. A room full of books may seem like an unlikely place of refuge on a hot summer's day, but for the community of the Hawkesbury region, the library is a place of air-conditioned relief.

Hawkesbury locals are becoming accustomed to climate extremities — flood, fire and heatwave. In summer, the desert-warmed air and lack of coastal sea breeze intensify the scorching temperatures across the local government area in Sydney's north-west.
The extreme heatwave across Europe this northern summer is a grim warning of about what looms ahead. The Hawkesbury City Council is planning for the approaching summer season with strategies to open up air-conditioned public facilities to help residents escape the heat.
The media doesn't cover the true horrors ... instead 'you get pictures of people at the beach'.
Councillor Mary Lyons-Buckett from the Hawkesbury City Council is passionate about supporting those in the Hawkesbury who don't have access to air-conditioning during heatwaves.
"I recognise that there are people in the Hawkesbury who don't have air-conditioning in their houses and need a place to stay cool. The Hawkesbury Central Library provides a large space for the Hawkesbury community to escape the heat during heatwaves," she said.
"In the wake of the heatwave across Europe and the UK, it is important to begin planning strategies to keep our Hawkesbury community cool and prepare for the high temperatures anticipated for this summer."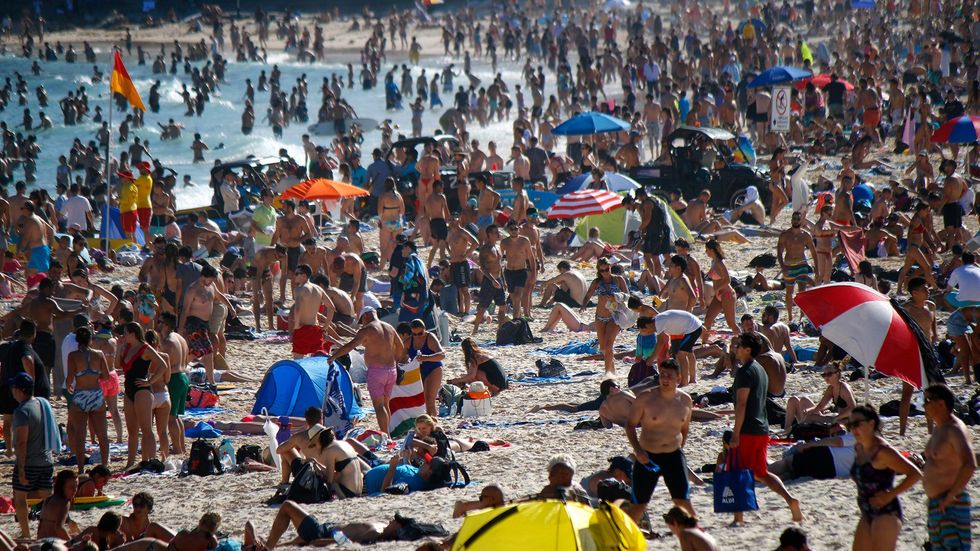 Misrepresenting the true horror: A crowded Sydney beach during a heatwave. SHUTTERSTOCK
The president of Western Sydney Regional Organisation of Councils (WSROC), Councillor Barry Calvert, believes the NSW State Government needs to do more to plan for future heatwaves." Disappointingly, we found that planning for heatwaves in not on par with fire, floods, and storms. People in Sydney's Western Suburbs are dying because authorities don't take heatwaves as seriously as other natural hazards," Calvert warned in a WSROC media statement in June.

"We need to act now – before summer arrives. WSROC has been consulting with councils, state and federal agencies, industry and the community sector to look at how Western Sydney – indeed Sydney more broadly – is managing extreme heat risk.
"It is inevitable we will have more killer 50-degree heatwaves," Calvert said. In January 2020, Sydney recorded its hottest temperature ever at Penrith, at the base of the Blue Mountains, with a 48.9 degree scorcher.
For Emma Bacon, executive director of Sweltering Cities , it is not only the lack of planning for heatwaves, but the way in which hot weather is covered in the media. The media doesn't cover the true horrors associated with rising temperatures. "In the media you'd get pictures of people at the beach," she told Newsworthy .
She founded Sweltering Cities, a not-for profit organisation, in 2020 with a goal to "work directly with communities in our hottest suburbs to campaign and advocate for more liveable, equitable and sustainable cities".
The lack of coverage of the true horrors can be attributed to the "privacy" of heatwaves, she said, as they impact individuals in their own homes. "Heatwaves will be the biggest climate impact that most Australians will feel. But because it impacts our health, because it is often private and happens in our homes, we aren't seeing people organise on it as it is seen as an individual problem," Bacon said.
The Sweltering Cities Summer Survey 2022 report shows that the majority of those impacted by extreme heat are renters or people from disadvantaged areas that have a lack of control over their housing conditions. The report found that more than 30 per cent of the 1000 confirm participants left their homes for cooler locations during extreme heat.
The Hawkesbury local government area has a diverse socio-economic range with pockets of disadvantage in South Windsor and Richmond. Measured on the Index of Relative Socio-economic Advantage and Disadvantage the areas are low compared to other suburbs in NSW.
"Opening the Hawkesbury Central Library during heatwaves is aimed to assist those who are disadvantaged in the Hawkesbury in areas like South Windsor," Councillor Lyons-Buckett said. "The library is an ideal place for the disadvantaged people in the Hawkesbury to stay cool because it is only 2 kms from the centre of South Windsor."
Later this year, Hawkesbury City Council plans to open more libraries and extend the opening hours of public swimming pools as the region braces for another scorching summer.